Lenovo introduces its 4K Yoga Chromebook C630, base model starts at $599 for 1080p screen
There's more Chromebook news coming out of IFA 2018 than I expected and that's a good thing. Following Acer and Dell, Lenovo announced its Yoga Chromebook C630: A 4K Chromebook running on 8th-generation Intel processors and starting at a surprisingly competitive price of $599.
Since this is a Yoga model, the Chromebook C630 is a 2-in-1 so you can fold the 15.6-inch display all the around to the back of the device for tablet and tent modes. That display had three smallish bezels and the base model comes with a standard 1080p touch screen. If you want to pay more — Lenovo hasn't said how much yet — you can get a UHD display. Some might think that's overkill for a Chromebook, but if you're a video streamer, it's a nice option to have.
That $599 base model includes the Intel Core i5-8250U processor, 8GB of memory and 64GB of eMMC storage. There will upgrade options for 128GB of storage but no mention of additional memory or chip choices. All models include a pair of USB Type-C ports, a full USB Type-A port and microSD card slot in the metal chassis. Even with the small bezels, packing a 15-inch display here brings the overall size in at 14.23" x 9.8" x 0.7″ with a weight of 4.2 pounds. A small, light Chromebook this is not. Then again, cramming the pixel density of a UHD display into smaller screens doesn't bring much visual benefit. Lenovo says to expect up to 10 hours of battery life.
Look for the Lenovo Yoga Chromebook C630 to arrive in October according to 9to5 Google. That just happens to be when we expect to hear more about the next Google Pixelbook…. or perhaps, Pixelbooks. Speaking of the Pixelbook 2, if you're thinking that perhaps the Yoga Chromebook 630 is the 4K Atlas device: It's possible but I don't think so. Atlas is supposed be a detachable device and have a Google Assistant hardware key  I don't see that key on the Yoga and it's clearly not a detachable screen.
Update: Others are reporting this device will start at $749.99 which is also the price I see on this spec sheet. I'll try to get confirmation on pricing directly from the company and update the post accordingly.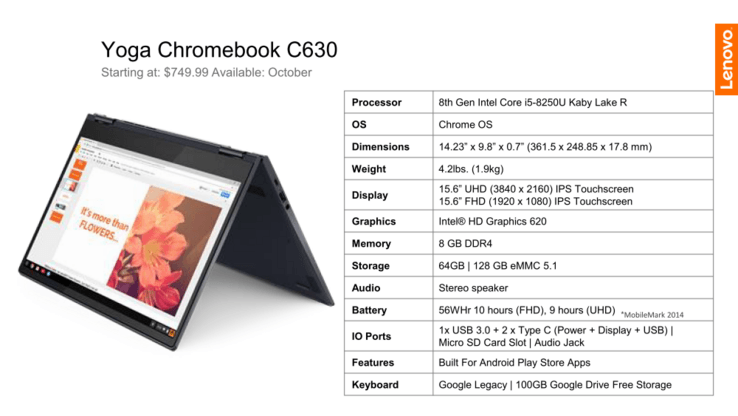 Update 2: I heard back from Lenovo asking about the Yoga Chromebook C630 price and received this response: "[T]he Yoga Chromebook starts at $599.99." So that confirms the base model cost that others are reporting as $749.99. It may mean the UHD display configuration starts at $749.99 based on the above information and other reporting, which may have confused the base and upgraded models, but I do not yet have confirmation on that.