It wasn't that long ago that I put a list together of the scant number of Chromebooks with integrated LTE. Now I have another one for that list, courtesy of AT&T. The U.S. carrier announced pre-orders for the Lenovo 300e Chromebook LTE on Monday.
The Lenovo 300e Chromebook LTE can be ordered on September 10 at a retail price of $419.99. Availability online and in select stores on the 28th. I'll get to the device details in a second because first, I want to highlight what I sense is a trend. At least in the U.S.
AT&T is offering this LTE Chromebook with a 36-month plan if you'd prefer, the same as it does with the Samsung Galaxy Chromebook Go with mobile broadband. That doesn't get you any break on your monthly data plan for the device, but it does help tackle your monthly budget. You can pay the carrier $11.67 a month over three years for this device.
I don't know if these devices are locked to AT&T's network. If they're not, then a data SIM from Google Fi or some other carrier may work, which might save you money.
AT&T says, "We make it easy to attach unlimited plans to the laptops which will create a unique, unbounded experience for customers, with access to the internet anywhere the network is available." And that simplicity will cost you $20 a month to add this LTE Chromebook to your existing unlimited plan.
Back to the device.
The Lenovo 300e Chromebook LTE is a fairly entry-level device as you could guess by the price tag. There's been a non-LTE model with a $299.99 retail price for some time, although it appears as "discontinued" on the Lenovo site.
I'm assuming the LTE version has the same specs which means a MediaTek processor
It appears that this model has an AMD 3105Ce processor, 11.6-inch 1366 x 768 resolution touch display, 4 GB of memory, ]32 GB of eMMC storage, WiF 6, and an optional stylus. It's a ruggedized, water-resistant model ideally suited for the classroom.
This probably isn't going to make waves in the consumer space based on the specs and design. But I don't mind. I don't particularly need mobile broadband in my Chromebook, but others say they do. The more options out there for that crowd, the better!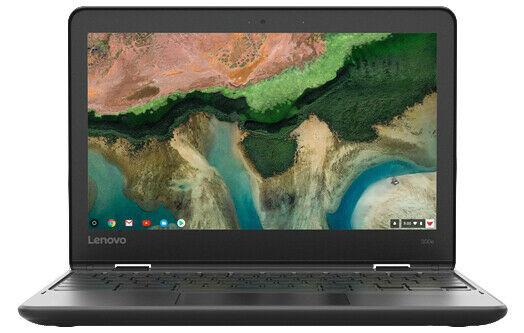 Update: Copy reflects a new "coming soon" 3rd gen model of this Chromebook. Thanks to atlman in our comments for spotting and sharing the information. Post updated at 10 pm EDT on August 23, 2021.
About the author
Kevin C. Tofel has covered technology since 2004. He's used ChromeOS since Google debuted the CR-48 in 2010, reviewing dozens of Chromebooks since then. He worked for Google's Chrome Enterprise team from 2016 to 2017, supporting the launch of Android app support. In his free time, he uses Chromebooks to learn software engineering at
Launch School
. In 2019, Kevin joined the CS Curriculum Committee at his local community college.
Liked this content? Subscribe for the free, weekly newsletter