Although I haven't reviewed the updated Acer Chromebook Spin 311, I can safely estimate its performance. Built around the MediaTek 8183C processor, which is similar to that in the excellent Lenovo Chromebook Duet, this should be a capable convertible Chromebook offering a similar experience. With a $50 discount, Costco is selling the Acer Chromebook Spin 311 with MediaTek CPU for $249.
The package even includes a wireless mouse and laptop sleeve.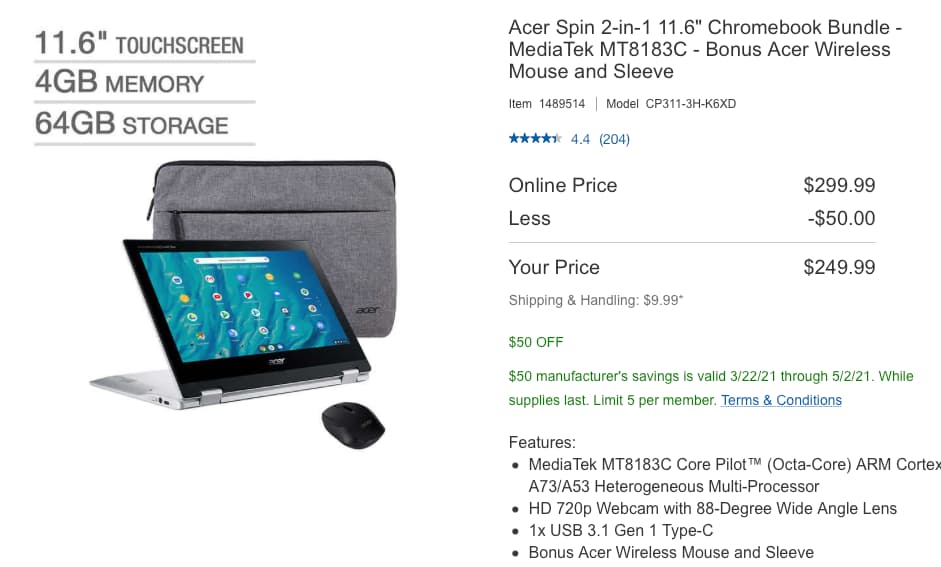 Considering that Acer itself sells this model for $279 without the extras, this is a nice deal for basic low-end convertible Chromebook.
Obviously, at this price point, you're not getting all of the bells and whistles of a high-end Chromebook. Not even most of those found in a mid-range device either.
Still, for basic, everyday use? Well, plenty of folks are happy with the similar hardware of that Duet Chromebook, which tells you something.
CPU
Octa-core Mediatek 8183C, 2.0GHz
GPU
ARM G72 MP3
Display
11.6-inch 1366 x 768 matte LCD touchscreen
Memory
4 GB LPDDR4x
Storage
64 GB eMMC
Connectivity
Wi-Fi 5, Bluetooth 4.2
Input
Non-backlit keyboard with antimicrobial
Gorilla Glass trackpad, 2 MP front camera
Ports
One USB Type-C (3.1 + DisplayPort)
One USB Type-A
Battery
Claimed run-time of up to 15 hours
Weight
2.65 pounds
Software
Chrome OS automatic updates through June 2028
Sure, the display resolution isn't ideal. And a backlit keyboard would nice too. But all-day run-time for everyday browsing at home or on the go? It's hard to beat the price.
Don't take my word for it though.
Here's an Android Central review of this model to get a better understanding of what the Acer Chromebook Spin 311 delivers for the cost.
Bouncing between a half-dozen tabs of reference while I write an article is smooth sailing, and while I'll confess an 11.6-inch screen is a bit cramped for split-screening, the Spin 311 still does well enough while I'm reformatting spec tables or referencing press releases while drafting something up. Photo editing through Google Photos or Pixlr E is easy enough, even if I have to zoom in a little closer to make out if I got focus right on a picture or not.

Android Central
About the author
Kevin C. Tofel has covered technology since 2004. He's used ChromeOS since Google debuted the CR-48 in 2010, reviewing dozens of Chromebooks since then. He worked for Google's Chrome Enterprise team from 2016 to 2017, supporting the launch of Android app support. In his free time, he uses Chromebooks to learn software engineering at
Launch School
. In 2019, Kevin joined the CS Curriculum Committee at his local community college.
Liked this content? Subscribe for the free, weekly newsletter