Google Chromebook Plus: What you need to know
Following rumors of Google Chromebook Plus devices, I can tell you that they are a thing. But they're not called Chromebook X. Google has worked with its hardware partners to create a Chromebook hardware standard. If a device meets or exceeds the standard, it can carry the Chromebook Plus logo. And because of the hardware components required for that standard, Chromebook Plus devices have some extra features not found on Chromebooks without the Plus name. The first nine Chromebook Plus models launch on October 8, with a starting price of $399.
What you need to know about Chromebook Plus:
The minimum hardware requirements are an Intel Core (i3 or higher) or AMD Ryzen (7000 series) CPUs, 1080p IPS display, 1080p webcam with temporal noise reduction, 8 GB of RAM, and 128 GB of storage.
Additional OS and Google software features include Google Photos Magic Eraser and other editing tools, Offline File Sync, AI-power video conferencing improvements such as lighting and noise cancellation, and more.
In a few months, Chromebook Plus devices will also get free AI powered OS features like a personal writing assistant accessible across surfaces via a right click, custom generated wallpapers or video conferencing backgrounds using easy text prompts, a reading assistant, and more.
Chromebook Plus laptops come with a free 3 month subscription for Photoshop on the Web, 3 months of GeForce NOW's priority tier, and other perks.
Devices will be available from Acer, Asus, HP and Lenovo with prices between $399 and $699.
Google Chromebook Plus standards simplify the buying process
Right off the bat, I think Google Chromebook Plus models will help simplify the buying process. I know they'll help me as a reviewer because every Plus device should easily handle typical day-to-day ChromeOS tasks. That includes not just everyday web browsing but also Android and Linux applications. So if you want what I'd call a mid-range to high-end Chromebook, the Plus branding ensures that you're getting it.
As far as those hardware standards, they're right in line with what I typically look for at a minimum for my own device purchases.
For starters, the CPU must be an Intel Core i3 or better or an AMD Ryzen 7000 series chipset. A 1920 x 1080 IPS display is the minimum, so you won't see any block 1366 x 768 screens here. A reasonable 8 GB of memory and 128 GB of local storage is required as is a 1080p or better webcam.
My own personal device, a 2022 Acer Chromebook Spin 714, meets or exceeds those specs, for example. And to me that's a good thing. Why? Because Google will bring the extra Chromebook Plus features to any existing laptop that meets the requirements. That can be a bummer if your current device is short on even just one of the hardware requirements, of course. And I'm curious how people feel about that.
Google has previously categorized Chromebooks as Plus, and even Premium, in the past. But the Chromebooks that fit those names were arbitrarily chosen. With a set of defined hardware standards, you can now easily tell a Chromebook Plus from a Chromebook. And that quickly narrows down your purchase options.
Chromebook Plus extra features
Aside from set hardware requirements and the expected experience from them, Google worked on extra ChromeOS features to take advantage of Chromebook Plus hardware. Even after seeing them in person at a press event, I'm not sold that they're a huge value add but that's just me.
Google Chromebook Plus devices have the same Magic Eraser function as found on Google Pixel phones. This is the excellent feature that can remove items from your photos. It does this both automatically through suggestions and through a manual process if you choose. I've used it on the Pixel 7 Pro and it is quite incredible at removing background items or other things from a photo. I'd call this one a nice value add.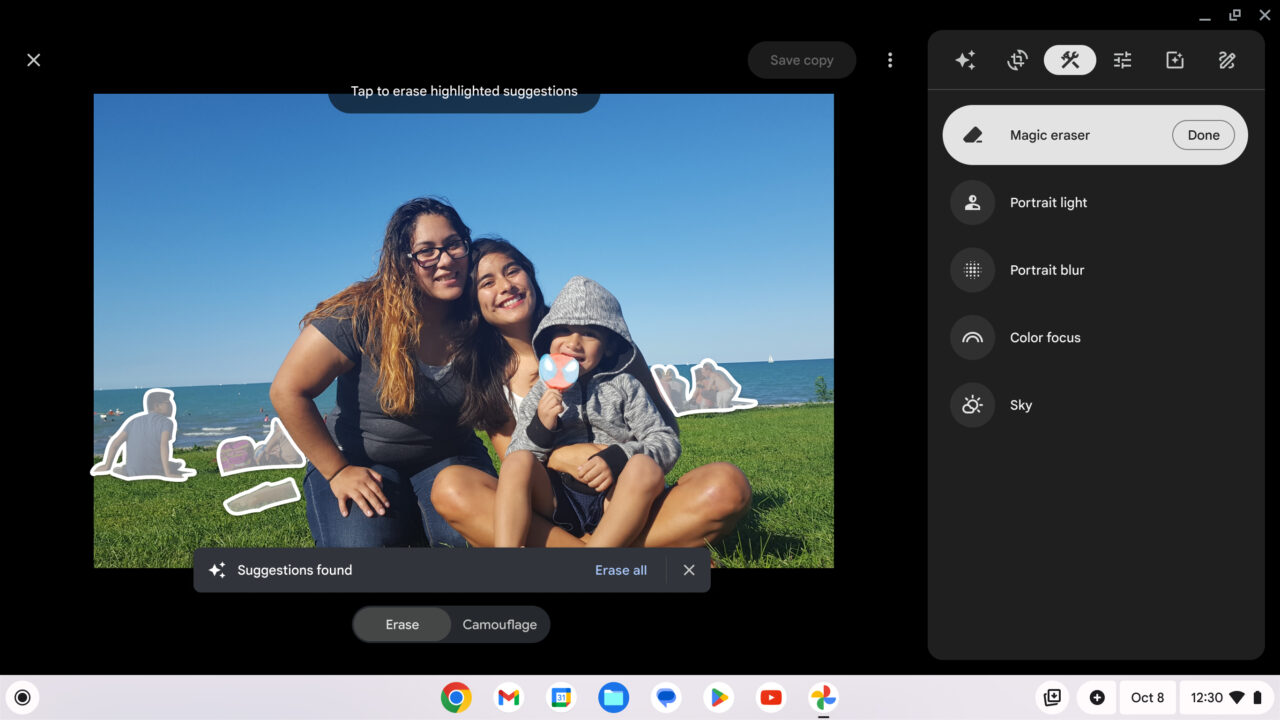 Offline file sync is already built in to ChromeOS, however. Google has simply tweaked it a bit for Plus devices. Improving things is always better, yes. But I don't see why this feature, not to mention some others, can't be included on all Chromebooks.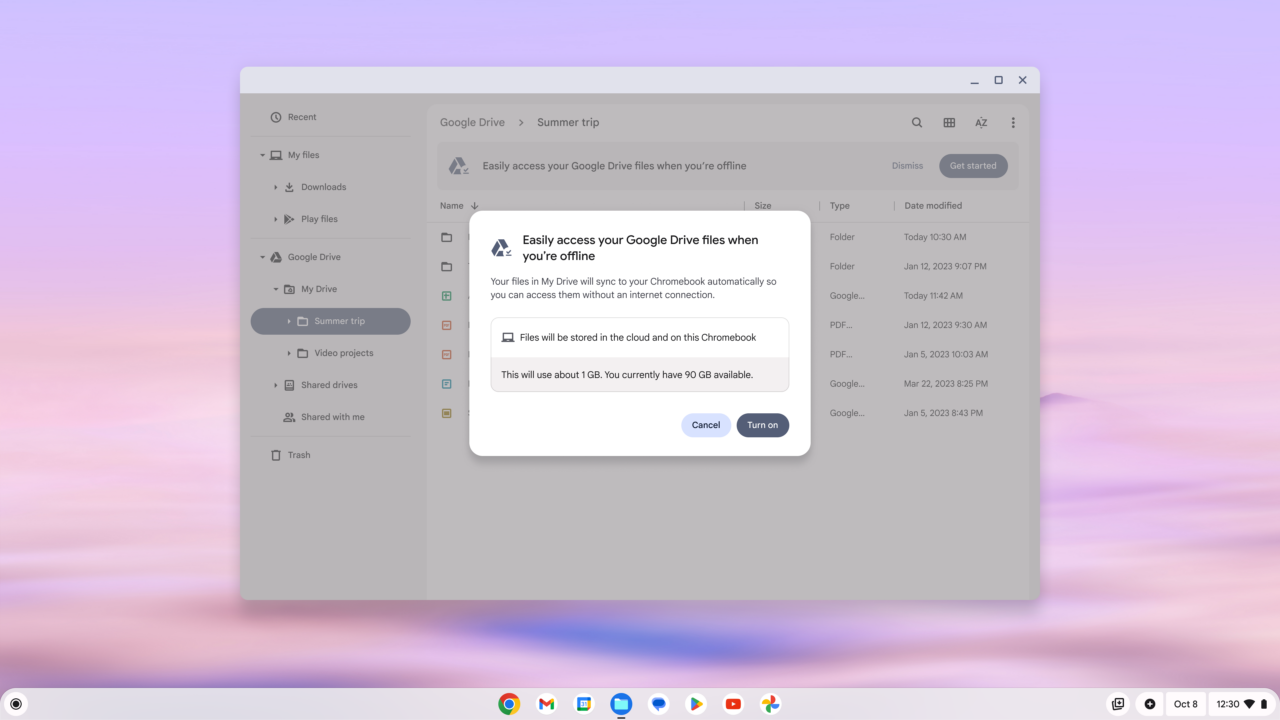 I also use the Google Meet automatic lighting and microphone cancellation feature on my non-Chromebooks using the Chrome browser. They work great. Surely it doesn't require a Plus device to use it, but hey, it's a Chromebook Plus perk. Note that these functions work across any video conferencing app because they're built in at the ChromeOS system level.
While some of the AI features of Chromebook Plus devices aren't arriving until after launch, the demos I saw were impressive. Want to make a wallpaper or a Meet background of your own using AI? Just ask Google to create a "Game of Thrones mountain scene with a dragon in the sky" if that's your thing.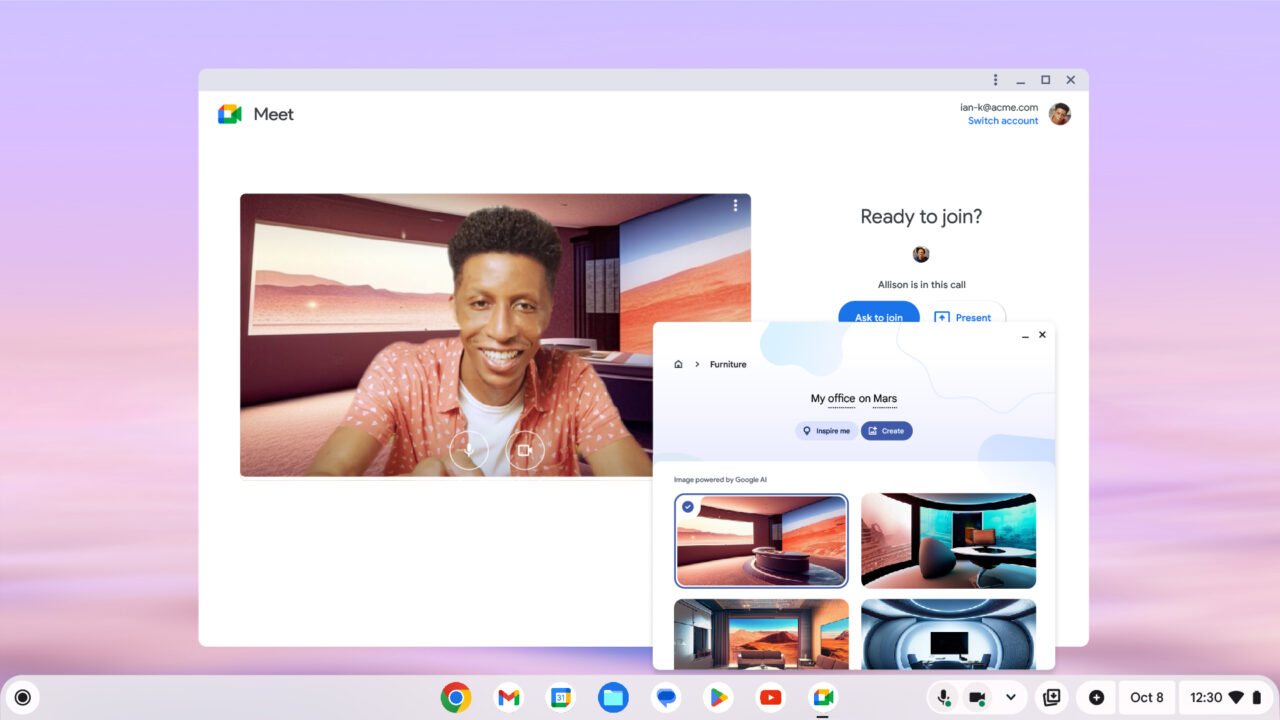 It's a smart way for Google to leverage its AI platform given that particular market is the talk of the town these days. Will I ever use it? Once or twice for novelty, yes, but after that, probably not. You may decide otherwise.
Speaking of AI, Chromebook Plus devices can use it for custom writing prompts as well. As a writer, I think it's a nifty idea.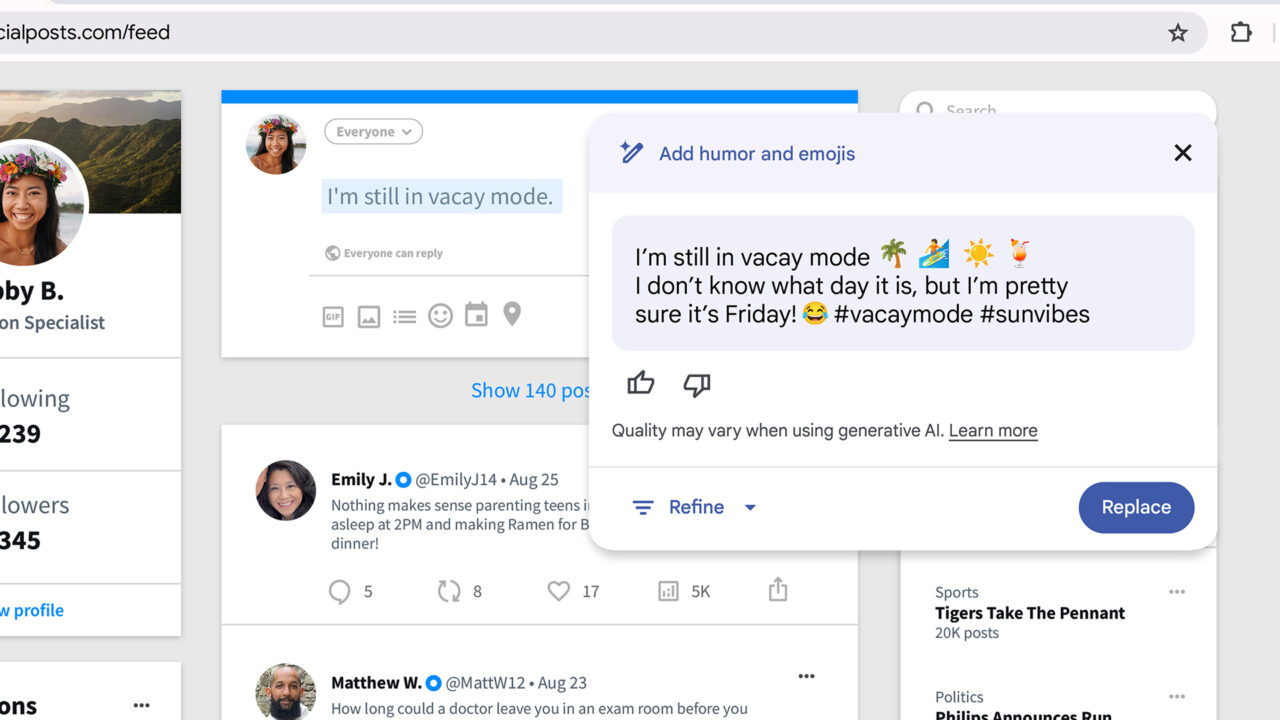 Chromebook Plus devices and pricing
This may be the most frustrating part of the Chromebook Plus initiative, at least from my perspective.
At the press event, Google showed off 8 devices with most of them in the $399 to $499 range. That got me excited. However, working with multiple hardware partners is a bit like herding cats. And all of the devices Google noted were either Intel Core i3 or AMD Ryzen 3 devices, which skewed the pricing down.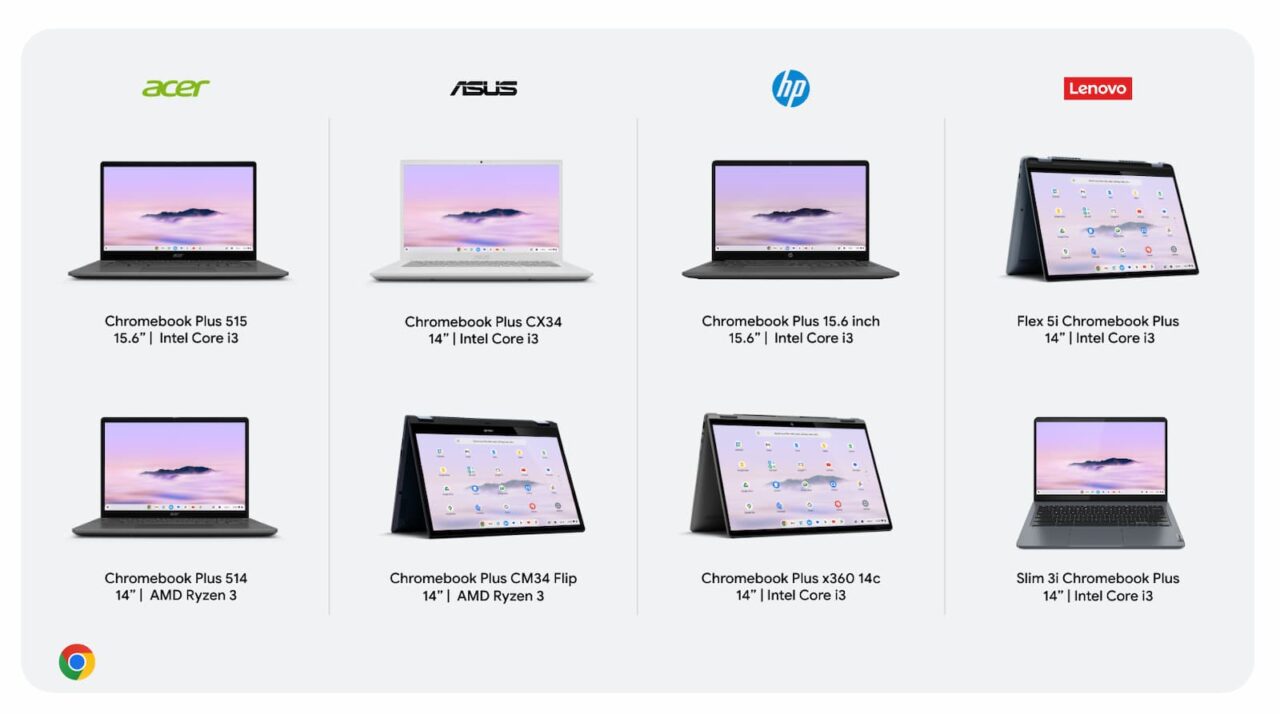 In the days after the press releases, each hardware partner shared their own configurations and MSRPs, many of which were higher than the expectation that was set.
Having said that, here are the devices and their respective MSRP costs:
Chromebook Plus model
Hardware (differences from minimum)
MSRP
Acer Chromebook Plus 515
Intel Core i3-1215U,
non-touch display
$399.99
Acer Chromebook Plus 514
AMD Ryzen 3 7320C,
256 GB storage
$449.99
Asus Chromebook Plus CX34
Intel Core i3
$399.99
Asus Chromebook Plus CM34 Flip
AMD Ryzen 3
$499.99
HP Chromebook Plus 15.6
Intel Core i3-N305
$499.99 at Best Buy,
$599.99 direct
HP Chromebook Plus x360 14-inch
Intel Core i3-1215U,
1920 x 1200 display
$699.99 at Best Buy,
$789.99 direct
Lenovo Flex 5i Chromebook Plus 14
Intel Core i3-1315U
$499.99
Lenovo Slim 3i Chromebook Plus 14
Intel Core i3-N305,
touch and non-touch options
$549.99
Lenovo Gaming Chromebook Plus
Intel Core i3-1215U,
2560 x 1600 display
599 euros
(not available in N.A.)
In the above chart, I've noted any specific chip information provided to me. And I've pointed out any attributes that are different from the minimum specifications. I'd use this information as a guideline and check the actual product pages for each device once those go live today.
What's it like to use a Chromebook Plus
You'll see Chromebook Plus reviews in the near future from various sources, of course. That will happen once the embargo lifts. So for now, I'm only allowed to share some unboxing and general thoughts using the Lenovo Flex 5i Chromebook Plus Google provided to me on loan.
To be honest, its very much like using my 2022 Acer Chromebook Spin 714. That's because the hardware is very comparable. And these aren't exactly newly designed Chromebooks; they're an iteration of existing devices.
However, this Chromebook has an MSRP of $499.99 while the Acer is $729.99 at full price. Along with many others, I bought the Acer on sale, where it has routinely enjoyed discounts between $140 and $200. Either way, it's still more expensive than the Chromebook Plus.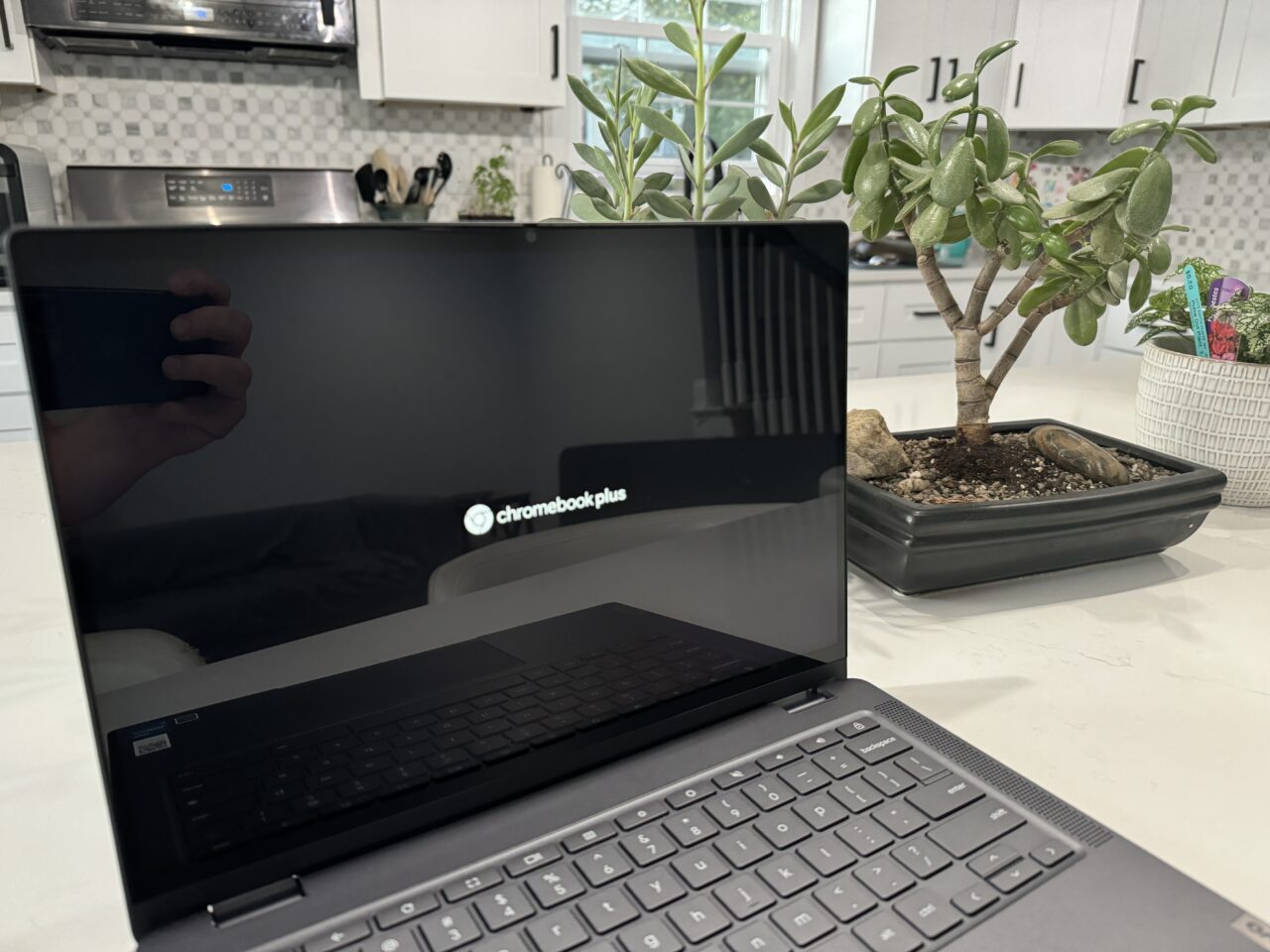 I appreciate the new Chromebook Plus boot screen, although it's just a visual aid. The other Plus features are well integrated into ChromeOS and working well for me. Again, I'm not sold on the amount of value they add, but that's a personal opinion that you may disagree with.
Based on my limited experience with a Chromebook Plus device, this effort is less about technical changes and add-ons. Instead, it's a way to differentiate a subset of Chromebooks to portray a certain level of performance. I'm not saying that's a bad thing by any means. And even though there's a minimum set of hardware requirements, it's already clear that Chromebook makers will continue to differentiate their devices in this subclass.
Will Chromebook Plus devices help expand demand for Google Chromebooks from non-Chromebook users? I'm skeptical on that. But for those of us already in the ChromeOS world, Chromebook Plus devices make it simpler to select a device that meets our own personal needs.