How to revert Chrome OS to a prior version on a Chromebook
As we've recently seen, sometimes a bug gets by testing with a new Chrome OS Stable Channel release. These occasional glitches might be small issues or in rare cases, they might introduce big issues. A powerwash can help but not if your Chromebook is going to simply download the same buggy Chrome OS version. Here's how to revert Chrome OS back to a prior version on a Chromebook.
Essentially, you need to use the same Chromebook Recovery Utility and a USB stick you'd use to powerwash your Chromebook in an offline scenario. Every Chromebook comes with this utility, which downloads the most recent Chrome OS Stable Channel version for your specific device.
So how does that help you if you're going to just download the same buggy version of Chrome OS?
On the surface, it doesn't. But there's a little trick that lets you install a locally stored installation of any Chrome OS version. And there's a place where you can officially download these older versions as well.
Download a prior version of Chrome OS version
To revert Chrome OS to an older version of the operating system, first head to this official Google site.
Here you'll see all supported Chromebooks. The internal board names are on the left so if you know which board your Chromebook uses, you can easily find your device.
If you don't know the board name, look at the rightmost column to see which Chromebook brands and models use the board inside your laptop.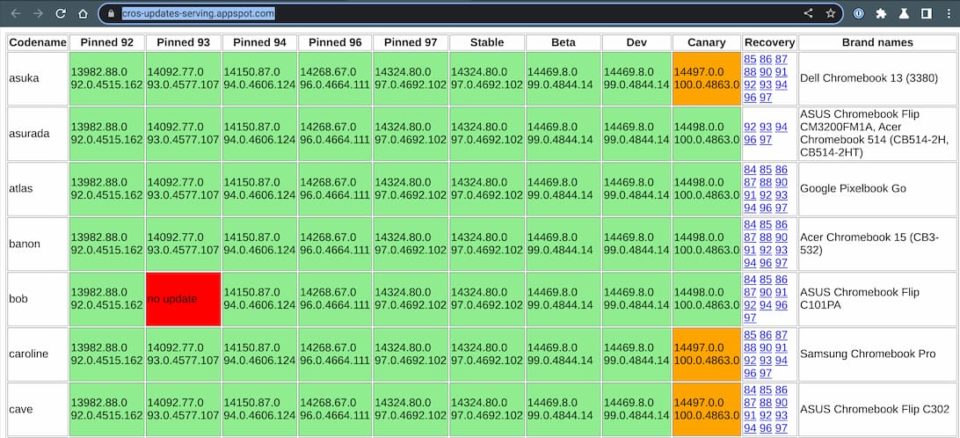 Once you find the row for your device, look to the column next to the Chromebook brand names. It's titled "Recovery". And here you'll find several Chrome OS versions prior to the current Chrome OS Stable Channel.
Just pick the most recent one, which is one major version behind the current Stable Channel. Click on the version to download a .zip file with the recovery software to your Chromebook.
Create a recovery image with the download
Now that you have an older version of Chrome OS, you can use the Chromebook recovery utility to create an external drive to revert Chrome OS.
In the utility, instead of choosing the make and model of your Chromebook, click the settings icon at the top right. You should see an option to use local media; choose that.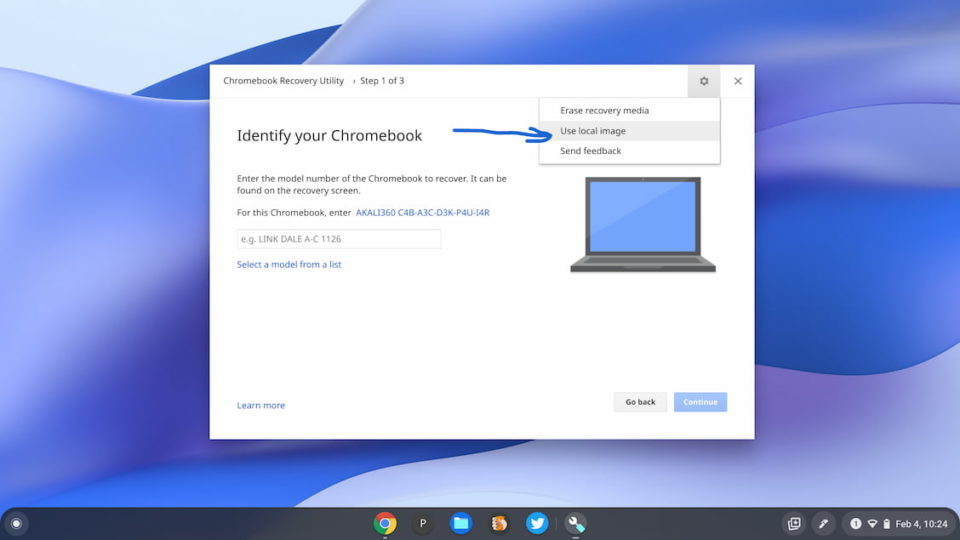 In the next window, select the .zip file you downloaded for the prior Chrome OS version.
This way, your external media will store the older version of Chrome OS instead of downloading the current one. Continue through the steps to create your recovery media and close the utility.
Use Recovery Mode to revert Chrome OS
All you have to do now is put your Chromebook in Recovery Mode, which is usually a keyboard combination.
For most devices, you press and hold Esc + Refresh, then press the power button. When the Chromebook display turns back on let go of the Esc and Refresh keys. You should be prompted to insert your recovery image media, which is what you made in the prior steps.
Follow the directions on the screen (shown below) and the older version of Chrome OS will be installed.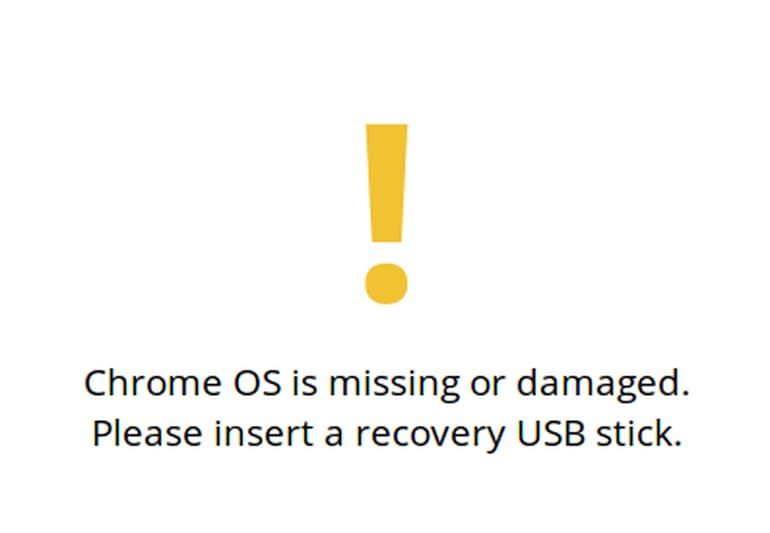 This isn't something you'd do often, but if your Chromebook essentially becomes unusable due to a major Chrome OS Stable Channel bug, it is an option.
Things to keep in mind
Like any other Powerwash or Recovery, all of your local data will be deleted!
Don't expect your files, photos, apps, and such to be there after the recovery process. Again, this is more of a worst-case situation.
Also, your Chromebook will likely still download the newer (current) version of Chrome OS, unless Google has pulled it. That means if you restart your Chromebook after the download, it will just go right back to the buggy version you had in the first place.
So be aware that you'll need to keep your Chromebook from restarting if you want to avoid this situation. You can close the lid and put your Chromebook to sleep. But once you restart, your Chromebook will boot into the recently downloaded version of Chrome OS.