The HP Chromebase AIO 21.5 was announced in August of 2021, which is kind of bad timing. With its 10th-generation Intel processors, it now has to compete with current 11th-gen and coming soon 12th gen CPUs in Chrome OS devices. However, this is the most recent Chromebase, so there isn't much competition yet. I just received the highest-end configuration, so here's my HP Chromebase AIO 21.5 unboxing and first impressions.
This review model is currently priced at $739.99 on HP's site and has the maximum possible current configuration.
This HP Chromebase is mostly all high-end
That includes the 21.5-inch, 1920 x 1080 IPS touch panel with 250 nits of brightness, along with a full Chrome OS computer inside. Powering that computer is the dual-core Intel Core i3-10110U processor and Intel's integrated UHD graphics.
It seems a little strange to use a relatively low-powered, 15W CPU – this chipset was used in many Chromebooks – since the HP Chromebase is always connected to an outlet.
Also inside is 16 GB of memory and 256 GB of NVMe storage. Intel's radio chip supports WiFi 6 and Bluetooth 5. You'll need that Bluetooth if you want to use the included wireless keyboard and mouse. Batteries are included for both.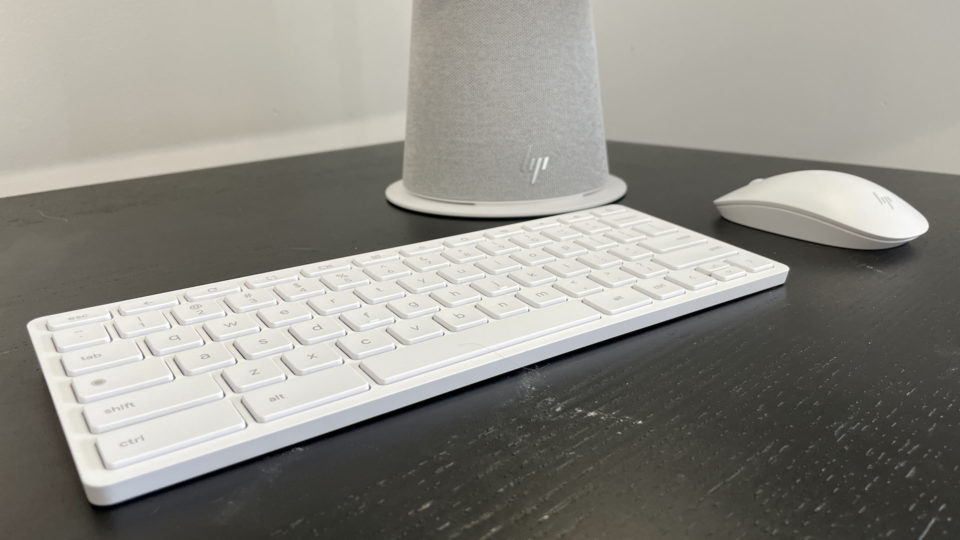 Atop the touch screen is a 5-megapixel webcam and a physical switch to disable the camera and the microphone. You can slide over the shutter to disable the camera but keep the microphone active, which is handy. Or you can slide the switch further to disable both.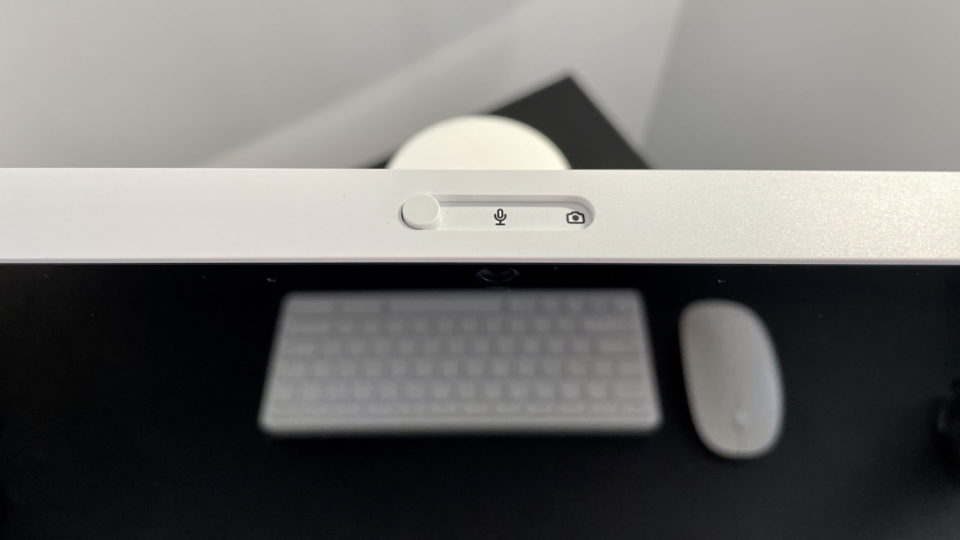 Built into the attractive stand are the power and volume buttons as well as the external ports.
You're getting a pair of USB Type-A ports and the same number of USB Type-C jacks. There's also a microphone/headphone combo port. The 90W proprietary charger connects underneath the base and you can route the cord out of a nicely designed channel.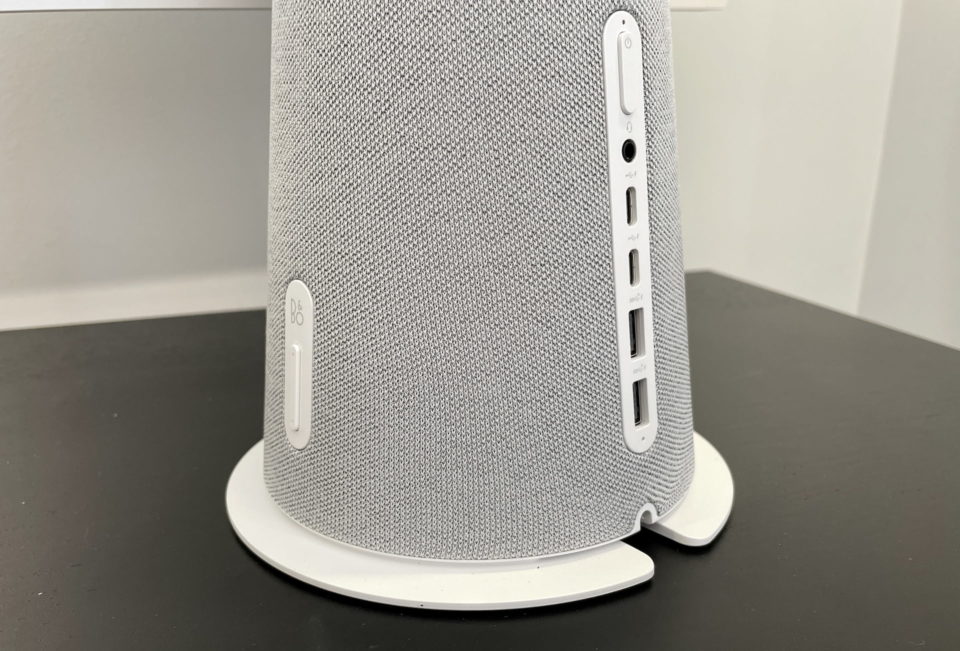 In terms of setup, it was simple. I connected the power cord to the HP Chromebase and put batteries into the mouse and keyboard.
Upon booting up, I was greeted with the below setup screen to pair the accessories, which took all of 30 seconds. Then the rest of the traditional Chrome OS setup process followed.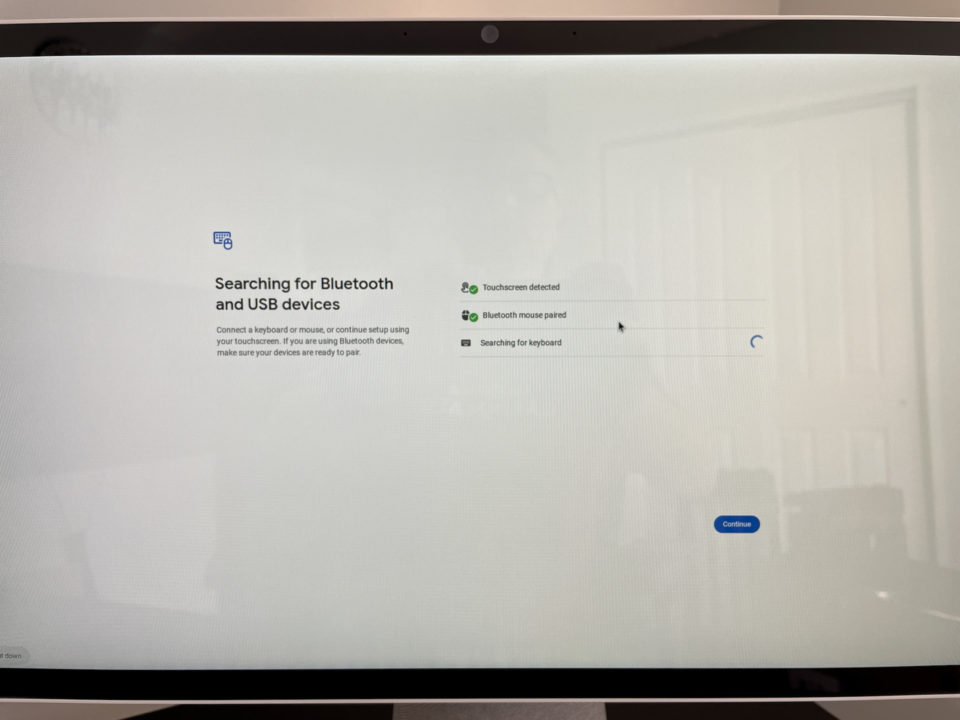 Frankly, this couldn't be easier to set up. Due to a Chrome OS update that I downloaded and installed, I was up and running quickly. Without the update, I estimate you can go from unboxing to work in around three minutes.
First impressions are favorable
Obviously, since I just received the HP Chromebase, I can't offer a full review right now. I'll use the device full-time for around a week or so before doing that.
However, I do have some first impressions worth sharing.
The overall design is well executed, save for the headphone jack on the very back of the base. I wouldn't mind seeing that right up front, but that's just me. The look and feel reminds me of Apple's design language, if you like that sort of thing.
As noted, the setup process is simple and fast, which I appreciate.
Even at a maximum of 250 nits brightness, the display is fine in my home office. I have a bay window with plenty of sunlight, for example. Even at 75% brightness, this display is vibrant and nice to look at.
I'm used to a mechanical keyboard and high-end mouse on my desk. The included accessories here are not those. But just in writing this post on the HP Chromebase, they seem adequate, if not good.
The integrated B&O speakers in the HP Chromebase are far better than you'll find in most Chromebooks. There's more bass and the volume levels can go very high. At 25% volume I have good sounding background music while working. Boosting that to 50% easily fills the room with sound.
I haven't run any performance tests but while writing this post, the HP Chromebox kept up with my pace. That included streaming music, six browser tabs for research and a PWA I use to edit and compress photos. That's not a huge workload and I'd expect this hardware to keep up. I'll be pushing the envelope by adding more tasks such as coding in the Linux environment.
As shown below next to my Windows gaming PC setup, the HP Chromebase display rotates to portrait mode. I don't think this is a big seller for many people but it is for me. I like to write code in this orientation because I can see more of my code at once. However, I'll be testing the use of an additional external display in landscape mode to supplement this.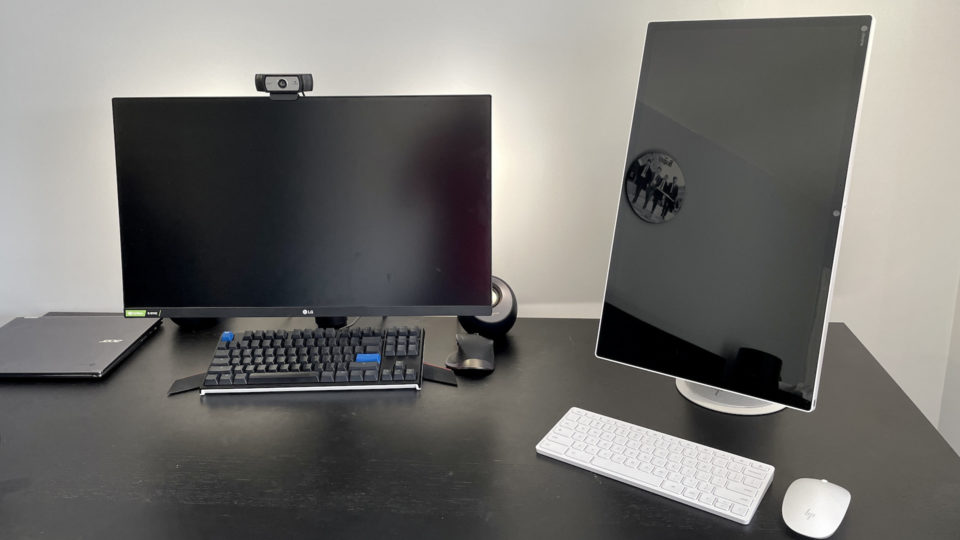 Overall, my first impressions are quite positive. And if you're in the market for an all-in-one Chrome OS computer, the HP Chromebase is the most recent option.
I still think it was bad timing for the product launch given the chip cycle. However, that may not matter to most of the target audience. Normally, I'm not in that audience but the portrait mode option places me squarely in it. So I'm looking forward to my typical workflow using the HP Chromebase AIO 21.5.
About the author
Kevin C. Tofel has covered technology since 2004. He's used ChromeOS since Google debuted the CR-48 in 2010, reviewing dozens of Chromebooks since then. He worked for Google's Chrome Enterprise team from 2016 to 2017, supporting the launch of Android app support. In his free time, he uses Chromebooks to learn software engineering at
Launch School
. In 2019, Kevin joined the CS Curriculum Committee at his local community college.
Liked this content? Subscribe for the free, weekly newsletter