Lacros on Chromebooks transition plan won't be quick
Last week I noted that ChromeOS 116 is the likely beginning for Google to decouple the Chrome browser from ChromeOS. This effort has taken nearly three years so far and there's no near-term end in sight. Based on details shared by Google, the Lacros on Chromebooks transition plan won't be quick. Expect it to last for a year.
Lacros on Chromebooks detailed for developers
Google recently shared the below video webinar outlining the Lacros on Chromebooks transition plan, which is how I found out about the details. The video is targeted at Chrome developers and, to a lesser degree, those who manage Google Chrome in an enterprise location.
Right off the bat, Google says it has opened up the usage of Lacros on Chromebooks to trusted testers. So yes, we're in the homestretch of this transition to turn the Chrome browser into a separate application on Chromebooks.
A recap of what Lacros on Chromebooks is
For those who haven't been following this, Lacros is basically the Chrome browser for Linux, but with integrations needed for ChromeOS.
I covered why Google is doing this and Google recaps it in the video, but here's the high-level reason. In the current situation, whenever the Chrome browser needs an update, say for a security patch, Google has to push that to Chromebooks in a ChromeOS update. That takes more time and effort than it does for the Chrome browser on Linux, macOS, and Windows.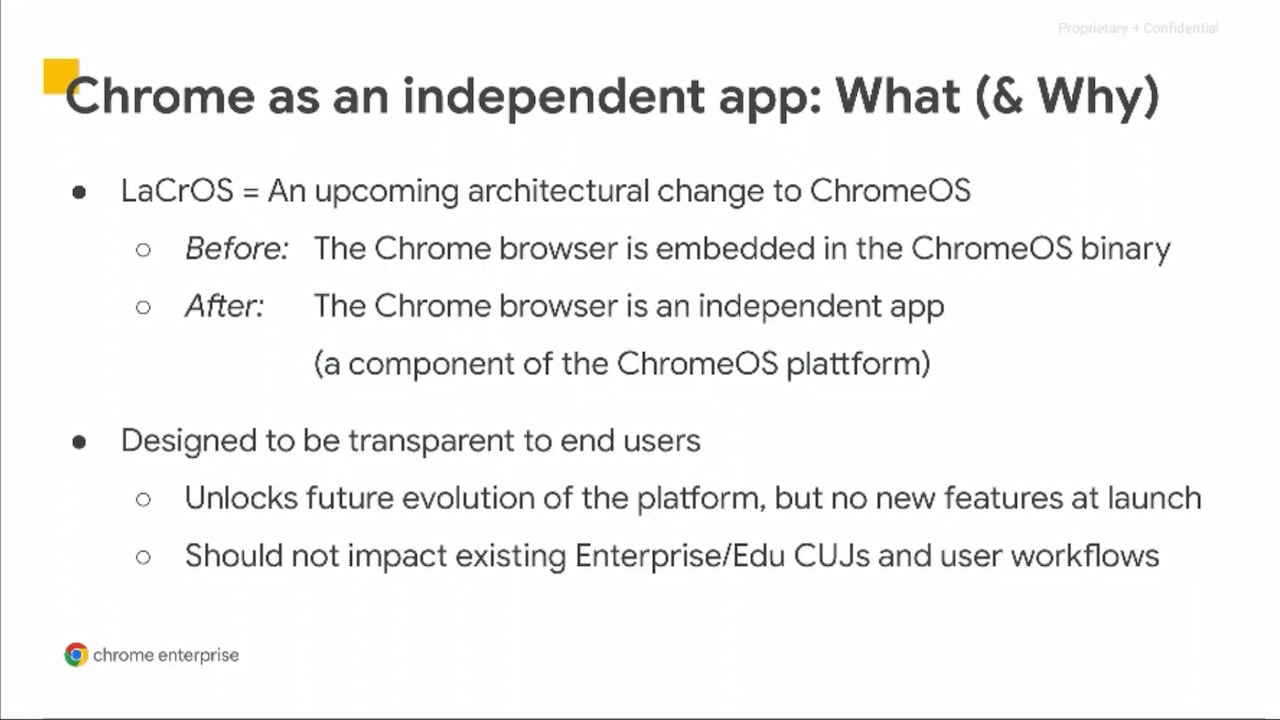 By making Chrome an independent application on Chromebooks, Google can push browser updates quicker. And it doesn't have to maintain a separate browser codebase for Chromebooks. Although those are big benefits alone, there might be another one. It's possible that once the automatic software update expiration date passes on a Chromebook, the browser itself could get updates. That means it could continue to gain security patches and other features.
Keep in mind that this scenario isn't the officially stated reason Google has created Lacros. This is simply a possibility worth mentioning.
Current Chrome and ChromeOS architecture changes
When you get an idea of how the current Chrome browser works within ChromeOS, you can see why Lacros on Chromebooks has taken so long. The current Chrome browser is heavily integrated within ChromeOS, as shown below. The "Browser" section on the right side of the diagram is the current state.
Lacros on Chromebooks moves the Chrome browser outside (to the left) of ChromeOS. And it's not as simple as simply installing Chrome. That's because the operating system has many integration points with the browser. Every arrow on the above diagram is either one of the integration points or some messaging between the browser and ChromeOS.
Think of it this way with the simple example of downloading a file from the Chrome browser. (Yes, I know that third-party browsers on Chromebooks can download and save files from the internet. I'm using this as an example of all browser functionality that interacts with an operating system using a simple scenario. Such third-party browsers also use the APIs and services from the platforms they run on, i.e. Android and Linux, which is why they work today for this use case.)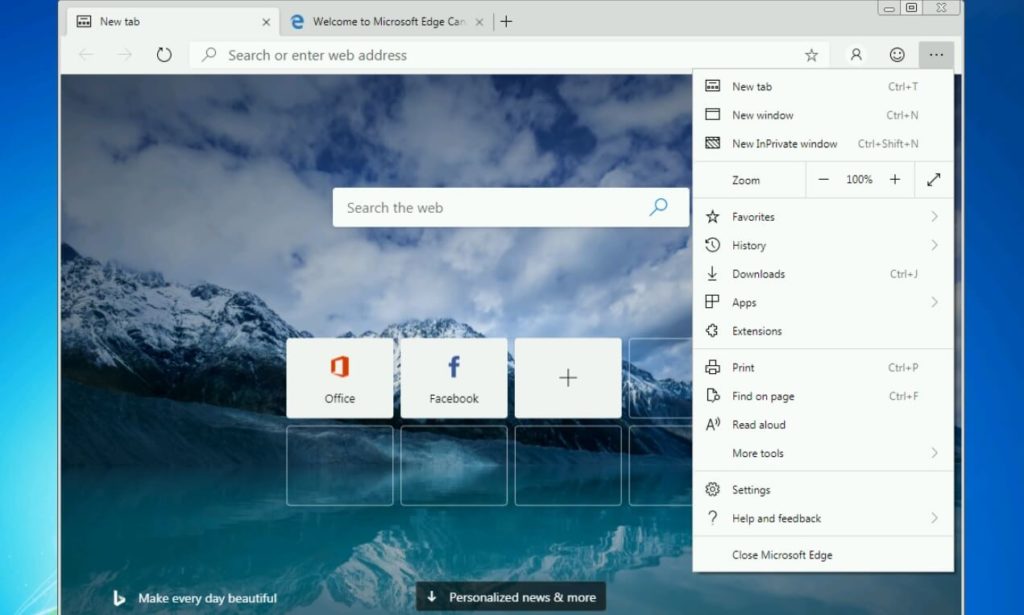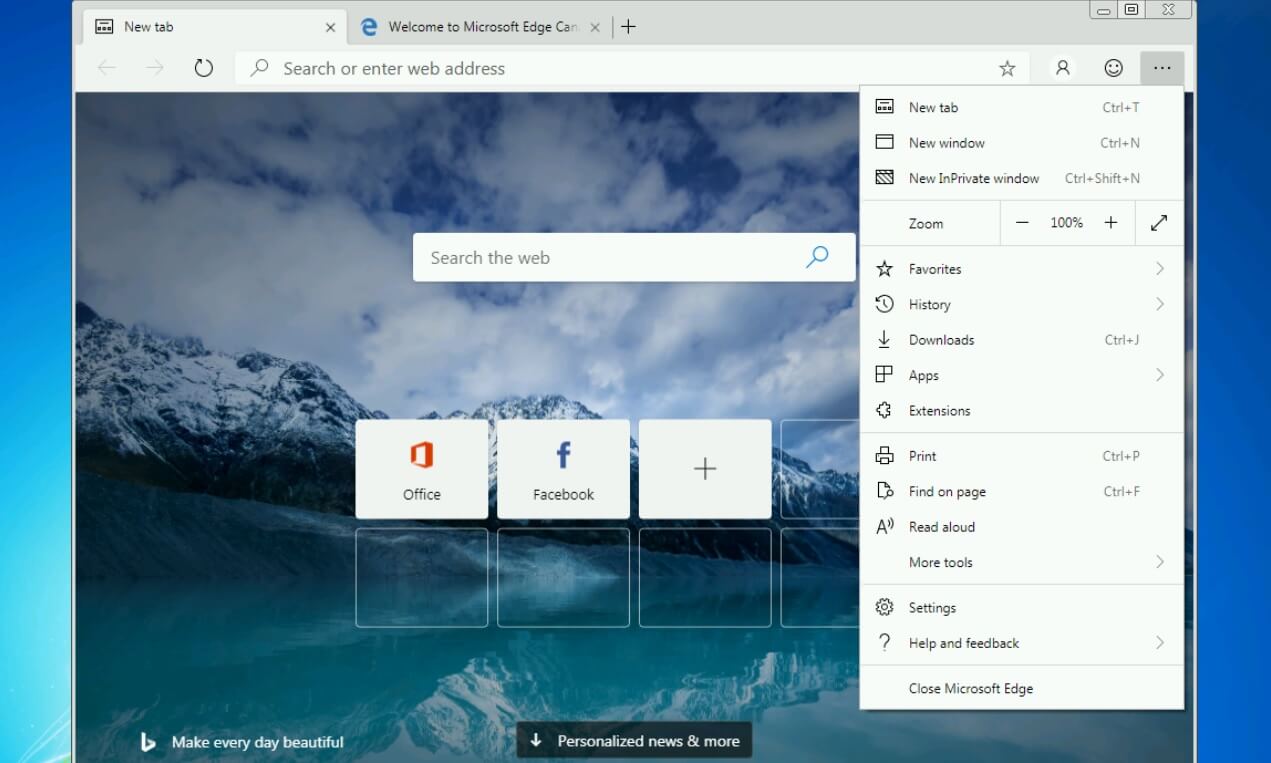 On a Windows device, the Chrome browser uses already established Windows APIs and services so the device can access the file system and save that file. ChromeOS by comparison also has these integration points. But today, the Chrome browser is part of ChromeOS and the tools needed to access the file system to save the download are within ChromeOS.
So how does a browser that should provide a fully integrated experience on a Chromebook do the same? That browser has to communicate with the operating system which provides some of that functionality. Google has had to create much of that functionality for an external, or non-integrated browser over the past three years.
Lacros and the native Chrome browser will be on Chromebooks during transition
In a bit of good news, you'll see in the above image that both the current, native Chrome browser and Lacros will be on Chromebooks during the transition period. I was concerned that this might not be the case based on experimental flags I found last week. However, Google is smartly keeping both browser versions on Chromebooks.
This allows a smoother transition in the case of Lacros bugs. If something doesn't work in that browser, users can fall back to the current Chrome browser and keep on working. It may even be a seamless fallback although I won't know until I can test further.
Google wants to ensure that ChromeOS users, particularly businesses using Chrome Enterprise, aren't negatively impacted by their current workflows. Obviously, it's important for consumer Chromebook users too but the current focus is to have business users and developers iron out the bugs from Lacros.
Lacros on Chromebooks transition plan is about a year
With the trusted tester program for Lacros on Chromebooks already underway, the transition plan has effectively started. In the video webinar, Google said it plans to begin the Lacros rollout within the next few months. Again, ChromeOS 116 shows the first signs of that although Google hasn't officially mentioned Lacros as part of that version.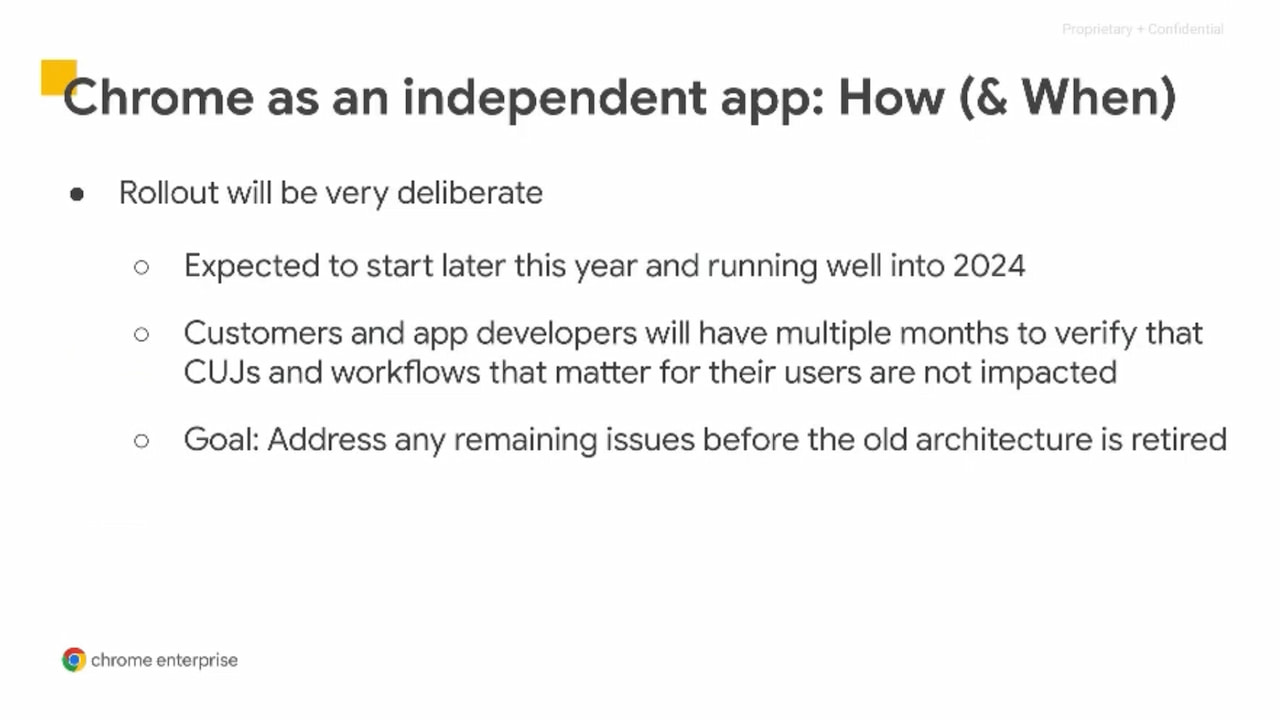 For around six months, Lacros will be in a rollout mode, likely with a small but growing number of users over time. Once Lacros on Chromebooks is generally available, Google will spend another several months ironing out any remaining bugs or issues. I would anticipate those to be few because most of the issues should be uncovered during the first half of the transition.
I also expect most traditional Chromebook users to hear about Lacros over the next few months but not actually use it. The independent browser will likely be considered an experimental, feature during the first half of the transition.
The end result for Lacros on Chromebooks
Obviously, I don't fall into the "most traditional Chromebook users" category. I've been using Lacros as a primary browser on my Chromebook since ChromeOS 100. Yes, there are still bugs and issues. I simply deal with them or jump into the excellent Sidekick browser to get around them.
Ideally, as the Lacros on Chromebook transition continues, however, most users should not see any difference with their browser. Well, maybe a few functionality differences since Lacros has far better support for Google account profile switching. Outside of that and a few other features though, everything should look and work the same on your Chromebook.
I'm sure there are questions about this, so chime in with yours below. And of course, I'll continue to monitor the progress of Lacros, reporting on what I find along the way.