Samsung Galaxy Chromebook 2 360 is an education-focused laptop with odd specs
Samsung doesn't update its Chromebook line as often as other brands. But when it does, there's usually some unique aspect. Case in point: The newly-announced Samsung Galaxy Chromebook 2 360 has an entry-level processor but a super high-resolution touchscreen.
Unlike Samsung's current low-end Chromebooks, this one is a 2-in-1 convertible. Hence the "360" in the name. But last year's Galaxy Chromebook 2 was also a 2-in-1. This Samsung Galaxy Chromebook 2 360 also has larger keycaps and a bigger touchpad, which is nice to see.
What's really nice to look at is the 12.4-inch LED touch display and its 2560 x 1600 resolution. That works out to just over 264 pixels per inch. That's great because education laptops usually have abysmal screens.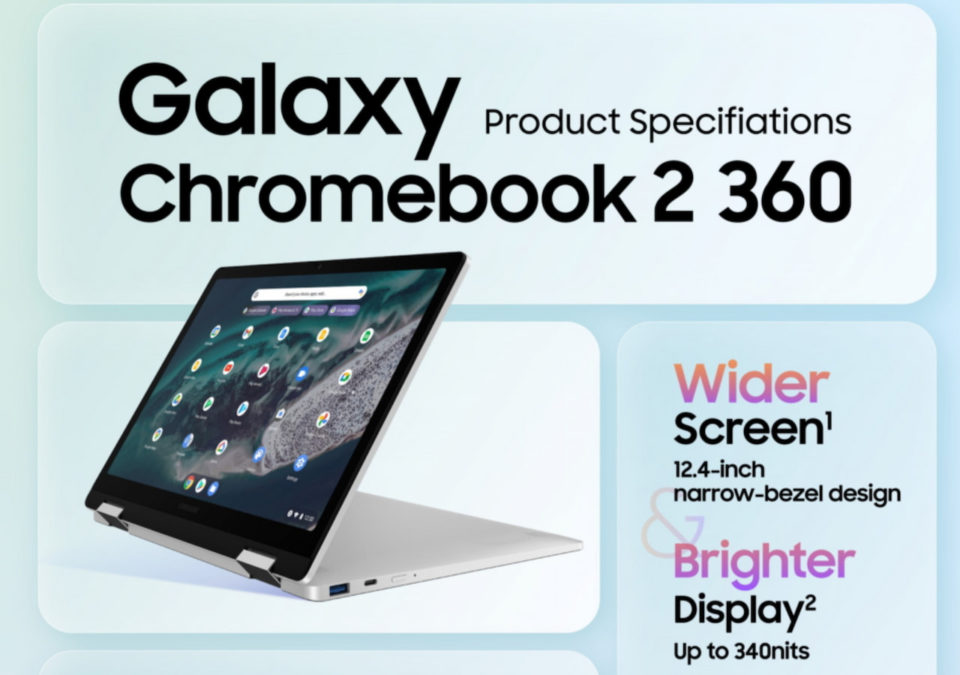 Of course, to keep costs in line with school budgets, you'd expect some lesser hardware in the mix. And that's what you find inside.
A year-old Intel Celeron N4500 powers this Chromebook and the base model has 4 GB of memory paired with 64 GB of eMMC storage. There will be options to double both capacities, however.
WiFi 6, Bluetooth 5.1, optional LTE, a 720p front-facing camera, an 8-megapixel world view camera, and a 45.5 W/hr battery make up the rest of the hardware package. This is all supplemented with a pair of USB Type-C ports, a single USB Type-A, a microSD card slot, and a headphone/microphone jack.
That's pretty much standard fare with devices in this segment. So the display is the star of the show here, and that star shines pretty brightly: 340 nits.
Aside from not understanding the higher resolution screen, even though students will appreciate it, this is an odd follow-up to last year's Samsung Galaxy Chromebook 2.
That model was a lesser version of the original model, but at a more reasonable cost and with better battery life. The new Samsung Galaxy Chromebook 2 360 looks nothing like a follow-up and has a mish-mosh of hardware. I guess this was designed to meet a price point?
Unfortunately, we don't even know what that price point is yet. All we have is a Samsung Galaxy Chromebook 2 360 infographic to go on. Given this is for the education market, I expect we'll hear about pricing and availability in a few months as the new school year approaches.