There's a cheaper Lenovo Duet 5 Chromebook on sale for $399. Should you buy it?
After reviewing the Lenovo Duet 5 Chromebook myself, I browsed some of the other takes available on the web. I'd say most of them were pretty similar: Yes, it's a decent device but not without a few quirks. I noticed that we were all sent the $499 configuration though. And there's a cheaper Lenovo Duet 5 Chromebook configuration priced at $429. It's currently available from Amazon for $399 but should you buy it and save $100?
If you're not in the market for a dual-purpose Chrome OS tablet, probably not. Even though this detachable device makes for a good Chromebook on the desk, it's pretty entry-level when it comes to performance.
Put another way: Your $399 can get you a better processor, more memory, or more storage than this cheaper Lenovo Duet 5 Chromebook.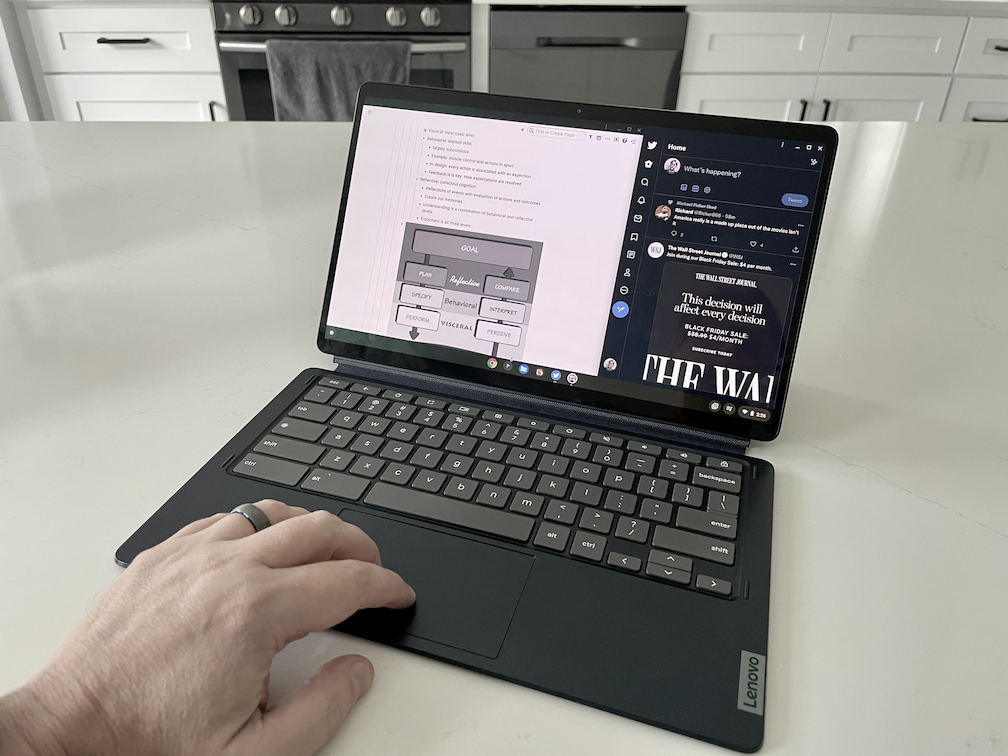 If you're thinking about the $499 model I reviewed, however, then maybe this is a good deal for you.
For $100 less, you still get much of what I like about this Chrome OS tablet. You have the same bright 400 nits 13.3-inch 1080p display, quad speakers, keyboard, kickstand accessories, long battery life, and the second-generation Qualcomm Snapdragon 7c compute system.
The only differences are where you need to carefully consider your expectations and use cases.
There are only two of those differences in the cheaper Lenovo Duet 5 Chromebook that's normally priced at $429.99: You're getting half of the RAM and local storage as the higher-priced model that I reviewed. That means 4 GB of memory instead of 8 GB and 64 GB of local storage instead of 128 GB.
Personally, I'd be less concerned about the latter. While having more local storage is always a plus, you can always supplement it with a USB drive or cloud storage.
I'm so used to storing key information in the cloud that I could easily get by with 64 GB of local storage. You may not, so it's worth thinking about how and where you keep your data.
The 4 GB of RAM is the more critical aspect here. Having more memory allows you to have more browser tabs and apps open at the same time, for example. Once you start loading up more and more of those on a Chromebook with 4 GB of memory, you'll start seeing more lag as the device gets bogged down.
That doesn't mean a Chromebook with 4 GB of memory isn't usable. You just have to understansd and accept the limitations.
So if you want a nice casual device for content consumption and a few web apps running simultaneously, this cheaper Lenovo Duet 5 Chromebook should do the trick. And you'll still get to enjoy that gorgeous, high-contrast OLED display and all of the other nice aspects of the higher-priced configuration.
You can also add an optional USI stylus in the future because it's supported on both models. And it works well for taking notes, provided you choose the right application.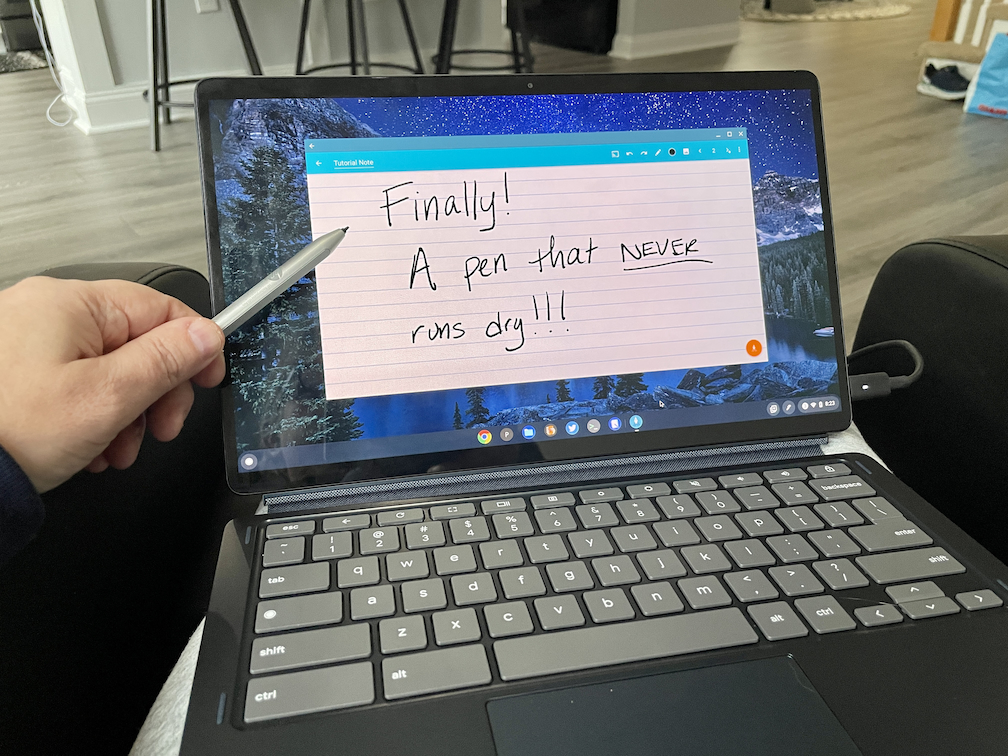 I'd say if you can afford the $499 model and really want to use the Duet 5 as a primary machine for everyday, mainstream tasks, go for it. But if your budget is constrained and you won't be pusing the device too hard, this $399 model will get the job done. Just keep your expectations in line with the two limitations on this configuration.