This is my favorite Chromebook read-later app: Omnivore
After opining how boring Chromebooks, and ChromeOS, have become, I thought to share a new favorite Chromebook read-later app. It's called Omnivore and I prefer it far more to the native Reading List app on my Chromebook. That's partly because I also use non-Chromebooks with a different browser, so the native Reading List isn't available on all of my devices. And it's partly because of the additional features Omnivore adds.
What is a Chromebook read-later app?
I'm not going to assume everyone knows when I mention a "read-later" app, so let me explain what that is. These are web-clipping applications that, as their name implies, let you read online content later. Some of the more popular ones include Instapaper and Pocket, for example. And most, if not all, web browsers offer this type of functionality as well. Indeed, Chromebooks have long had the Reading List feature, although changes for it are in the works.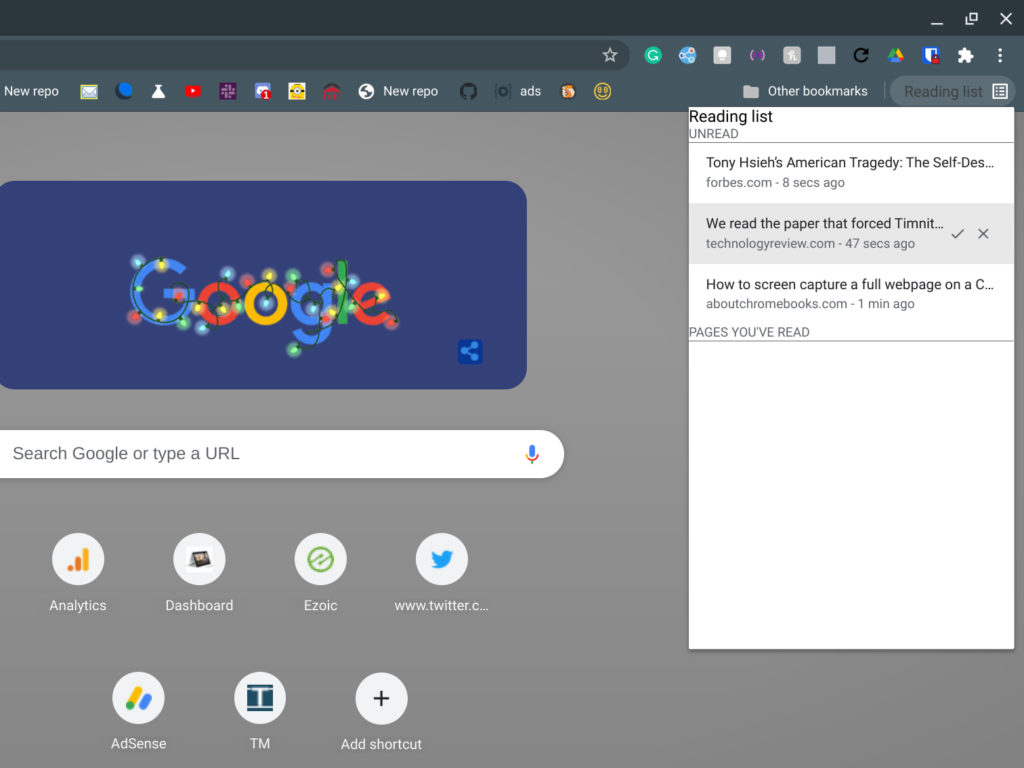 These read-later apps let you time-shift and choose when you want to read a certain article or articles. I find that it's all too easy to get sucked down a rabbit hole of browsing the web for one thing, only to spend an hour following link after link. And I like to organize my saved articles into different topics, which also helps my productivity.
Enter Omnivore, my new Chromebook read-later app
I don't recall where I heard about Omnivore, but I was immediately interested in it because of the feature set, no cost and it being an open-source service. So I created an account at Ominvore.app and installed the Omnivore Chrome Extension. Armed with the extension, I was able to save any web page, online article, and even YouTube video for later consumption.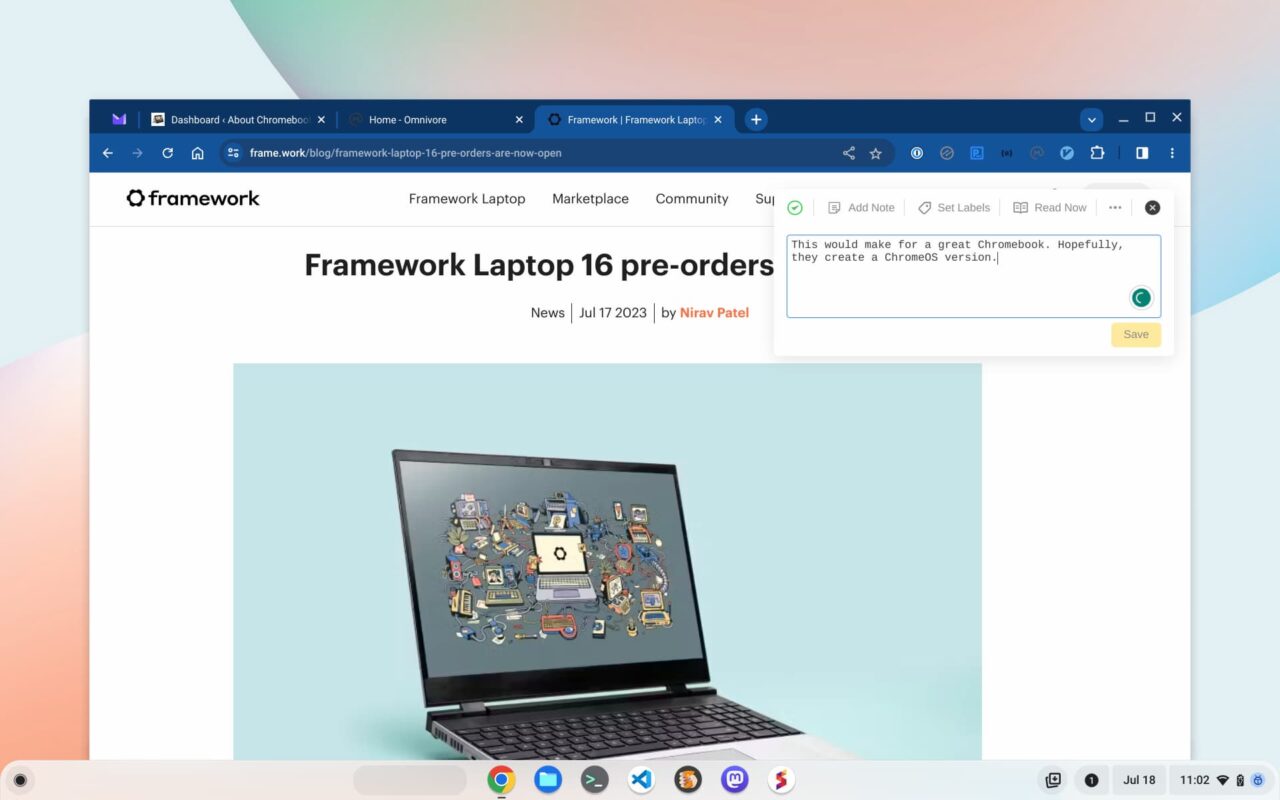 Above is an example of a blog post I clipped this morning from the Framework site. The company opened pre-orders for its 16-inch laptop and I want to read the details later.
You can see the Omnivore extension doesn't just save the article. It provides some useful options and additions as well. I added a note, which will get saved with the article. You can also add notes or highlights to any saved article. I also heavily use the labels feature to organize my web clippings.
Here's an example of some articles I saved with a "design" label as I'm a terrible web designer.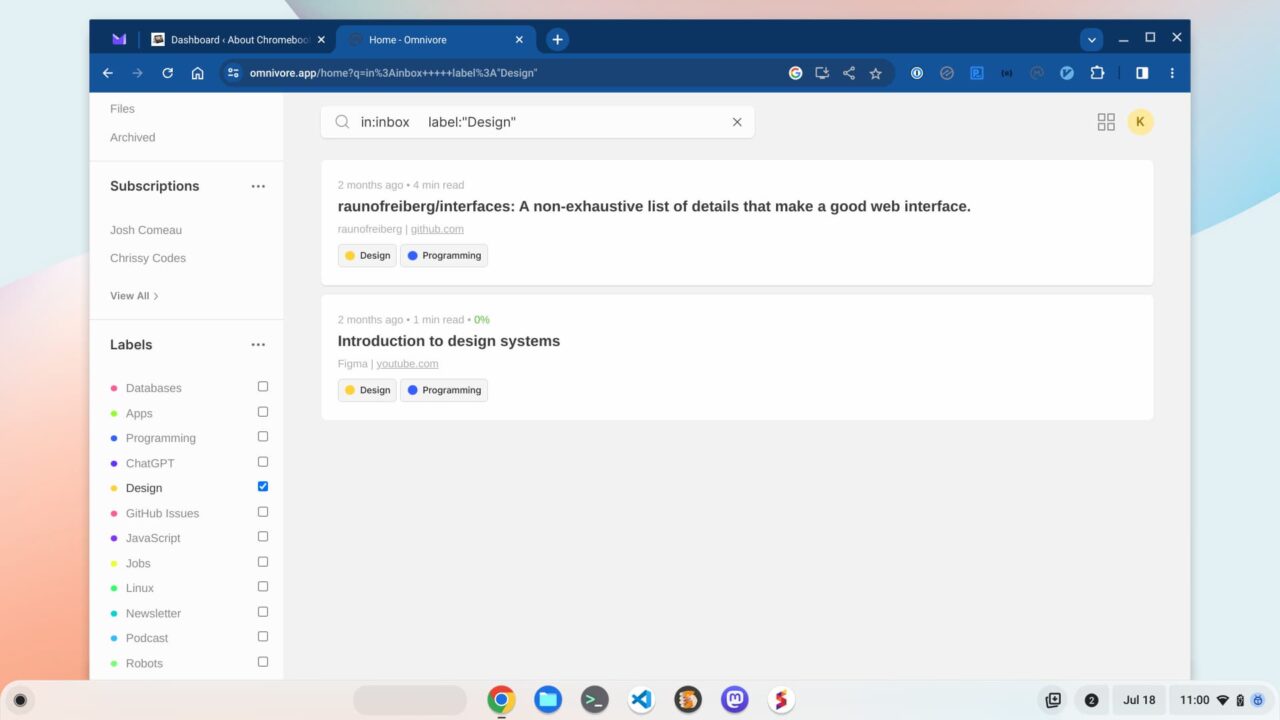 In fact, you can see how I organize my saved articles by the list of labels above. Note that above the labels list, I have two subscriptions. Yes, you can subscribe to newsletters through Omnivore as well. The service creates an email address for any subscriptions and you simply use that one to sign up for newsletters. Yet another very handy feature that keeps clutter out of my precious Inbox.
Of course, a read-later app is useless if the read-later experience is poor. Thankfully, it's not. Omnivore provides a stripped-down, content-focused view of articles.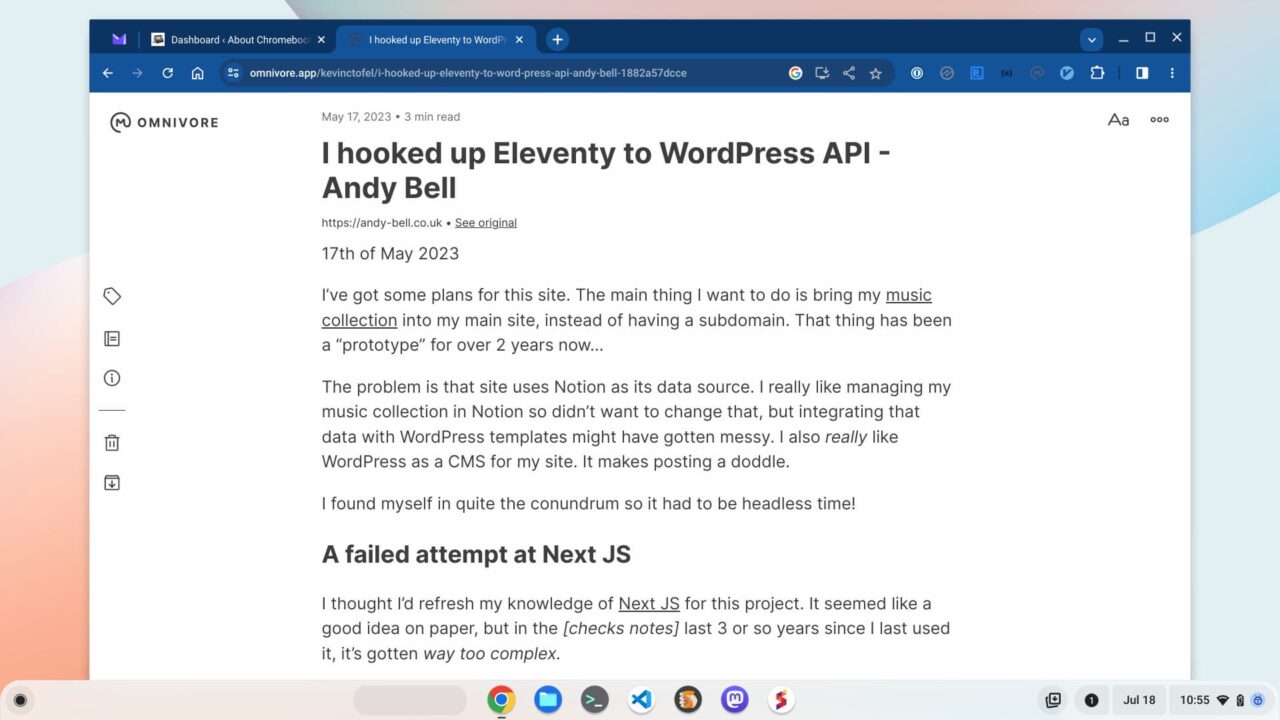 It's not just for Chromebooks
If you only use a Chromebook, Omnivore is a great option for saving and reading web clippings. Of course, most of us have smartphones and/or tablets. Not to worry because Omnivore is available as a mobile app for both Android and iOS.
While you can install those apps to save articles from your mobile device, I tend not to do that. Instead, I use Omnivore on my iPad Pro to catch up and read my saved content. And I have a set time for this: At least once a week, typically near the end of the week, I go through my Omnivore articles. I found if I don't read through and prune the content, I end up with a read-later app filled with hundreds of old articles. By the way, the iOS app has a nifty feature that can read articles aloud. Handy!
However you use it, Omnivore has some fantastic features. The web app works great on a Chromebook and can be installed as a Progressive Web App, or PWA. It's free to use, completely open source, and filled with functionality. If you're overwhelmed with web content and want to shift your reading time, I highly recommend it.