16″ Asus Chromebook Flip CX5 full specs arrive
Announced in January as the first 16-inch Chrome OS laptop, the newest Asus Chromebook Flip CX5 still isn't on store shelves. It's likely coming sooner rather than later though, as there's now a dedicated product page. On it, you can see the full Asus Chromebook CX5 specs, which offer a range of configuration possibilities.
Also known as the Asus Chromebook Flip CX5601, this convertible laptop is powered by 12th-gen Intel Alder Lake processors. Depending on the model you choose, you'll either get Intel UHD Graphics, or the more powerful Intel Iris Xe GPU. The latter comes standard with an Intel Core i5 or i7 configuration.
Here's a rundown of the various chipsets inside the Asus Chromebook Flip CX5, all of which have power and efficiency cores:
Intel Core i3-1215U Processor 1.2 GHz (10M Cache, up to 4.4 GHz, 6 cores)
Intel Core i5-1245U Processor 1.6 GHz (12M Cache, up to 4.4 GHz, 10 cores)
Intel Core i5-1235U Processor 1.3 GHz (12M Cache, up to 4.4 GHz, 10 cores)
Intel Core i7-1265U Processor 1.8 GHz (12M Cache, up to 4.8 GHz, 10 cores)
Intel Core i7-1255U Processor 1.7 GHz (12M Cache, up to 4.7 GHz, 10 cores)
All of the processor choices are from the Intel "U" line of chips. However, there are two "U" types offered by Intel: One for 15W chips and one for 9W chips. According to Intel's information on the above list, the 16-inch Asus Chromebook Flip CX5 comes with the more power-hungry silicon.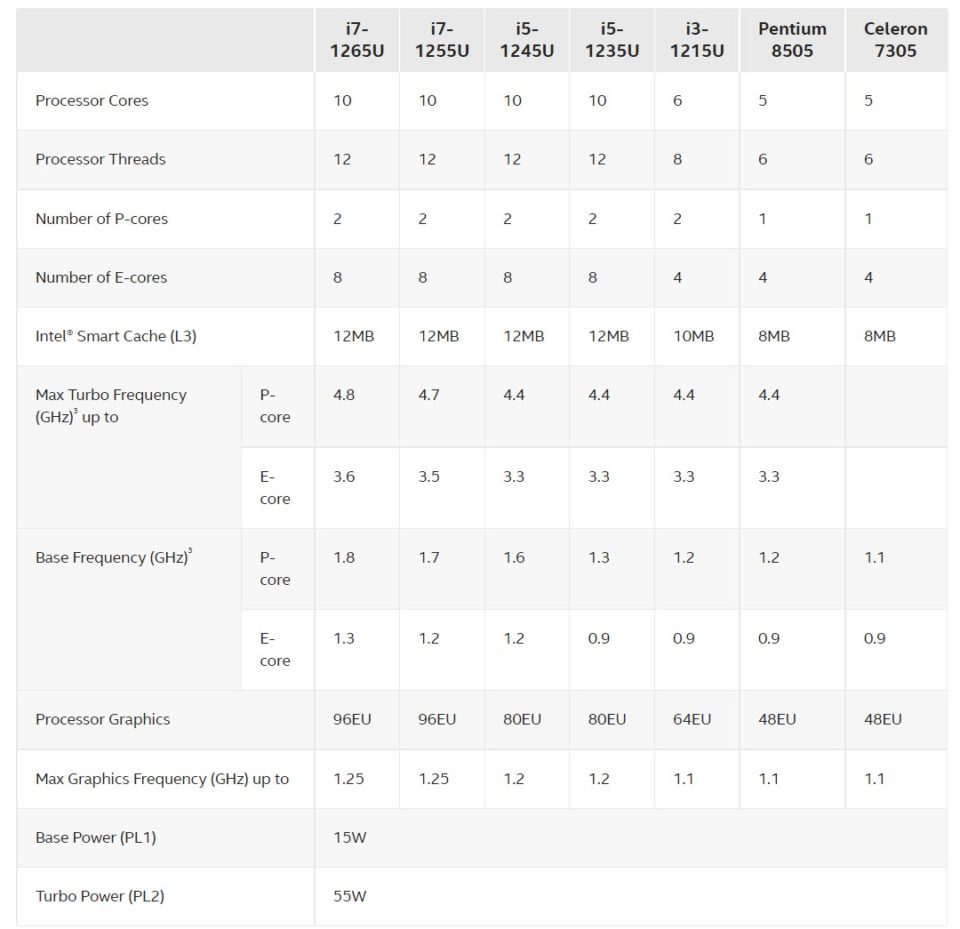 This suggests that the Asus Chromebook Flip CX5 will have a fan. Well, that and the fact that I can see intake vents on the back of the chassis.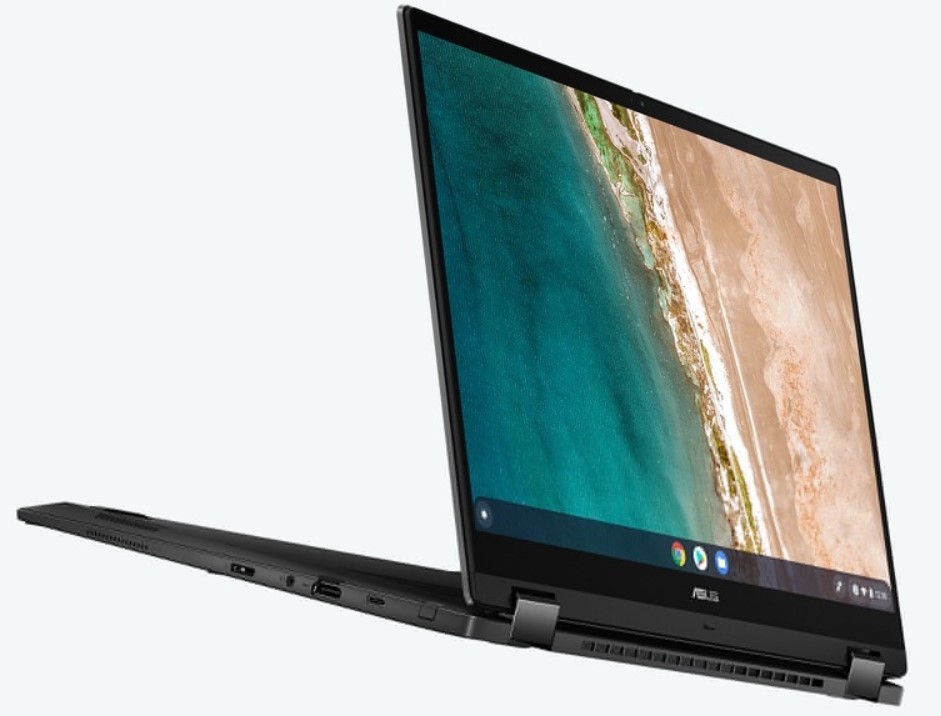 Along with Intel's hottest new CPU for laptops, there's that 16-inch display with a 16:10 aspect ratio. It's a glossy 1920 x 1200 LCD with touch support, 300 nits of brightness, and can render 45% of the NTSC color gamut.
That's about average to above average with a nice amount of brightness. There's no 4K option, which would benefit from the larger screen size as compared to a smaller one. However, Asus says that HDMI 2.0 port supports an external 4K monitor at up to 60 Hz.P
Memory choices are either 8 or 16 GB of LPDDR4X; the latter is specified as the most. All three storage options use fast NVMe flash, available in either 128, 256, or 512 GB of capacity. There is a microSD card reader for additional storage as well.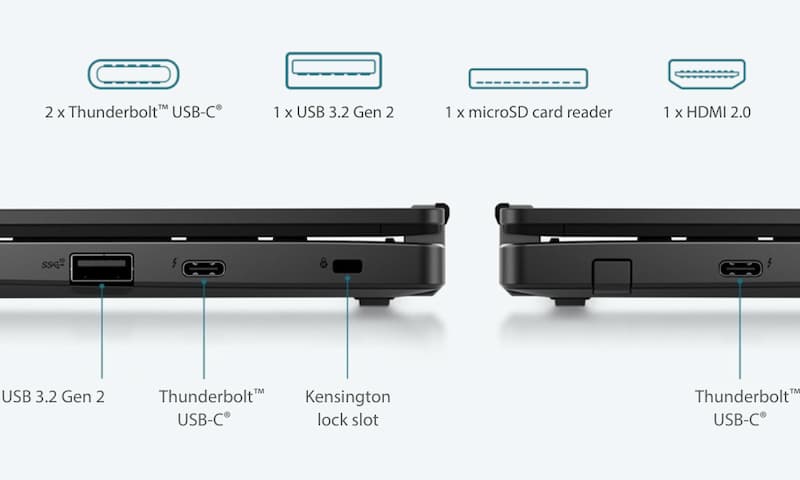 We already knew about the ports but here's a recap: A USB Type-C port with Thunderbolt support on each side, one Type-A port, an HDMI jack, and a microphone/headphone combo. And the old image I captured in January, shown above, no longer has what appears to be a garaged stylus. My guess: This convertible will work with an optional USI stylus.
The keyboard is backlit and sits atop a massive 5.84-inch trackpad. Of course, there's room for a full numeric keypad as well. Key travel is reportedly 1.4 millimeters.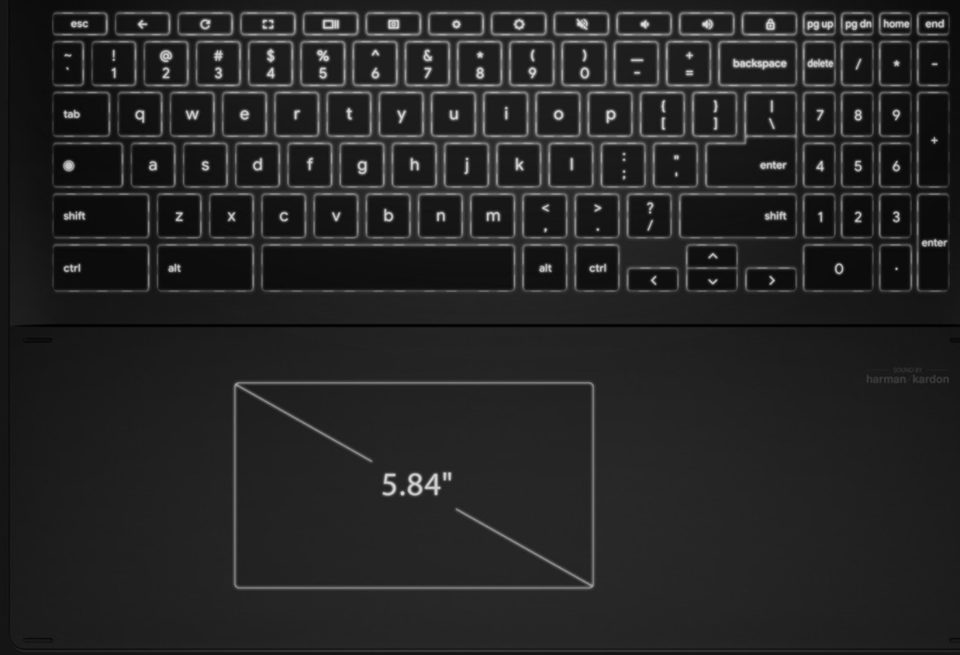 Perhaps the best part about the specs to some is another small change.
Instead of a 720p webcam, the Asus Chromebook Flip CX5 has a 1080p sensor. Plenty of readers tell me that a 720p webcam on a Chromebook is so 2019. That camera can hide behind the privacy shutter as needed. Unchanged is the connectivity, but that's not a bad thing. You'll get WiFi 6E and Bluetooth 5.2 with this laptop.
There's still no mention of price or availability, unfortunately. I'd expect a base model to be around $700 with prices going up accordingly from there, depending on the configuration. I can't see a fully loaded model going for less than $1,200, however, if Asus can prove me wrong, I'll be thrilled.