3 simple ways to find your Chromebook board and brand name
Although most supported Chromebooks received the recent ChromeOS 111 release, not all of them did. Namely, the 12th gen Intel Chromebooks are waiting in the wings. When sharing news of the latest update, I pointed people to a useful site that shows which Chromebooks are on which versions of ChromeOS. To use it, you need to know which Chromebook, or Chromebooks, you have. Here are 3 simple ways to find your Chromebook board and brand name to use that site.
The reason I'm providing this information is due to a comment about the ChromeOS 111 release update. Here's the comment in full:
While the update table is an amazing amassing of data, does the average user (and I consider myself way above average in tech savvy) have a clue what either their Chromebook Codename or Brand Name (which is another codename) is? I have 6 Chromebooks and could only figure out one, as it was more clearly named. How are we supposed to use that?
It's true that to use the ChromeOS version table, you do need to know what Chromebook you have. There is a reasonably good search feature to find that on Google's site that tracks builds.
Of course, you need certain information to use it. Here are three ways to find your Chromebook board and brand name.
Look for a sticker on your Chromebook
Most, but not all, Chromebooks have a manufacturer sticker on the bottom of the chassis. I say not all, because the Framework Chromebook is an exception. And there might be others.
Anyway, flip that Chromebook over and check for the sticker, which typically has the make and model number of the device. At the very least that will get you closer to knowing which specific Chromebook you have.
Here are two examples, that are unfortunately difficult to photograph due to the sticker and text colors: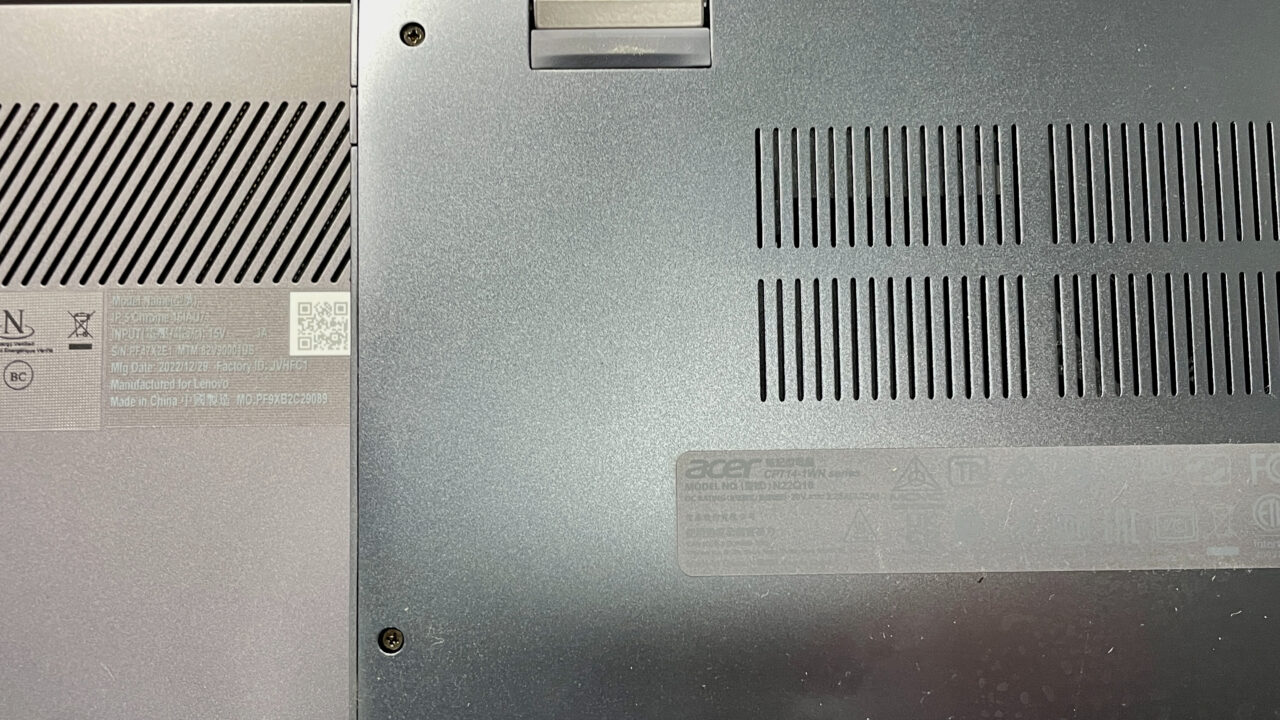 They're easier for me to read than the image appears so I'll share some of the information in case you can't make it out.
The Chromebook on the left is made by Lenovo and has IP_5 branding. It also shows a 16, indicating the screen size. That's more than enough information to find the current ChromeOS version for this Chromebook. I typed "ideapad 5i", for example, on Google's version page and that was all I needed.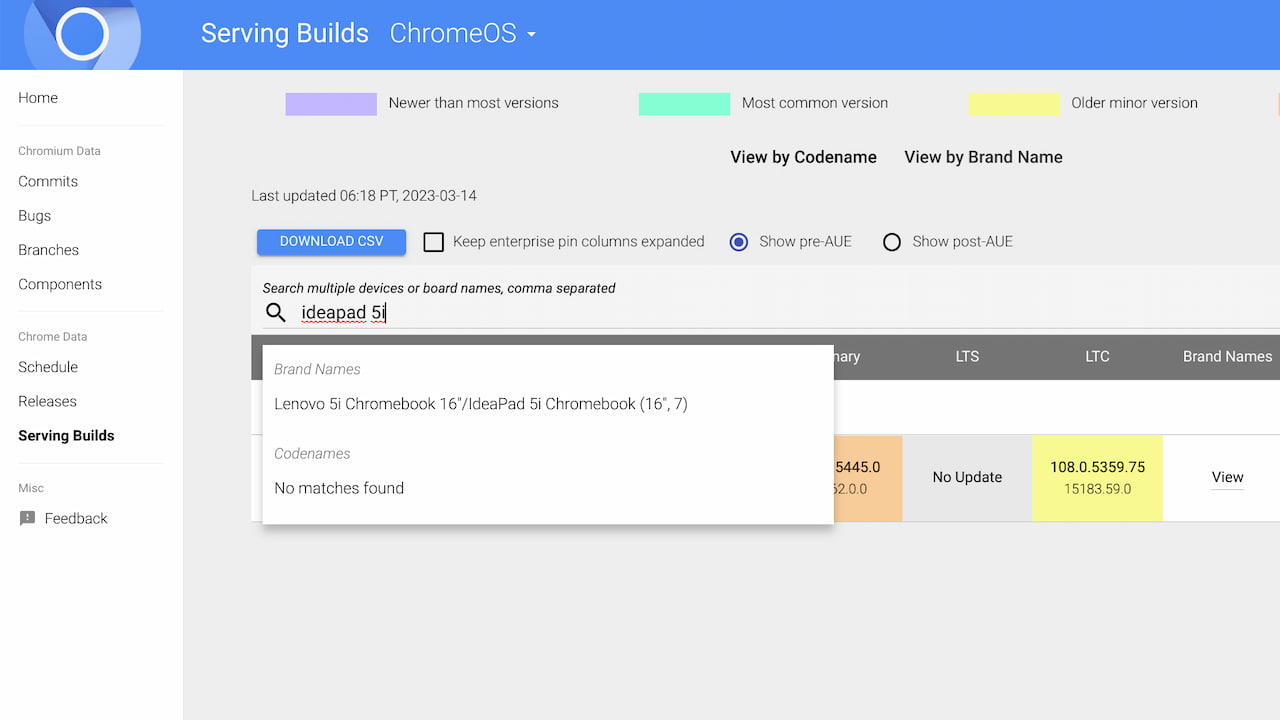 Find your Chromebook board from Diagnostics
If your Chromebook doesn't have a sticker, or it doesn't provide enough information, the ChromeOS Diagnostic app comes in handy. Simply find and open the Diagnostics app in your Chromebook Launcher and you'll see the board name and/or the full device details atop the app.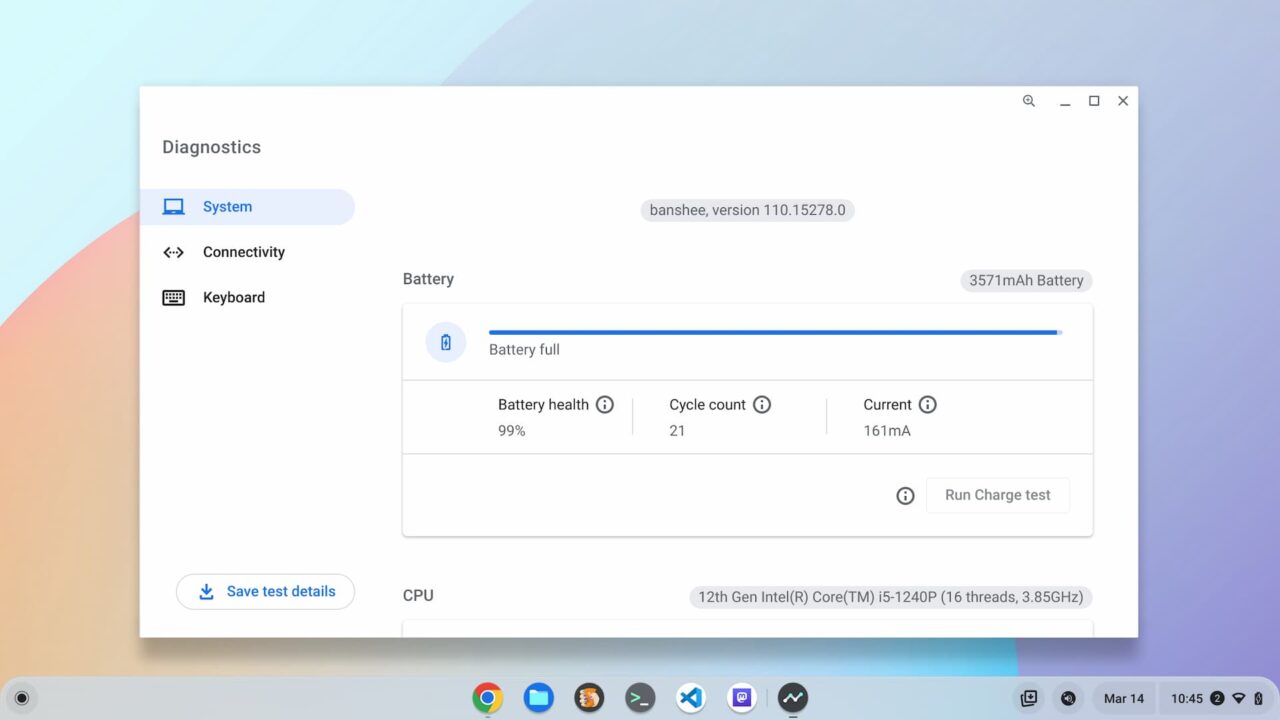 Remember I mentioned the Framework Chromebook doesn't have a sticker? Hopping into Diagnostics solves that problem and shows me the board name of "banshee". Using that information, I searched for "banshee" on the ChromeOS version site and found the information I needed. I even clicked the "view" button to verify the correct brand name.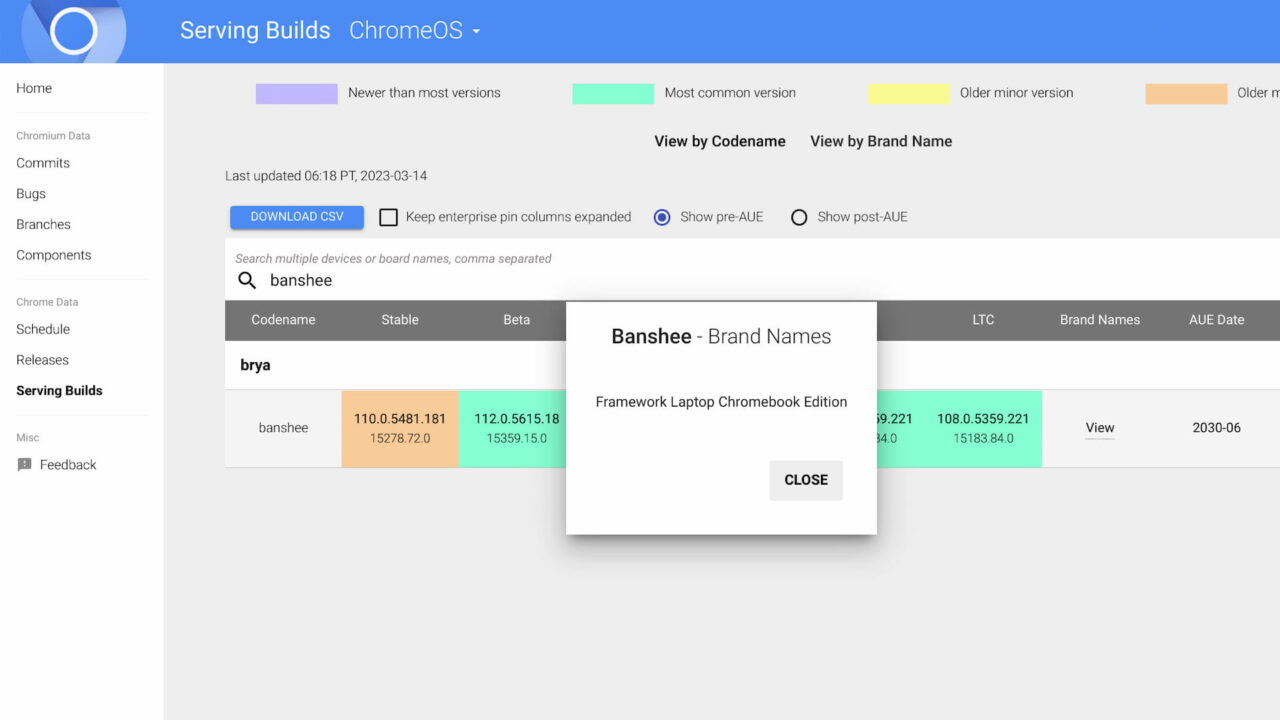 Find your Chromebook board directly in ChromeOS
A third method to find your Chromebook board is simply to use ChromeOS itself. Hop into the browser and type chrome://version to see this, and much more, information about your Chromebook.
Again, using the Framework Chromebook as an example, here's what that URL returns: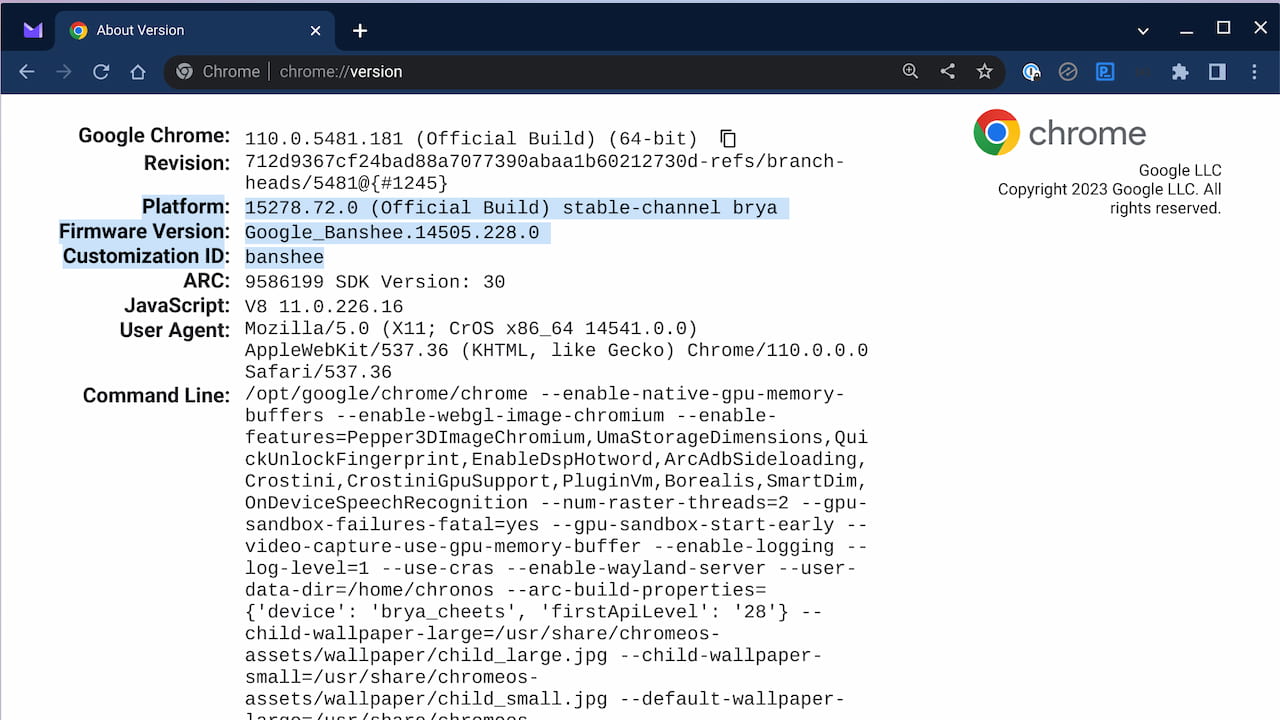 I've highlighted the specific lines above that show this Chromebook is internally called "banshee" and is build on the "brya" board. Both of these search terms can be used on the ChromeOS version site to find out what the current ChromeOS release is for this Chromebook: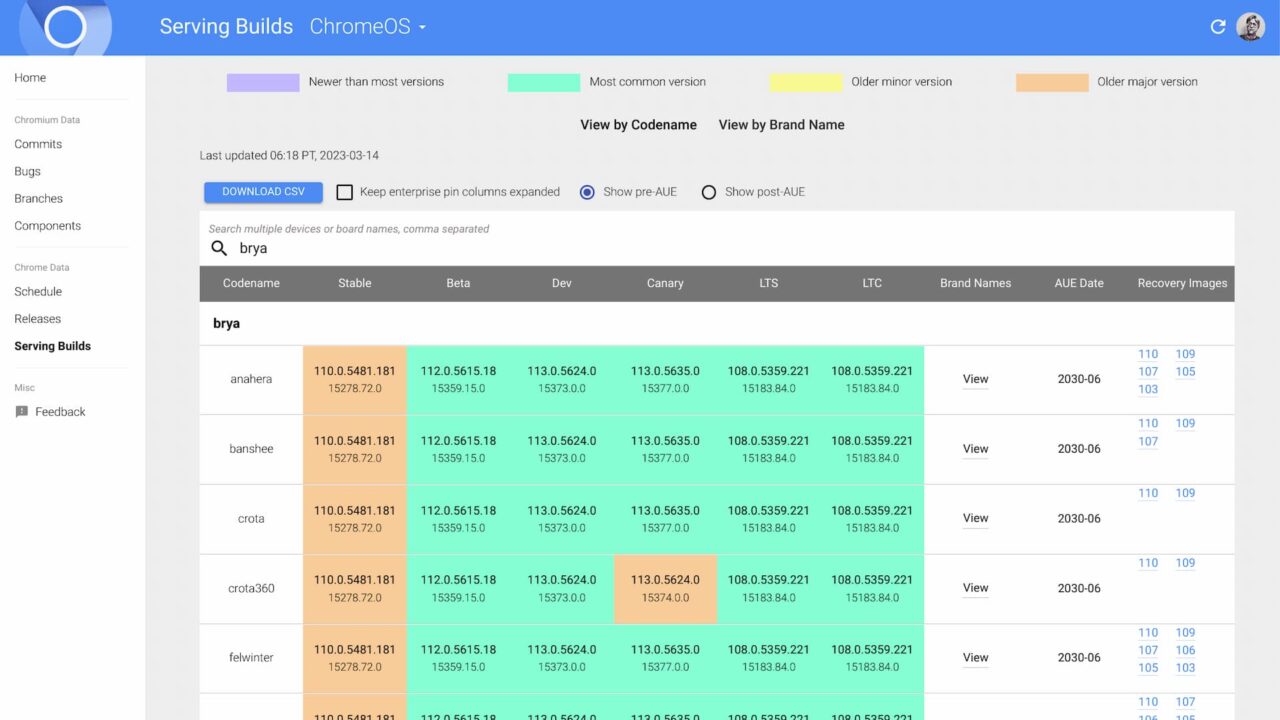 Above you can see a search for "brya" shows all of the different Chromebooks built from that board. Second on the list is "banshee" and I can see the most recent Stable Channel version of ChromeOS for it is 110.
Hopefully, these three simple methods to find a Chromebook board or brand name are useful to you if you're just not sure which Chromebook(s) you have.