ChromeOS 111 release adds several new Chromebook features
The ChromeOS 111 release is now available with new Chromebook features and follows a few days after the Chrome browser was updated to version 111. Updated or new Chromebook features include Google's Fast Pair solution for Bluetooth and an improvement for print job management. This version is now rolling out to most of the supported ChromeOS devices, although there are some noticeable absences. If you haven't received the ChromeOS 111 release, you can check the status of your device here.
Google only updates the "What's New" release notes every few versions, and the ChromeOS 111 release isn't one of them. Here's what I found so far, which is a mix of items I've previously covered and some new ones.
Fast Pair Bluetooth support on Chromebooks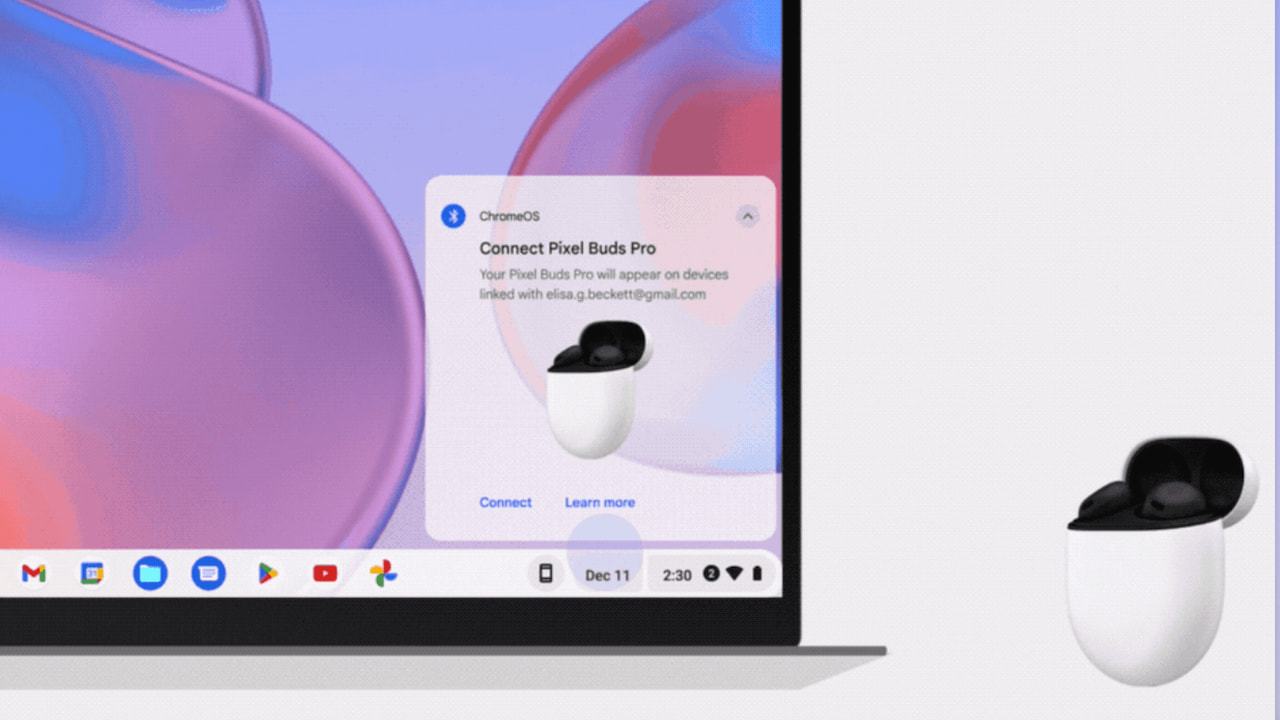 While Fast Pair won't bring simple pairing to every Bluetooth device, it will be welcome by many. You need to have a set of Fast Pair headphones, such as Google's Pixel Buds, to use this feature. The pairing process is simplified similar to Apple's Bluetooth pairing process for its accessories.
With Fast Pair, supported accessories will be automatically found by your Chromebook. One tap of the "connect" button completes the pairing process and associates the device with your Google account for seamless device switching. I don't have any Fast Pair earbuds to test this with, so I'll let those that do comment on the implementation.
I know that some Chromebook owners have used Fast Pair for several months. Google said last summer it was coming soon. So I'm not certain exactly what's new or why Google is touting Fast Pair with the ChromeOS 111 release.
Text app on Chromebooks gains keyboard shortcuts
Ah, the lowly Text app gets no respect. But it does now have keyboard shortcuts! I used to use the native Text app all of the time on my Chromebooks but I later moved to text editors with more functionality. Still, I'm happy to see the new shortcuts. In fact, for light editing, I may just go back to the Text app.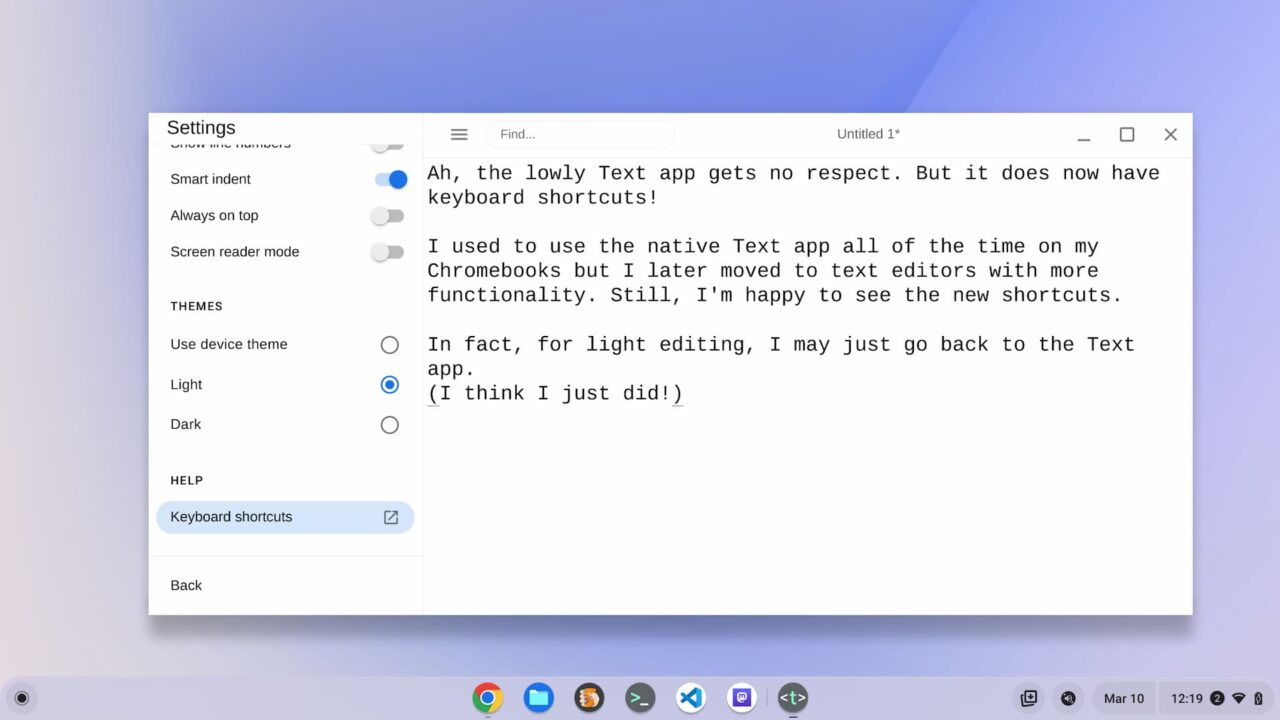 In the above image showing the Text app, you can see the Keyboard shortcuts link. Tapping it takes you to a Google Support page for all of the new keyboard shortcuts in the Text app. You've got nearly 20 of them, which is nearly 20 ways to speed up your productivity.
Print job tracking in ChromeOS 111
This is one that consumers won't care about because it's specifically for managed Chromebooks. ChromeOS 111 adds support for the client-info IPP attribute, which attaches device information to each print job. Why would an organization want or need this? Very likely due to being in a heavily regulated industry such as banking or healthcare.
There are very specific rules in such industries about who can view what customer information. And that includes printing out hard copies of that information. So any auditors would love to know who's printing things they shouldn't be.
Steam gaming… in the enterprise?
So I was waiting for this one. The ChromeOS 111 release includes a new admin policy to specifically allow or disallow Steam gaming support. As you'd expect, admins have to set this value to "allowed" or there won't be any Steam gaming at the office. If the policy isn't set or is set to "unallowed", it's all work and no play.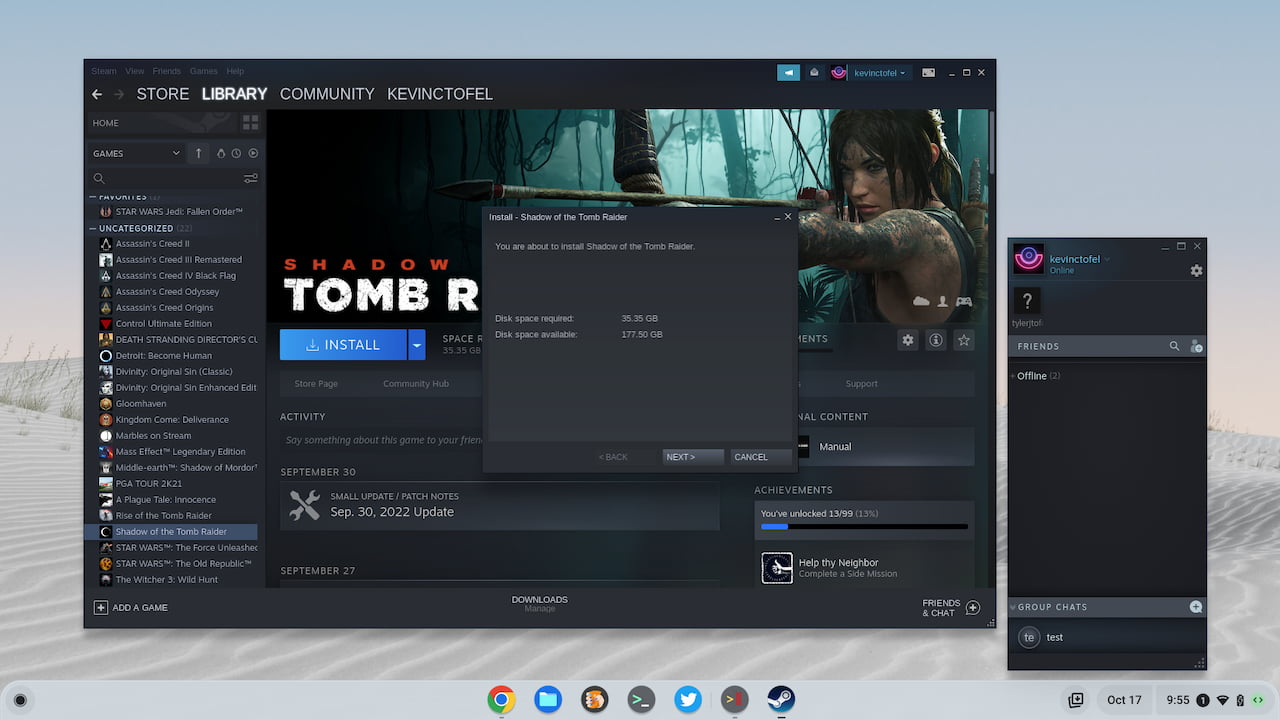 I'll be doing my typical digging around for other new Chromebook features in the ChromeOS 111 release to see what else is here. I haven't yet gone through some of the experimental flags that I've found previously. I anticipate some of those will show progressions in functionality, even if they're not yet fully baked.