5 great Google Chrome Web Store extensions for your Chromebook
Much of my Chromebook usage is with Linux, which I realize isn't really a mainstream use case for Chrome OS. And it doesn't likely apply to newer Chromebook owners. So I spent some time digging through some of the apps and extensions I use from the Chrome Web Store for that audience. Here's a list of what I think are 5 great Chrome Web Store extensions for your Chromebook.
Note that I only chose Chrome Web Store extensions that explicitly state they don't sell your data to third parties. However, that doesn't mean that your personal data isn't being captured. For most extensions to work, they do need access to your browsing data, some account information, or other data. You should always review the privacy practices and permissions for any Chrome Web Store extension before installing it.
1. Todoist
I've tried nearly every major task list management app out there, if not all of them, over the past decade. And time after time, I come back to Todoist, which is cross-platform and has mobile app support as well. I use the free, basic plan, which is more than enough for most people. And the Todoist extension makes task management on a Chromebook super effective.
You get a catch-all Inbox for tasks with Todoist but you can also create your own task buckets. Tasks can also have a due date, priority, and label with the free version. If you want task reminders though, that's part of the paid plan. Any tasks lists can also appear in a widget on your mobile phone as well.
2. Library Extension
This one is only useful if your local library is supported, so you'll want to check for that before installing. There are over 5,000 libraries that work with this Chrome extension though, so there's a good chance you'll have a nearby option. The Library Extension lets you search for books, music, and audiobooks, letting you know if your local library has a copy of what you're looking for. And it does this by integrating with websites you're already likely searching this content for, such as Amazon, GoodReads, and Barnes & Noble to name a few.
Here's an Amazon search I did for a Jack Reacher novel and sure enough, I can see that the book is available to borrow from my own local library.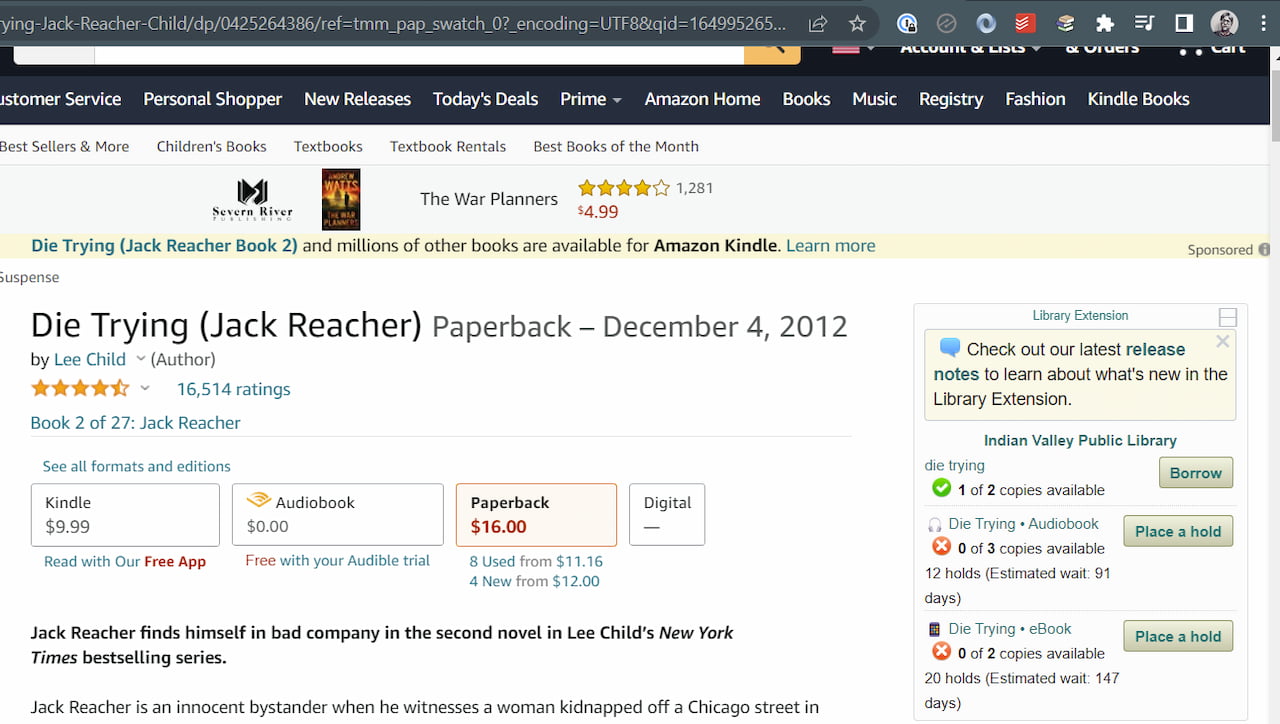 3. Checker Plus for Gmail
Although I no longer use Gmail, I'm sure most Chromebook users do. That's why I dug up a fantastic extension I used to have on all of my Chrome OS devices called Checker Plus for Gmail. Aside from showing how many unread Gmail messages you have, with one click on the extension icon, you have a mini Gmail experience.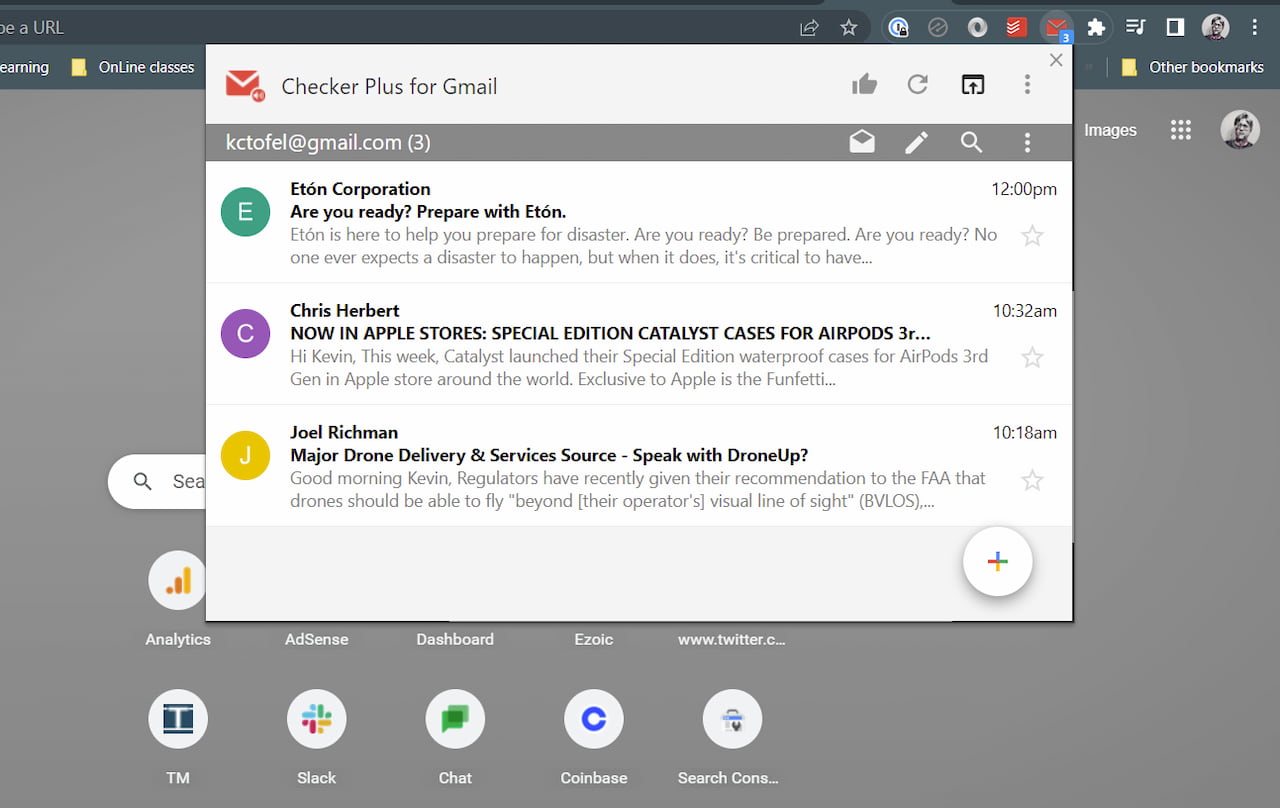 Above you can see that my still active Gmail account has a few recent story pitches. (Yeah, that's mostly what goes to my old Gmail address these days.)
I can see them all and I can interact with them by clicking any email. I can respond, delete, mark as read, whatever. So there's no need to keep a Gmail browser tab open all the time, which can be distracting. There are actually a ton of additional features such as color customizations, scheduled do not disturb times, and more.
4. StayFocused / Freedom / Limit
I previously covered StayFocused, which is a Chrome extension that blocks access to certain websites that you specify. The idea here is to boost productivity by restricting any sites that can get you off track. And I can vouch for the results as this extension has kept me focused when I needed to be. The newest iteration of the extension is called Freedom and it still delivers on the old promise. But Freedom is a paid service, costing $2.50 a month. So I'm also highlighting a lighter version called Limit.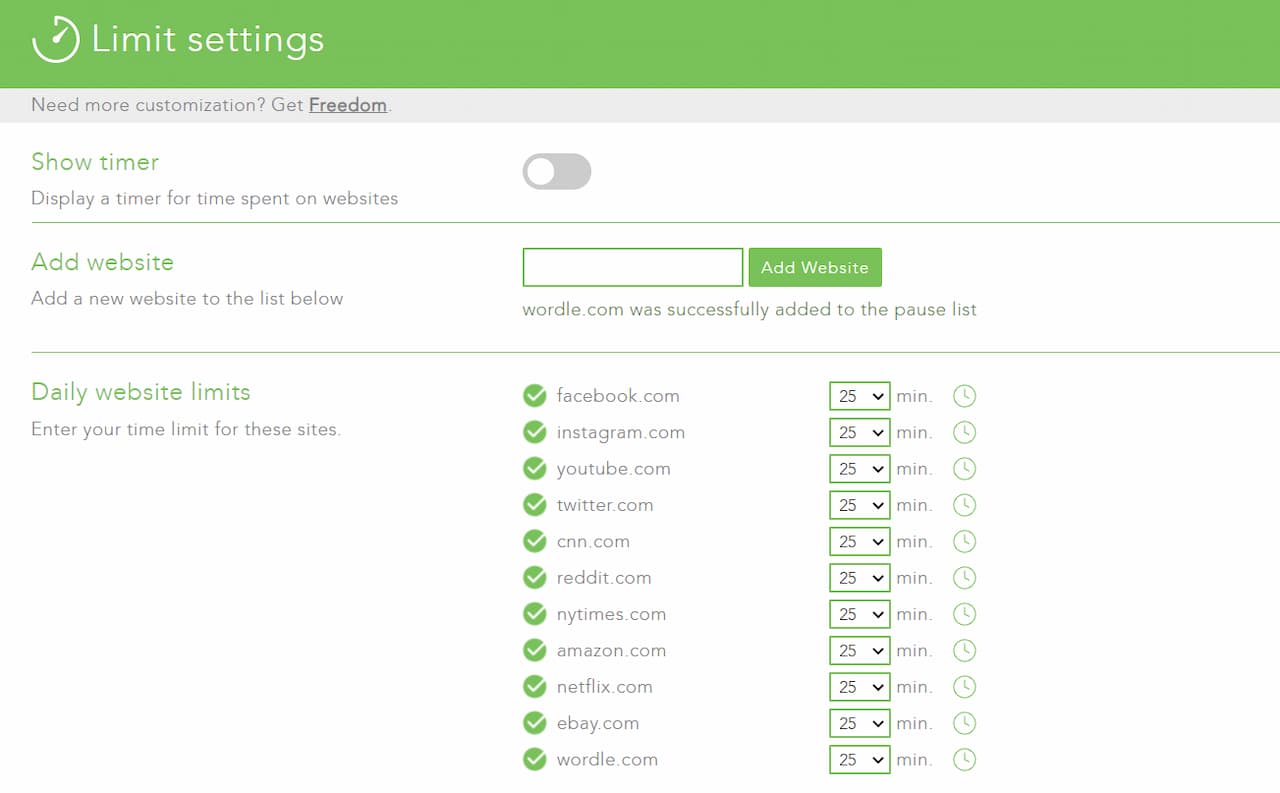 Limit does what it suggests: It limits how much time you can spend per day on a website or app. So it's not as rigid or as customizable as Freedom. Still, it has its benefits if you want to spend more time doing useful things on the web.
5. Chrome Remote Desktop
Longtime Chrome OS users will surely know about this extension. If you're relatively new to Chrome OS, however, you might not be familiar with Chrome Remote Desktop. It's ideal for remotely connecting to or controlling another computer that has the Chrome browser installed.
And it works both ways: You can control a PC or Mac from a Chromebook, or you can access and control a Chromebook from a PC or Mac. I've found this super helpful when providing remote assistance to a friend or family member, for example. Apparently so have other people as it has more than 10 million users! Grab it right here in the Chrome Web Store.
These are just a few of the great Chrome Web Store extensions I use or have used, on my Chromebook. I'm sure there are plenty of other excellent options, so if you have recommendations, share them with the group in the comments!