I just unboxed the eco-friendly Acer Chromebook Vero 514 and it's an interesting device. Acer sent me the $599 model, which is currently the top configuration and I'm impressed by what you get for the money. At least on paper. I have to use the Acer Chromebook Vero 514 full-time for a least a week to really get a feel for the value proposition.
While I'm using this Chromebook, I'm open to questions in the comments below. What do you want to know about the Acer Chromebook Vero 514?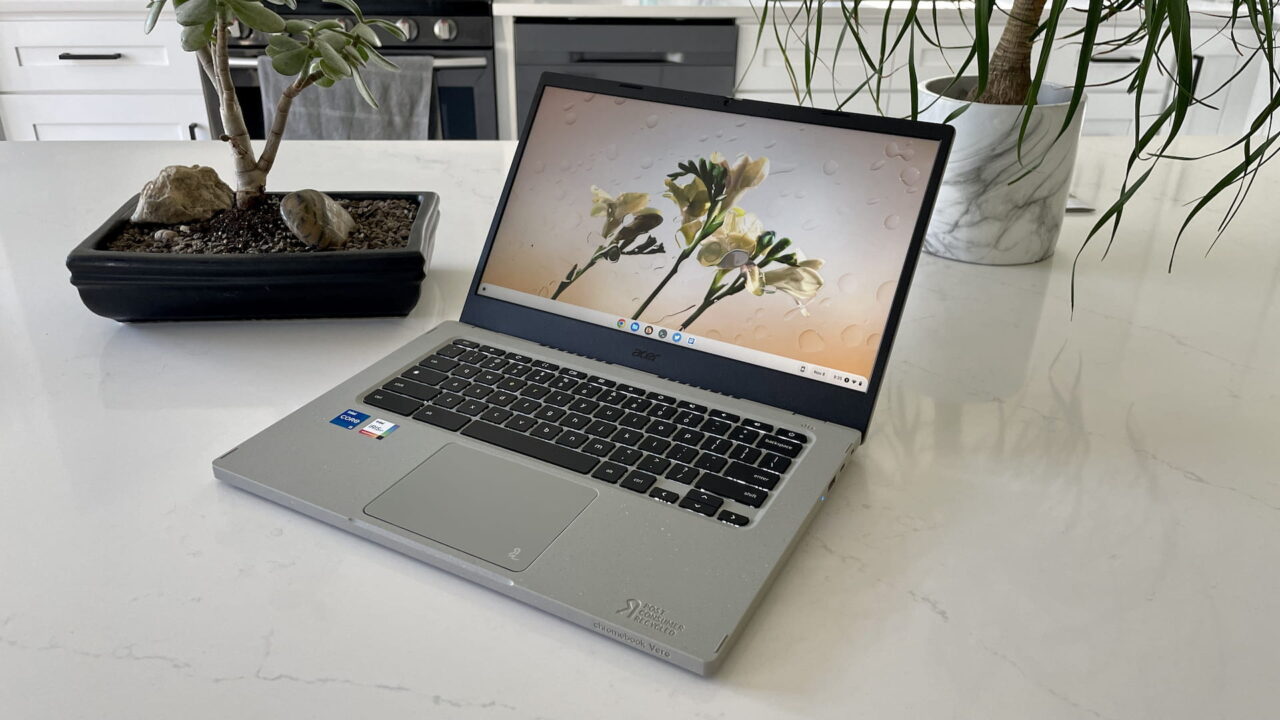 Acer Chromebook Vero 514 materials are unique
For those not familiar with this laptop, I can share some details and first thoughts.
Announced in August, the Acer Chromebook Vero 514 is an attempt to "the spirit of sustainability that leverages recycled and recyclable materials." Upon first inspection, I'd say Acer is delivering on that approach.
I've never seen a Chromebook arrive in lighter or well designed packaging, for starters. You can tell Acer put a lot of thought into this. The box materials are all easy to break down and recycle, plus they're made from 90 percent recycled material already. There's a minimum of packing materials here too, which I appreciate.
Then there's the device itself. Here's how much emphasis Acer puts on the sustainability attributes:
"It also uses recycled materials in most areas of the product including 30% post-consumer recycled (PCR) plastic in the chassis and 50% PCR plastic in the keycaps, 100% ocean-bound plastics on the touchpad surface…"
You can certainly tell the Acer Chromebook Vero 514 is built from such materials. One glance is all it takes because the color is matte grey with small bits of color. And if that didn't grab you, the materials will when you touch the Vero. It has a slightly rough but pleasing texture that looks etched into the plastic.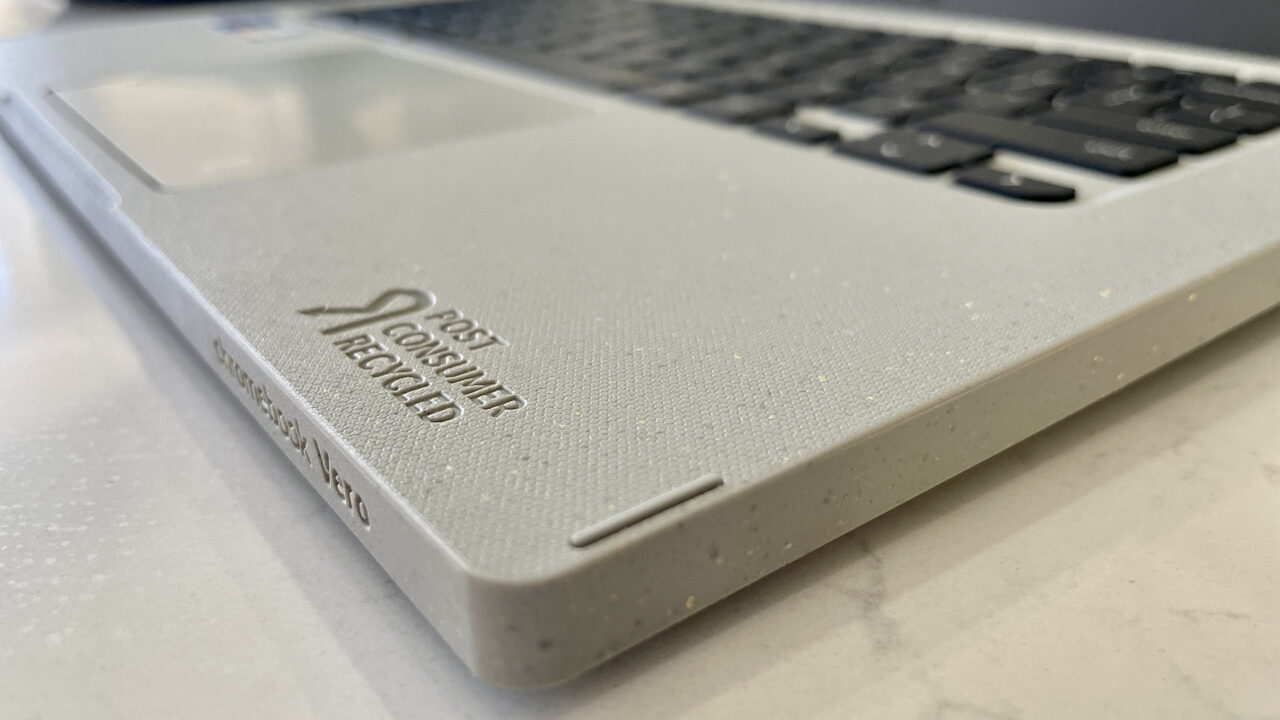 The trackpad feels different too, presumably because it's made of recycled plastic that was headed to the ocean. It's smooth but has a hint of rubbery feel to me.
I know it sounds like I'm trying to describe the scent of a good bourbon; I can't explain it better than that though. The feeling isn't bothersome to me. Surprising is the more apt description.
High-end hardware at a reasonable price
Inside you're getting plenty of horsepower for your money. This laptop uses the same 12th gen Intel Core i5-1235U silicon found in the $729 Acer Chromebook Spin 714 that I bought three months ago. In fact, all of the internals are the same. That's another surprise because the 500 line of Acer Chromebooks are usually a step below the 700 product line.
Not in this case. This ChromeOS laptop has 256 GB of NVMe storage and 8 GB of memory. So I expect the performance to be on par with my Spin 714, which is to say: really good performance.
You also get most of the ports you'd expect, or at least what I get with the Spin 714. There's a USB Type-C on each side, a Type-A on the right, and both a full sized HDMI port and microphone/headphone jack on the left. My Spin 714 has a pair of USB Type-A ports, so you're one down by comparison.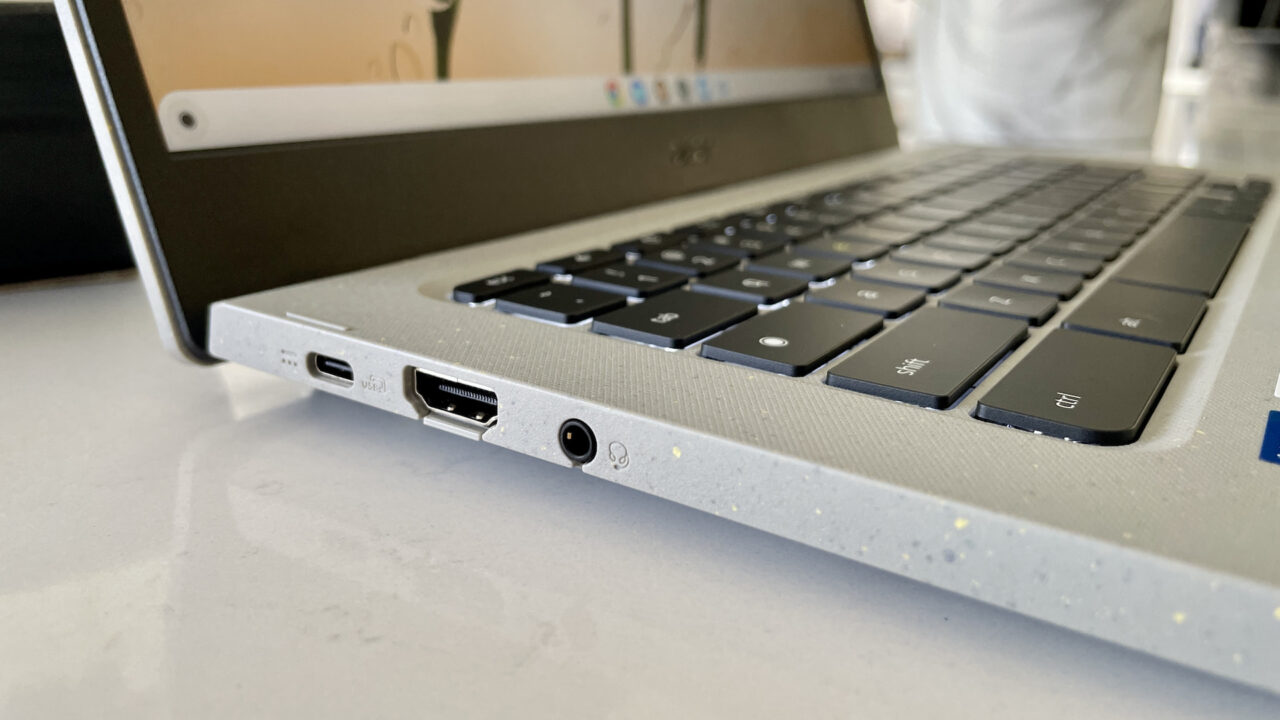 You still get a 1080p webcam, with both flare-reduction capabilities and a physical shutter cover. And the connectivity is top-notch too: WiFi 6E and Bluetooth 5.2 are supported.
It's worth noting that the 14-inch, 1920 x 1080 IPS display with 300 nits of brightness is not touch or stylus capable like the Spin 714. I can live without the stylus personally, but I prefer to have a touchscreen on my Chromebooks.
So far, it looks like Acer has combined mostly high-end hardware with materials that are better for the environment. I'll start using the Acer Chromebook Vero 514 moving forward to see how the experience pans out.
Again, drop your questions in the comments below and I'll try to answer them here and in my upcoming review.
About the author
Kevin C. Tofel has covered technology since 2004. He's used ChromeOS since Google debuted the CR-48 in 2010, reviewing dozens of Chromebooks since then. He worked for Google's Chrome Enterprise team from 2016 to 2017, supporting the launch of Android app support. In his free time, he uses Chromebooks to learn software engineering at
Launch School
. In 2019, Kevin joined the CS Curriculum Committee at his local community college.
Liked this content? Subscribe for the free, weekly newsletter