Acer Chromebook Spin 714 review: An unbecoming workhorse worth the cost
After nearly a month of owning the Acer Chromebook Spin 714, I've decided this is my new daily driver. It's not the most modern-looking ChromeOS laptop but it's a great value and a real workhorse. Read my Acer Chromebook Spin 714 review to find out why.
[saswp-review id="review"]
What the Spin 714 is replacing and why
To understand my upgrade decision, you should know what the Spin 714 is replacing. I bought a refurbished Acer Chromebook Spin 13 for $819 in pre-COVID times. It has a then-current Intel Core i5 processor and 16 GB of RAM.
That amount of memory is relatively rare on a Chromebook. But I wanted the extra headroom because I rely on using Linux apps every day. Not too many, just enough for me to continue my programming education. And the Spin 13 served me well.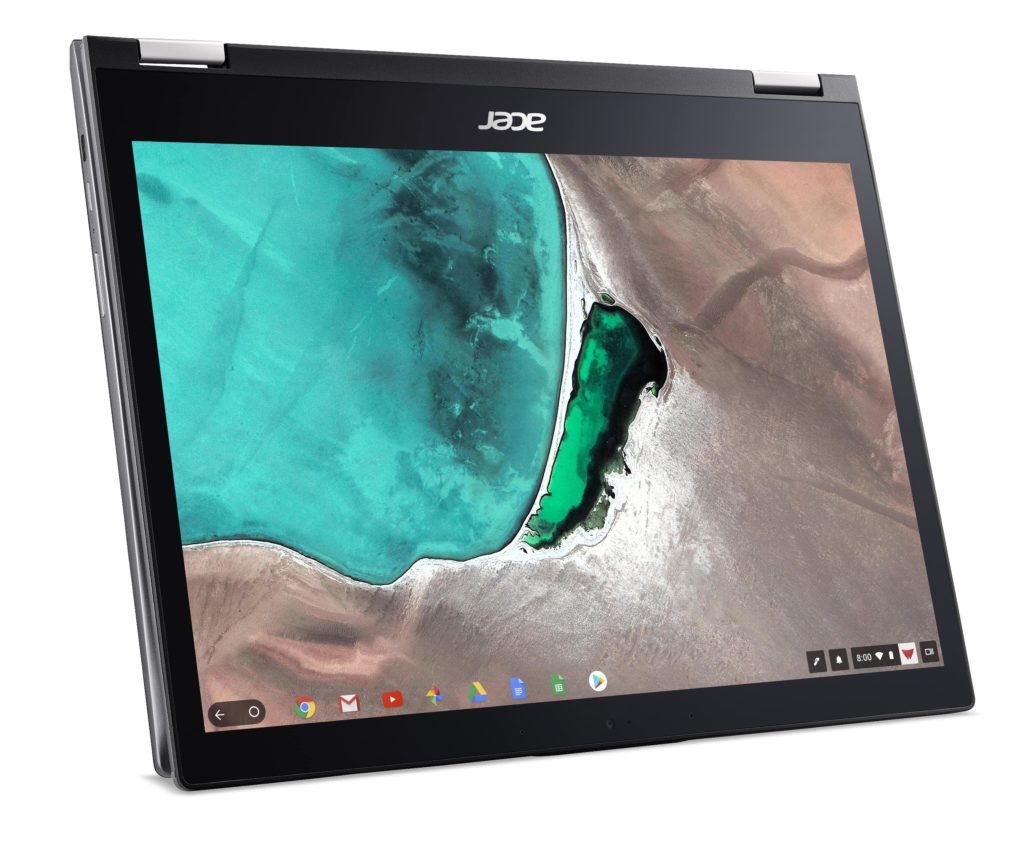 After testing a few devices with the latest 12th gen Intel Core processors, however, I knew I was ready for a newer laptop. The HP Elite Dragonfly Chromebook with Core i3 is powerful enough to meet my needs. And it has some really nice features, plus a sleek design.
But its $1,149 MSRP isn't worth it to me: I primarily need processing power and don't need to pay for the "nice to have" features. That's where the $729 Acer Chromebook Spin 714 enters the conversation. It didn't hurt that I bought it for $100 less during a sale, either.
Indeed, out of the four Chromebooks currently available with a 12th gen Intel processor, two cost more than $1,000. The Asus Chromebook Flip CX5 is even cheaper than the Acer. However, it's larger than I'd like; I don't want a keyboard with a dedicated number pad either. That's just me.
She's not a looker compared to the others
When it comes to the hardware, build quality, and design, the Acer Chromebook Spin 714 may not win any awards. It's really an iteration on the Spin 713, which itself is an iteration on my old Spin 13.
That's to say you won't see a thin profile compared to more expensive, recent Chromebooks. Aside from a little sculpting here and there, the Spin 714 looks like your basic ChromeOS laptop.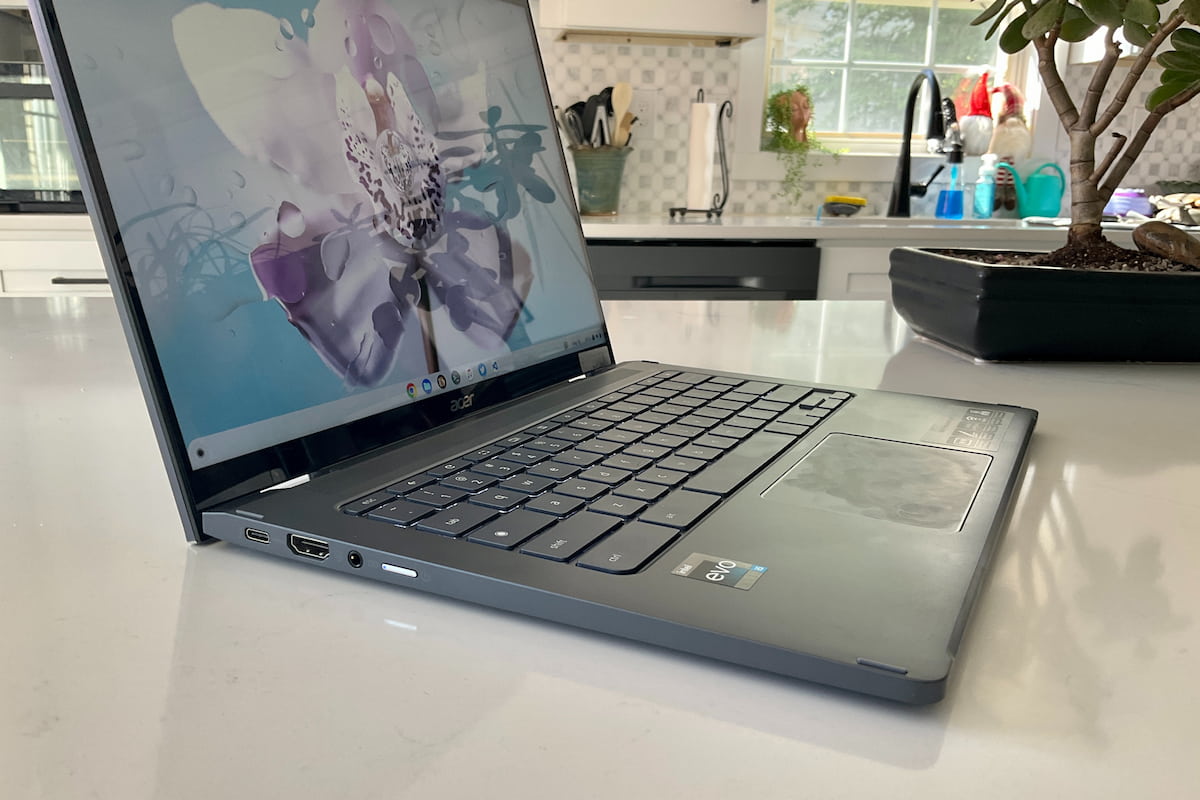 There's still some keyboard flex in the middle if you push hard enough, although I haven't found that to be an issue. Plastic and aluminum make up the chassis. And it weighs a reasonable, but not super-light, 3.09 pounds.
Yet it still meets the MIL-STD-810H8 specification, so it's durable. The 14-inch 1920 x 1200 touch display with 16:10 aspect ratio is bright enough for most at 340 nits. It also displays 100% of the sRGB color gamut, so you see rich, saturated colors. As an added bonus, the screen has earned the low-blue-light TÜV certification.
I appreciate that Acer tweaked the hardware to address some of the things I don't like on my old Spin 13. The display bezels are much thinner all around. Gone are the downward-firing speakers, which are replaced by up-firing units. They provide adequate, about average output and won't wow you. But they're far better than the muffled speakers I've used for several years now.
The webcam also gets an upgrade, as well as a privacy shutter. The 1080p camera resolution is nice although the sensor doesn't handle backlighting as well as that of the HP Elite Dragonfly Chromebook.
This photo was taken with more light behind me and to my right. It's unedited and has plenty of detail even though it could use a brightness boost.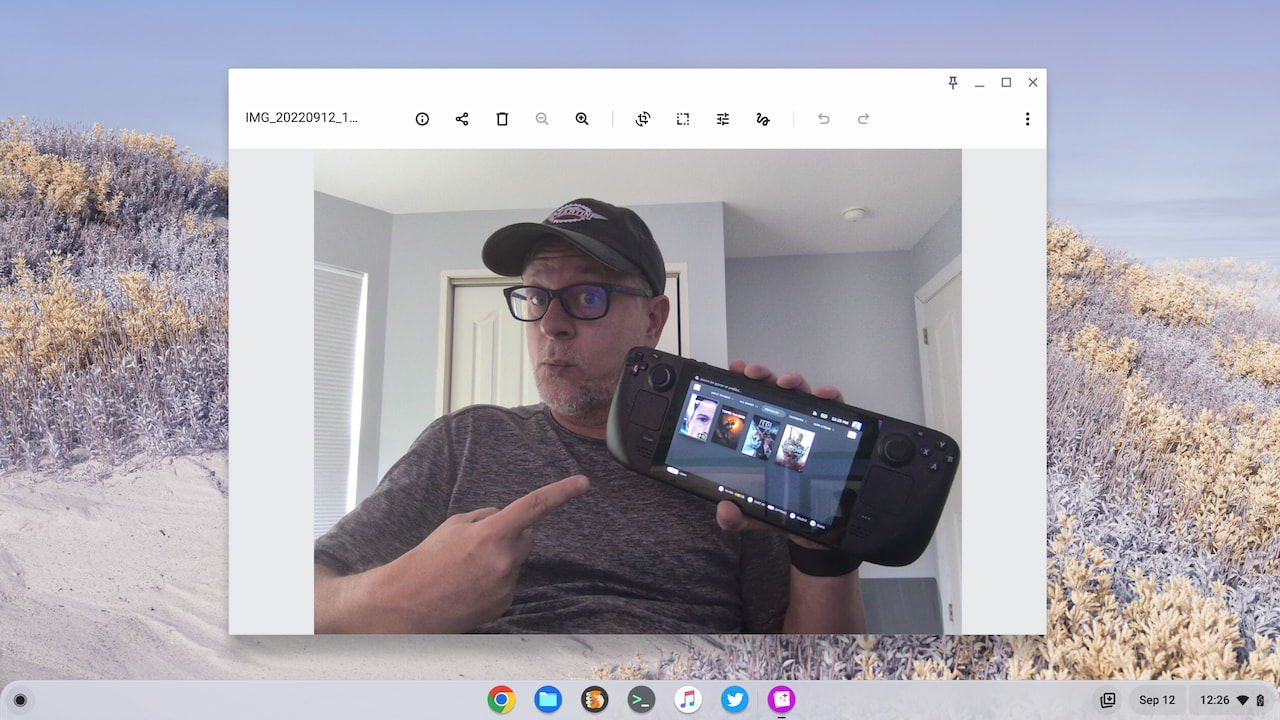 And there are still plenty of ports, although they can transfer data much faster. The two USB-C 3.2 ports, one on each side, are Gen 2. They also double as Thunderbolt 4 ports if you have devices that support that speedy standard. You also have a USB Type-A 3.2 Gen 2 port as well as a full-sized HDMI and a microphone/headphone jack.
I love that the power button is on the left side while the volume rocker is on the right. Note takers will appreciate the garaged USI stylus included as well. The pen recharges when stored in the Spin 714 and it worked well enough in my tests. Just be sure you use a good writing application.
The full specs: Most of what you need
Although I've covered most of the hardware above, here's a list of the full specs. I'm including it because of certain features not on the list.
CPU
12th-gen Intel Core i5-1235U Processor with vPro, up to 4.4 GHz,
10 cores / 12 threads
GPU
Intel Iris Xe
Display
14-inch IPS 1920 x 1200 display, 16:10 aspect ratio,
340 nits brightness, external monitor support at
4k at 60Hz, 100% RGB color gamut
Memory
8 GB DDR4x-4266 MHz memory
Storage
256 GB NVMe M.2 storage,
microSD card reader
Connectivity
802.11ax (2×2) WiFi 6E, Bluetooth 5.2
Input
Backlit keyboard, multitouch trackpad, built-in USI stylus
1080p FHD RGB webcam, with privacy shutter, Dual-array microphones
Ports
2 USB Type-C 3.2 / Thunderbolt 4 ports, 2 USB Type-A,
HDMI output, headphone/microphone jack
Battery
3-cell battery expected run-time up to 10 hours
Weight
3.09 pounds
Software
Chrome OS automatic updates through June 2030
Right off the bat, you'll notice there's no fingerprint sensor. To me, that's a "nice to have" because these sensors are fairly limited on Chromebooks today. You also don't get quad-speakers. For that, and the fingerprint sensor, look to the HP model. And you aren't getting a massive trackpad. With the 16:10 aspect ratio, there's less vertical room for such a beast than on a Chromebook with a 3:2 display.
Also missing is a memory card slot of any kind. This surprised me because they're generally always on a Chromebook.
Personally, none of that bothers me. I thought the lack of a memory card slot might but then I reviewed the free space on my old Spin 13. It has 128 GB SSD storage and I'm still only using half of that. So the 256 GB SSD in the Spin 714 is plenty of storage for the way I use a Chromebook. You may keep gobs of locally stored files on your device, so not having a memory card slot could be an issue.
The keyboard is quite good although I have seen better. I'd say it's above average. I feel a little let down by the trackpad. That's not because it's smaller than you'd expect but because it doesn't feel as solid as the one on last year's Spin 713. I find it a bit loose. However it works perfectly fine.
Acer Chromebook Spin 714 performance
For me personally, looking at the performance of the Spin 714 is interesting. First, it's nice to see how it compares to my old high-end Chromebook. Second, I'm surprised by how well Chromebooks with a 12th gen Intel Core i3 compare to this Core i5.
I'll cut to the chase on the second point: Most people will be thrilled with the latest Core i3 in their ChromeOS laptop. From a pure benchmark perspective, there's little difference between the current i3 and i5. Like a Core i5 device, a modern Core i3 laptop can score 80,000 or better on the Octane test. And even in real-world usage, I see little benefit to paying more for the Core i5.
Speaking of benchmarks, here they are for the HP with Core i5, my new Spin 714, a recent 11th gen Intel Core i3 Chromebook, and my old Spin 13:
Test
HP Elite Dragonfly
12th gen Core i5
Acer Chromebook Spin 714 12th gen Core i5
Flex 5i
11th gen Core i3
Acer Spin 13
8th gen Core i5
Speedometer 1.0
412
430
311
179.9
Speedometer 2.0
240
251
176
99.6
JetStream 2
222.375
227.924
151.88
94.436
Basemark 3.0
1,387.51
1,392.81
1,179.9
594.18
Octane 2.0
77,747
78,533
55,360
35,116
Higher numbers are better
Again, purely from a benchmark standard, the Spin 714 is fast. In nearly every test, it's the fastest Chromebook I've ever tested, in fact. Every day use further reinforces that thought. And I'm not hearing the sound of a jet engine here either: The fan is relatively quiet when it's running at all.
Whether I'm just using a few browser tabs or a score of them, ChromeOS is zippy on the Spin 714. I can say the same when using Android apps, the Linux container, or any combination of these activities. I'm very impressed with Intel's latest silicon. Other than video playback, I haven't really stressed the Intel Iris Xe graphics. My hope is to do that in the future with Steam gaming support.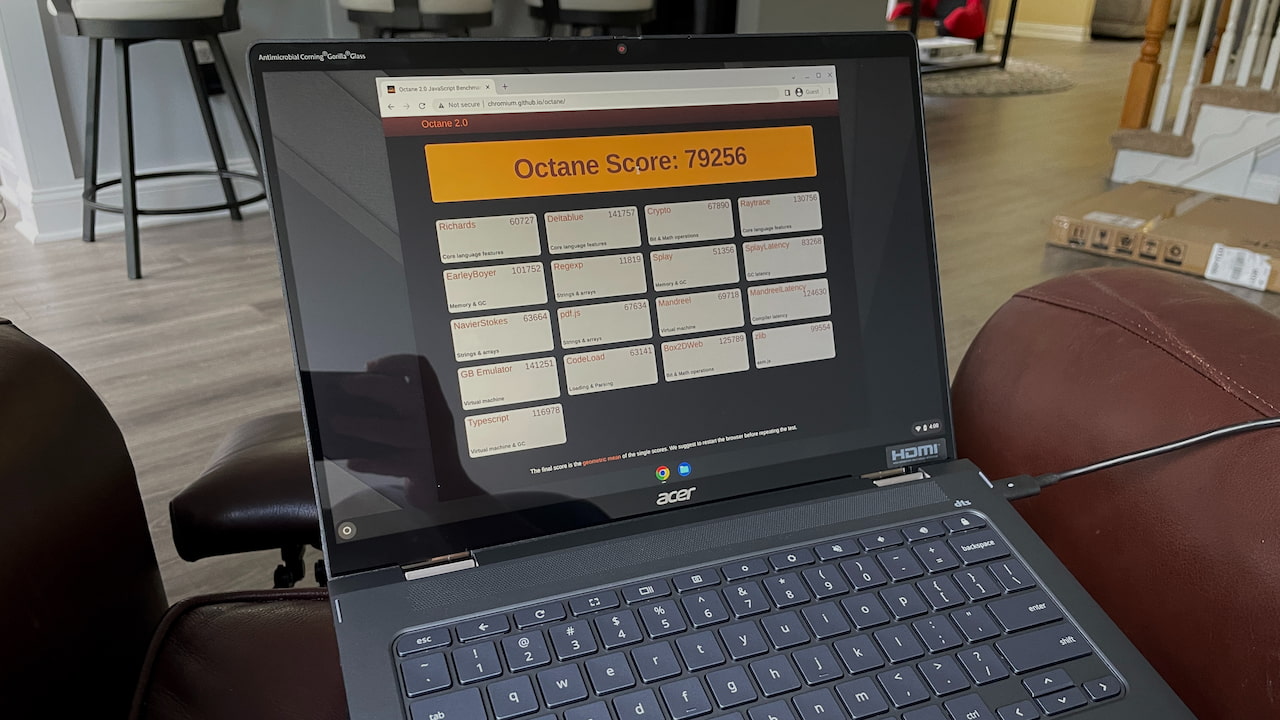 Let's talk about that 8 GB of memory though. I thought it would be a limiting factor for heavy duty use cases. Yet, the Spin 714 is handling Visual Studio Code for Linux with no problem as I work my way through a JavaScript course. I suspect that Android Studio would benefit from more memory, so if you're an Android app developer, you probably want a model with 16 GB of RAM.
For the non-programmers out there, 8 GB inside the Acer Chromebook Spin 714 is plenty. Unless you keep 40 or more browser tabs open all the time, you'll be just fine with this configuration.
Frankly, I'm surprised at how well the 8 GB of memory is working for my daily activities. That was my only concern when I purchased this laptop. And it's all but gone at this point.
In terms of battery life, you might hit the expected 10 hours of run time. I did not although I got close, with just nearly 9.5 hours of usage in a work day. Most of my tasks were browser based and not too intensive that particular day. So I'm sure the Spin 714 was leaning on the efficiency cores of the Intel Core i5. On what I'd call heavy dute usage days, the battery lasted between 6.5 to 7.5 hours.
Should you buy the Acer Chromebook Spin 714?
Right off the bat, if you're on an entry-level budget and have entry-level use cases, the Spin 714 is overkill. You'd be better served by purchasing a Chromebook that costs half as much. On the other hand, if you have the money to spend and want great performance and some of the features lacking in the Spin 714, either the HP Elite Dragonfly Chromebook or Lenovo ThinkPad C14 should be on your radar. While I've review the HP, I haven't yet used the latest Lenovo ThinkPad; one is on the way.
Do you fit in between these two ranges? Then I think the Acer Chromebook Spin 714 is well worth considering.
Sure, you're giving up some premium feel and functionality. But you're getting one of the most capable devices for money available today. If you can overlook what might appear to be a bit recycled in terms of design, this "ugly duckling" will shine in value and performance.