ChromeOS 106 gets a Follow site option for desktop RSS (updated)
Earlier this week, I asked the question "Is Google Reader coming back?" That was based on a new "Feed" option in the ChromeOS side panel. I wasn't sure if this upcoming feature was based on RSS or some Google interpretation of it. Now, I'm pretty definitely sure the side panel in Chrome and ChromeOS will use RSS (see update after the post). The latest Dev Channel version of ChromeOS 106 adds a "Follow site" menu option.
I discovered the new "Follow site" choice after updating my Chromebook's software earlier today. And I did follow a few sites by using it. Unfortunately, the Feed view in the ChromeOS side panel still isn't functional.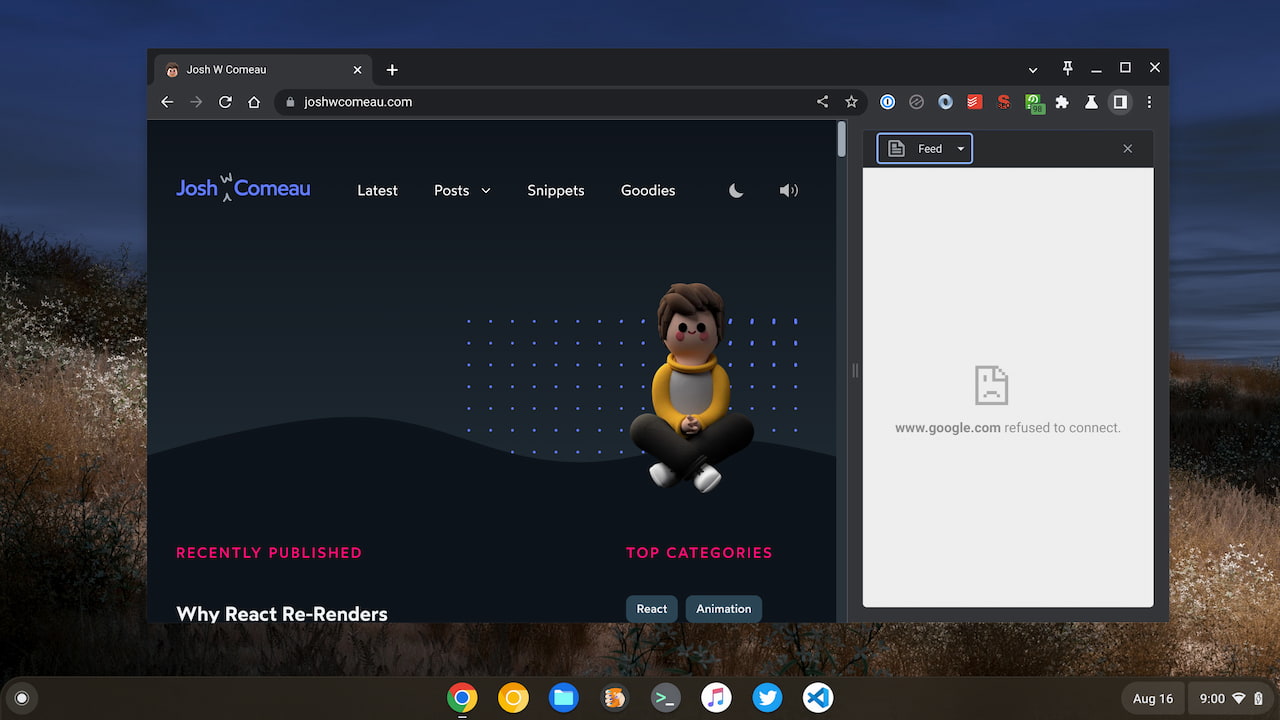 So why am thinking that in a way, Google Reader is making a comeback, albeit only in the Chrome browser and on ChromeOS?
Travel back to October with me for a second.
That's when Google added a "Follow" option to Chrome for Android. It's the same feature: By clicking Follow, you're subscribing to the RSS feed of a site. Here's confirmation of that, along with the big hint that the feature would be coming to Chrome for iOS and the desktop, i.e.; the Chrome browser and ChromeOS.
I'll go one step further here though. See how Adriana, a Director of Engineering at Google for Chrome, specifically mentions this feature enables following a "web feed"?
The code I combed through earlier this week uses the same terminology:

I don't think that's a coincidence at all. The code may say "web feed" but it's now reasonable to assume that means RSS. (Update: Confirmed at the bottom of the post that it is RSS)
I know these web feeds appear on the new tab page in Android, but I don't think that's what Google intends for the desktop. It would clutter up the new tab page far too much. It makes more sense to use the real estate of a pop-out, resizable side panel to display RSS feeds on a Chromebook, Mac, or PC.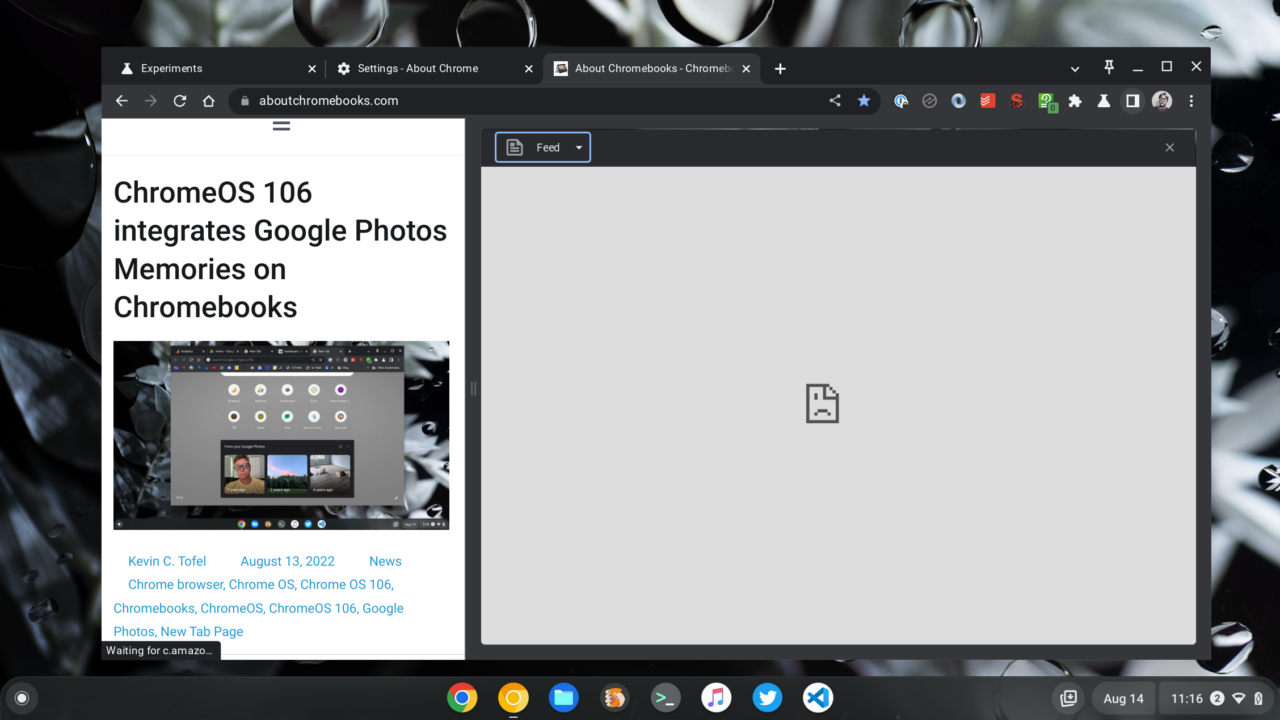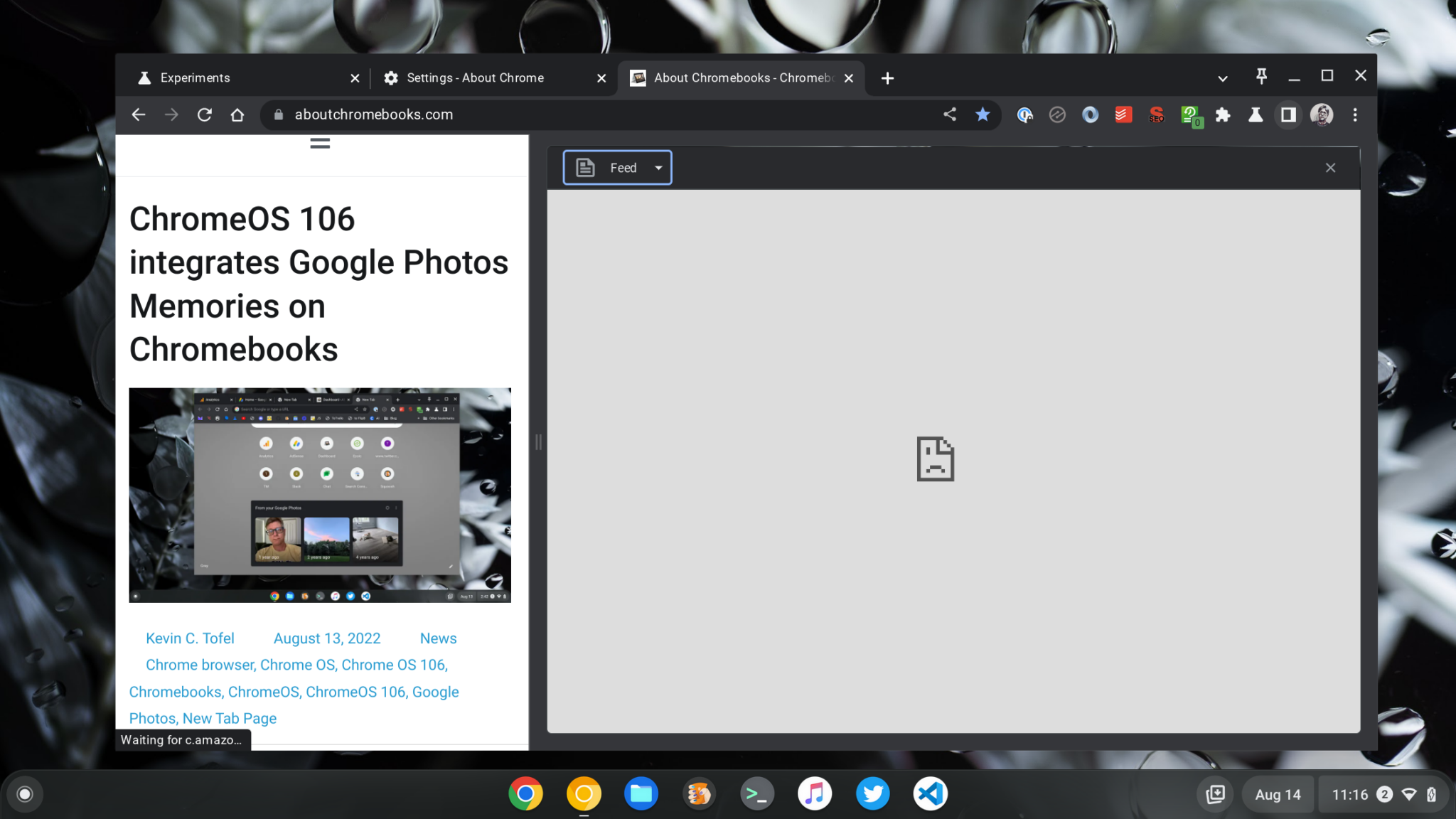 By the way, I followed a few sites during my testing because I wanted to verify a related hunch.
I know that Google News has a "Following" section. I use it quite to view news outside of my traditional RSS feed reader. Specifically when I'm browsing through Google News. I wanted to see if my newly followed sites appeared there. They don't.
That doesn't mean they won't be available there in the future. But it strongly suggests that Chrome and ChromeOS getting a "Follow site" feature is tied to the new Feeds option on the side panel. Google Reader lives again?
Updated on 8/17 at 3pm ET: I reached out to Adriana on Twitter, asking if this feature would be using RSS. The answer is yes for sites that offer a RSS feed; Google will also push content to the Feed side panel for those that don't have use RSS.