The latest ChromeOS 106 Dev Channel update updates a nice feature to the NTP or new tab pages. When I opened a blank new tab using ChromeOS 106, I saw an option to enable photo memories. This integrates Google Photos Memories on Chromebooks, so you can see images from this day or week from previous years. It's a feature that has been in the works for a while but hidden behind an experimental flag.
Previously, you could enable chrome://flags#ntp-photo-module to see this feature. With ChromeOS 106, that flag is set to "Default" on my Chromebook.
That suggests this will be available for all supported devices once ChromeOS 106 lands on the Stable Channel. And it will be available in the Chrome browser for Linux, macOS, and Windows too.
I noticed this option at the bottom of a new tab page, which provides a brief description of what it is. To actually see my memories from this day over the past several years, I had to click on the See Memories button.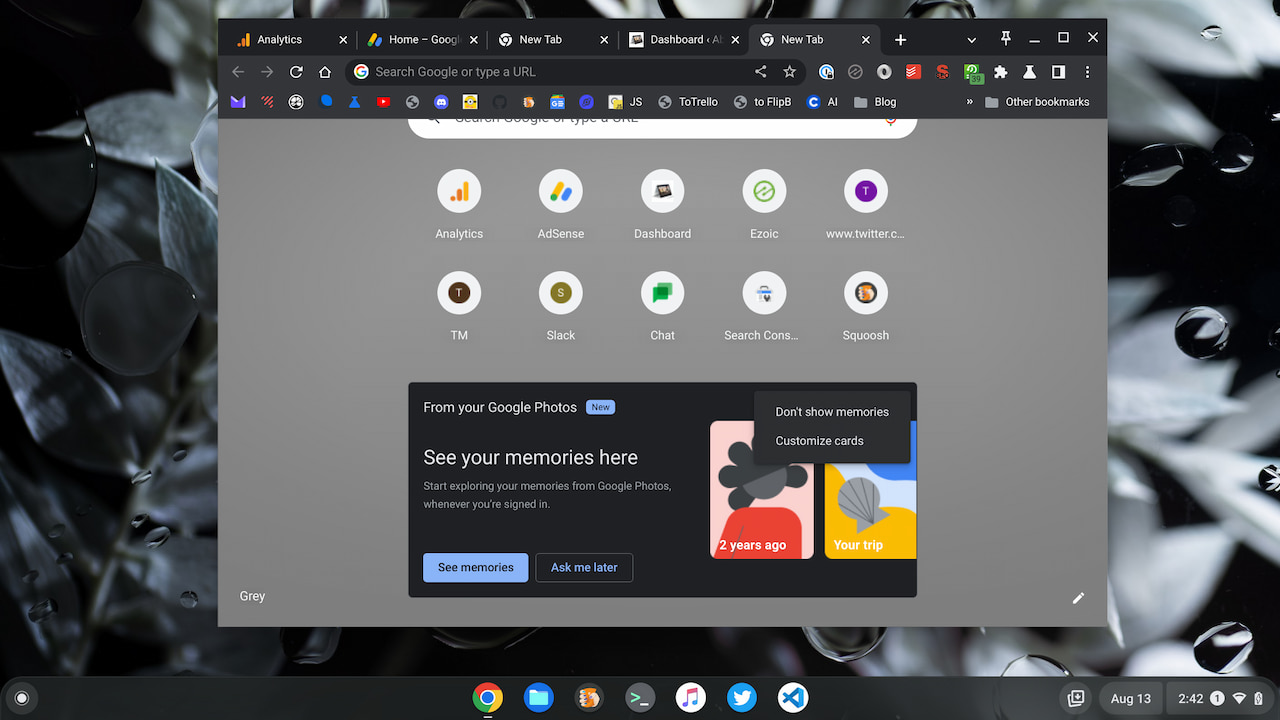 Above, you can also see options to disable this feature and to customize other cards. Currently, there are recipe and cart cards.
After clicking the See memories button, I saw photos taken one year, two years, and four years ago on this day.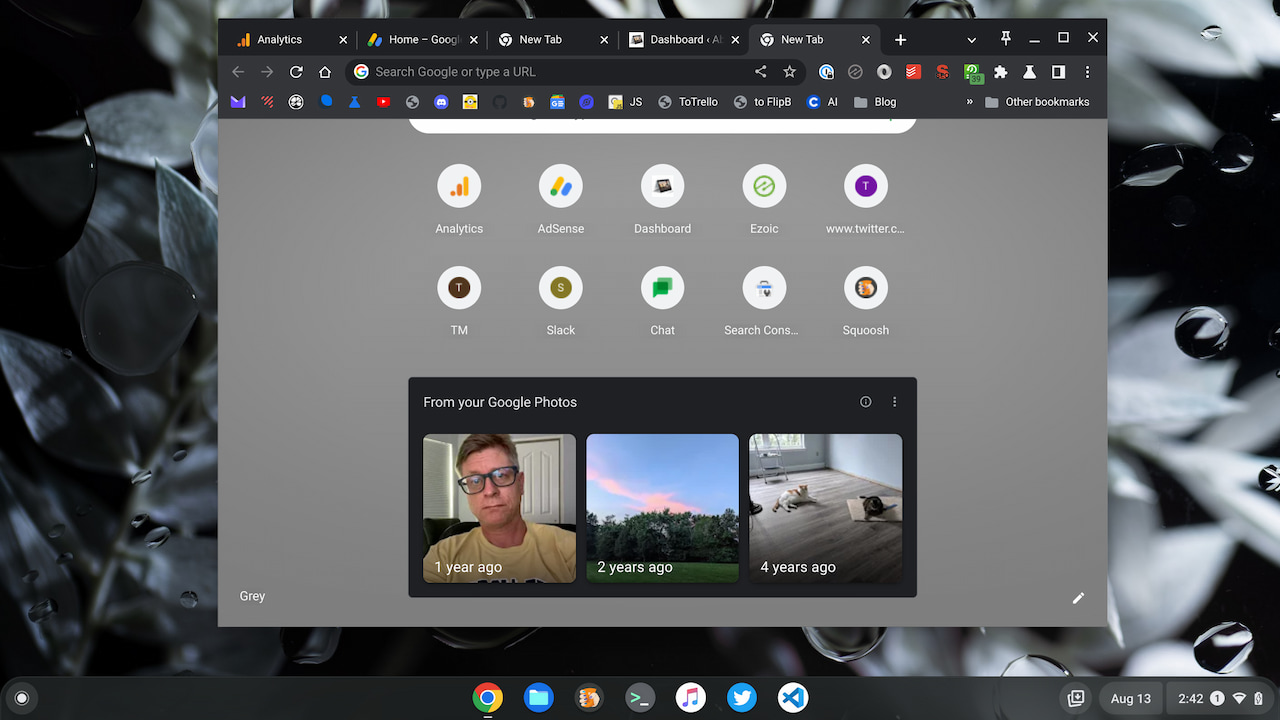 The photos will change each day, of course. When I open a new tab page tomorrow, I expect to see three different images from my Google Photos Memories. But this isn't just a static slideshow of images. ChromeOS 106 integrates Google Photos Memories on Chromebooks too.
Clicking any one of the three images opens up a Google Photos Memories slideshow in a new browser tab. Here you can scrub forward or back in time through your photo memories.
Six years ago, for example, I was at the Google NYC office, where I took the below picture on August 9th. I believe this is from the terrace of the 11th-floor cafeteria.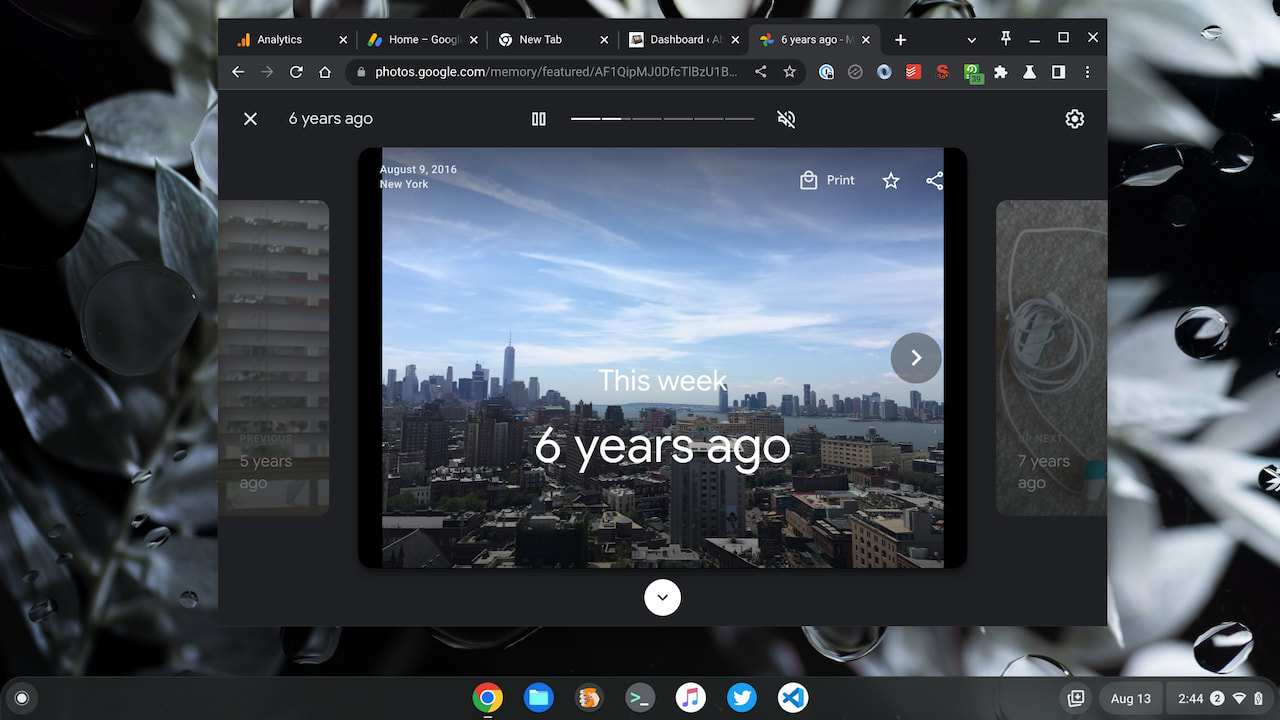 At first, I wasn't sure why Google is adding this integrated Google Photos Memories experience on the new tab page. That's mainly because you can view your images from the Photos website. Then I realized, I really don't do that too often. And I enjoy viewing those captured memories.
By including this optional feature on the new tab page, I'm more likely to see those memories on a daily basis. So it makes sense from that perspective. If you want to see your memories, you'll likely appreciate this. If not, you can just disable the Memories card.
About the author
Kevin C. Tofel has covered technology since 2004. He's used ChromeOS since Google debuted the CR-48 in 2010, reviewing dozens of Chromebooks since then. He worked for Google's Chrome Enterprise team from 2016 to 2017, supporting the launch of Android app support. In his free time, he uses Chromebooks to learn software engineering at
Launch School
. In 2019, Kevin joined the CS Curriculum Committee at his local community college.
Liked this content? Subscribe for the free, weekly newsletter