A while back I wrote about being both a Chromebook and iPhone user. Yeah, it sounds like an odd combination that wouldn't work well. Surprisingly, it does. Using various Google services on a Chromebook is pretty standard fare, for example. And most, if not all of them, work great on iOS devices too. Plus you can get your iPhone photos onto a Chromebook without having an internet connection. But when it comes to security credentials? That's when you really need a third-party password manager.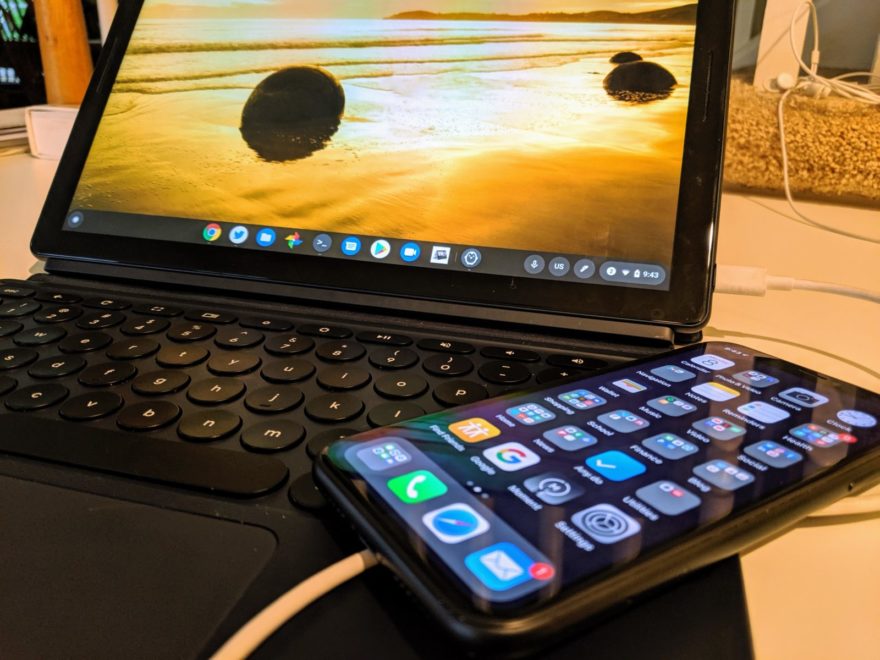 I've finally come to that conclusion after years of storing passwords with both Google and Apple.
My Chromebook has all of my browser-based credentials remembered by Google. And Apple's iCloud has a complete set of iOS credentials used on my iPhone and iPad. And that's not working well because my passwords are in two different places.
I often switch between these devices, plus have a Windows PC in the mix too. And while I could use Chrome on my iOS devices to resolve any synchronization issues between these, I'd prefer not to. I tend to stick with native apps on a device unless there's a really compelling alternative. Hey, Safari isn't so bad on a phone!
So I did some research and chose a third-party password manager.
In my particular case, I think 1Password is the best choice for me. But there are so many good choices to consider. Wirecutter has a great overview and top picks if you need to sift through all of your options.
Another reason that I personally chose 1Password is that I actually used it years ago. Back then, I met my needs, and has only gotten better with new features and better cross-platform support.
When researching a third-party password manager as a Chromebook and iPhone user, that's the key: Cross-platform support.
You need a solution that has a native iOS app, possibly a web-based app, and definitely a Chrome extension. Most, but not all of the better options do provide all of these.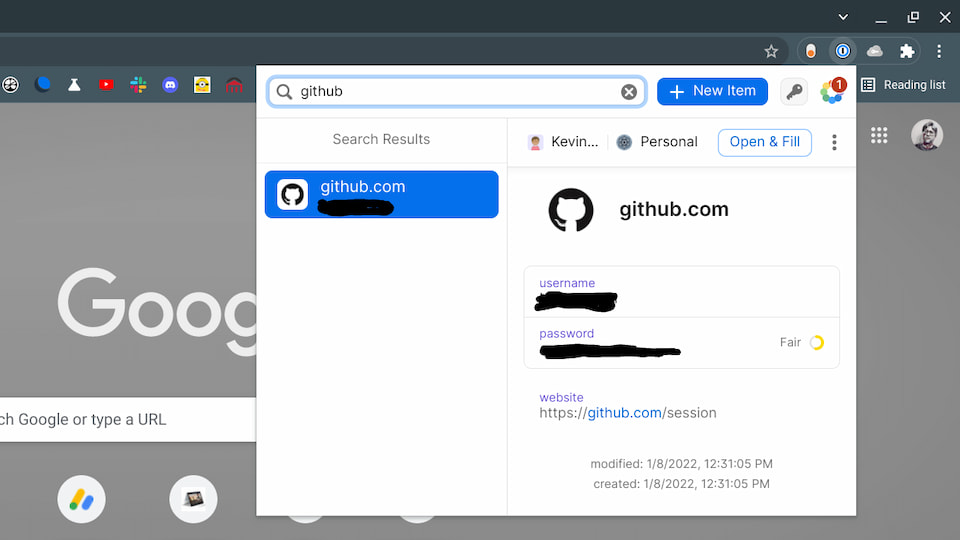 Note that Apple does offer an official iCloud Passwords Chrome extension that would essentially fix my challenge without a third-party password manager. Unfortunately, the extension only works on Chrome for Windows. So that's not an option for Chromebook users. (Thanks, Apple!)
For me, switching away from both Google and Apple for managing my credentials has been relatively painless.
I signed up for 1Password to get started. I then installed the 1Password iOS app on my iPhone and iPad. Finally, I added the 1Password Chrome extension to one of my Chromebooks. Since I synchronize my Chrome OS settings, that extension is available on any Chromebook I use.
That got me started but of course, there were no passwords in 1Password. That's where the web client comes in because you can import passwords into 1Password from there.
It's painless to do this but it can take while. For my Google-saved credentials, I followed these instructions to get a .csv file of the passwords stored through Google Chrome. For passwords managed by Apple, it's a similar process if you have a Mac. I don't these days, so I had to create a user account on my daughter's Mac. This allowed me to export the passwords using Safari with the previously linked process. Apple being Apple doesn't make it easy to leave their ecosystem in this particular scenario.
With both sets of credentials, it's just a matter of importing the data into a third-party password manager.
Yes, there will likely be duplicates, which means some manual effort to prune the stored passwords. I'm sure I could write a script to read through the credential files and remove duplicates, but I have other coding efforts on my plate.
Once all of your credentials are in the password manager you chose, you're good to go on all of your devices as a Chromebook and iPhone user.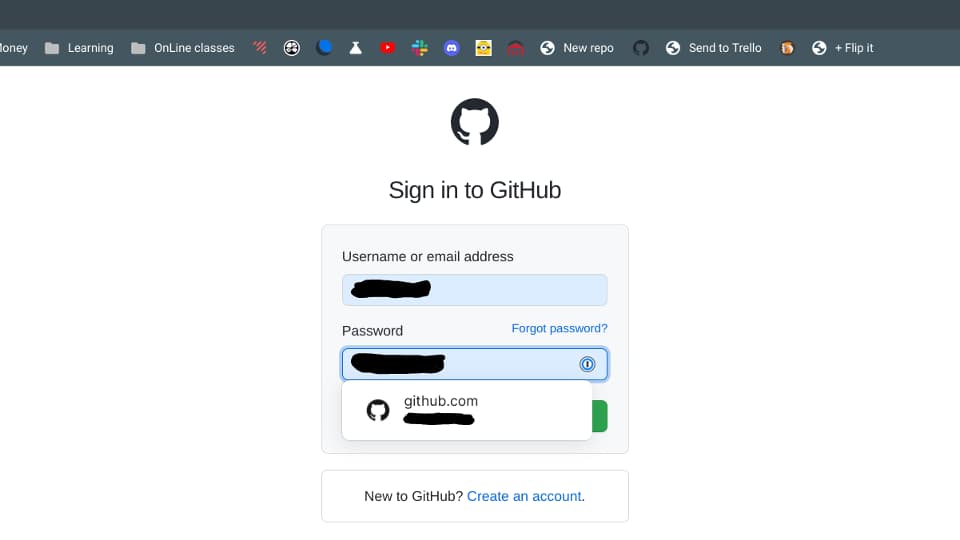 Just remember to turn off the autofill settings for passwords as needed. I forgot to do that on my Chromebook and both Google and 1Password were offering to autofill any web-based logins.
On a Chromebook, open your Chrome browser settings (not the Chromebook settings) and look for the Autofill options. There's an "Offer to save passwords" toggle that's likely on for you. Disable it and your Chromebook will stop using Google to autofill passwords.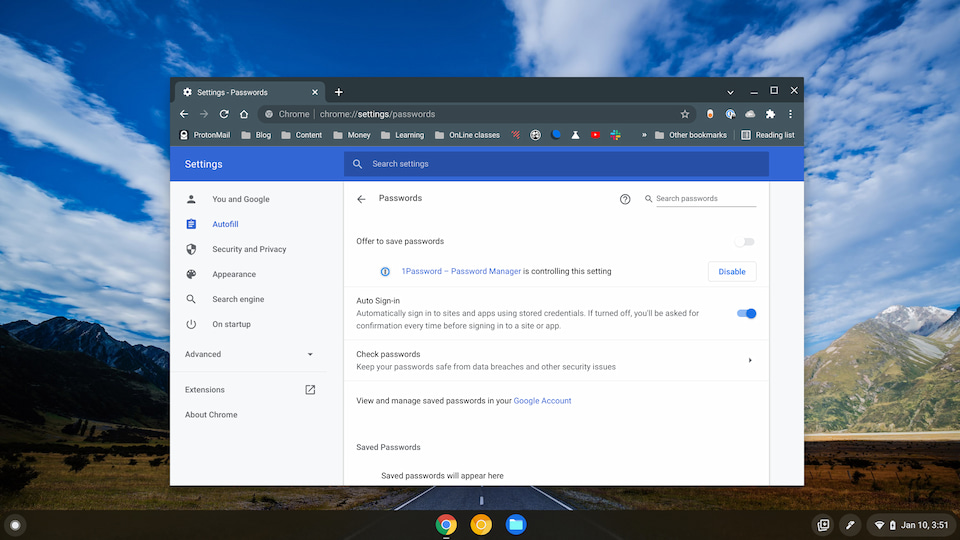 Above is what it looks like after I ran through the process with 1Password; it should be similar regardless of the third-party password manager you choose.
Now that I have everything set up, the 1Password extension replaces the Google Chrome autofill settings on my Chromebook. And the same passwords are available on my iOS devices through the 1Password app.
Again, there are plenty of other third-party password managers available for Chromebook and iPhone users. Pick the one that's best for you if you want to use a single password manager across all of your devices.
About the author
Kevin C. Tofel has covered technology since 2004. He's used ChromeOS since Google debuted the CR-48 in 2010, reviewing dozens of Chromebooks since then. He worked for Google's Chrome Enterprise team from 2016 to 2017, supporting the launch of Android app support. In his free time, he uses Chromebooks to learn software engineering at
Launch School
. In 2019, Kevin joined the CS Curriculum Committee at his local community college.
Liked this content? Subscribe for the free, weekly newsletter