ChromeOS 117 release adds several new Chromebook features
The latest ChromeOS 117 release adds several new Chromebook features and follows the recent Chrome browser update to version 117. Updated or new Chromebook features include the Material You redesign, hardware usage data in the Launcher, and video call integration with your Calendar. This version is now rolling out to most of the supported ChromeOS devices. If your Chromebook hasn't received the ChromeOS 116 release, you can check the status of your device here.
ChromeOS 117 has a Material You refresh
Chromebook owners no longer need to use experimental flags to get a fresh new look for ChromeOS. The latest software automatically enables the Material You refresh that I've been covering for several months.
Aside from a more modern interface with rounded corners, there's a new system font. You can also click the date on your Chromebook to view your Google Calendar events. This only works with a single calendar still. Note that I have my Google Tasks appearing above the Calendar. However, that's still an experimental feature for this release of ChromeOS.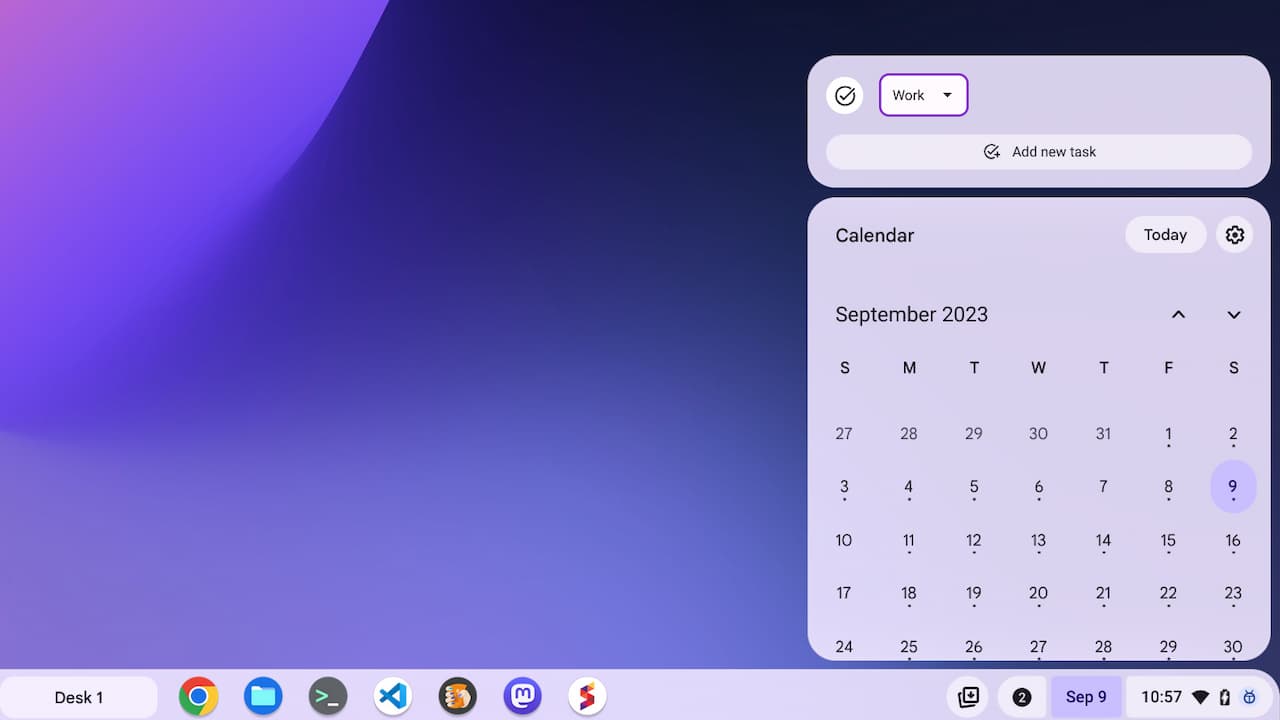 Click to join a Meet call from your Chromebook calendar
Speaking of the Chromebook calendar, Google has integrated a one-click method to join a video call. If your Calendar event has call details, you can just tap the "Join" button.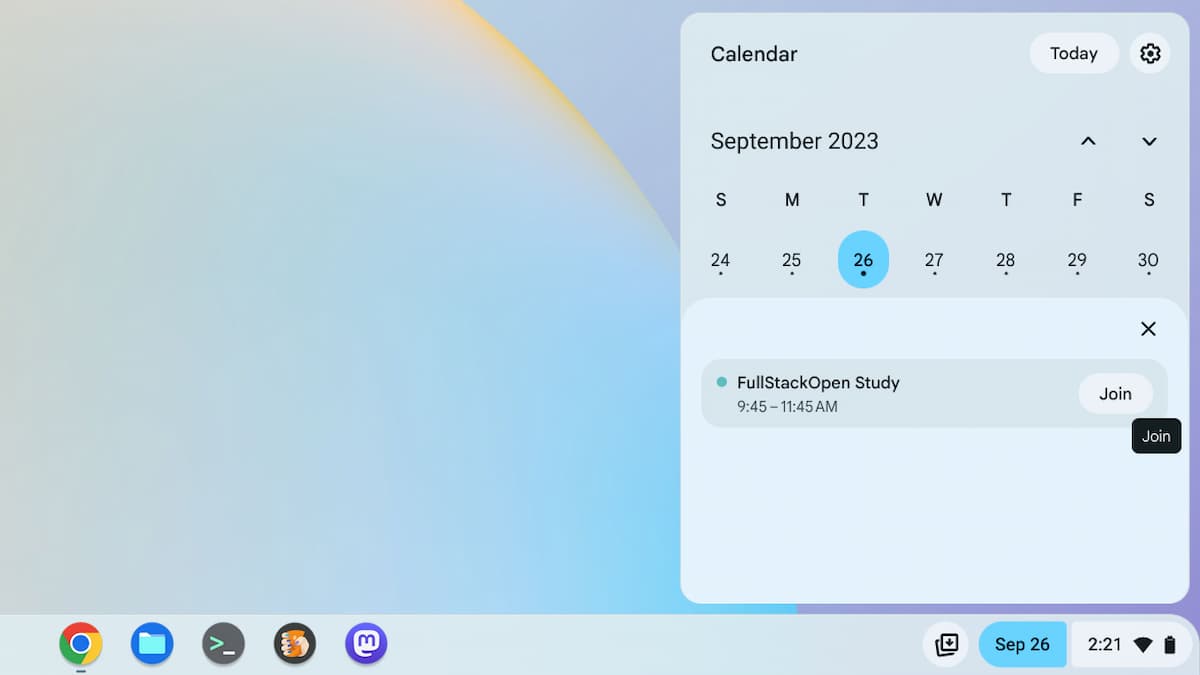 Clicking the button will open up Google Meet in a new browser tab and connect you to your call. I've been using this feature for several weeks on a daily basis with recurring meetings. It's a nice time saver!
Choose GIFs from the emoji picker
One feature announced but not available on my Chromebook with ChromeOS 117 is the GIF picker. Previously, I noted that Google was adding this feature to the Emoji shortcut option for text fields. Since I don't see it, I suspect it will arrive in a few weeks with a small ChromeOS 117 update. For now, here's a peek at what it looks like.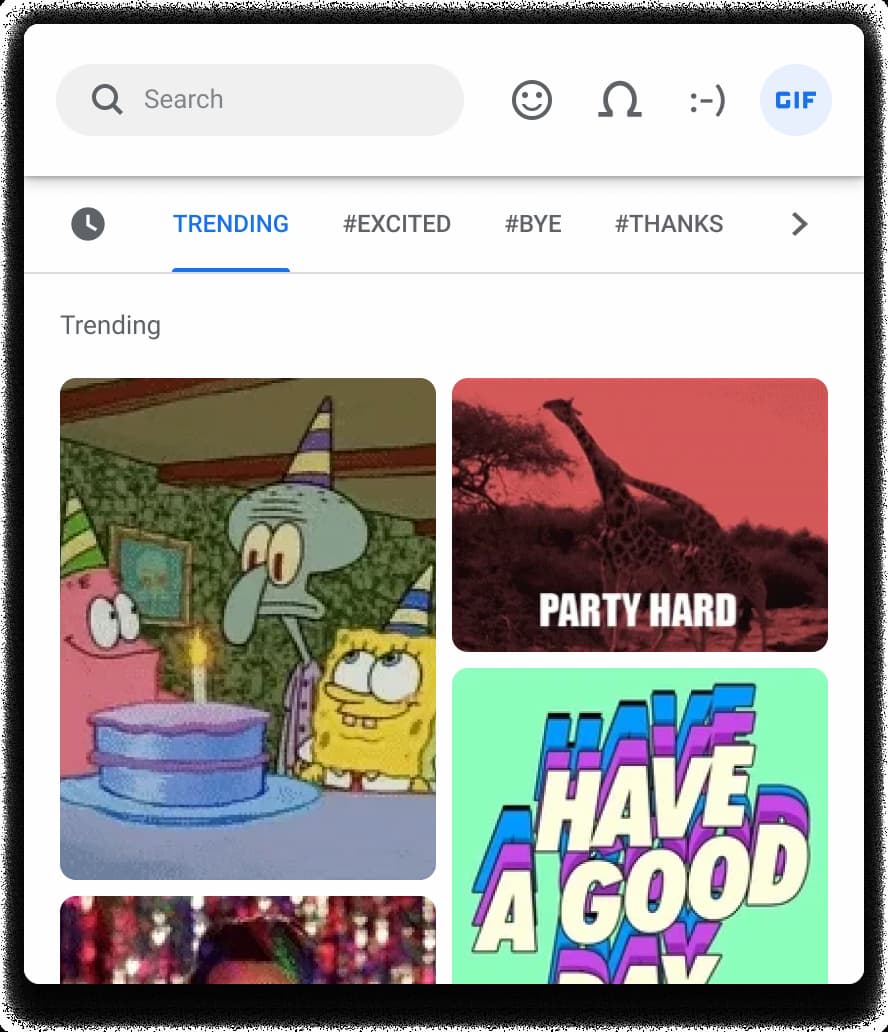 ChromeOS interface accents with wallpaper color-matching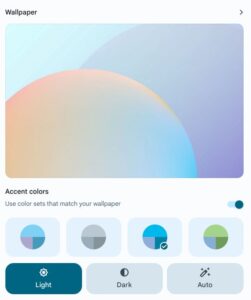 This one is actually timed to coincide with the Material You update. In ChromeOS 117, the Personalization app allows you to have accent colors that complement your wallpaper.
The accent colors are dynamically generated for you, based on your wallpaper's main color palette. Think of it as a bit of AI that inspects your wallpaper colors and builds accent colors that go nicely with your desktop background.
While I don't see my desktop that much, I do have ChromeOS automatically change it each day. And with each change, the ChromeOS interface colors change right along with it.
Note that this feature is optional, so you can disable it and keep the custom look you want on your Chromebook.
System Answer Cards show hardware info
I only just covered this new feature, having seen it in the ChromeOS 118 Beta Channel. Surprise, surprise: You can type one of three Chromebook hardware features in your Launcher to get additional information. You can type directly in the launcher for a quick glimpse of your Chromebook's CPU or memory usage, and view your battery health.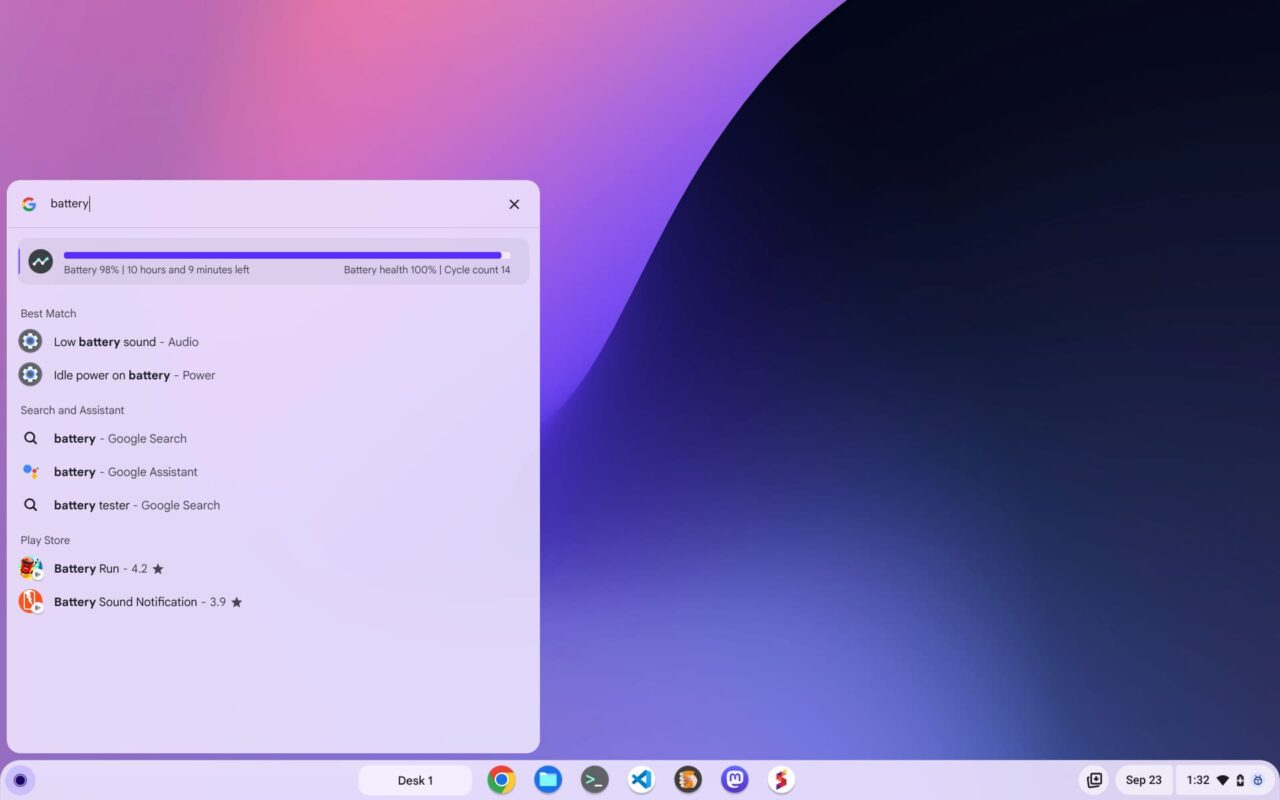 An updated Bluetooth stack in ChromeOS
There's not much in the way of details on this one, so I'll just quote Google:
Starting in ChromeOS 117, and gradually applying to all ChromeOS devices, this Bluetooth software change brings the Android Bluetooth stack, Fluoride, to ChromeOS. The transition happens seamlessly on login, preserving existing paired devices, and should work with Bluetooth devices today with no interruptions. If you experience issues, please file feedback and, if necessary, disable the new stack via chrome://flags/#bluetooth-use-floss.
I don't use Bluetooth devices much with my Chromebook. So I can't tell you if the experience is improved. If you see any differences, definitely chime in with a comment.
Your Chromebook Camera has a time-lapse video mode
Here's one I didn't see coming: ChromeOS 117 brings a time-lapse video mode to the Chromebook Camera. You should see it as an option in the Camera app when clicking the Video button. I would have tested it, but… I don't have time. Seriously. I'm working out of my car today.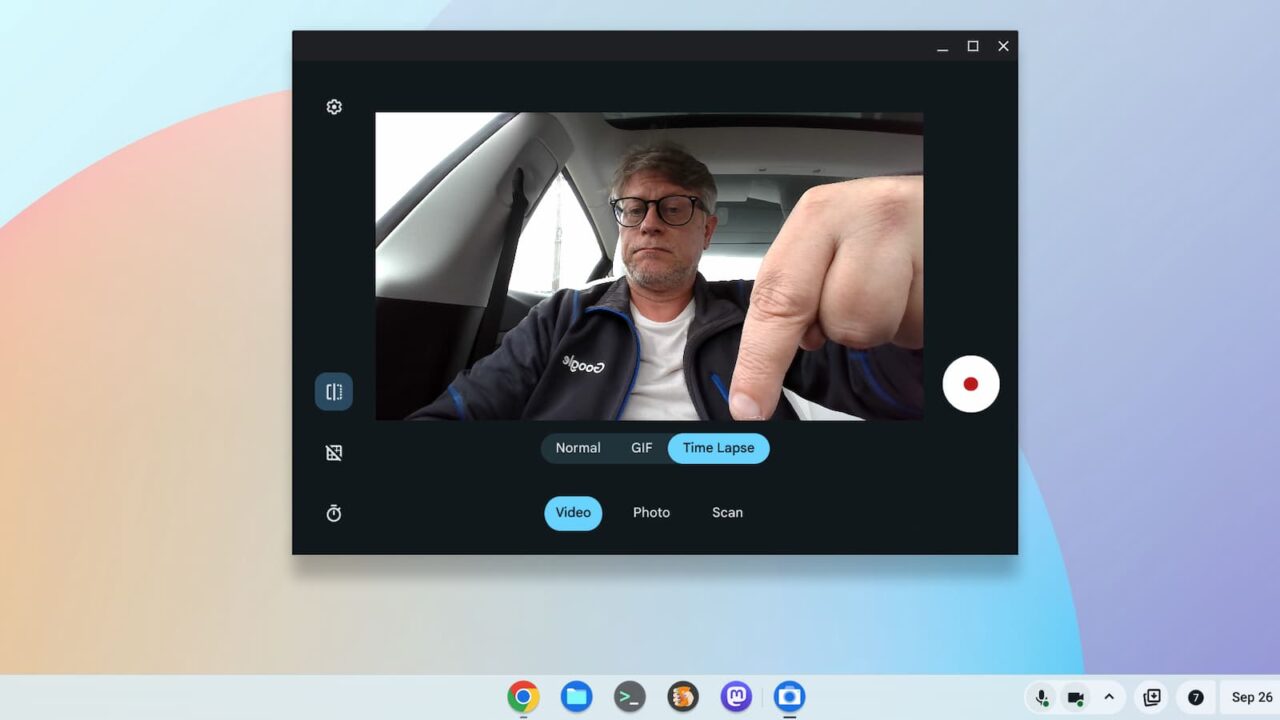 Adaptive Charging is here to help your Chromebook battery
Add this one to the "we knew it was coming and it's now here" category. A new optional Adaptive Charging feature will charge your Chromebook to 80%. At that point, a machine learning model predicts when you will unplug your device. If there's time, the feature will charge your Chromebook to 100%.
The reason for this is that charging any mobile device battery to 100% and leaving it at that state over time isn't good for the battery. So the idea here is to preserve your Chromebook's battery health over its lifetime.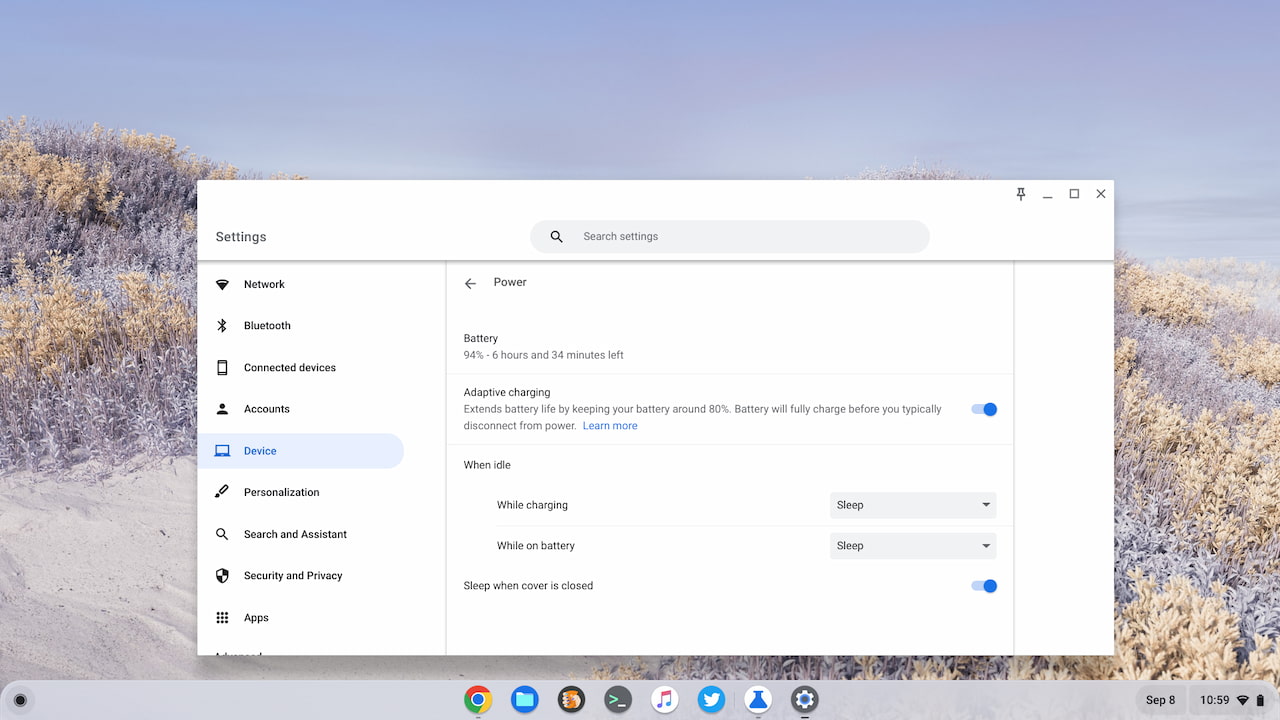 As always, I'm sure there are other features that I haven't yet noticed or that weren't announced. Yes, you can still enable and use the Lacros browser. However, this is still experimental as the lengthy transition plan has only just begun.
In any case, if you see something new and interesting in the ChromeOS 117 release, be sure to share it with the group!