Like to live large with Chrome OS? The currently discounted Acer Chromebook 317 sale price of $299 will nab you a ginormous 17.3-inch 1080p touch display. And this Pentium-powered laptop isn't a bare-bones model either. It includes 8 GB of memory, which will help you keep more browser tabs and apps open at once.
I took this big laptop for a spin late last year and really appreciated the massive touch screen.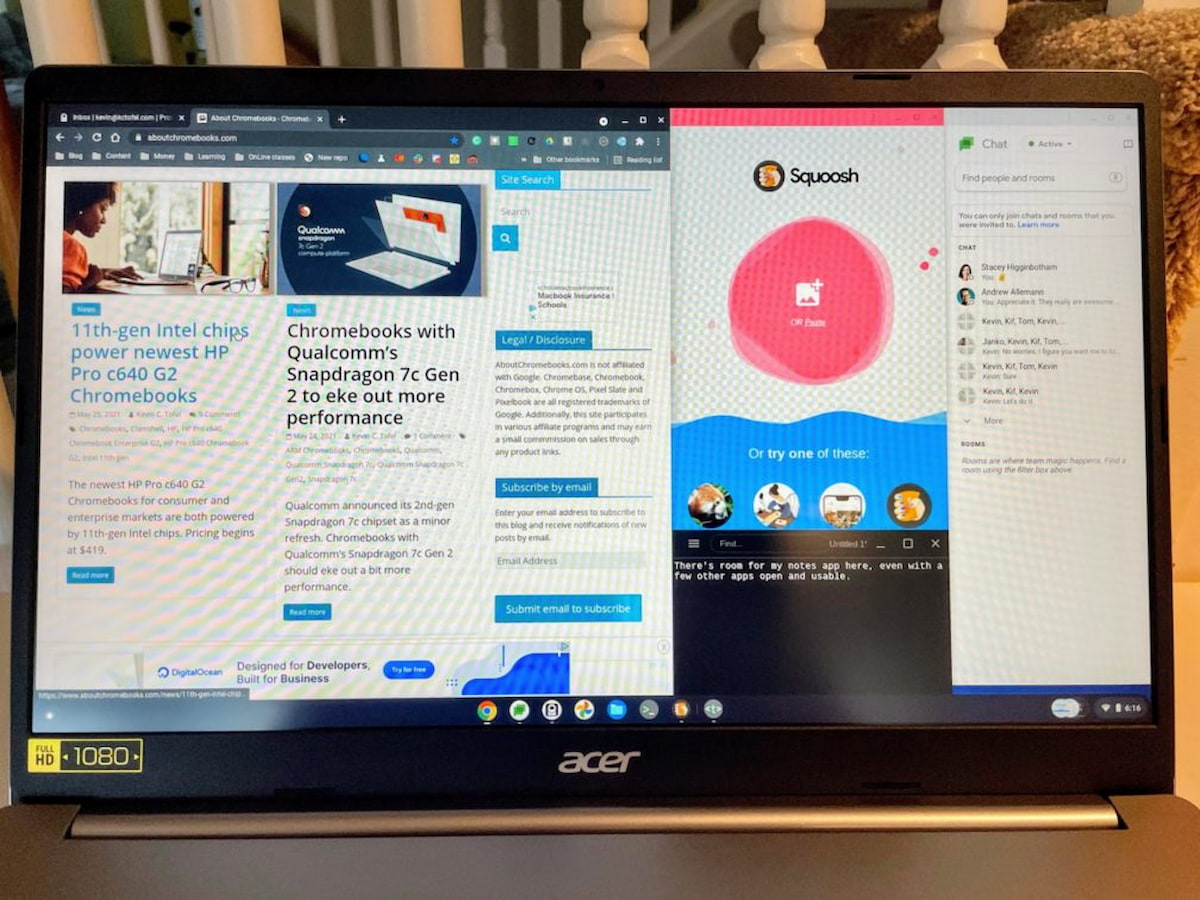 Of course, I'm getting old and I've started to move on from the more traditional 12 to 14 inch displays. Even if your eyes are younger than mine, it is nice to have a sizable canvas for Chrome OS. Well, unless you have to tote your laptop around all day, every day, that is. The discounted Acer Chromebook 317 weighs just under five pounds. The full price one does too. 😉
Given that this model number starts with a "3", it's considered part of Acer's entry-level Chromebook line. So don't expect mid-range to high-end performance. Still, the Intel Pentium Silver N6000 is a quad core CPU capable of boost clock speeds of 3.3 GHz.
That's plenty for everyday, baseline tasks in Chrome OS. And while the integrated GPU isn't going to wow you, it does support an external 4096 x 2160 resolution display at a full 60Hz. You know, for when the 17.3-inch screen isn't quite enough for you.
The discounted Acer Chromebook 317 comes with 64 GB of local storage, but there is a microSD card slot to expand that. And a large laptop means plenty of room for ports too. There are four USBs, a pair of Type-A and a pair of Type-C. Missing is an HDMI slot for that external monitor, but this clamshell does support video output over USB Type-C.
Since this device only launched last year, you do get some modern amenities. WiFi 6 and Bluetooth 5 are your connectivity options. And the keyboard is backlit as well.
Is the discounted Acer Chromebook 317 worth a look at $299?
Considering it's down from the $499 regular price, I'd say yes if you absolutely must have a large-screened Chromebook. Again, don't expect the performance to rival that of Chromebook costing double or more. Think of this is an big screen experience that will easily handle most of your everyday online activities.
About the author
Kevin C. Tofel has covered technology since 2004. He's used ChromeOS since Google debuted the CR-48 in 2010, reviewing dozens of Chromebooks since then. He worked for Google's Chrome Enterprise team from 2016 to 2017, supporting the launch of Android app support. In his free time, he uses Chromebooks to learn software engineering at
Launch School
. In 2019, Kevin joined the CS Curriculum Committee at his local community college.
Liked this content? Subscribe for the free, weekly newsletter