Excellent value: Amazon has the $409 Lenovo Flex 5 Chromebook in stock
With so many schools having to go virtual due to COVID-19, Chromebooks have been hard to come by for months. Most of what I've found in stock these days are older devices, sometimes posing as new ones, that you really should skip.
This morning, however, I did find that Amazon has the Lenovo Flex 5 Chromebook in stock for U.S. delivery.
(Note: While the above link may take you to a higher priced option from a third-party on Amazon, clicking the option to see all prices and shippers is showing me the original $409.99 deal with free Prime shipping and sold by Amazon.)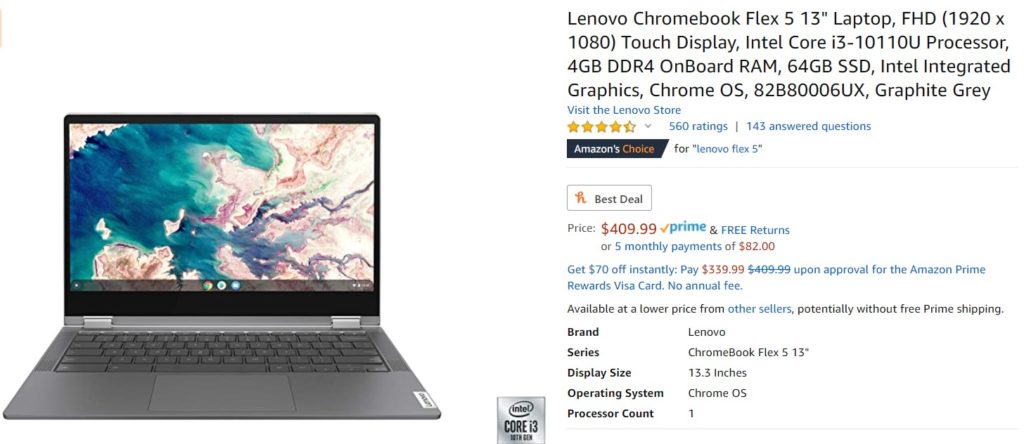 Priced at $409.99 I think this is a great value for the the money, especially after using the device; see my hands on thoughts here.
You could spend more and get double the RAM on a different 2020 Chromebook, for example, or a higher-performing Core i5 processor, but you're probably looking at another $150 or so. If you're looking for a virtual learning device, an every day, all day browser, and some Android apps, you can easily get away with this device based on the hardware specifications:
CPU
10th-Gen Intel Core i3
GPU
Intel Integrated Graphics
Display
13.3-inch 1920 x 1080 IPS
touchscreen, 300 nits
Memory
4 GB / DDR4
Storage
64GB eMMC, microSD slot for expansion
Connectivity
WiFi 6, Bluetooth 5.0
Input
Water-resistant, backlit keyboard, multitouch
trackpad, 720p webcam
Ports
Two USB Type-C (3.1), one USB Type-A (3.1),
headphone jack
Battery
Run-time of up to 10 hours
Weight
2.97 pounds
Software
Chrome OS automatic software update
expiration: June 2028
There are a bunch of solid mid-range components in there along with some future-proofing. You're getting WiFi 6 support, for example, and nearly 8 years of Chrome OS software updates.
That, combined with a very solid 1080p IPS touchscreen display, a 10th-gen Intel Core i3 and up to 10 hours of run time make the Flex 5 an attractive convertible Chromebook.
Get the Lenovo Flex 5 Chromebook
Update: This post was originally published on September 27, 2020 and updated on October 8.