Now that most Chromebooks have the latest software update, you can add a nifty experimental feature to your Chromebook. It's called Google Side Search and it makes it easier to search the web without opening a new browser tab. Here's how to add Google side search in Chrome OS 96.
Navigate your Chromebook's browser to chrome://flags#side-search and enable the function. You'll need to restart your browser after this for the new setting to take effect.

Once the browser restarts, you actually won't see any differences. There's a trick to "kick start" the Google side search feature in Chrome OS 96. Simply open up a browser tab, search for something on Google and click any of the results.
After that, you should see the Google "G" logo to the left of your browser's address bar, aka the Omnibox. Click it and you can easily perform a Google search in the side panel.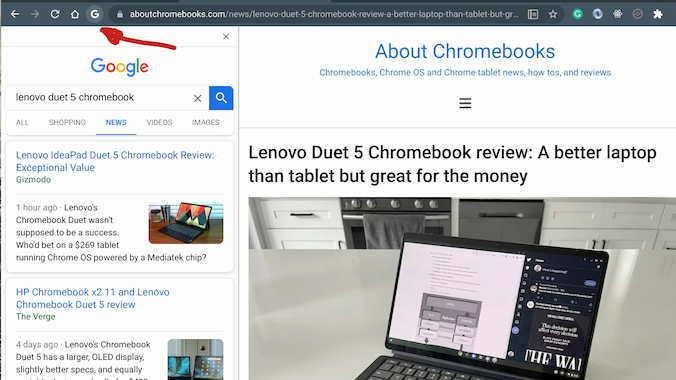 Essentially, this looks like a smartphone-styled search form, taking up roughly a third of your active browser tab. The side search will automatically resize itself if you adjust the width of your tab.
While you'll first see your most recent Google search, the side search feature in Chrome OS 96 can be used to perform additional searches, with any links clicked automatically opening to the right.
Note that if you close the tab with side search active, the "G" logo disappears from your browser's address bar. This feature is only activated from a Google search browser tab, at least for now. Since I do so many Google searches on a daily basis, I just keep a side search-enabled tab pinned to my browser
There are plenty of ways to search the web on a Chromebook, of course. Since enabling Google side search in Chrome OS 96, however, it's become my main method for searching the web, mainly because I see search results and the content from those results in a single place. Simply put, side search offers a more cohesive experience for me.
About the author
Kevin C. Tofel has covered technology since 2004. He's used ChromeOS since Google debuted the CR-48 in 2010, reviewing dozens of Chromebooks since then. He worked for Google's Chrome Enterprise team from 2016 to 2017, supporting the launch of Android app support. In his free time, he uses Chromebooks to learn software engineering at
Launch School
. In 2019, Kevin joined the CS Curriculum Committee at his local community college.
Liked this content? Subscribe for the free, weekly newsletter