How to search for saved passwords on a Chromebook
As Google continues to break apart Chrome OS from the Chrome browser, some features may get moved. In fact, the settings between the two are already split into two. If you need to search for saved passwords on a Chromebook these days, you'll have to look in the Google Chrome browser settings.
Granted, if you're simply navigating to a web page and just need to sign in, that process hasn't changed. However, if you ever need to search for saved passwords, there are two ways to do it.
If your Chromebook has an internet connection, you can simply navigate online to https://passwords.google.com and get at your credentials. That's always been the case for people who use Google to manage their passwords. I am not one of those people.
The other option used to be going into your Chromebook settings to view the autofill configuration and password data. That's not the case now that some settings are in Chrome OS and others are in Chrome.
So you'll need to navigate to chrome://settings/autofillin this strange new world. (Technically, you can go right to chrome://settings/passwords for a more direct route. I'm showing autofill in case you ever want to adjust other feature attributes)
You can also just go into the Chrome browser, click the three-dot button at the top right and then select Settings.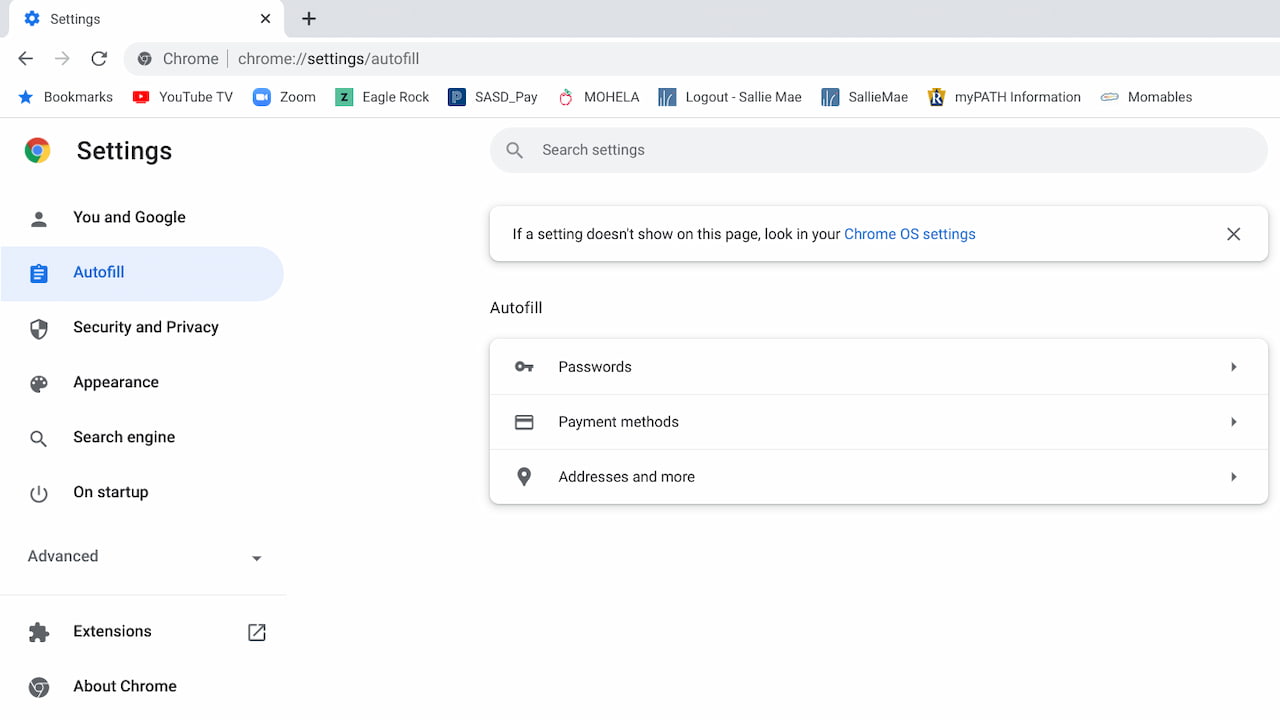 This will bring you to what used to be in the Chrome OS settings. Here you can click the passwords option. You'll now have access to all of your saved passwords on the Chromebook.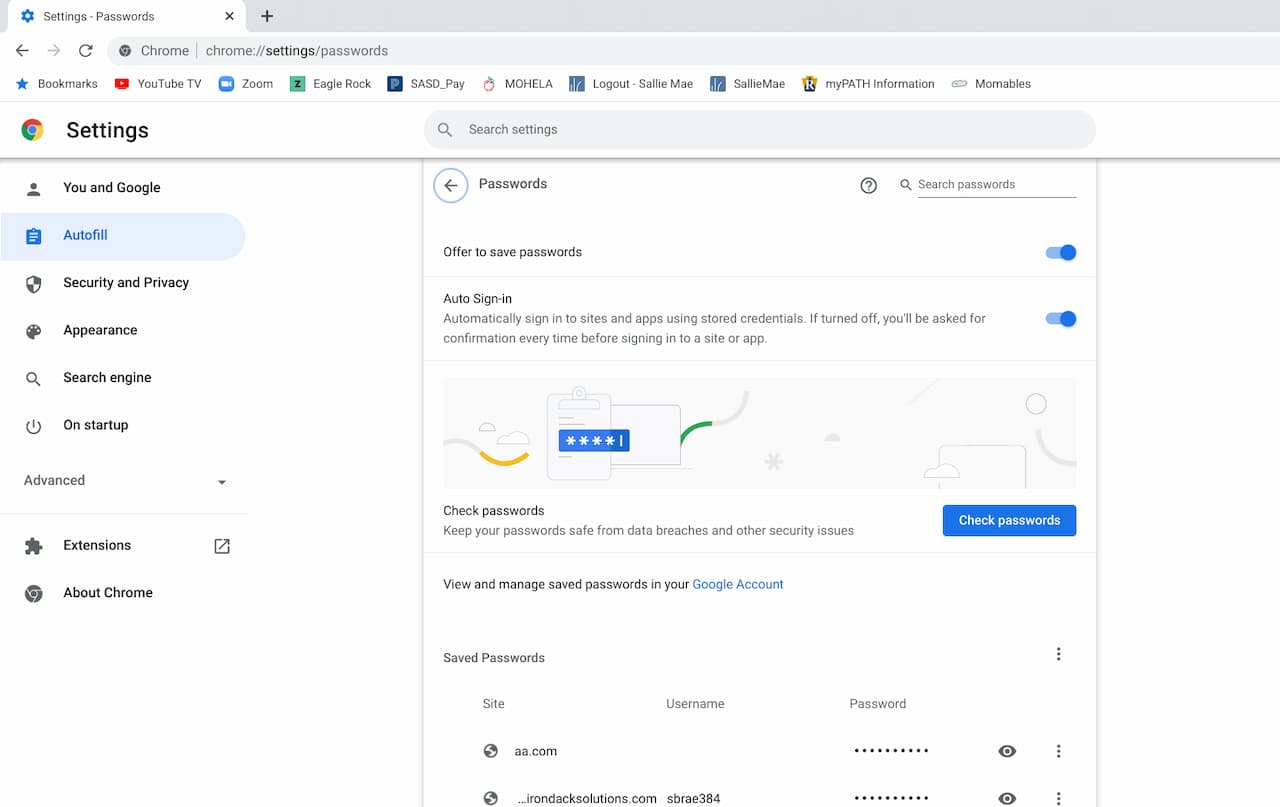 And see that handy "Search passwords" option at the top? It works just as you'd expect.
Type in a password and your Chromebook will immediately return any results from the search for saved passwords. From here you can click the eyeball icon to view the password in plain text.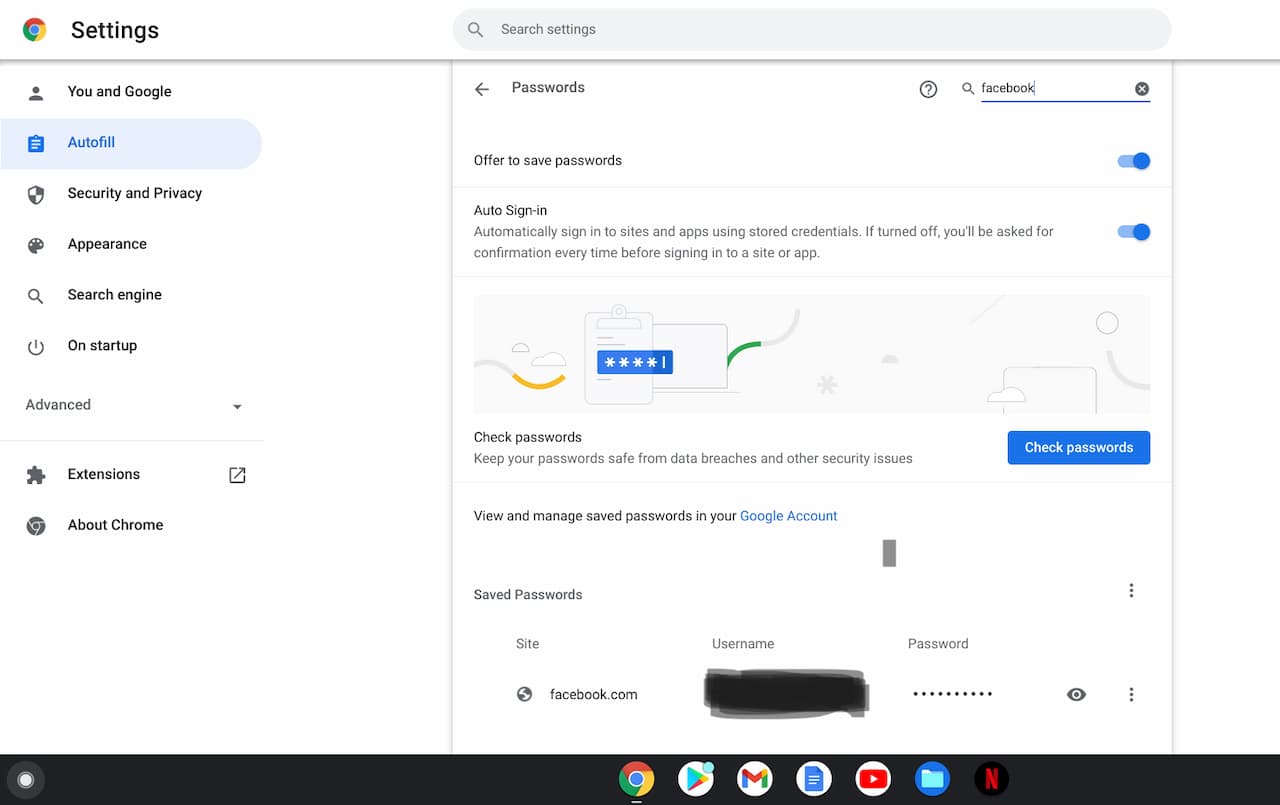 Folks who have used the Chrome browser and are now using a Chromebook will likely know all about this. This is how saved passwords have long worked in Chrome.
Long-time Chromebook users, however, might be circling through the Chrome OS settings in loops of frustration. Breathe easy, because it's easy to search for saved passwords on a Chromebook if you know where to look.