HP Chromebook x360 14c review: Good performance priced a bit too high
For the last several weeks, I've used the latest HP Chromebook x360 14c review unit as a full-time device. I initially had favorable first impressions of this 2-in-1 and little has changed since then. I still have one issue with this laptop, although it may just be specific to my particular loaner unit. Overall though, the HP Chromebook X360 is a solid performer overall. I think, however, the $659 MSRP is a tad high and there are other similar lower-priced Chromebooks to consider.
About Chromebooks score: 3.5 / 5.
Good performance and features but not the best value.
What you get for $699 with the HP Chromebook x360 14c
Since I mentioned the price, let's start with what you're getting for your money.
On the inside, this Chromebook is powered by an 11th-generation Intel Core i3 CPU. Many mid-range Chromebooks are, but HP chose to use a quad-core processor, in lieu of the dual-core i3 found in competing devices. The CPU is paired with 8 GB of memory but not DDR4x; it's DDR4 RAM running at 3200 MHz. I'll get back to why both of these choices matter when discussing performance in a bit.
The 14-inch 1080p touch display has fairly small bezels around all four sides. HP calls it an "edge-to-edge" design and it's pretty close to that. This helps keep the overall footprint similar to a 13.3-inch laptop rather than one that's 14-inches. The screen brightness is fine for indoor usage but gets washed out under bright lights or outdoors. Viewing angles are quite good though and I enjoy looking at this display. Plus, the B&O-tuned, upward-firing speakers are better than most Chromebooks I've used.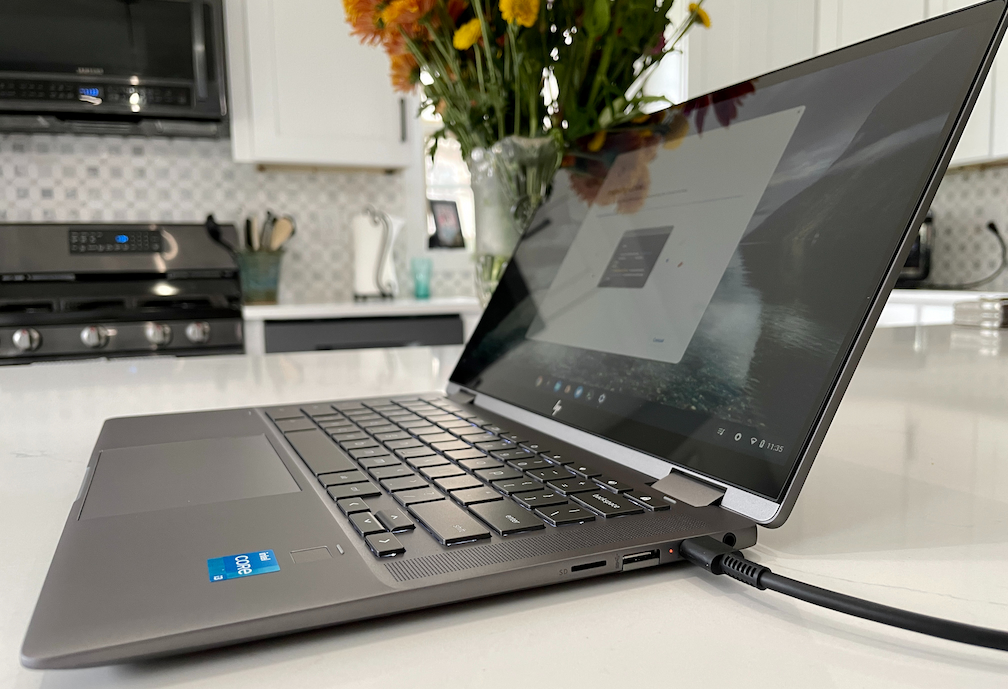 There's also an ample supply of inputs and ports, with a USB Type-C on both sides. Either can be used to charge the 58 WHr internal battery. You also get a quick NVMe SSD drive with a generous 256 GB of storage capacity. If you need any more or want to transfer data, there's a microSD card slot on the right.
On the left, you can see a little toggle switch. That's to disable the webcam, which does work. A small LED next to the camera signifies when the camera is off, but only when you're in an app or browser tab that has access to the camera. My review unit also came with an optional HP USI Stylus for drawing or note-taking in tablet mode. The pen is charged over USB but magnetically attaches to the right side of the chassis.
Folding the display over and using the USI stylus is very similar to the same experience on the Lenovo Duet 5 Chromebook. Again, some apps will work better than others; I recommend installing the Squid app for Android to get the lowest latency for taking notes. Google Cursive still needs some work while Google Keep isn't too bad.
In terms of the chassis, you're getting a mix of aluminum and plastic here. The keyboard frame and display cover are metal, but not the base. Still, the HP Chromebook x360 14c is well built with a rounded edge design all around. I find it very comfortable to hold if a little heavy at 3.66 pounds. It's a trade-off: You can have a light laptop with more plastic or a heavier one with more metal.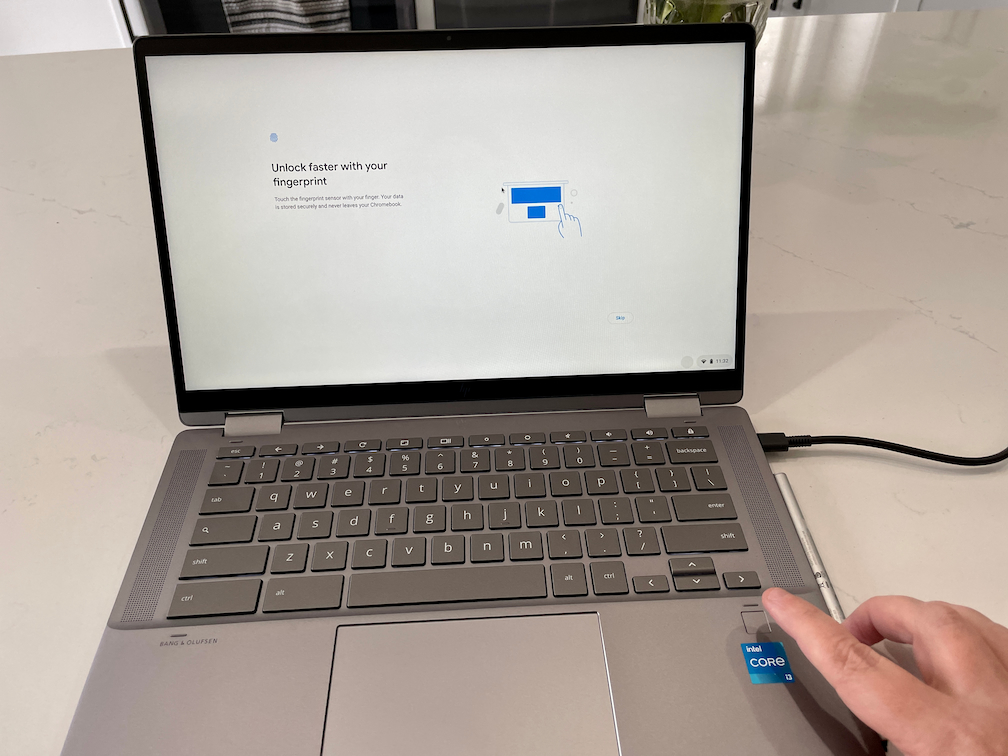 The backlit keyboard is great to type on and looks fantastic in dim lighting environments. The darker Mineral Silver color contrasts nicely with the lit keys. Key travel is good and I didn't feel cramped typing on this laptop. And the generously sized trackpad has worked flawlessly for me as well. Plus the fingerprint reader to the right of the trackpad is super useful and accurate. I really hope every Chromebook vendor starts incorporating these.
I do like the wide view 720p webcam as others have commented that I look and sound good on video calls. Even in low light, the camera performed better than I expected.
HP claims up to 10 hours and 45 minutes of runtime, but the device fell short of that, averaging between 7 and 8 hours of usage on a charge during my workdays. It does support fast-charging from 0 to 50% in 45 minutes though, and a full charge was typically around an hour and 20 minutes.
Here's a full rundown on the specs:
CPU
Quad-core (eight-threads) Intel Core i3-1125G4 CPU (2.0 GHz / 3.7GHz)
GPU
Intel Integrated UHD Graphics
Display
14-inch IPS 1920 x 1080 touch display, 16:9 aspect ratio,
250 nits brightness, 45% NTSC gamut
Memory
8 GB DDR4-3200 MHz memory
Storage
256GB SSD M.2 PCIe 3.0×4 NVMe,
microSD card slot for expansion
Connectivity
802.11ax (2×2) WiFi 6, Bluetooth 5
Input
Backlit keyboard, trackpad
720p wide view webcam with privacy switch, dual array microphones
Ports
1 USB Type-A, 2 USB Type-C 3.2
supporting Power Delivery, 10Gbps data, and DisplayPort 1.4,
headphone/microphone combo jack
Battery
58 WHr, expected run-time up to 10.75 hours
Weight
3.66 pounds
Software
Chrome OS automatic updates through June 2028
One thing I don't understand is that Google lists the HP Chromebook x360 14c as only getting Chrome OS updates through June 2028. I suspect that's an error as other 11th-generation Intel Core i3 Chromebooks get support through June 2029. Still, I thought to mention it.
Solid performance with just one small problem
Initially, I wasn't seeing benchmark scores that were consistent with the good performance of this device. So I waited for the next Chrome OS software update and retested. The results were much more reflective of how HP Chromebook x360 14c performed during my daily usage. That is to say, it's plenty fast enough for most people.
It can easily handle the basics of browsing and web apps, even with a good two dozen tabs open. The few Android apps I use worked seamlessly and quickly. And although I wouldn't use this for desktop Linux apps a majority of the time, it works fine for general light Linux usage.
Below are the benchmarks I ran on the HP, along with results from the same tests on other recent (and even older) Chromebooks. I like to show how Chromebook performance has improved over the last generation or two of processors, and you can see that here.
Test
 
HP Chromebook x360 14c
11th-gen Core i3
Flex 5i
11th-gen Core i3
IdeaPad 5i
11th-gen Pentium
Flex 5
10th-gen Core i3
Acer Chromebook Spin 13
8th-gen Core i5
Speedometer 1.0
 
303
311
249.8
207
179.9
Speedometer 2.0
 
174
176
144.0
118
99.6
JetStream 2
 
154.53
151.88
130.35
113.87
94.436
Basemark 3.0
 
1,106.3
1,179.9
1,032.8
528.1
594.18
Octane 2.0
 
54,911
55,360
47,152
42,429
35,116
Higher numbers are better
Let's dig a little deeper into performance though because this brings me back to the choice of CPU and RAM inside the HP Chromebook x360 14c.
The Intel Core i3-1125G4 CPU used here has twice as many cores and threads as the Intel Core i3-1115G4 in the Lenovo Flex 5i Chromebook. You'd think there's a bit more horsepower in the HP as a result. I didn't find that to be the case, however. In my daily usage, I'd be hard-pressed to tell the difference between the two. And I strongly suspect the quad-core CPU costs more than the dual-core configuration, which may be part of the reason the HP is $659 while the Lenovo is $539.
HP may have cut a little cost to help mitigate its bill of materials for this laptop too. I noticed it uses 8 GB of DDR4 memory running at 3200 MHz. That Lenovo Flex 5i Chromebook that costs $130 less? It has 8 GB of faster DDR4x memory clocked at 3733 MHz. I wouldn't be surprised if that difference is why the Lenovo earned slightly higher scores in four of the five benchmarks above.
And there's one issue I've been having with the HP Chromebook x360 14c that I don't have on the Lenovo. Or on any other device in my house. The Wi-Fi connection simply stops working every hour or so.
Initially, it was every 20 to 30 minutes, but after the Chrome OS 96 software update, it happened less frequently. I have no idea why and it may be a problem only for my particular review device. I did submit an issue to Google several weeks ago but haven't heard back. So for now, when the Wi-Fi cuts out, my workaround is to disable and re-enable the wireless radio. That works but I shouldn't have to do that.
Should you buy the HP Chromebook x360 14c?
Assuming the wireless issue is an isolated problem, I'd say maybe. It's not that the HP is a bad Chromebook; it's quite good actually. I appreciate having a little extra space with a 14-inch display over a 13.3-inch screen, for example. Performance is in line with other Chromebooks powered by the latest Intel Core i3. There's plenty of RAM and storage. And it's well designed.
But for $120 less you could get a lighter Lenovo Flex 5i Chromebook with a 13.3-inch display that offers extremely similar performance although just 64GB of local storage. Want a bigger display and the same CPU, even faster memory with 128 GB of storage? The Asus Chromebook Flip C536 is $569. Then again, neither of these competing devices has a fingerprint sensor. Like I said earlier: trade-offs.
Overall, this is a solid Chromebook. And like any other device that sees a sale, you get more value when you pay less. If the HP Chromebook x360 14c is right for you, I'd wait for a sale because I don't think the price tag of this laptop should start with the number 6.