Following an earlier Chrome OS device announcement for education from Logitech, a pair of new HP Fortis Chromebooks for students debut today. The HP Fortis 11 G9 Chromebook and HP Fortis 14 G10 Chromebook are designed for student use, reinforced for the expected drop or spill. The latter is rare among Chromebooks for students due to the larger-than-average display and is expected to be available today with a $349 starting price.
Since the HP Fortis 14 G10 goes on sale first, let's start with details on that device.
HP Fortis 14 G10 Chromebook overview
As mentioned, this provides students with a generous 14-inch anti-glare display. Base models will support a 1366 x 768 resolution while a 1080p screen can be ordered as an option. Touch support is also an option on either resolution. Inside is are choices of Intel Pentium processors, although HP hasn't detailed specifically which ones. Storage choices are what you'd expect: 32, 64, or 128 GB eMMC. The same goes for memory which can be had in either 4 or 8 GB of RAM.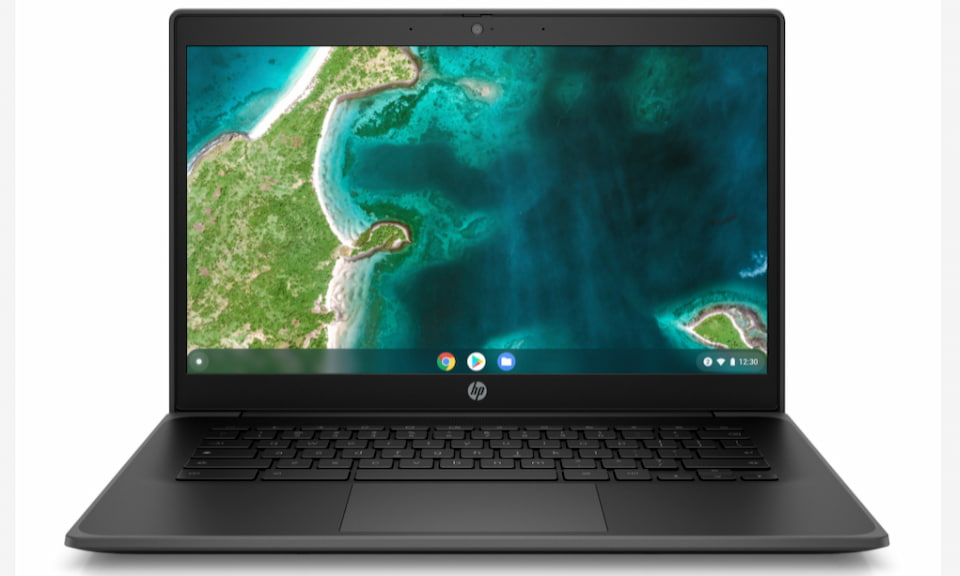 Students will only get a single USB Type-C port, but there's a USB Type-A on each side, along with one full-sized HDMI jack and microphone/headphone combination. A microSD card slot is also standard fare here.
That single USB Type-C is used for charging the 47 Whr battery with the 45W power adapter. HP says a fully discharged battery can be topped up to 90% in 90 minutes. The 3.59 pound HP Fortis 14″ G10 Chromebook also has a webcam with HP's Privacy Camera, WiFi 6 and Bluetooth 5 radios, and 4G option for connectivity.
Built for the classroom, this Chromebook has plenty of rugged, reinforced design points. HP says it can handle 76cm drop on concrete and 122cm drop on plywood. The new Fortis has been tested for "1,000 cleanings on the chassis, keyboard, clickpad, and display" as well. That's a new thing in the pandemic era, I suppose.
HP Fortis 11 G9 Chromebook overview
The smaller device is more akin to what we've seen in the Chromebooks for students market. That's mainly due to the size and similar ruggedized design, of course. But there's a twist: Powering this smaller HP Fortis is Qualcomm's Snapdragon 7c, the same chipset on the HP Chromebook x2 11 Chrome OS tablet. It will get the job done in this particular use case.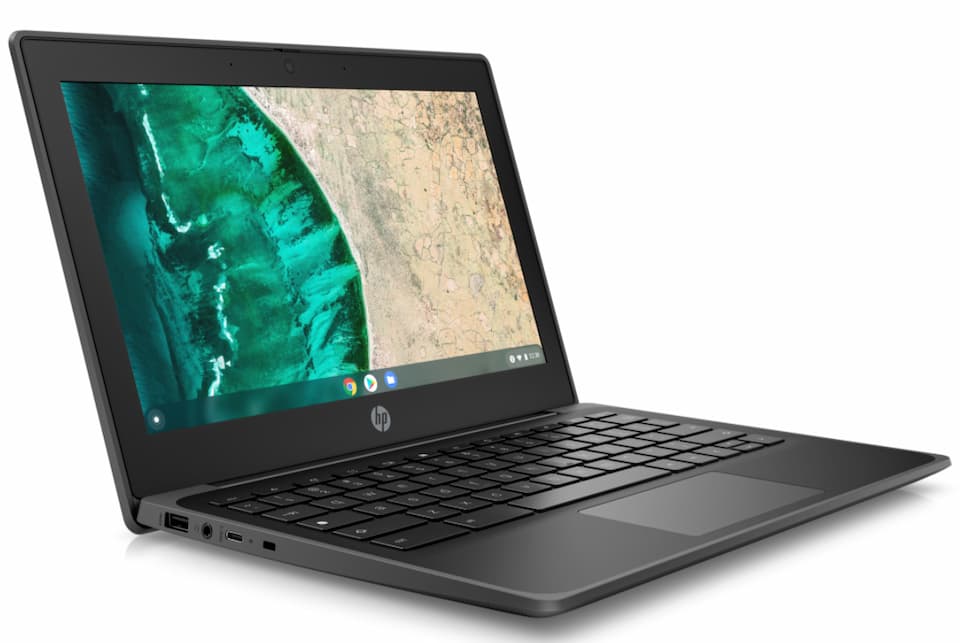 Other than the processor change, the 11″ model has similar attributes to the 14″ version. The smaller anti-glare screen starts with SVA resolution (1366 x 768) resolution although there are options for UWGA and touch. All of the screens cap out at 220 nits of brightness, which is lower than average but likely enough in a classroom.
You can choose between 32 or 64 GB of eMMC storage capacities and 4 or 8 GB of memory. Ports are the same as the larger model, save for the lack of a microSD slot and HDMI port. That's kind of a shame because the device with a smaller screen would benefit more from this option. However, the one USB-Type C port does allow for an external monitor.

The HP Fortis 11 G9 Chromebook battery has the same 47 Whr capacity as the larger model and comes with a 45W charger as well. Connectivity drops down to WiFi 5 and Bluetooth 5, but I doubt that will be an issue. It's unlikely many schools have yet upgraded their networks to use the faster WiFi 6 standard. There is a 4G LTE option. Also included are the HP Privacy Camera and ruggedization for classroom incidents, still keeping the weight down to 3 pounds.
HP hasn't announced the price yet but says it will announce that detail once we get closer to the June availability date.
About the author
Kevin C. Tofel has covered technology since 2004. He's used ChromeOS since Google debuted the CR-48 in 2010, reviewing dozens of Chromebooks since then. He worked for Google's Chrome Enterprise team from 2016 to 2017, supporting the launch of Android app support. In his free time, he uses Chromebooks to learn software engineering at
Launch School
. In 2019, Kevin joined the CS Curriculum Committee at his local community college.
Liked this content? Subscribe for the free, weekly newsletter