Lenovo Duet 5 Chromebook sale drops the price down to $449
If you're looking for a Chrome OS tablet to buy, now is a good time. A current Lenovo Duet 5 Chromebook sale drops the price by $50. I liked this device at the full price, so getting it here for $449 is a win.
This is the better configuration of the two options available.
Last month, I saw a sale on the base model that put the price under $400. And if that's as far as your budget can stretch, it's still a good option. However, you're only getting 4 GB of memory on the base model. My Chromebook mantra is "the more RAM the better". And the discounted model does have 8 GB of RAM, not to mention 128 GB of local storage. That's double the base model in both.
Here's what I said about this Chrome OS tablet that's better optimized for laptop users but can be used as a tablet:
Overall, I really like what it offers in terms of value, performance, and portability for the price. It's definitely for mainstream Chrome OS users though: If you're a "power user" that needs high-end hardware, this is a good secondary device. For everyone else? It's a better laptop than a tablet with enough performance for most people and a gorgeous 1080p OLED display.
Yup, that 1080p OLED display gets me every time. Even though I'm not a fan of 16:9 widescreen Chromebooks, I can't get over how good this screen looks.
The colors really pop and the black pixels are pure black because they're not lit up at all on an OLED panel.
Although the detachable keyboard attaches only to a single point on the tablet display, it's relatively stable on your lap. On a flat surface, it's no different than any other Chromebook, aside from how thin it is.
You can get a higher-performance Chromebook experience compared to the Lenovo Duet 5 Chromebook sale. But you won't get that gorgeous touchscreen that works well with a USI stylus.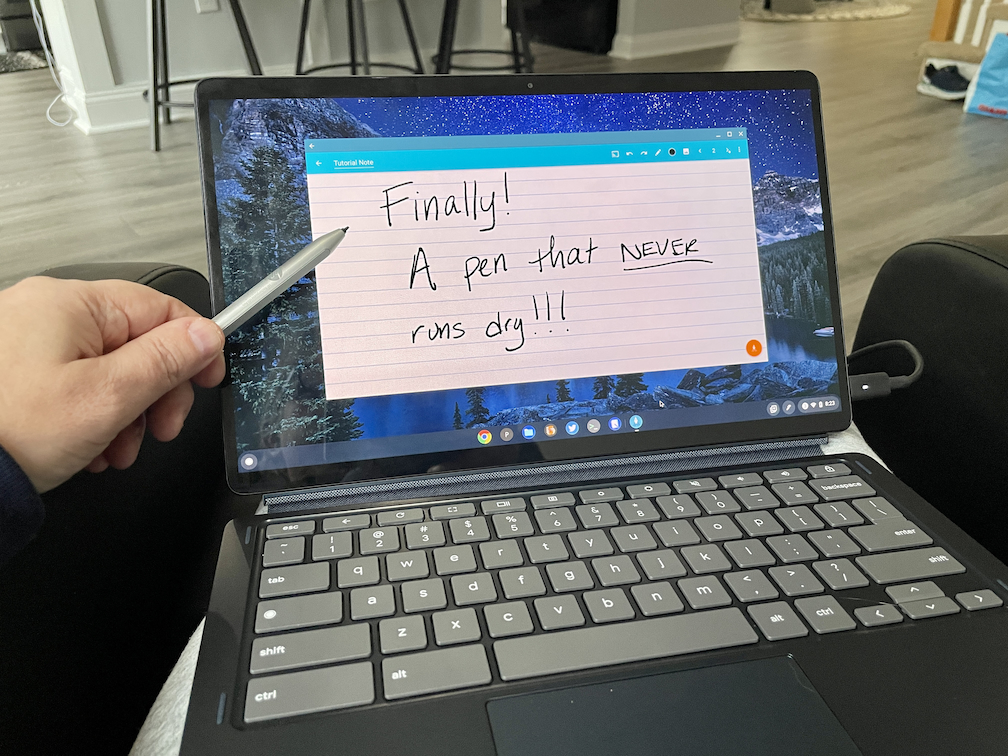 And to be honest, when paired with 8 GB of memory and only pushing a 1080p display, the second-generation Qualcomm Snapdragon 7c is pretty decent for typical mainstream Chromebook activities.