Nearby Share file feature on Android now, Chromebooks in the "coming months"
Well, I picked a great time to pull the SIM card from my iPhone and plop it into a Google Pixel 4. Android devices running 6.0 or better now have a "Nearby Share" feature that's functionally identical to Apple's AirDrop for iOS and macOS. With it, you can wirelessly share files and photos between two devices.
I tested it on two Pixel phones I have and it works great. But that's not a standard use case, of course.
Beaming a file from one person to another is the typical situation, and as long those two people have Android phones running a supported software version, it will work. I'm more interested in when it Nearby Share arrives on Chromebooks, which is in "the coming months", according to Google.
And by "coming months", I don't expect us to have to wait too long. Last month, Chrome Story got Nearby Share working between Android and Chrome OS using the Canary channel.
I'm running Chrome OS 85 Beta Channel and already see bits of Nearby Share on my Chromebook. There's the experimental flag to enable it, for example:

Enabling it and restarting the browser adds Nearby Share to the Settings options as well.

Unfortunately, with this version of Chrome OS 85 Beta Channel, that's as far as I can get.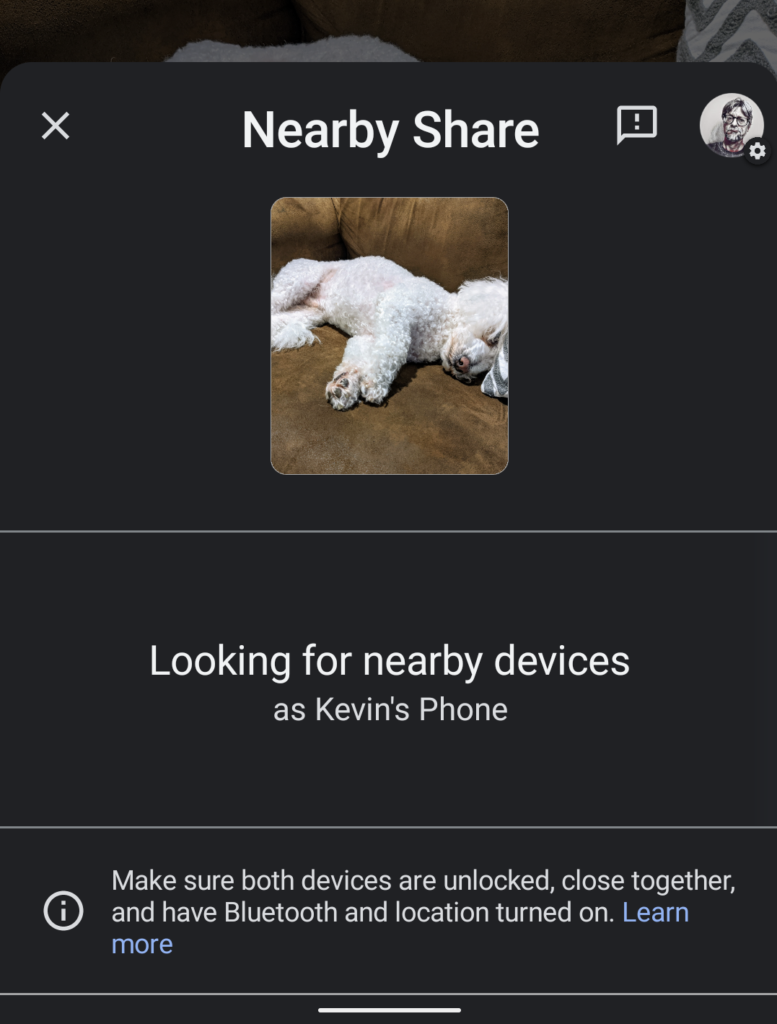 The Nearby Share option doesn't appear in the right-click menu of Files to actually share the file. And trying to send a photo from my connected Android phone to my Chromebook doesn't yet work either.
Perhaps I'll drop down to the Dev Channel of Chrome OS 86, which is currently available, and have more luck.
Either way, I don't see this feature sitting around in the Chromium Team for long.
Even if it's just hidden behind a flag for a bit, I suspect Chrome OS 86 will deliver this functionality.
Regardless, when it does arrive, you'll be able to share files between Android and Chrome OS, either over Bluetooth, WebRTC or peer-to-peer WiFi, whichever the system deems faster and available, making for a slightly more cohesive ecosystem.