Back in December, Lenovo announced a 2023 Lenovo Flex 3 Chromebook with a $349 starting price. Availability was expected for this month in the US and I have a review model of this small convertible laptop. It's my first device with the Intel N100 processor, which is an Alder Lake-N chipset. My first impressions? For the price, it's surprisingly nice!
Lenovo Flex 3 Chromebook build and design
Unlike prior models in this lineup that use an 11.6-inch screen, the 2023 Lenovo Flex 3 Chromebook has a 12.2-inch display. My review unit does have touch and since this is a Flex model, the screen does rotate on 360-degree hinges. Going with the larger screen provides a little more room for the keyboard and trackpad, although that latter could be bigger. The bezels are a bit large on this laptop, however, they're not glaringly bad for an entry-level Chromebook.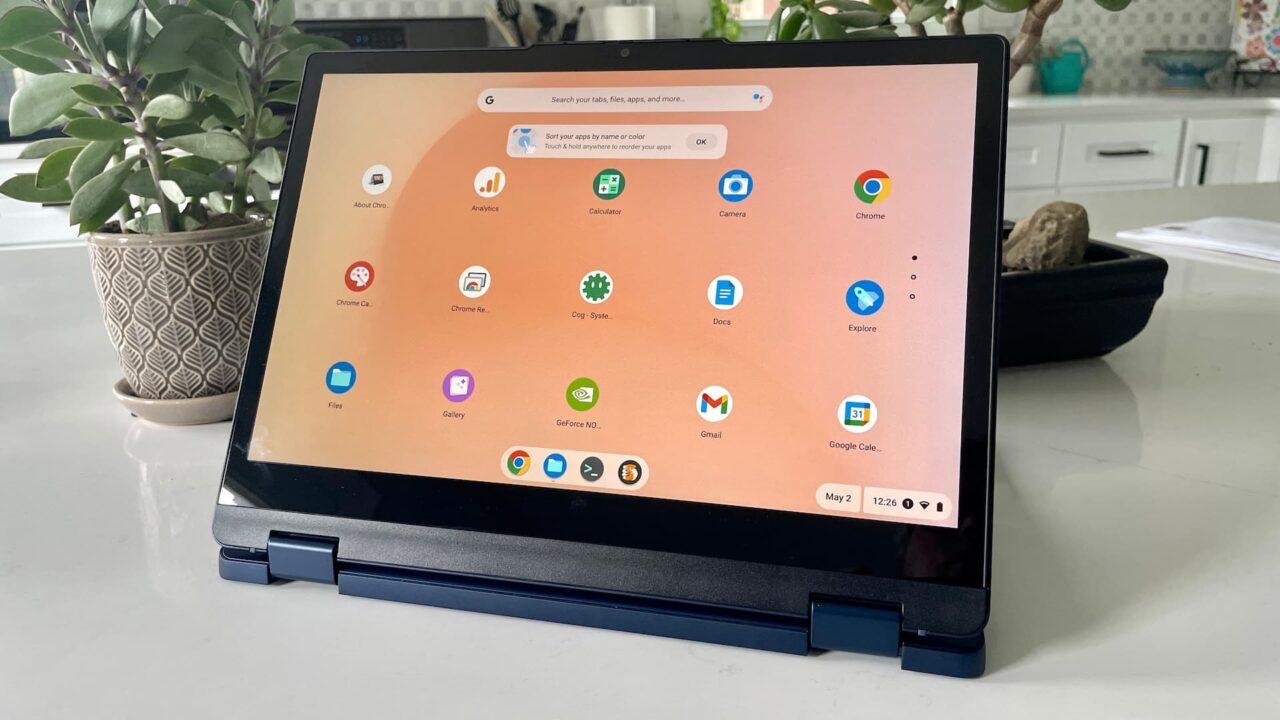 Yes, as you'd expect in this price range, the chassis is an all plastic affair. However that keeps the weight down.
This little laptop tips the scales at 2.76 pounds, or 1.25 kilograms. It's easy to tote around in a backpack or simply by carrying it. Lenovo's texture painting of my Abyss Blue review unit gives a nice grip on the left third of the panel backing.
The port selection isn't bad for the type of market this device is aimed for. Both sides have a USB Type-A, while the right side has an HDMI output as well. A microSD card slot and combo headphone jack is on the left. However, there's only a single USB Type-C port on this device.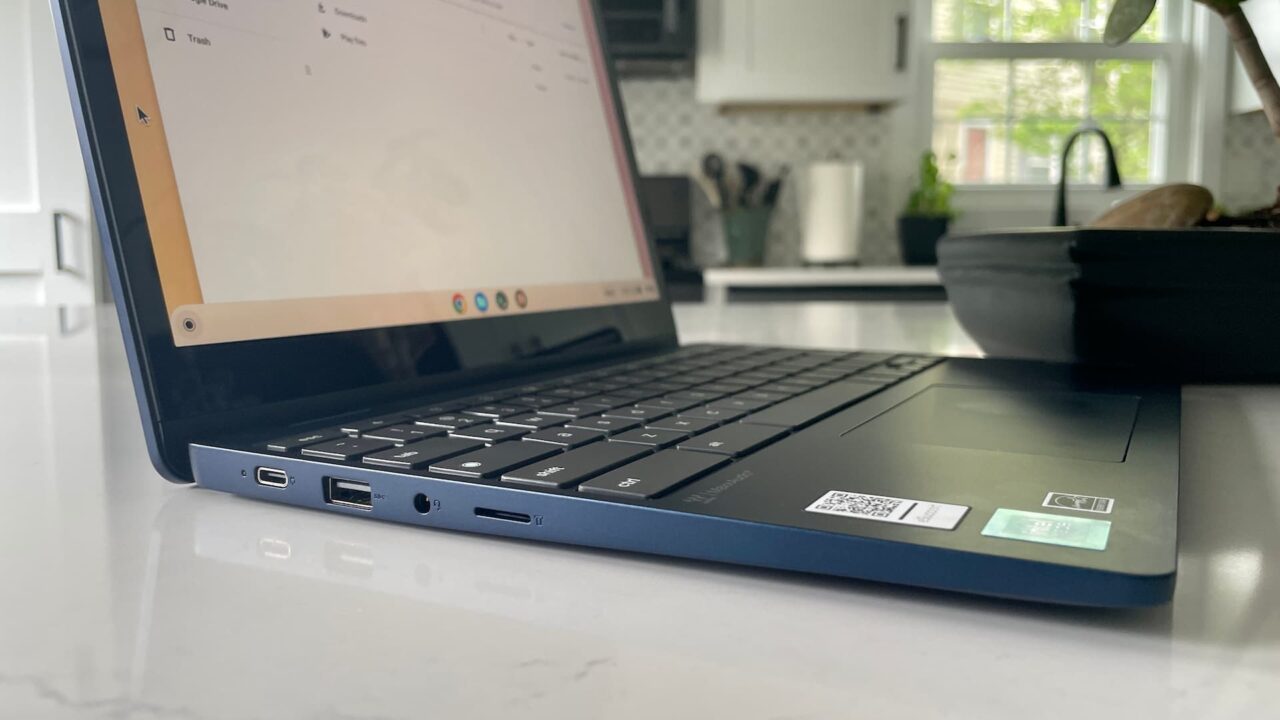 I'd give up a Type-A port to see a pair of USB Type-C jacks, personally.
Why? Because if you're charging the Lenovo Flex 3 Chromebook, you're using that single Type-C port. This may not be an issue for students or folks on a tight budget, but it's worth a mention.
I do like that the Intel N100 CPU is fanless, so there's no fan noise. And Lenovo didn't have to design for any intake or exhaust ports. That also provides room for the upward-firing Waves MaxxAudio speakers between the keyboard and display. First listen? They're louder than I expected although the bass response is lacking.
Specs of the Lenovo Flex 3 Chromebook
As mentioned, this Chromebook is powered by the Intel N100 CPU. That sits towards the bottom of the new Alder Lake-N chipsets as there's an N200 and both a Core i3-N300 and i3-305. The processor in my Lenovo Flex 3 Chromebook has 4 cores, running at up to 3.4 GHz each, and supports 4 threads.
If you want slightly faster clocks or more cores, you'd have to step up to one of the other Intel N-series chips. None of them support multi-threading though: It's one thread per core across the line.
So clearly, I wouldn't expect this Chromebook to compete with a non-N-series Core chipset. However, it doesn't provide what I'd call a very slow experience after a few hours of use. And with the chipset using a maximum amount of 6W, the battery life should be good enough for a full day. I'll have to test that for sure. Lenovo says the battery should last for up to 12 hours on the 47 WHr power pack.
You're looking at 4 GB of soldered LPDDR5-4800 memory for this model. I'd expect 4 GB here and it's really nice to see faster, newer RAM technology over the old DDR4 memory. My review unit comes with 64 GB of eMMC 5.1 storage, which is what we've seen for years in these types of Chromebooks.
The same goes for the keyboard as it's not backlit. The trackpad doesn't appear to be glass and works adequately so far, as does the keyboard.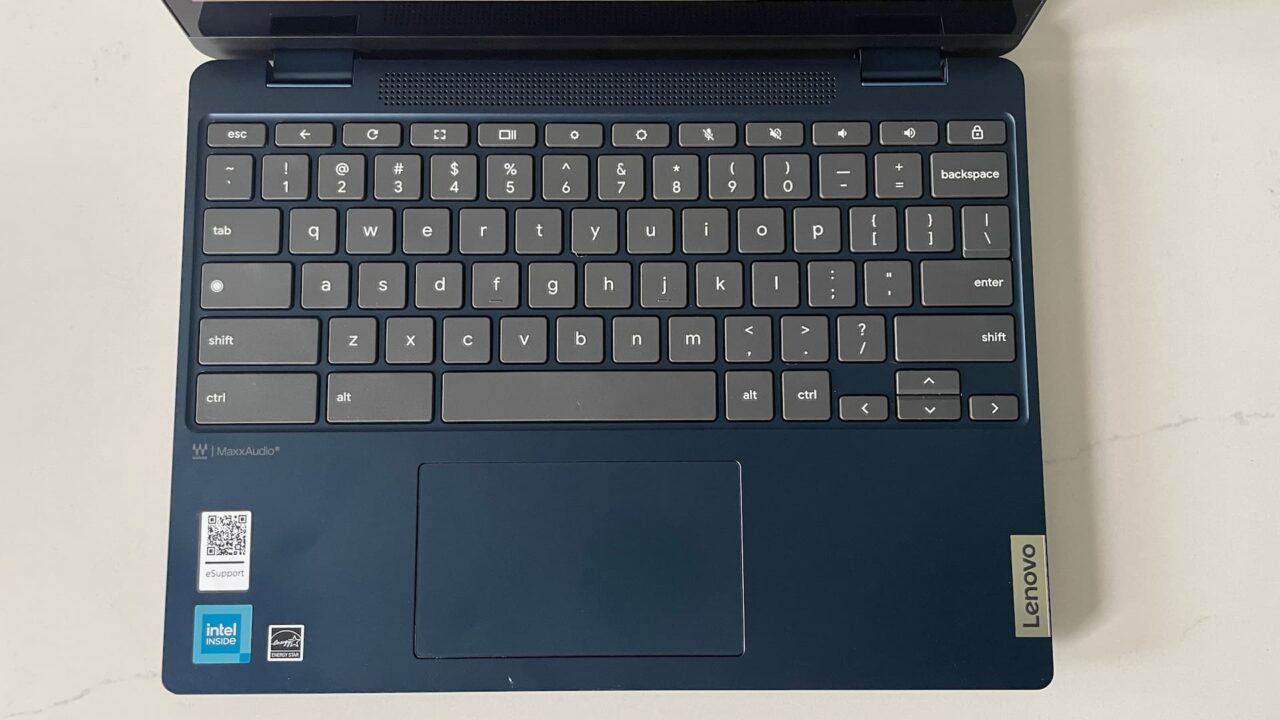 While I'm not surprised to see a 720p webcam on a device at this price, I am surprised to see a privacy shutter. Just like on more expensive, recent Chromebooks, the Lenovo Flex 3 Chromebook has a sliding shutter at the top of the display. Nice!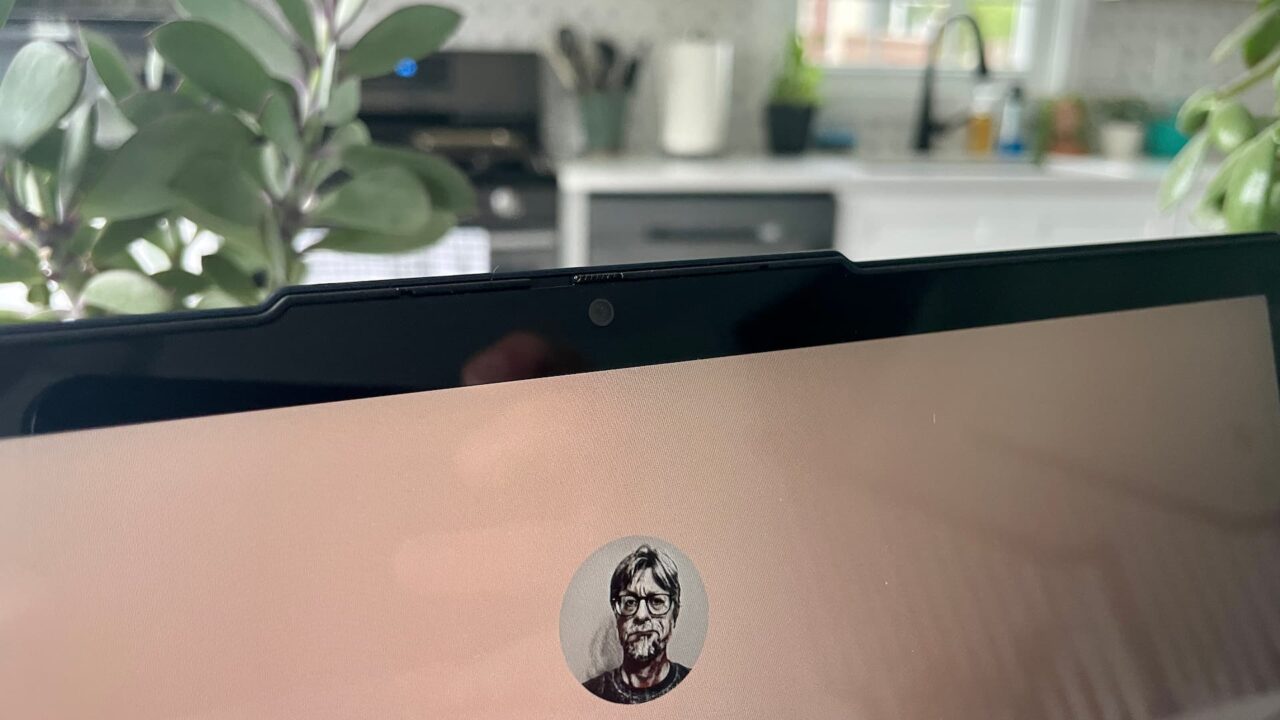 Speaking of the display, there's another surprise. I love that for a small, entry level Chromebook this has a 1900×1200 resolution touch display. Brightness is 300 nits, which I'll say is a win at this price.
However, the default resolution scaling in ChromeOS is 1200×750.
That all means everything is super crisp on the screen and everything is super large on the screen.
Obviously, you can change this in the ChromeOS settings. And while my old eyes appreciate the default element sizes, there's not much room to work. I suspect many buyers will change the resolution from the default. Setting the scaling to a 1600×1000 resolution should work for those with better eyes.
Otherwise, the display is really, really nice. Not just for this Chromebook but for any laptop. The IPS panel has solid color reproduction and wide viewing angles. And the screen features TÜV Low Blue Light to reduce eye strain.
Overall first impressions
While I use a higher performing, more expensive Chromebook for my daily use, I've used my share of entry-level models too. Often I find these to have many corners cut or have poor build quality. That's not the case with the Lenovo Flex 3 Chromebook so far. Sure, it's not made of premium materials. I wouldn't expect it to be. It is however well built and more solid-feeling than similar Chromebooks.
Adding in some of the nice features such as the privacy shutter, loud speakers, a high resolution display and a fanless processor is like icing on the cake. How well does it perform in day-to-day use? Well, that's not something I ever share without using a Chromebook for at least a week.
That's what I'll be doing for the next seven days at a minimum: Using the Lenovo Flex 3 Chromebook as my everyday laptop. On paper and based on my first impressions though? This Chromebook might be the perfect purchase for a student or to use as a compact, light Chromebook for everyday online activities. Stay tuned for my full review and don't hesitate to ask questions in the comments.
About the author
Kevin C. Tofel has covered technology since 2004. He's used ChromeOS since Google debuted the CR-48 in 2010, reviewing dozens of Chromebooks since then. He worked for Google's Chrome Enterprise team from 2016 to 2017, supporting the launch of Android app support. In his free time, he uses Chromebooks to learn software engineering at
Launch School
. In 2019, Kevin joined the CS Curriculum Committee at his local community college.
Liked this content? Subscribe for the free, weekly newsletter