Asus Chromebook Flip CX3 first impressions: $979 for a power-sipping Core i7 and loaded internals packed in plastic
Just in time for the holiday weekend, "Santa" dropped the $979 Asus Chromebook Flip CX3, aka the CX3400, on my doorstep. This is a loaner device from Asus and it's the first one I'm using with a fanless 11th-generation Intel Core i7 processor. The cost lets you know this isn't your typical entry-level or mid-range Chromebook. The Asus Chromebook Flip CX3 is packed with high-end hardware.
I've only unboxed the device a few hours ago but can already share some first impressions. One of them is that I'll have to dig deeper into benchmark tools. I'm not sure the current ones I rely on are using that Tiger Lake Core i7 processor to its full potential. More on that in a bit. First, let's start with the outside and work our way inwards.
Well built but mostly plastic
When you're spending nearly $1,000 on a Chromebook, you probably expect top-notch materials used. I mean both inside and outside. You get that on the inside with the Asus Chromebook Flip CX3, but not on the outside. This convertible Chromebook is mostly plastic. The only metal I can see is the back display cover and the keyboard deck.
That was a little offputting at first. But in just a few hours of usage, I've come to accept it a little more. Why? Because it's still a solid-feeling device. There isn't much flex on the chassis or the display. And Asus smartly textured the chassis bottom with a subtle pattern that has a pleasing (to me) feel. Still, this is worth a mention when you see the price tag.
The 14-inch nano-edge touch display has a 16:9 widescreen aspect ratio and 1920 x 1080 resolution. It only tops out at a claimed 250 nits, which is barely above average. And less than I expected for this price. But it does the job and looks nice, both for browsing and video consumption. This screen can display 45% of the NTSC gamut, which I'd also call average. Colors aren't muted, but they certainly don't "pop" as much as an HDR screen.
What does pop more than I expected are the speakers. I don't know the power output but Asus is using what it calls "Smart Amp Technology". All I know is this Chromebook is louder than most devices I've used over the past few years. And it actually has some decent sound attributes: It's not "tinny" at all.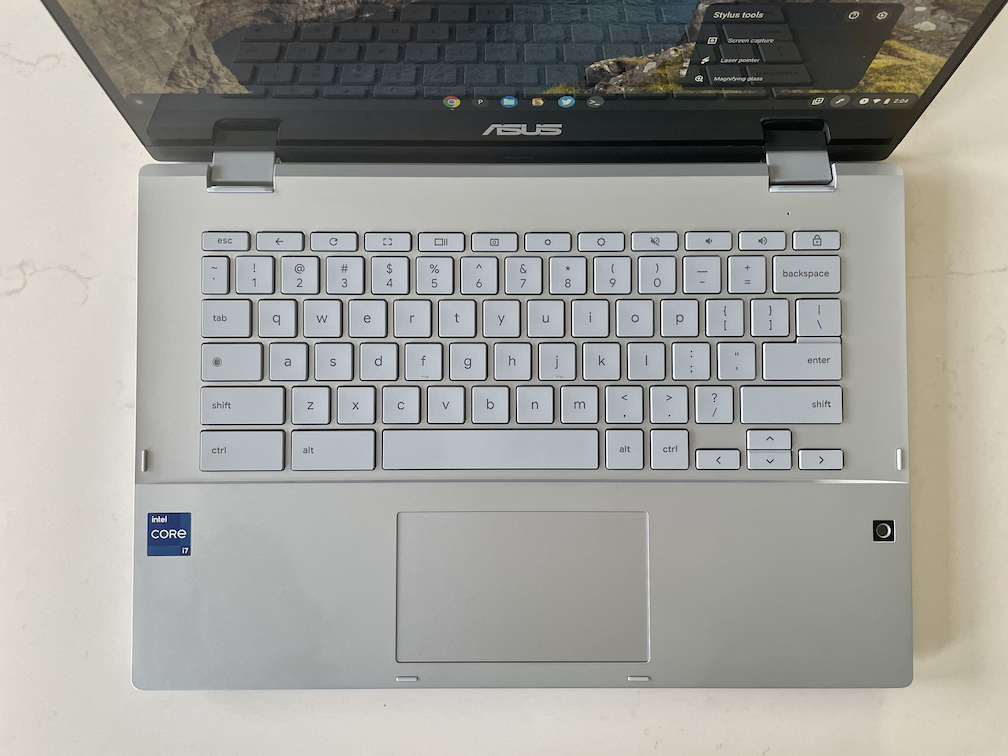 The backlit keyboard offers really good travel: 1.5 millimeters. I'm typically not a fan of square chiclets for my fingers like those on the Asus Chromebook Flip CX3. However, the typing experience is quite good. I do wish the key colors weren't a light gray though. It's a bit difficult to see the backlighting in certain environments. The trackpad is a bit small but works well so far.
You're paying for the insides of the Asus Chromebook Flip CX3
The above might sound like a downer. After all, this isn't an inexpensive Chromebook. It's the hardware on the inside where the premium pricing comes into play.
As mentioned, there's an 11th-generation Intel Core i7 processor powering this convertible. It's the quad-core, eight-thread Intel Core i7-1160G7 to be precise. This CPU consumes less power than other recent Core i7 chips made for laptops as it's part of the UP4 product line. I discovered an upcoming Chromebook board, named Copano, with the UP4 design a few months ago. Turns out, this is Copano, as verified in the chrome://system information.
The above link will provide more information on UP4, but here's a chart showing the core clock speeds at different power consumption levels for these chips:

And this is where benchmarking will get interesting. I know that using a full 15W of power, this Chromebook can boost a single core to 4.4 GHz. And all cores can hit 3.6GHz in that situation. However, when I use the Cog extension to check the CPU clock speed it shows the much slower 1.2 GHz figure.
I checked that because I ran an initial Octane benchmark in Guest Mode and only got a score of 38,000 or so. That's much lower than the Lenovo Chromebook Flex 5i, which scored over 55,000 points with its 11th-generation Intel Core i3. So what gives?
The answer is likely nuanced but here's something to think about. That quad-core i3 has a base clock speed of 3.0 GHz or nearly three times faster than the base clock speed of the Core i7 in the Asus Chromebook Flip CX3. But there's a tradeoff.
At the base clock speeds, the Core i7 is consuming 9W of power, while the Core i3 is using 12W. And at full turbo speeds, the Core i7 hits 15W of power consumed, while the Core i3 eats up 28W. Simply put, this Core i7 with the UP4 design is a power-sipper, not a power-guzzler. There are other Core i7 laptop chips that have faster clock speeds than this one and they use more juice.
Of course, they also have fans, just like the Core i3 powered Flex 5i. There's no fan on this Chromebook, so if you value silence, any performance tradeoff may be worth it. The bottom of the chassis has only been slightly warm in my limited usage so far.
I'll be doing more research into all of this in my full review. For now, just know that this CPU is meant to balance performance with battery life in ultraportable devices.
And I can't say that this device feels slow by any means. Everything in the Chrome OS interface and in the browser feels quick. It just isn't returning the benchmark results that I would have thought.
Enough about the chipset. What else is inside the CX3?
Glad you asked.
You're getting 16 GB of LPDDR4X memory, for starters. My last Chromebook purchase had the same amount of RAM and for what I do, I wouldn't buy another everyday Chromebook with less than 16 GB of memory. So yeah, I already opened four dozen tabs just for fun. Not a problem.
Oh, there's also a whopping 512 GB of NVME M.2 storage as well. I don't know what I'd do with that since my activities and my data are very cloud-based. But, wow!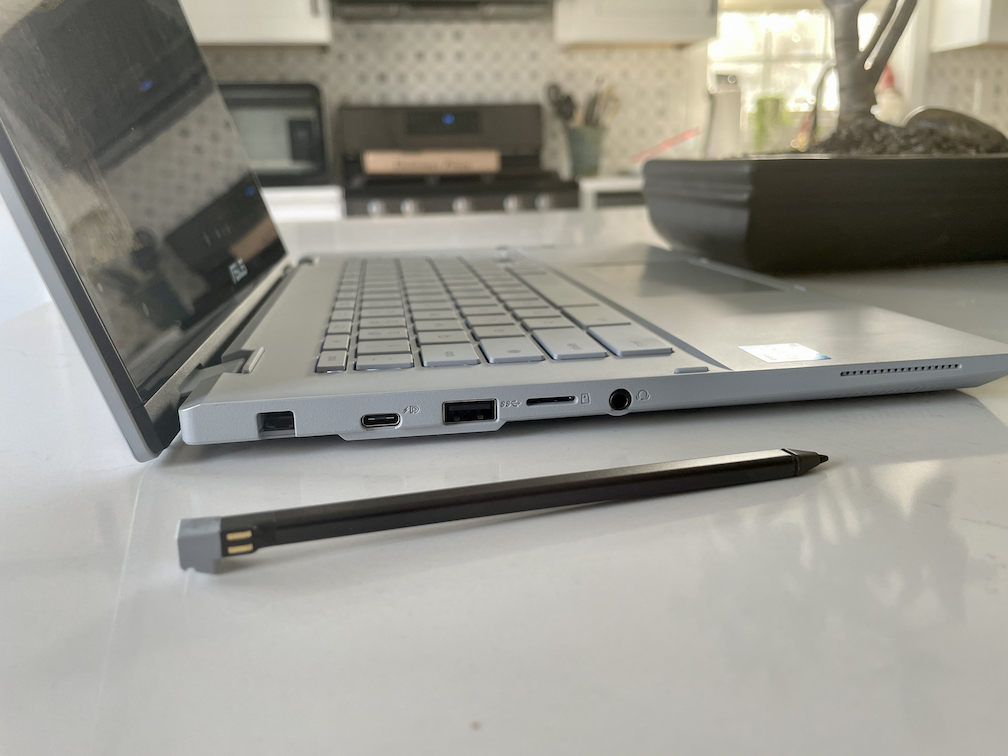 There is also a USB Type-C and Type-A port on both the left and right sides of the chassis. All of them support USB 3.2 and the Type-C ports can be used for power delivery and external displays. I'll definitely be testing the latter. The left side houses a microSD card slot and combination headphone/microphone jack. Opposite these on the right are the slightly protruding power button and volume rocker. Also inside is support for WiFi 6 and Bluetooth 5.2.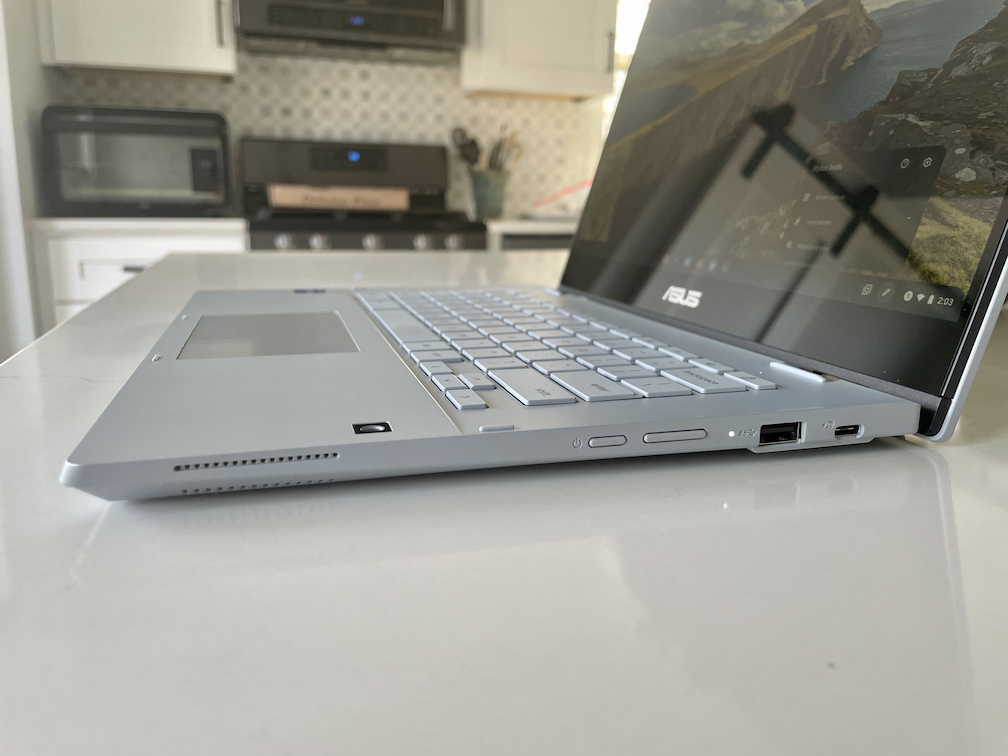 There is a 720p camera for video calls and it does have a sliding privacy shutter. I've only taken a few quick snapshots with it and it seems adequate. I'll make some calls over the next week and get feedback from folks though.
Oddly (again, to me) there's a 5 MP camera to the right of the trackpad. I suppose it could be useful for taking images or video in tablet mode. Maybe?
Speaking of useful, there is a thin but usable garaged stylus with the Asus Chromebook Flip CX3. I scribbled a little in Google Keep and was surprised that the latency wasn't bad at all.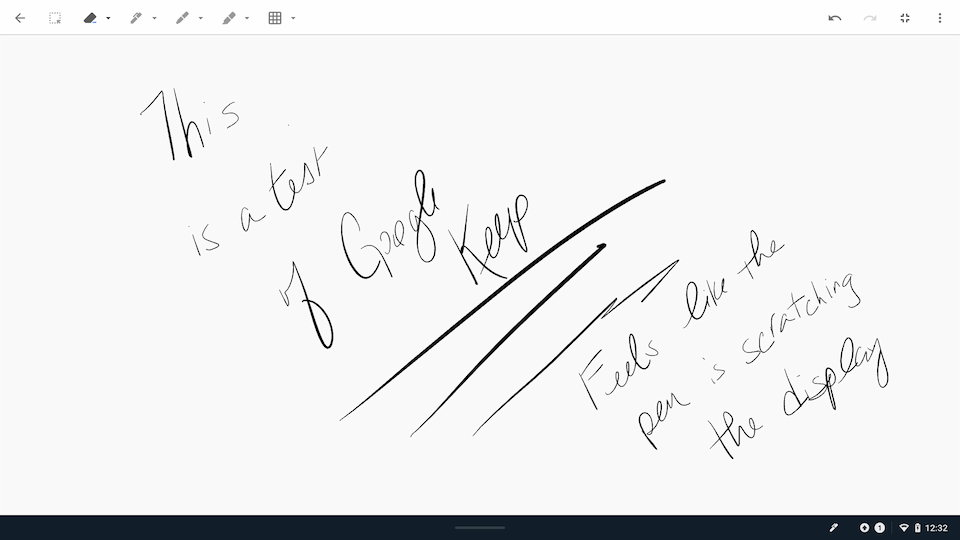 I was also surprised that it feels like I'm scratching the display when using the stylus. I'm not actually causing damage but it feels like I am.
One last note about the hardware: There's a 50Whr battery inside that Asus says is good for 11 hours. I'm usually leery of battery life claims but in this case, I think it should be relatively close. I'm expecting at least 9 hours on a single change, partially because of the lower-powered chipset. Obviously, I'll have to test the claim.
A full review to follow
As I always do, I'll take this Chromebook for a spin in my everyday activities. I have to wrap up my review on the HP Chromebook X360 14c first, but that's nearly complete.
Once that's done, I'll be using the Asus Chromebook Flip CX3 as my full-time device to share the experience. I'll be in a better position to know if this convertible is worth the $979 price tag at that point.