What are your Chromebook gaming options without Stadia?
By now, you've probably read the news. Google has pulled the plug on Stadia, its cloud gaming platform, after launching the service in November of 2019. The company is surprisingly refunding all Stadia hardware purchases made through the Google Store. And it's doing the same for game and subscription purchases too. Chromebook users who bought into Stadia will get their investment back, but that opens up a question. What are your Chromebook gaming options without Stadia?
Luckily, there are still several Chromebook gaming options. Some are cloud-based, some require a PC and others are native to ChromeOS.
Android apps for Chromebook gaming
Given that Android apps have been available on Chromebooks since 2015, this one is the most obvious. It's also the most overlooked in my opinion, too. There are some excellent Android gaming apps that just work on a Chromebook.
And they're easy to find as well. Just fire up the Google Play Store on your Chromebook. In fact, the Play Store already filters through Android games to recommend titles that work well on Chromebooks: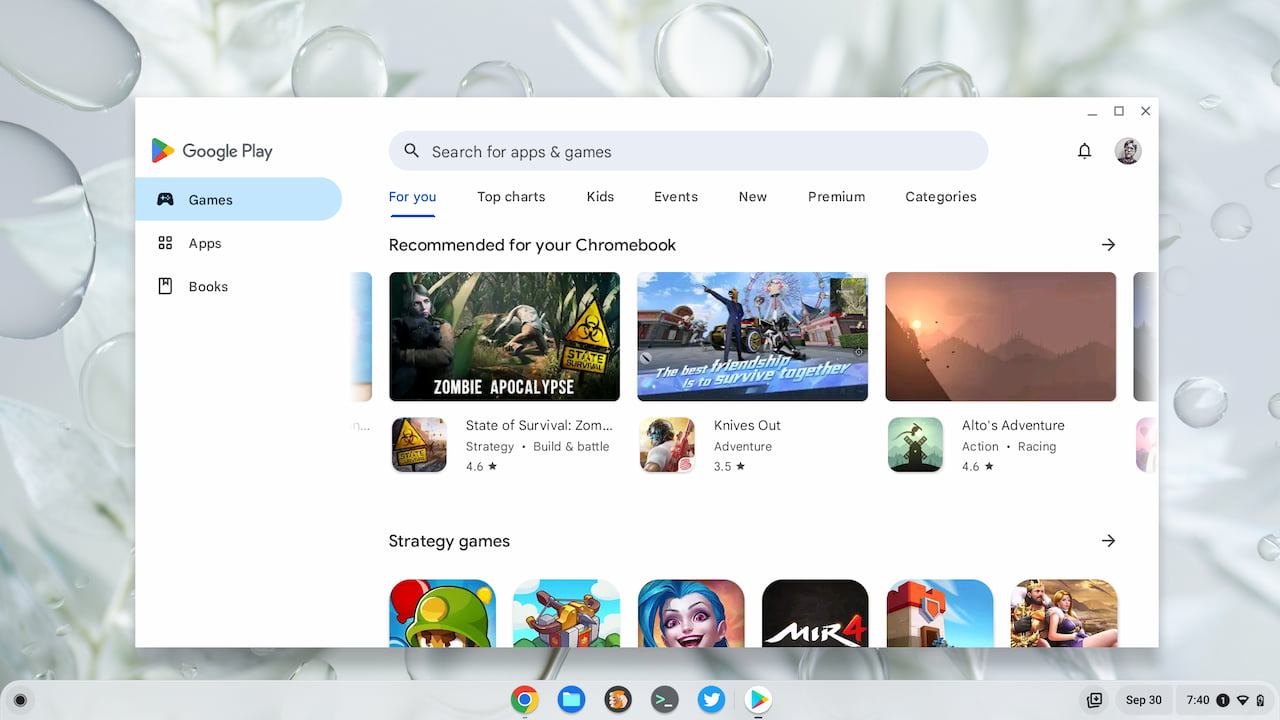 Since these games were designed with touch and gyroscope controls in mind, some of them may not be ideal on a Chromebook. Particularly if your laptop doesn't have a touchscreen. However, Google is working to bring keyboard controls to Android apps in ChromeOS, which will make Android apps an even more viable Chromebook gaming option without Stadia.
Microsoft Cloud Gaming for Xbox on a Chromebook
If game streaming after Stadia still sounds interesting to you, Microsoft's Cloud Gaming for Xbox is a viable option. And it doesn't require a high-end, expensive Chromebook because all of the graphics are rendered on Microsoft's servers. (Yup, just like Stadia).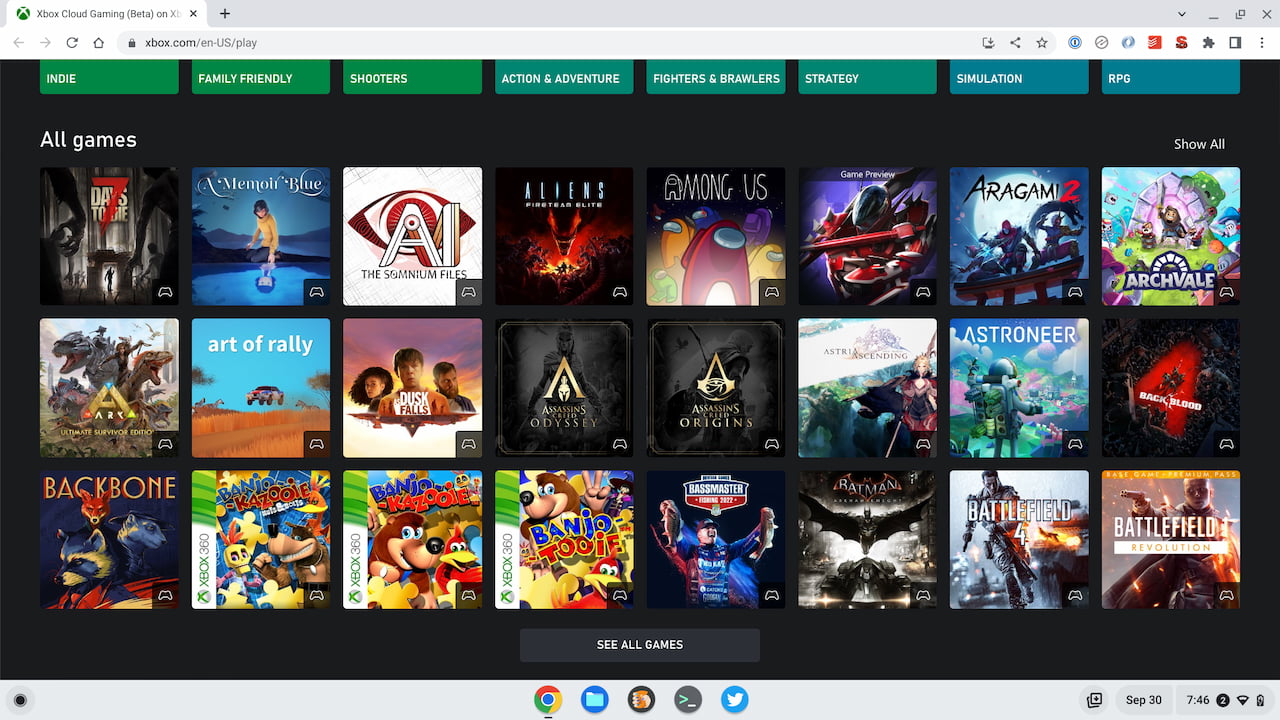 The game service is supported on Chromebooks. All you have to do is point your device browser to https://xbox.com/play. Well, that's not all you have to do: You have to pay for a subscription as well. The standard price for the Xbox Game Pass Ultimate plan is $14.99 per month. I have seen some discounts on the web for multi month subscriptions though.
Don't let the subscription price stop you right away though. Unlike Stadia's subscription model, which provided the streaming service and a free game each month, you get more from Microsoft:
Play hundreds of high-quality games with friends on console, PC, and cloud
New games added all the time
Xbox Game Studios titles the same day as release
Exclusive member discounts and deals
Free Perks including in-game content and partner offers
Xbox Live Gold
EA Play membership included
In other words, you're not just getting the streaming service for your money. You're getting access to hundreds of game titles too. That's a huge benefit; it's like a Microsoft-branded version of a Netflix-style gaming service. (Yes, I know Netflix now has a game effort, but this is the best example I could think of.)
Nvidia GeForce Now is a solid Chromebook gaming option
Surprisingly, Nvidia was one of the first major companies to try game streaming. About two years ago, I tried the Nvidia GeForce Now gaming service and found it to be as good as, if not better than Stadia.
The big deal for me was when Nvidia added the ability to sync my Steam gaming library. At that point, I could play the games that Nvidia added to its library as well as some of the PC games I had already purchased.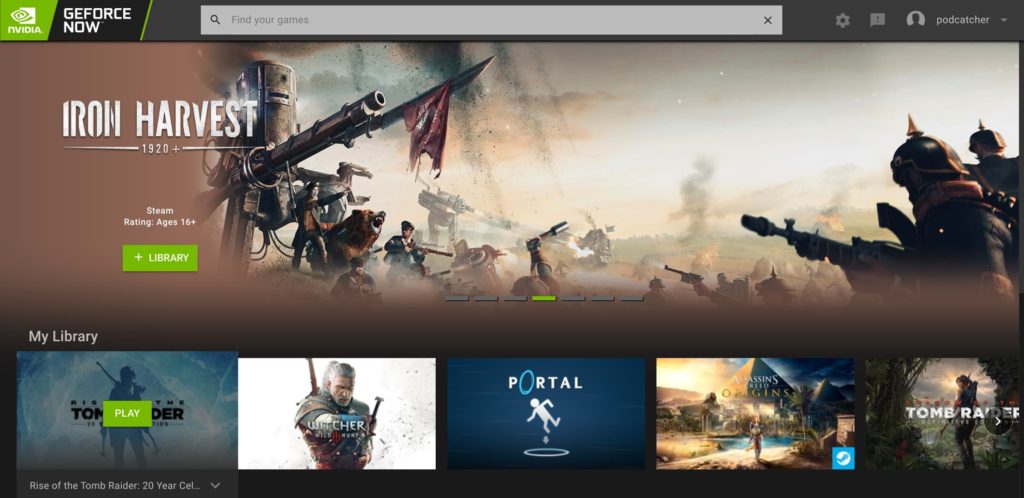 There's a bit of a downside here though compared to Microsoft's current and Stadia's old offering. You still have to buy games. If you want access to the full catalog of 1,000+ games, you'll have to buy them. But GeForce now works with various game libraries such as Steam, Ubisoft Connect, and the Epic Games Store. Any investments you've made in those stores can reap rewards with this service.
On the plus side, there's a free tier making GeForce Now a good Chromebook gaming option for those with commitment issues. You're limited to one-hour gaming sessions on your Chromebook and you might have some wait times for a server after that. The paid options are available for $9.99 or $19.99 a month, with the main difference being video quality and session lengths.
Steam streaming from your own PC to a Chromebook
Since I mentioned the Steam store, I have to point out that you can use your own gaming PC to stream purchased Steam games to a Chromebook. Think of this like the above-mentioned streaming services but better. Instead of streaming games from a faraway server, you stream them on your home network from a PC.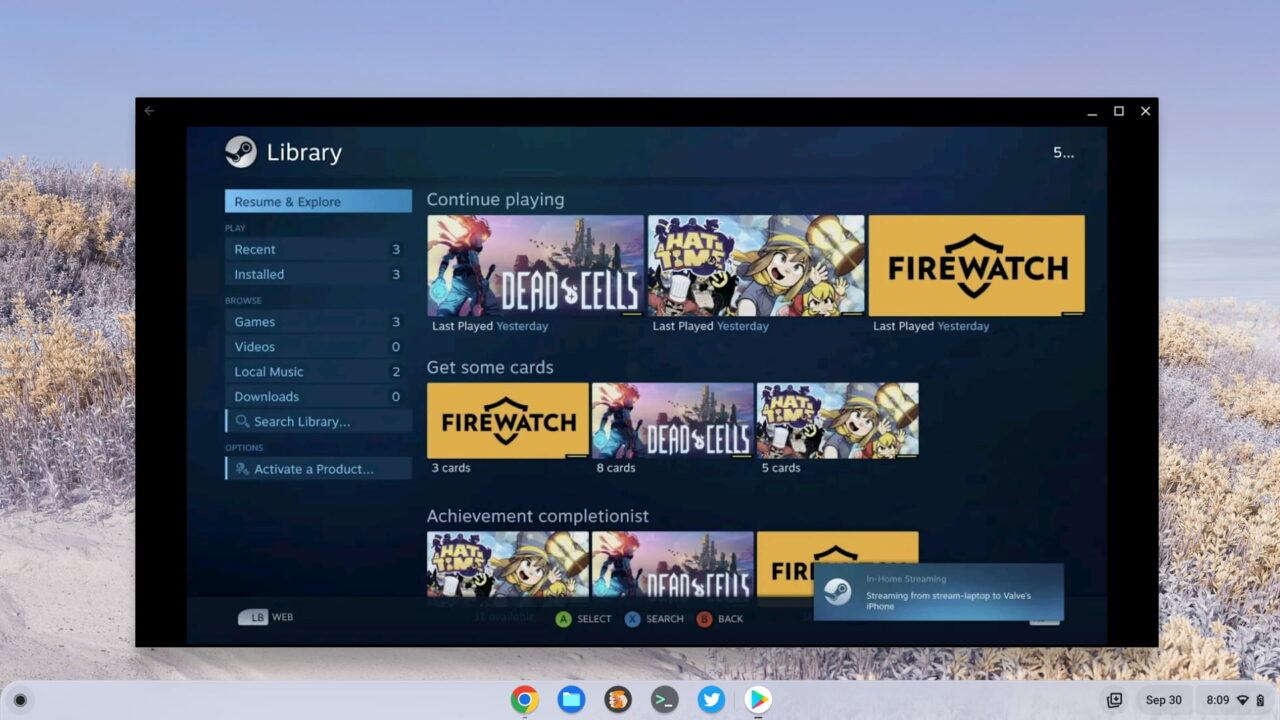 You'll need to install the Steam Link Android app from the Google Play Store. And you have to enable Steam Remote Play on your PC. After that, you can start a game from your PC right on your Chromebook, play with a Bluetooth controller, and not have to sit in front of your PC.
Native Steam gaming on Chromebooks (soon)
Of course, you probably already know about Borealis. That's the project that Google and Valve (the people behind Steam) are bringing to Chromebooks.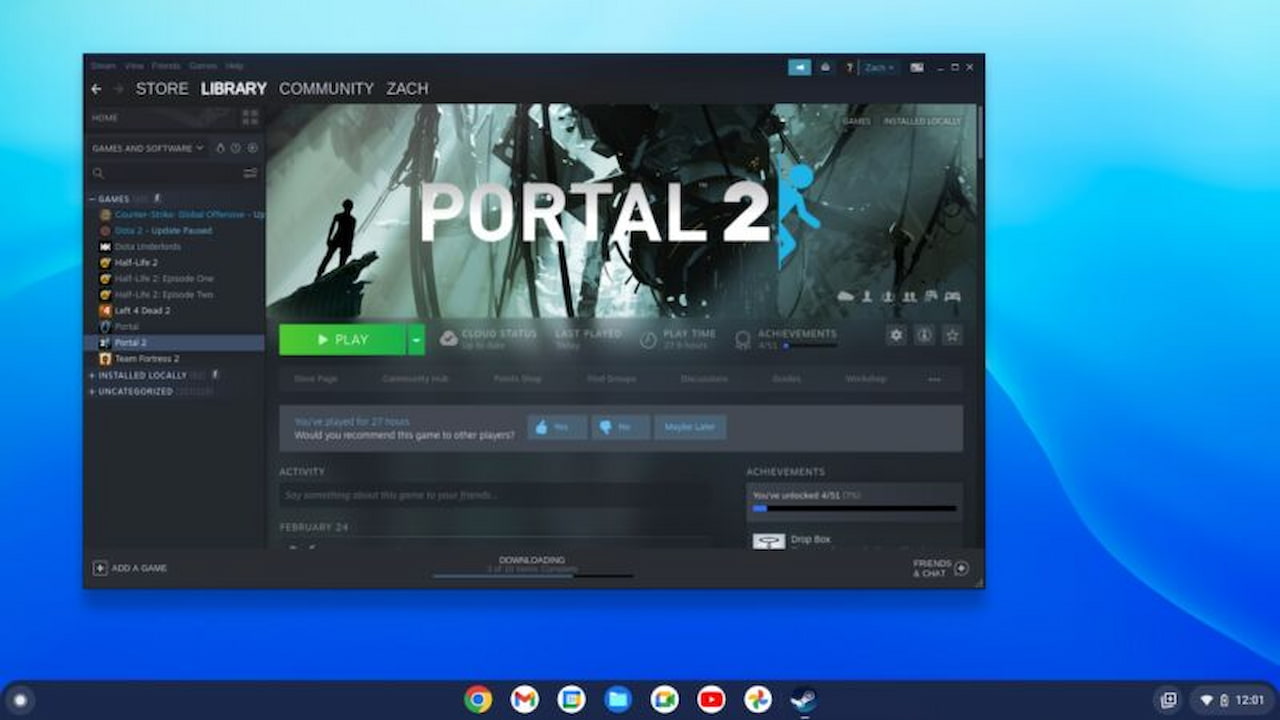 This is still in an alpha phase for early testing, so it's not something you'll likely want to or can do right now. In fact, it's only supported currently on a handful of Chromebooks and only just came to the ChromeOS Beta Channel. I wouldn't expect widespread availability for a good three to six months. But it's worth a mention and keeping an eye on.
Chromebook gaming options are expanding
The loss of Stadia is a bit of a blow to Chromebook owners. At least those who want to play PC games on their laptop. But it's not all doom and gloom. We've gone from basic Android games in 2015 to a range of Chromebook gaming options, even without Stadia, in just a handful of years.
I don't think anyone should buy a Chromebook if their primary use case is gaming. ChromeOS simply wasn't designed with gaming in mind when it debuted in 2009. However, the platform continues to expand and morph with new features. Gaming wasn't one of them a decade ago but now we have multiple options.