I'll disclose upfront that a Chromebase isn't my Chrome OS device of choice. And I wasn't thrilled that the newest HP Chromebase 21.5 uses a 10th-generation Intel Core i3 as new 12th-gen chips are becoming available. However, my initial impressions of this all in one, which started favorably, have steadily improved. After two weeks of full-time use, I'm ready to share my HP Chromebase 21.5 review. Despite a few minor quirks, this is a great Chrome OS desktop.
The HP Chromebase 21.5 package for $769.99
Right off the bat, let's get the price out of the way because the experience of the HP Chromebase 21.5 combined with the price suggests what value you get. I reviewed the highest configuration, which costs $769.99.
As I noted last week though, HP has discounted it by $100. As of the time of this writing, the $669.99 sale price is still available.
Everything you need is included in the price. After all, this is an all-in-one desktop. So you get the 21.5-inch touch monitor which is built into a stylish base.
You can't detach the monitor, nor can you use it as an external display. However, you can tilt it forward and back. And you can rotate it to work in portrait mode.
I doubt most people will do the latter but I did this extensively. I code on my Chrome OS devices and it's great to see more lines of code without having to scroll.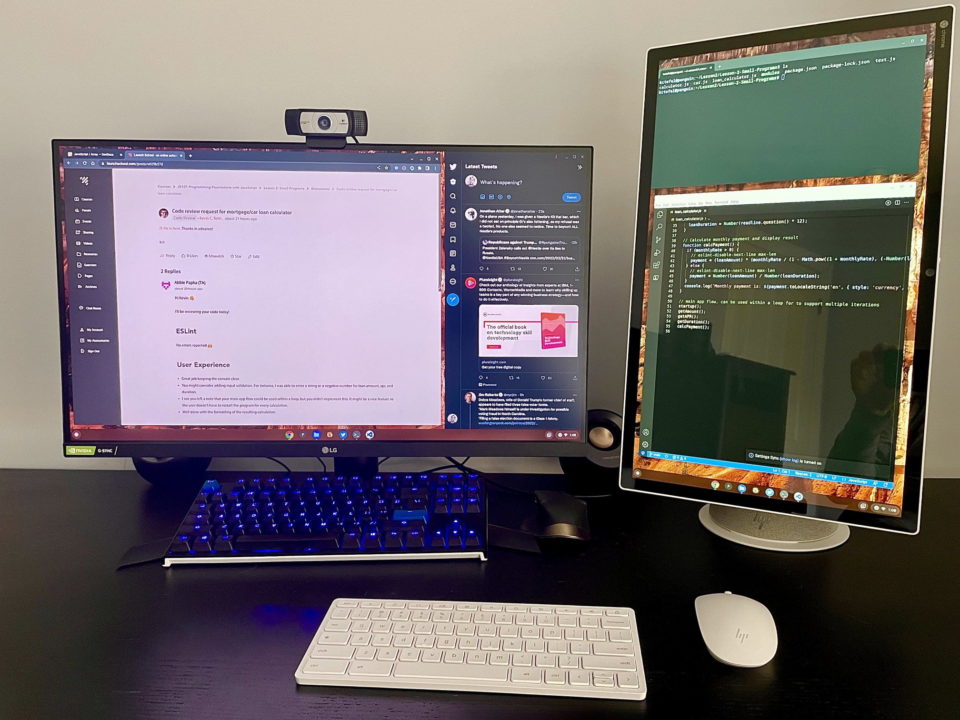 You also get two Bluetooth accessories out of the box: A wireless keyboard and mouse. These are adequate but not great. The keyboard isn't backlit, for example. And the mouse has three buttons: left, right, and the scroll wheel itself. They both work fine but feel a little basic to me.
Also included is the power brick with a cord that hides nicely under the base. Inside the base are all of the computing guts along with 5W speakers. I spent hours streaming music over the web while using the HP Chromebase 21.5 and enjoyed every minute of it.
After using Chromebooks with lower-powered 1W or even 2W speakers, these were a treat for my ears. They're plenty loud, even at low volume levels, provide decent bass, and have a smidge of stereo separation.
What's inside this Chrome OS Desktop?
You'd never know there was a computer inside the base of the aptly named Chromebase. But it's there.
Here's what's inside this model:
CPU
Dual-core (four-threads) Intel Core i3-10110U CPU (2.1 GHz / 4.1 GHz)
GPU
Intel Integrated UHD Graphics
Display
21.5-inch IPS 1920 x 1080 touch display, glossy finish,
16:9 aspect ratio, 250 nits brightness, NTSC gamut: 72%
Memory
16 GB DDR4x 2666 MHz memory
Storage
256 GB SSD M.2 PCIe NVMe (1 M.2 expansion slot available)
Connectivity
802.11ax (2×2) WiFi 6, Bluetooth 5
Input
Wireless keyboard with 1.5mm travel
5 MP HP TrueVision webcam with physical privacy shutter for either
microphone, camera, or both, dual-array microphone
Ports
2 USB Type-A 3.2, 2 USB Type-C 3.2
supporting power delivery, data, external monitor support,
headphone/microphone combo jack
Weight
15.37 pounds
Software
Chrome OS automatic updates through June 2028
A couple of observations on the specifications.
Not to beat a dead horse but that 10th-gen Intel Core i3 is a U-Series chip meant for power efficiency. It's typically used in laptops for long battery life and seems an odd choice for this Chromebase. More importantly though, because that chip is a bit old, the HP Chromebase only gets Chrome OS updates through June 2028. Most new devices now get another year of support.
I didn't open up the Chromebase but it's nice to see that you can swap out the SSD or add another one. There's also a slot to upgrade the wireless chip although I don't think you'll ever need to.
Although this is a desktop, there's no ethernet jack. That surprised me. It didn't affect my usage in any noticeable way though. I have a 1 Gbps internet connection at home and WiFi 6 routers. I routinely saw downloads around 200 Mbps which is plenty for any Chrome OS online activities.
There are "enough" other ports on the back for most use cases. I did add a USB-C hub with HDMI-out to use an external monitor.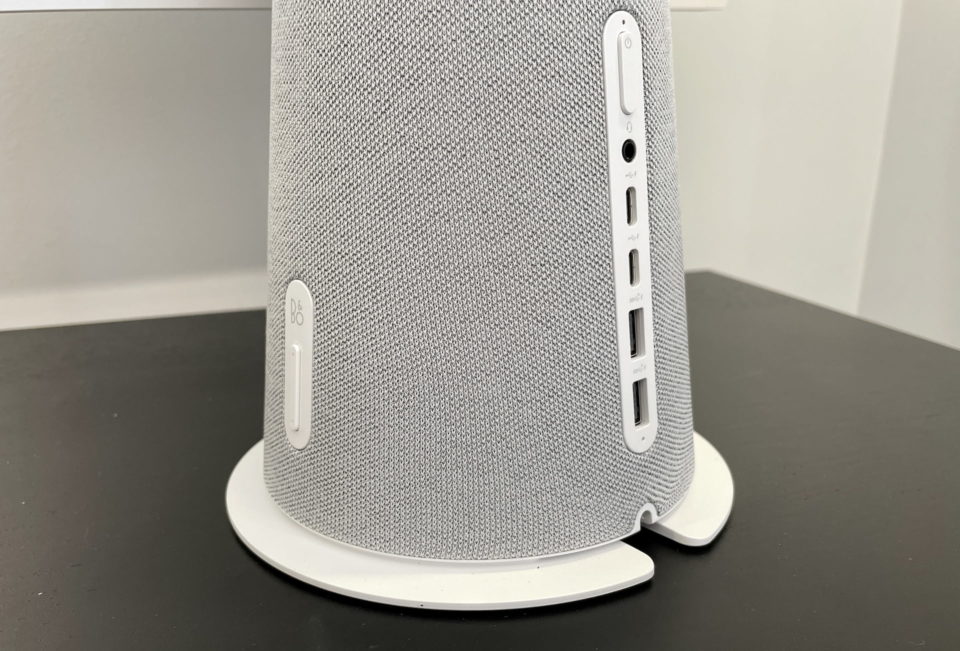 One of the quirks I found was that when using the Chromebase in portrait mode, it occasionally would show the screen as if it were in landscape orientation upon a reboot.
It sometimes sorted itself out within 30 seconds but it's easy to fix in the Chrome OS settings if you can't wait. Well, you have to be good at using a mouse to navigate with a 90-degree differential to do that. Or just use the touchscreen.
I should mention that the webcam output is much better than any other Chromebook I've used lately. However, when on a video conference, participants said the microphone output was average at best. Just something to keep in mind if you plan to use this for a lot of video calls: You may want an external microphone.
How's the performance of the HP Chromebase 21.5?
I typically benchmark review devices right away but I didn't do that this time around.
Instead, I wanted to use the Chromebase in my daily workflow for the last two weeks to get some performance impressions. This is partly because of my concerns about that 10th-gen Intel Core i3 since I've been testing devices with newer chips recently.
My misgivings about the older CPU were generally unfounded. Compared to the typical Chrome OS customer, I'm more of a power user. I rely heavily on Linux apps for coding, for example. And I can easily have two dozen browser tabs open at the same time, although memory impacts that as much as, if not more than, the processor inside.
And the Chromebase handled everything with nary a lag or stutter. So I'm confident that this configuration will work well for most people. It will probably exceed the expectations of many.
Based on the benchmarks of selected devices, the HP Chromebase 21.5 tests favorably against a similar 10th-gen Chromebook and comes close to the latest 11th-gen Pentium. Don't let those numbers fool you though. In real-world usage, this desktop is very capable.
Test
HP Chromebase
10th-gen Core i3
Flex 5i
11th-gen Core i3
IdeaPad 5i
11th-gen Pentium
Flex 5
10th-gen Core i3
Acer Chromebook Spin 13
8th-gen Core i5
Speedometer 1.0
240
311
249.8
207
179.9
Speedometer 2.0
136
176
144
118
99.6
JetStream 2
123.30
151.88
130.35
113.87
94.436
Basemark 3.0
578.13
1,179.9
1,032.8
528.1
594.18
Octane 2.0
46,140
55,360
47,152
42,429
35,116
Higher numbers are better
Should you buy the HP Chromebase 21.5?
Obviously, if you prefer a more mobile Chrome OS experience, this isn't the device for you. And I'm one of those people. Yet, I really enjoyed having the HP Chromebase 21.5 on my desk, particularly when using an external monitor. So think carefully before the quick decision to go with something like a Chromebook over this.
If you are looking for a Chrome OS desktop, this is the best one right now. Then again, that's a pretty low bar because there are few Chromebases to choose from. And other than the HP, none have been upgraded in the past year or two.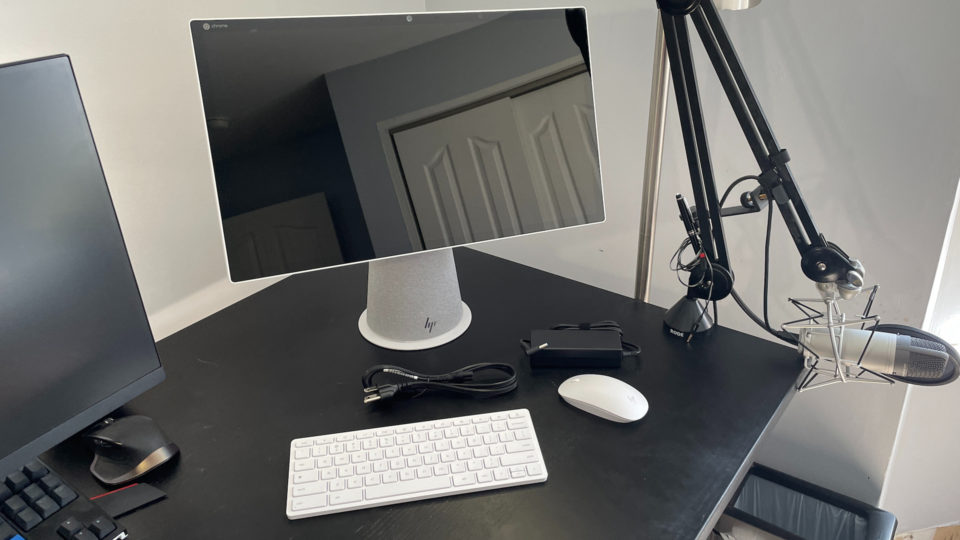 I'm still not sold on the choice of a 10th-gen CPU, but that's mainly because of the Chrome OS support ending in a tad over six years. It's not because of the performance. I think that's plenty good enough, even for power users.
The real question is: Is it worth $769.99?
I'd say this configuration delivers at that price point. It doesn't exceed what I'd expect from a Chrome OS device at that cost but it does deliver. When on sale, it's clearly a better value even though that won't get you another year of Chrome OS support.
If you're in the market for a Chromebase, this is a solid, and the current best, choice. The only reason I could think of passing it up is that maybe we'll see some newer models in 2022. I have no idea if we will, of course. And to be honest, new or updated Chromebases don't arrive yearly like new Chromebooks.
So unless you're willing to place a bet that we will see new ones, the HP Chromebase 21.5 is an excellent choice.
About the author
Kevin C. Tofel has covered technology since 2004. He's used ChromeOS since Google debuted the CR-48 in 2010, reviewing dozens of Chromebooks since then. He worked for Google's Chrome Enterprise team from 2016 to 2017, supporting the launch of Android app support. In his free time, he uses Chromebooks to learn software engineering at
Launch School
. In 2019, Kevin joined the CS Curriculum Committee at his local community college.
Liked this content? Subscribe for the free, weekly newsletter