I wanted Android app streaming on Chromebooks, but now I'm not sure
Let's rewind the clock for a second, back to the year 2020. Then, I watched the Microsoft Surface Duo press event. Gone is the Surface Duo but what remains is the most important aspect of that event: Streaming Android apps to a PC. I then said I would love to see Google develop the same feature for the ChromeOS Phone Hub. Come on back to 2023 and now we see that Android app streaming on Chromebooks is a real thing.
We know this for two reasons. One, Google said at the 2022 Consumer Electronics Show that it was working on such a feature. At least for messaging apps. And two, some people have actually used Android app streaming on Chromebooks. Mishaal Rahman, formerly of XDA Developers, shared this tweet showing the functionality as it looks today.
The current state of Android app streaming on Chromebooks
Unfortunately, if you're hoping to replicate Mishaal's experience, I have to dash those hopes. In order to enable Android app streaming on Chromebooks, you need a certain version of the Android Cross-Device Services software from Google. An updated version of that was briefly available through the Google Play Store, but has been pulled. The Cross-Device Services is the "glue" that makes Android apps work across devices. Without it, you're not going to stream any Android apps to a Chromebook.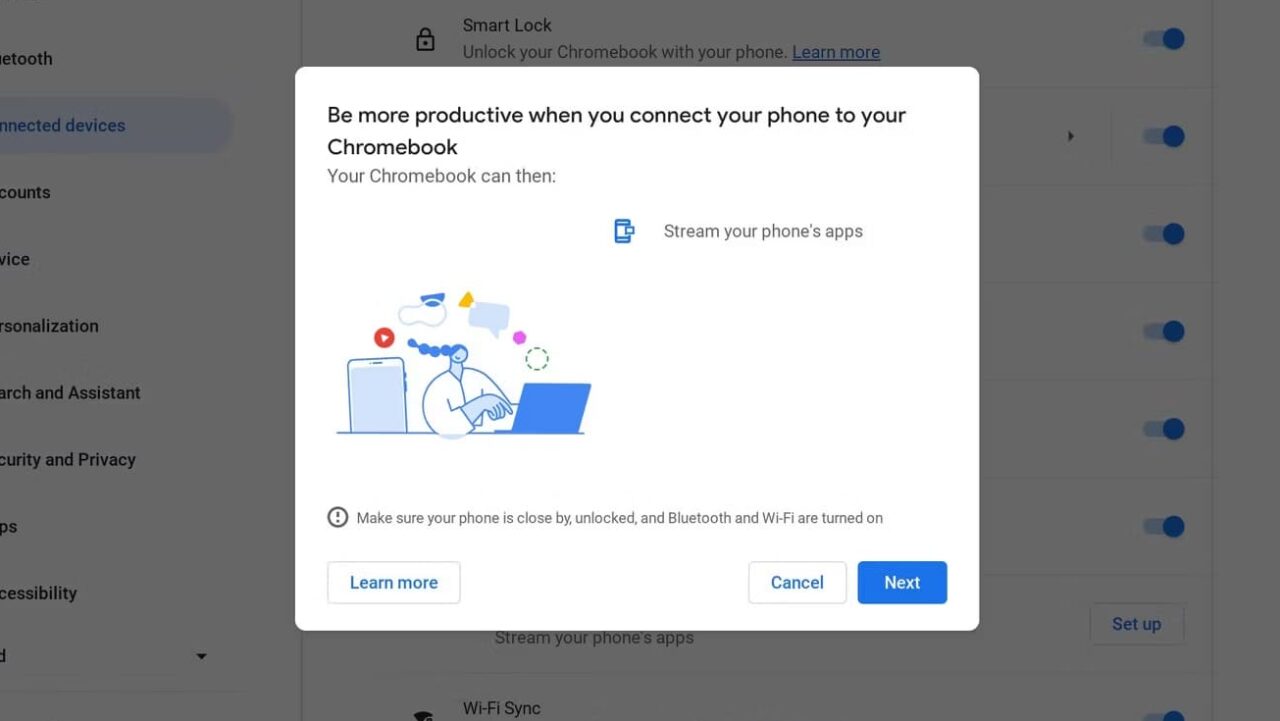 I'm not sure you'd want to just yet, anyway. Besides being a work in progress, Android app streaming on Chromebooks is more limiting than what Microsoft showed.
Currently, Google's solution uses a secondary display on your Android phone to wireless beam an Android app to your Chromebook. And that display is fixed in location. It also, as of now, only supports applications in portrait, or vertical, mode. So even if you wanted to stream an Android app in landscape mode on your Chromebook, you can't yet.
Here's a closer look at streaming your Android calendar app to a Chromebook looks like, where portrait mode is ideal: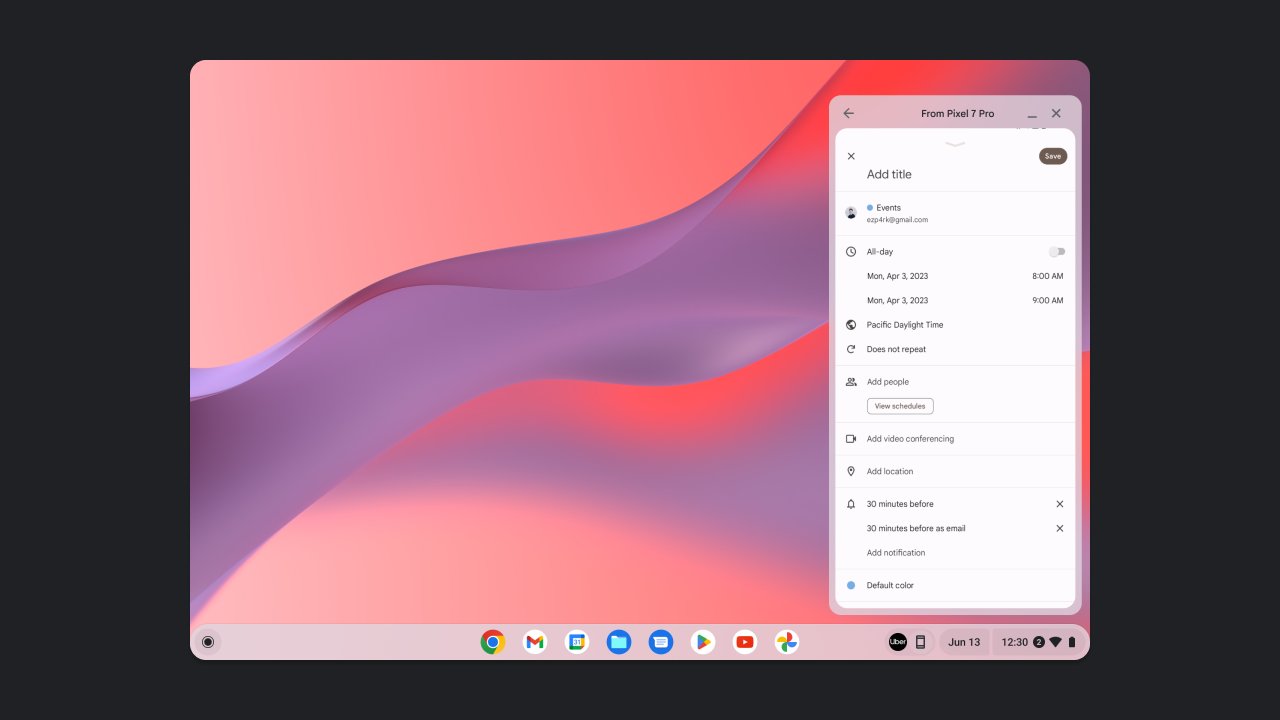 How much value will Android app streaming on Chromebooks add?
As excited as I am to see what I wished for 2020, I'm now wondering more about the value it may, or may not, add. After all, you can simply install Android apps on a Chromebook. Since most of them sync their data to the cloud, the same app on your Chromebook and your Android phone will likely match.
I see a few use cases where there is value, particularly for those who don't want to enable the Google Play Store on a Chromebook. By disabling it, you actually gain back some storage capacity. And you don't have the overhead of an Android container or VM for apps to run in.
The most obvious value-add use case is for messaging and chat apps. I'd include making or taking phone calls as well. Having that same functionality shared by an Android phone and Chromebook certainly makes sense.
After that though? I think we start getting into more niche cases.
Maybe you have a relatively low-powered, entry level Chromebook but want the better gaming experience provided by your more powerful Android phone. Ok, that makes sense to me, assuming that Android app streaming on Chromebooks is robust enough to take advantage of the phone's processor and GPU. Why spend $500 or more to get a better Chromebook for Android gaming when a streaming solution will do it?
Outside of that, I start coming up a little more blank.
That's mainly because the few Android apps I run on my Chromebook today already run quite well. In fact, for some of apps others use on Android, I get an even better experience running full desktop version of on Linux. Discover, Signal, and Slack all come to mind for me here.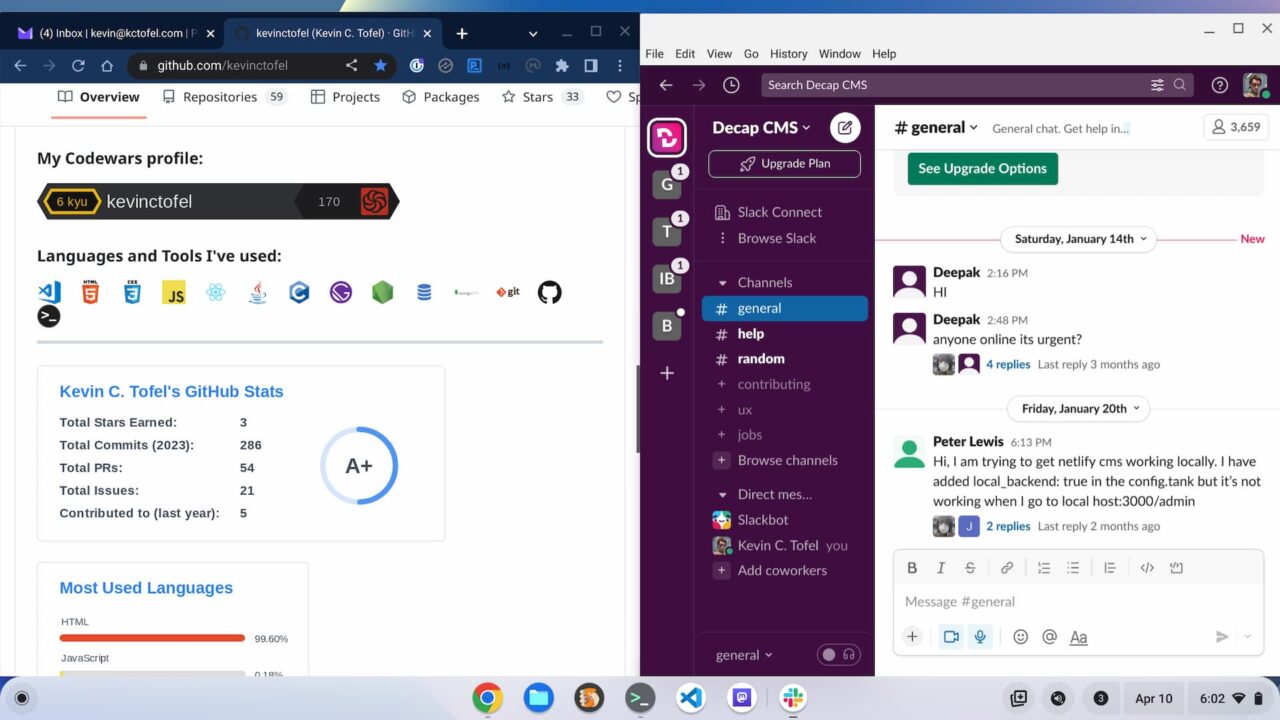 So now I'm wondering: Did I just get enamored with Microsoft's tech demo three years ago when it's not something we really need? The more I ponder it, the less I think I need Android app streaming on Chromebooks. However, everyone's use cases are different, so I'd like to hear from you.
How would you use this feature and why? You might convince me to switch from my iPhone back to Android. I actually went over to iPhone while waiting for this Chromebook feature!