Chrome OS Bluetooth Fast Pair, Android chat app streaming from Phone Hub coming to Chromebooks
Google may have skipped attending the 2022 Consumer Electronics Show but that doesn't mean there isn't news to share. And today the company did just that in a blog post. The main news focus is on Android, however several of the upcoming new features apply to Chromebooks as well. This year Chrome OS will get Bluetooth Fast Pair functionality, and more Phone Hub features including Android phone chat app streaming and Camera Roll support.
Synchronized Bluetooth Fast Pair for Chromebooks
We've known for months that Google was working on synchronized Bluetooth Fast Pair, something that the Apple ecosystem has had for a few years. If you're not a Mac, iPad, or iPhone owner, here's what that does. You set up new Bluetooth headphones on one of your devices and they're available on all of them. The Bluetooth pairing authorization is synchronized through the cloud across all devices on your account.
Not only does this save time for the setup process, but it also lets your devices work together. I often watch video content on my iPad, for example, using my Bluetooth headphones. When I'm done, I might fire up music on my iPhone. The audio seamlessly transfers between devices, so there's no switching or messing with settings. That's essentially what Google plans to deliver to Chromebooks in the coming months with Chrome OS Bluetooth Fast Pair.
Starting in a few weeks, when you turn on your Fast Pair-enabled headphones, your Chromebook will automatically detect it and pair with it in a single click, letting you stay focused when studying or working wherever you are. If you get a new Chromebook later this year, you can use your Android phone to quickly set it up and get immediate access to all of the information you've already saved, like your Google login and your Wi-Fi password.
Phone Hub features coming to Chromebooks: Chat and Camera Roll
Although there are only a few small new Chrome OS Phone Hub features arriving soon, I'm really excited about one of them. Mainly because it's something I asked for in mid-2020: Android app streaming to Chromebooks. And it's coming, although in a very limited fashion. This year your Chromebook can use the Phone Hub app to show Android chat apps from your phone, even if they're not installed on your Chromebooks.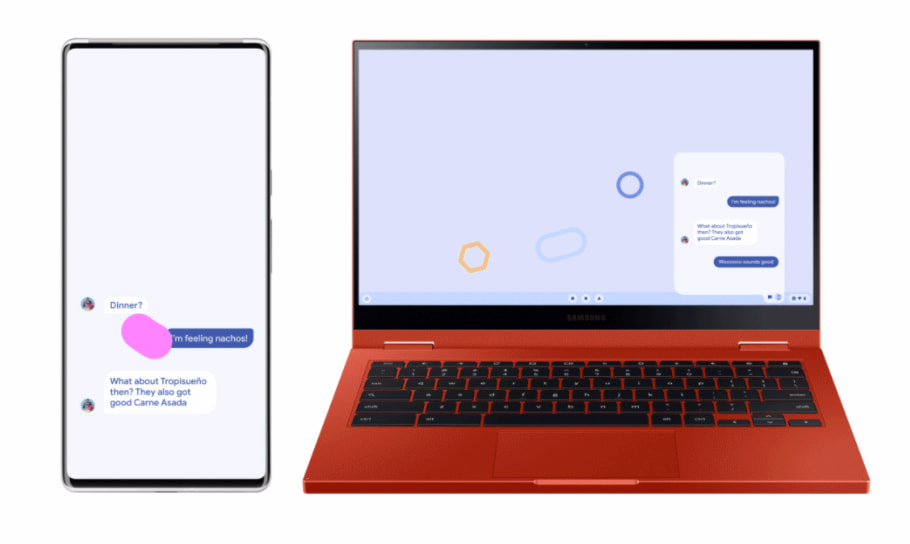 Hey, it's a start! And I recently thought this feature might be specific to the Pixel 6. I'm glad to be wrong on that.
Later this year, if you're working on your Chromebook and your Android phone is out of reach (such as charging in a different room), you'll be able to stay in touch by accessing chat apps from your phone directly to your Chromebook –without needing to install them again on your Chromebook. We're also excited to add Camera Roll to the Phone Hub, which makes access to your most recent photos and videos as easy as one click.
Obviously, the blog post mentions the addition of your phone's Camera Roll to the Phone Hub. So you won't have to do what I do: Take a photo, upload it to Google Photos, and download it to your Chromebook if that's where you need it. Definitely, a huge time saver when this arrives, not to mention no need for an internet connection.
Wear OS Chromebook unlocking
The third newsbit is useful if you have or plan to get a Google Wear OS watch: Essentially, Smart Unlock support is coming to Google's wearable platform. Currently, you can unlock a Chromebook over Bluetooth with an Android phone, so this feature is getting extended to the watch.
Today, you can already unlock your Chromebook with your Android phone to quickly get right to work. In the coming months, we'll bring this feature to your paired Wear OS smartwatch so you can instantly unlock and access your Chromebook and Android phone or tablet when you're close by.
I'm less jazzed about this feature than the other two, but mainly because I don't own a Wear OS watch. But I know many Chromebook owners are all in on Google devices, so this one's for you!