Is the HP Elite Dragonfly Chromebook the new king for 2022?
I'm still getting caught up with Consumer Electronics Press releases and finally got to the last one. And it's a doozy. The new HP Elite Dragonfly Chromebook looks to rival that updated Asus Chromebook Flip CX5 / CX5601, and then some. Both have the hottest hardware configurations to date but based on the form factor and design, HP may be the current Chromebook king for 2022.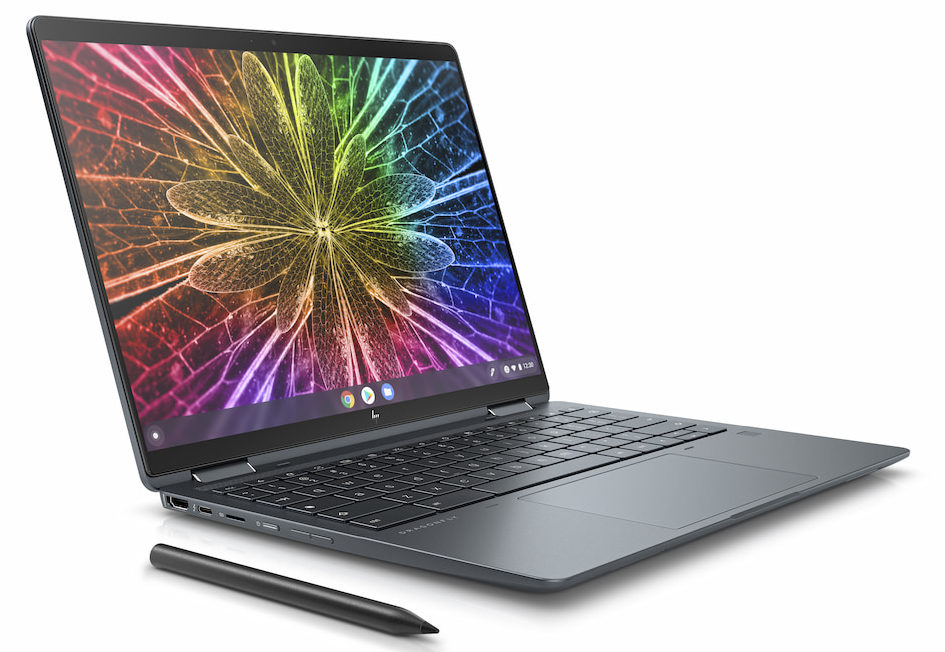 I have to give both Asus and HP credit here. Typically, Windows PCs get the latest Intel processors and Chromebooks are an afterthought nearly a year later.
First Chromebook with a haptic trackpad
In this case, both companies made splashes with 12th-gen Intel chips on both Windows PCs and Chromebooks. But HP may have the better design chops right now. The HP Elite Dragonfly Chromebook is rounded on the edges, light at 2.85 pounds, and… wait for it: Has a haptic Gorilla Glass trackpad!
That last bit is huge after years of many usable but not great Chromebook trackpads. My experience with haptic trackpads is overwhelmingly positive, although I've only used them on Macs, of course.
Instead of the trackpad physically moving down for a press, you "feel" the press with internal haptics. I admit it took a few days to get used to this but it's definitely my preferred trackpad mechanism.
Ok, enough about the trackpad for now.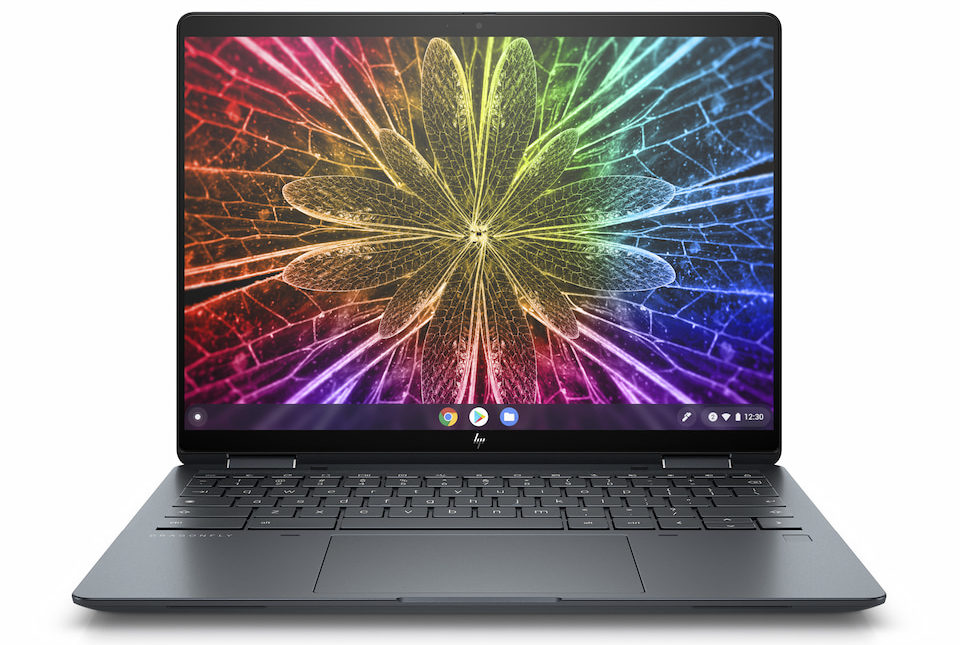 The HP Elite Dragonfly Chromebook has a 13.5-inch display with a 3:2 aspect ratio. (Personal note: Yay for 3:2!). There are two resolution choices: 1920 x 1280 and 2256 x 1504.
The latter is the same as my aging but beloved Acer Chromebook Spin 13 as well as its successors. It's not ideal for gaming or watching videos due to the aspect ratio, but excellent for productivity.
And unlike the average 250 nits of brightness on the HP Chromebook x360 14c I've been using, the Dragonfly has 400 nits of brightness in either resolution. Or you can go crazy with a 1000 nit panel at 1920 x 1280 as an option. That gets you an HP SureView Reflect integrated privacy screen too.
Under the hood are your choice of Intel Evo platform chips and graphics. This is the old Project Athena effort, now dubbed Evo and in its third generation.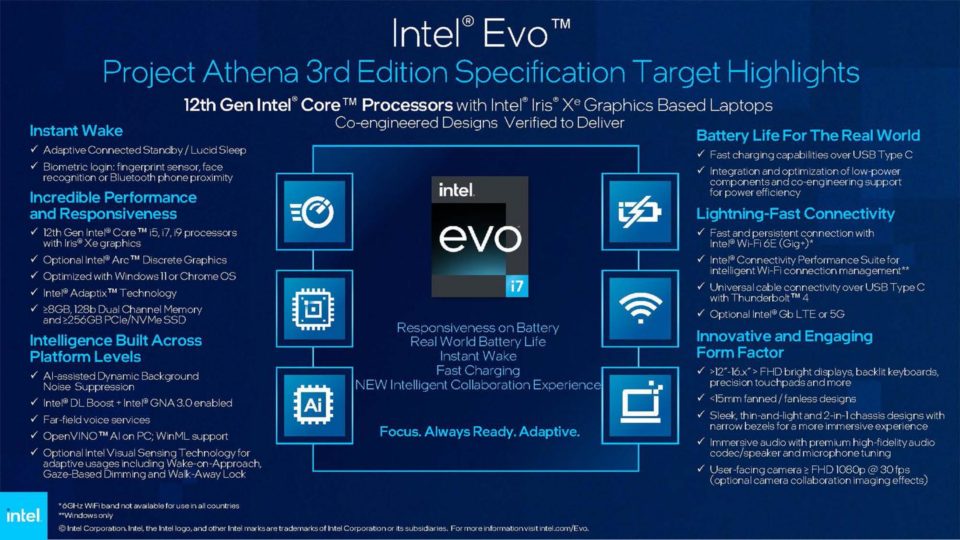 That means high-powered Intel Core processors optimized for laptops, improved webcam sensor support, Thunderbolt ports, and more.
HP Elite Dragonfly Chromebook specifications
For example, the HP Elite Dragonfly Chromebook can have up to 32 GB of LPDDR4 memory. I wonder how many browser tabs it will take to use all of that? Storage options are NVMe M.2 only ranging from 128 GB to 512 GB.
You also get a fingerprint sensor for fast, secure logins. WiFi 6E and Bluetooth 5.2 are there for connectivity and HP says there will be integrated 5G options. And goodbye crappy webcam: this Chromebook has a 5 MP sensor with the HP Sure Shutter privacy option. That's more than enough for 1080 resolution by my calculations.
The two USB Type-C ports have the aforementioned Thunderbolt support and there's also a USB Type-A port as well. This convertible Chromebook also includes a full-sized HDMI jack, so you won't have to use one of the USBs for an external monitor. You can if you want to though.
All in all, this is another beast, just like the updated Asus Chromebook CX5 / C5601. But it's in a much lighter, smaller, and cleaner-looking package. And it has that haptic trackpad! (Sorry, I really like them). Like the Asus, it also supports a digital stylus, but the press release says it's optional. It still looks to me like the Asus has a garaged pen.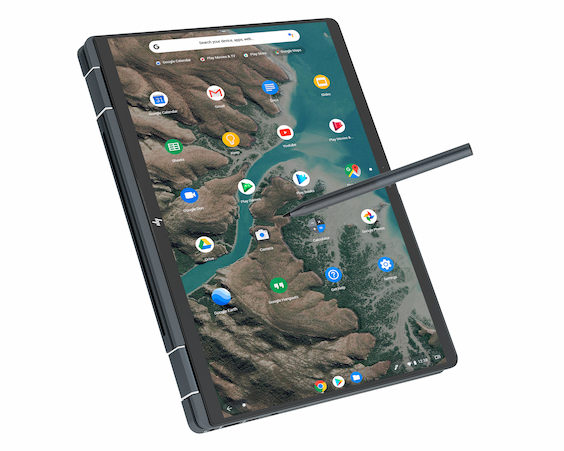 Coming in April, maybe for $999
So…. how much for all of this Elite goodness? Great question and HP isn't answering it. The HP Elite Dragonfly Chromebook is "expected to be available in April. Pricing will be available closer to product availability."
If I sound overly excited by this device, that's partly because I see Chrome Unboxed has a pre-production unit and says the starting price "looks to be $999".
Check the video of their first impressions, because I think you'll see that my excitement is justified. Sure, not everyone wants or needs a $1,000 Chromebook. But there are plenty of budget-friendly options to choose from. Not so much at the high-end.