The older I get, the worse my eyesight degrades and I now need progressive bifocal glasses. As a result, I gravitate towards larger displays. At least until we get a rolling display Chromebook to buy. Right away in my Lenovo 5i Chromebook first look, I noticed that the 16-inch display is quite attractive for my situation. It doesn't hurt that there's plenty of power under the hood either, particularly when the normal retail price is $549.99. And this review unit configuration is currently on sale for $150 off, making the $409.99 price equally attractive for what you get.
Big on size and value
The last time I used a large Chromebook it was the 17-inch Acer Chromebook 317. That behemoth was easy on eyes as well. But it wasn't a Chromebook that would suit my personal needs. Given that I use Linux on my Chromebook for a few hours daily, I want more performance than the Intel Celeron N5100 could provide. That model debuted with a $499.99 price tag and I didn't feel it was worth it for my use case.
Inside the Lenovo 5i, however is a beefier 12th gen Intel Core i3-1215U. This chipset performs far better than older Core i3s, nearly keeping up with the new Core i5 chips. Heck, this is the same CPU in last year's Asus Chromebook Flip CX5, which starts at $649. Talk about value. Lenovo has the full specs of this Chromebook listed here.
Going back to the display for a second, although the 16-inch panel is smaller than the one on the Acer, the resolution is higher. The Lenovo 5i Chromebook displays 1920 x 1200 due to the 16:10 aspect ratio. And in the settings, that's the default resolution, which is rare on a Chromebook. I suspect I'll have to scale the display to make text a little easier to read. However, folks that have better vision will appreciate this panel with 300 nits of brightness.
Extra keys on the Lenovo 5i Chromebook, not extra ports
One of the things I don't like about larger laptops is the inclusion of the extra keys. I personally don't need a dedicated number pad and the Lenovo 5i Chromebook has one. But I know others prefer having quick access to those keys, so I can't fault Lenovo here. Seriously though: How do you "number pad" folks get over the offset trackpad? I have to have mine in the middle.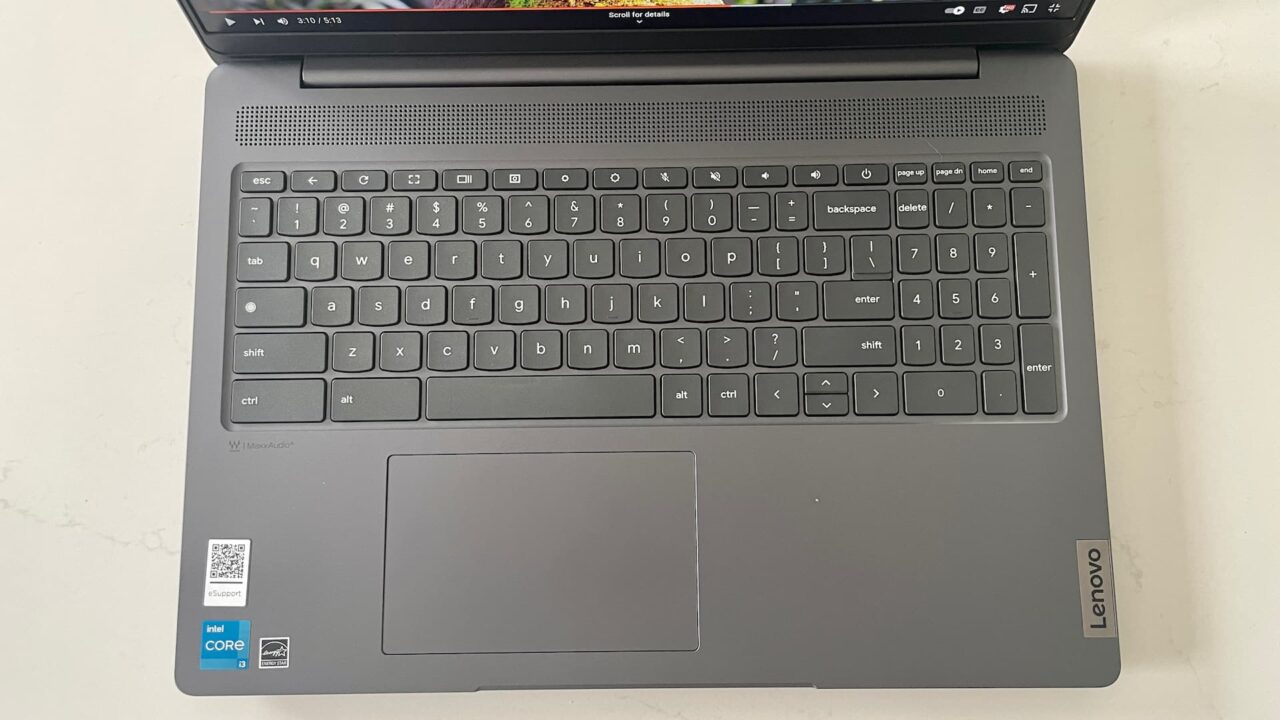 Regardless of my own likes, I'm already impressed by this keyboard. While it isn't backlit, the scalloped key caps feel very comfortable. There's just enough travel for my liking and the keys are super quiet. Because of the number pad, there are a few keys that are smaller than you'd typically expect. I'll have to see how that impacts my work.
As far as the trackpad goes, it could be a smidge bigger. However, it's responsive and accurate so far. It's a "diving board" type of trackpad for those interested in the details.
You'd think with a larger Chromebook you could fit more ports. And you'd be right. This isn't the case here though. Well, sort of. I'd say Lenovo found room to fit one more than usual because you get a pair of USB Type-C and a pair of USB-Type A ports.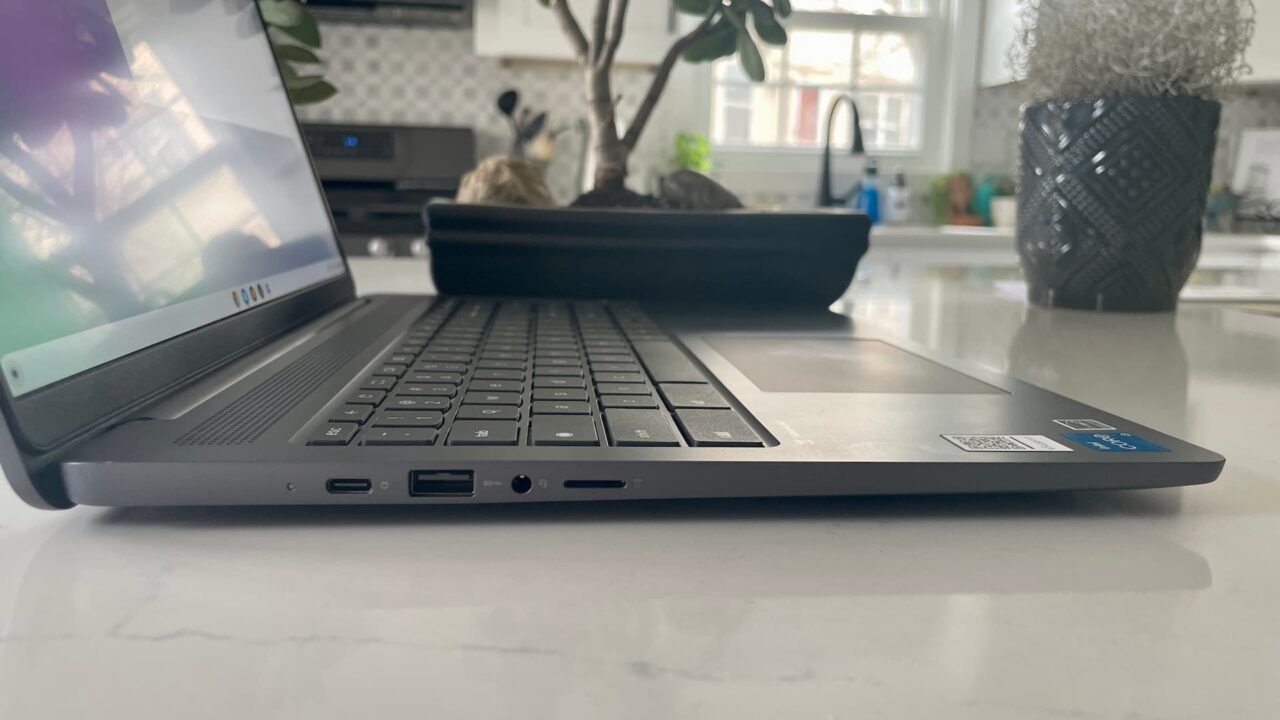 That comes at the cost of an HDMI jack, however. There is a headphone/mic combo jack and a microSD card to expand storage. The device comes with 128 GB of storage capacity although to keep costs down, it uses eMMC storage, not a faster NVME M.2 SSD.
Consuming content on the Lenovo 5i Chromebook display
Just to get an idea of the display capabilities, I did watch a few minutes of high resolution, 60fps YouTube video. It looks quite nice with decent color accuracy and a bright enough backlight. Viewing angles appear good as well. And I appreciate that the screen bezels are slimmer than average and that there's no branding to be seen. There is a Lenovo marking on the outside display cover of course and one on the right side of the chassis.
I'll have to do additional testing for content consumption and not just for the screen. The Waves MAXXAudio tuned speakers just sound OK for the little bit of content I've watched. At least the speakers are upward firing, which is better design choice than the opposite approach.
Content consumption in my world also includes video calls. And thankfully, Lenovo put a 1080p webcam on the Lenovo 5i Chromebook. As I use this device full-time for the next week or so, I'll test the capabilities of that sensor, as well as the dual-array microphones. There is a sliding camera shutter for privacy, which is nice.
The screen is the star but performance and battery life have to match
I mentioned that you're getting a big screen experience with the Lenovo 5i Chromebook. Obviously, performance and battery life have to match if this is a good value. While I've only spent a few hours with the device, it seems peppy enough for me and my more demanding needs. The interface shows no signs of lag and I've already churned through a dozen tabs simultaneously. That's what I'd expect with this 12th gen Intel Core i3 paired with 8 GB of memory.
How will the battery life be? That's an open question that I can't answer until I have more time with this Chromebook. However, the battery is massive by traditional Chromebook standards. It has a 71 WHr capacity in a world where most Chromebook power packs are in the 45 to 55 WHr range. Clearly, the larger display will require more power than a smaller one. So it could be a wash when it comes to runtime. Lenovo says the official Google battery test returns 12 hours of runtime. I'm expecting 9 to 10 in real world use. And if that's the case, I'd be satisfied.
The larger screen and battery mean more weight, so you won't likely be surprised to know that this is a 4.1 pound Chromebook. I could probably carry this around everywhere but I don't think I'd want to. I'd keep this at home on a desk. Others would take it everywhere even though it's not the lightest laptop around.
As I always do then, I'll use this review unit as my full-time device for at least a week. Once I put it through its paces, I'll follow up with a full Lenovo 5i Chromebook review, so stay tuned.
About the author
Kevin C. Tofel has covered technology since 2004. He's used ChromeOS since Google debuted the CR-48 in 2010, reviewing dozens of Chromebooks since then. He worked for Google's Chrome Enterprise team from 2016 to 2017, supporting the launch of Android app support. In his free time, he uses Chromebooks to learn software engineering at
Launch School
. In 2019, Kevin joined the CS Curriculum Committee at his local community college.
Liked this content? Subscribe for the free, weekly newsletter