Lenovo Flex 3 Chromebook review: Exceeding expectations
After two weeks of using the the latest entry-level Lenovo Chromebook, I'm impressed. It's taken years to get here but Lenovo has delivered a sub-$350 ChromeOS laptop that I truly enjoy using. You can pick one up for $349 today. Unlike most devices at this price point or below, this laptop can nearly keep up with my daily workflow. And that means it will likely keep up with most people's ChromeOS usage since I push the limits of my devices. Why do I think that? My Lenovo Flex 3 Chromebook review explains.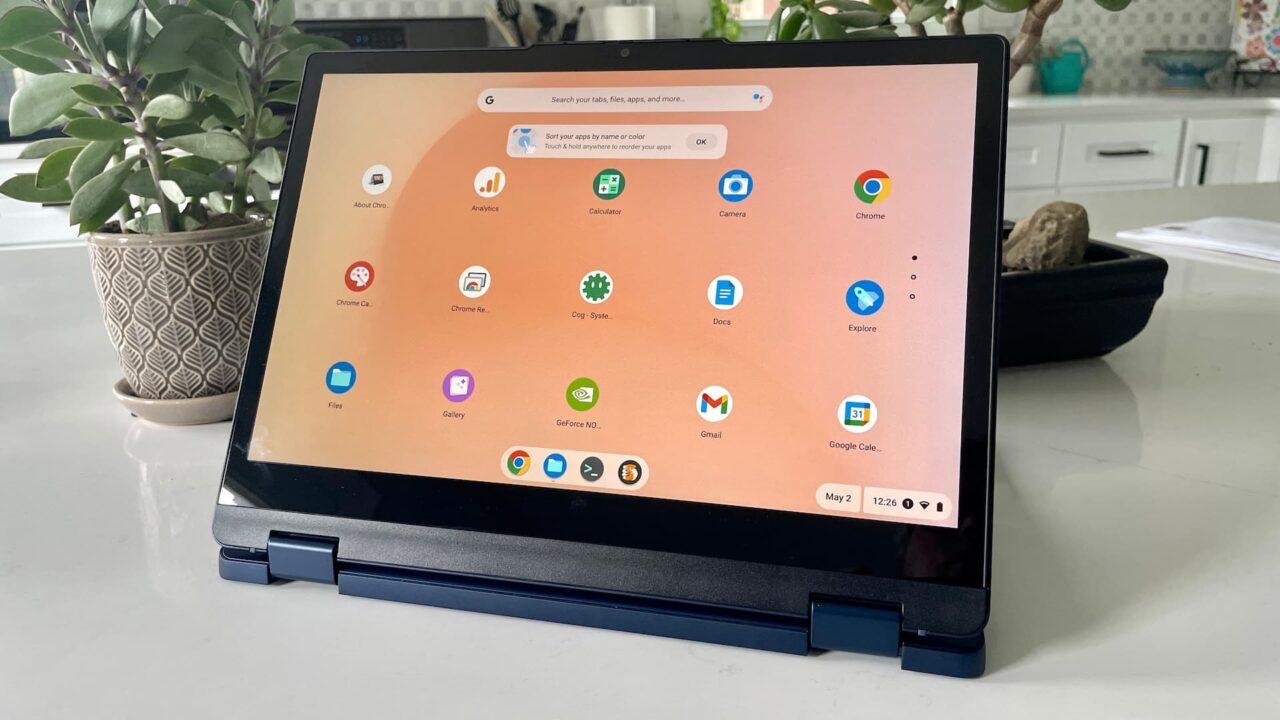 The Lenovo Flex 3 Chromebook is still a budget device, but…
Before explaining my belief, let's do a quick reality check. A $349 Chromebook won't compete on performance or design features compared to most $500 Chromebooks. Nor will it even be a consideration for someone spending up to twice that much on a premium Chromebook. You can see the full specs of my review model here.
However, the Lenovo Flex 3 Chromebooks greatly diminishes the stigma that "cheap Chromebooks are bad". That's due to some unexpected hardware features you typically don't find in this class of devices. For example, you might expect a crappy, dim 11.6-inch 1366 x 768 resolution, non-touch display at this price.
Nope. Lenovo boosted the screen size for starters, giving it a 12.2-inch touch display. And it has a massive resolution boost from what you typically find at this price. This Lenovo Chromebook uses a 1920 x 1200 IPS panel with 300 nits of brightness and TÜV Low Blue Light technology.
Put another way: This is the type of display you'll see on Chromebooks that easily cost $150 more. I thoroughly appreciate this choice of screen, making everything crisp and clear. The only time I struggled reading the screen was working outside on a bright day. Oh, and since this is a "Flex" model, you get the flexibility of a fully rotating display. Sorry, no USI stylus support though.
Yes, almost everything else about the Lenovo Flex 3 Chromebook is typical of a budget laptop. All plastic construction, an adequate but not excellent non-backlit keyboard, plastic multitouch trackpad, and 720p webcam.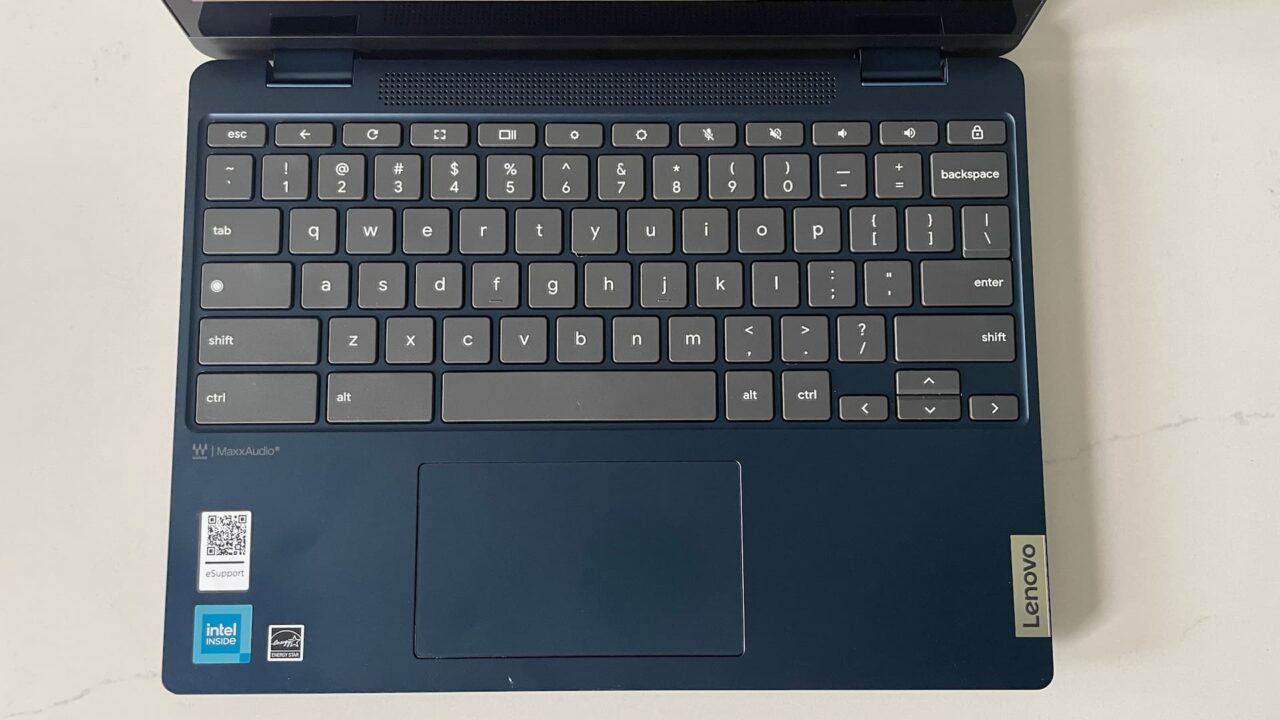 The latter worked perfectly fine for my video conferencing but people on my call saw a difference in quality from the more expensive Acer Chromebook Spin 714 I usually use. At least there's a privacy shutter though! And they had no complaints about the microphone. Nor do I have any about the speakers when it comes to video calls. They're average at best for most other audio sources.
Although I personally don't like the port selection on the Lenovo Flex 3 Chromebook, it does have enough of them.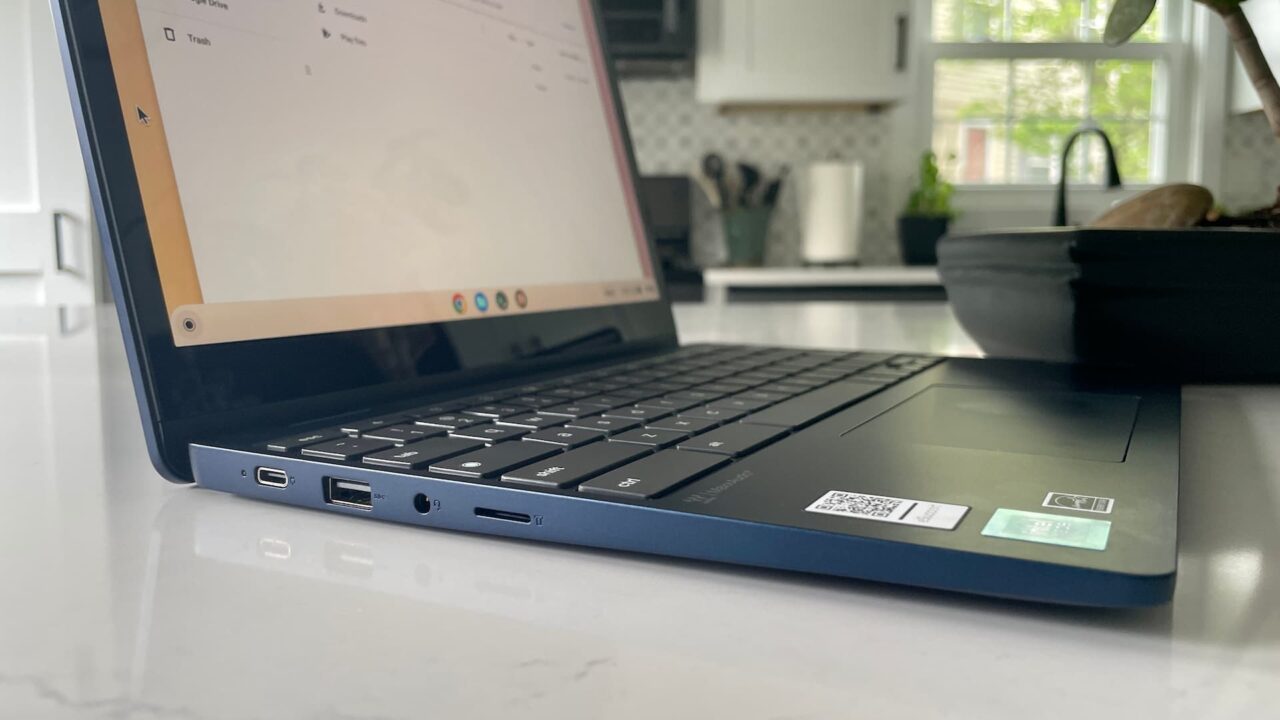 This too is often a sticking point with entry-level Chromebooks. A pair of USB Type-A 3.2 ports flank each side of the chassis while the right side has a full-sized HDMI 1.4 jack. The left adds a USB Type-C 3.2 port, headphone/microphone combination jack and microSD card slot to supplement the acceptable 64 GB of eMMC storage.
As I mentioned in my first impressions of this laptop, I don't like having the single Type-C port since it's used for charging the Lenovo Flex 3 Chromebook. If you run out of juice, you can forget using any USB Type C devices. Luckily, I'm less concerned about that as I was initially because of the battery life; more on that later.
Lenovo Flex 3 Chromebook performance and battery life
Now we get into why I think this Chromebook can meet the needs of most people. It all comes down to the fanless N100 processor, which uses Intel's Alder-Lake N architecture. Looking at this chip's capabilities on paper won't likely wow you. We're talking about a 4-core, 4-thread CPU with a boost clock speed of 3.4 GHz. Most of time, I saw the chip run between 1 and 2 GHz. And that's fine. ChromeOS is relatively light and if you're just browsing the web, you don't need super-fast silicon to do it.
Plus, you get the additional benefits from a lower-powered chip: Longer battery life. Intel says the N100 has a TDP, or Thermal Design Power, rating of 6W. When you consider that the Lenovo Flex 3 Chromebook only has room enough for 47 WHr battery, that's important. Lenovo says that Google's power load test yields 12 hours of run-time. In real world usage, I never hit that mark. But getting 9 or close to 10 hours using this device full-time was typical.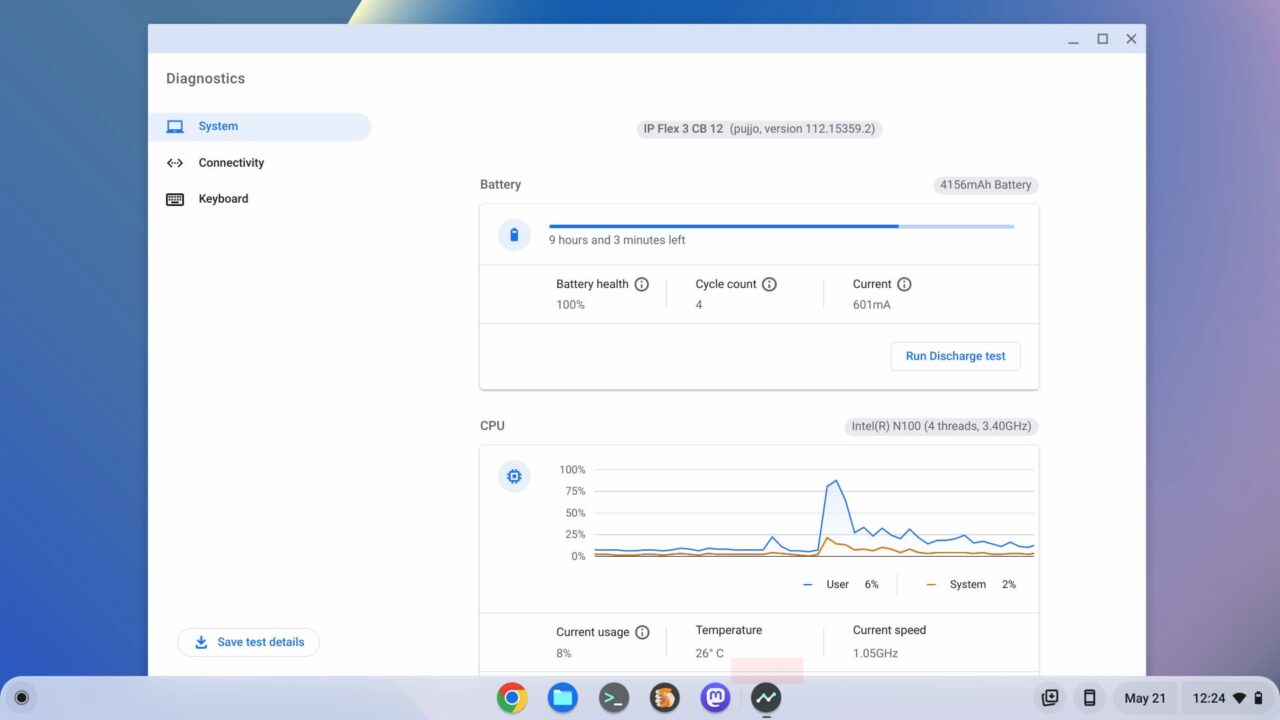 It's not all peaches and cream, of course.
Running Android apps and/or some Linux desktop apps at the same time definitely hurts the battery as the CPU clock typically ramps up its speed. And performance starts to degrade as well; not to the point where the experience is constantly painful, but noticeable. This device doesn't boot up as quickly as I'm used to, nor is it as fast and seamless when rending web pages or navigating virtual desks. It's not slow enough that I'd consider it unusable by any means. But it's not super spritely either. To me, the performance experience is similar to using an Intel Core i5 Chromebook from four or so years ago. Most entry level Chromebooks feel like using a device that I simply don't want to use at all. Not the case here.
The solid but limited performance is partially due to the N100 CPU, in my opinion, as well as the amount of memory in the Lenovo Flex 3 Chromebook. Or at least in this model.
For $349, you're getting 4 GB of memory; no more and no less. Sticking with the browser for work or play is generally fine with this capacity. However, I saw things start to slow down when opening 10 or more active browser tabs. Note that Lenovo does have a model with 8 GB of memory, 128 GB of storage, and a slightly faster N200 processor available in some regions. The company has not announced pricing or availability of that model in the U.S. , however.
You can mitigate the limited RAM a little with the Memory Saver feature that arrived in ChromeOS 108. Enabling it causes inactive tabs to discard and reclaim memory. You'll see the tab refresh if its contents were discarded.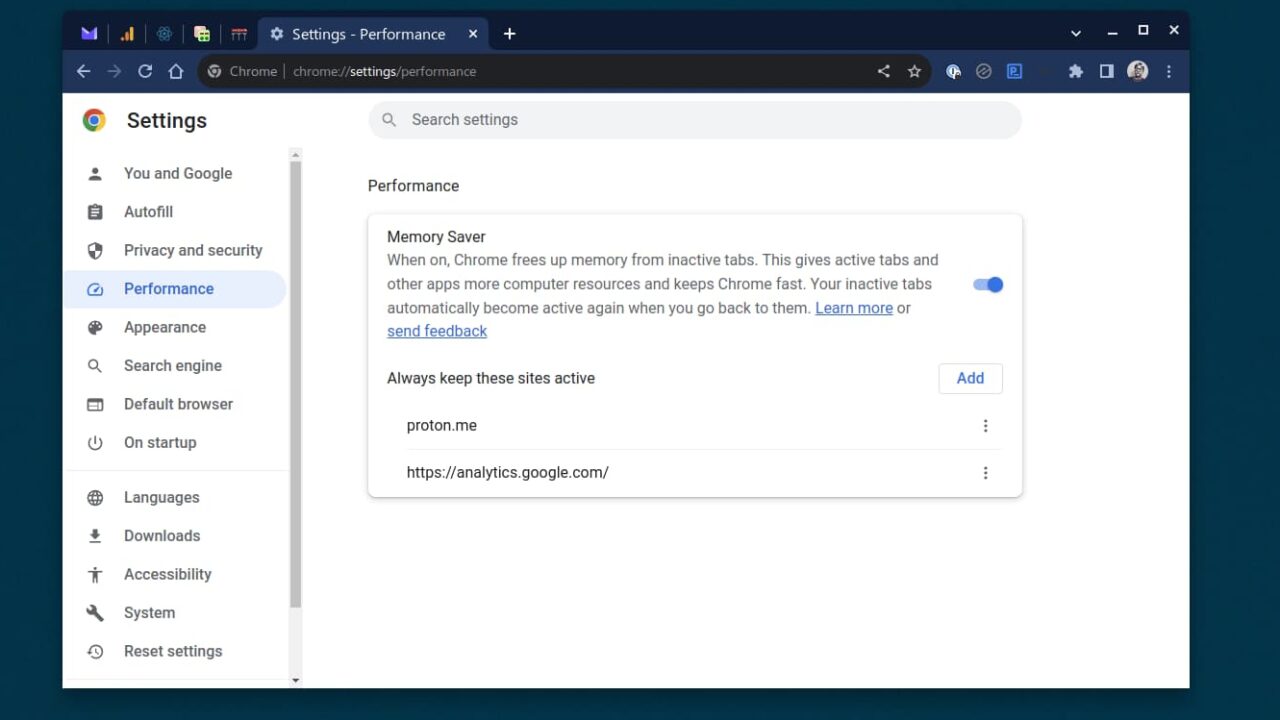 Even with the Memory Saver feature available, I'd still prefer 8 GB of RAM for more headroom and performance.
That's me, however. In addition to browsing and web apps, I rely heavily on Linux desktop apps for very specific tasks, such as programming. Unless you have the same reliance or tend to use multiple Android apps at the same time as the browser, 4 GB of memory is just about sufficient.
Don't expect WiFi 6E inside either, although I don't think that's really an issue. The WiFi 6 radio, as well as the Bluetooth 5.1 support, worked just fine for me. Besides, I'm betting most people don't have WiFi 6E routers yet, particularly those looking at $349 Chromebooks. If you're concerned about ChromeOS software and security updates, rest assured you'll get them through June 2031.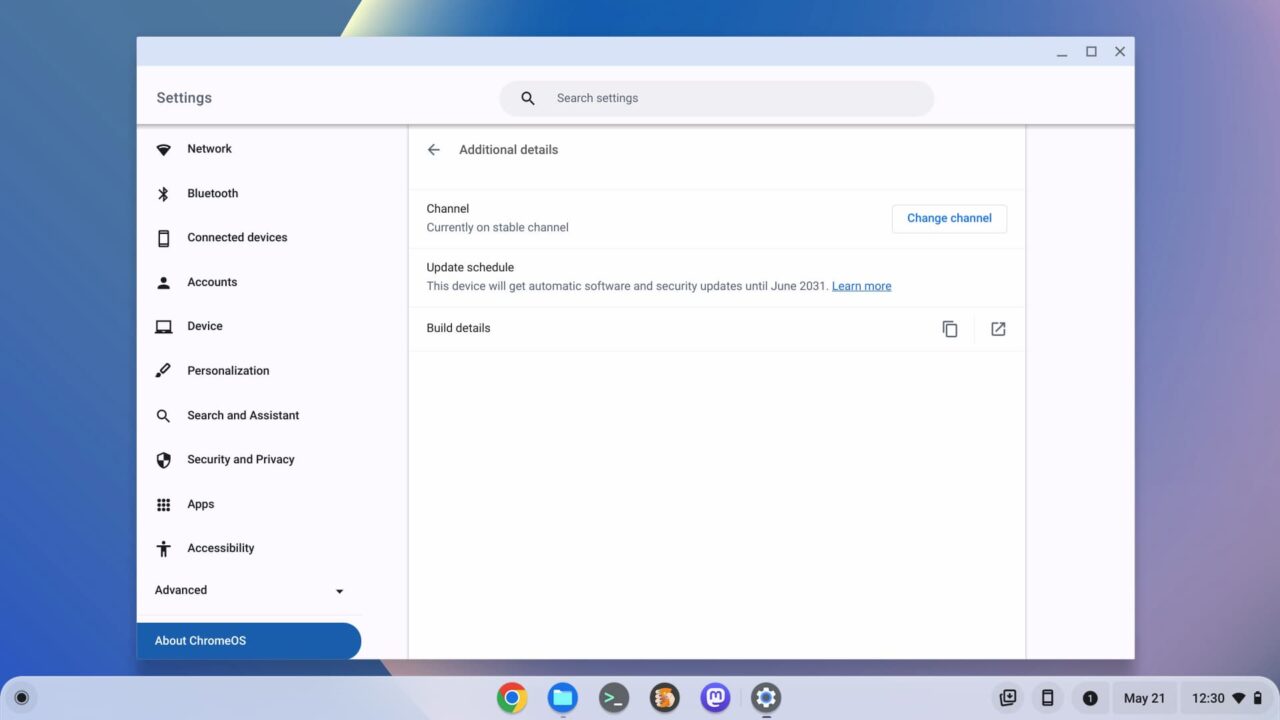 This Chromebook exceeds expectations for its price
If I had to sum up my experience, it's that the Lenovo Flex 3 Chromebook exceeded my own expectations of a $349 laptop. I'm not saying I'd buy my own as a primary device. That wouldn't work for how I use a Chromebook. But it would work for most mainstream consumers. And it would make a great secondary device for people that "need more to do more" on a Chromebook.
Seriously, I could see myself leave behind the heavier Acer Chromebook Spin 714 and take this Lenovo Chromebook with me on vacation next month. I know it can handle the times I need to check email, update this site or even do some light coding if I get bored. We're going on a hiking trip to Utah and I doubt I'll be bored. Even so, this is the perfect companion Chromebook for a getaway.
With the superb 12.2-inch high resolution display and weight of 2.76 pounds (1.25 kg) the Lenovo Flex 3 Chromebook would easily fit in my carry on bag. I know I'd be able to watch hours of video content on the flight without running down the battery. And although I should be focusing on my vacation, I could get work done if the need arose.
Look, it's easy for many people to dismiss entry level Chromebooks. I include myself as part of that group.
However, Lenovo deserves a huge kudos here. It has made the first low-cost Chromebook that I'm not rejecting out of hand as a potential personal purchase. With its combination of capabilities and some surprising upgrades over prior models, I can see a place for this device in my home. Give this Lenovo Chromebook a chance and you just might too, depending on what you need a Chromebook to do.