Back in 2021, the Samsung Galaxy Chromebook Go debuted as a $299, entry level, 14-inch laptop. You can still purchase one, typically for less. Amazon currently sells the Chromebook Go for $208. However, It looks like a smaller model is coming in 2023. The Samsung Galaxy Chromebook Go 11 appears on the Chromium Dash website, as pointed out to me by a reader.

I've scoured Samsung's site and the web in general looking for additional details, without any success. But there's still a bit of information we put together on our own. And it's rather disappointing.
Samsung Galaxy Chromebook Go 11 hardware
Obviously, the Samsung Galaxy Chromebook Go 11 will have an 11-inch display. More accurately, it will likely be an 11.6-inch panel, as that's a fairly standard size. The only way it could see an exact 11-inch screen was if this were a ChromeOS tablet. I don't think that's the case though.
The baseboard name of "dedede" should sound familiar. That base board spawned off many devices back in 2021. Here are just a few to give you an idea of the base board capabilities:
HP Chromebook x360 11 G4 EE
Lenovo 500e Chromebook Gen 3
Lenovo Flex 3i Chromebook
HP Chromebook 14a
Asus Chromebook CX1500
Samsung Galaxy Chromebook Go
Yup, the Samsung Galaxy Chromebook Go 11 uses the same baseboard as its older, larger brother. That strongly suggests the same CPU as the Go 14, which is an Intel Celeron N4500.
That's a Jasper Lake chipset that was new in 2021 but has been superseded by newer Intel processors like the new N100 and N200. But I wouldn't expect a CPU upgrade on the upcoming Galaxy Chromebook Go 11. It has the exact same AUE, or auto-update expiration date as the Go 14, of June 2030. If somehow there was a newer CPU in the Go 11, the AUE date would likely be June 2031.
Since the Go 14 had a lackluster 1366 x 768 display, I'm expecting the same in the smaller version. A meager 32 GB of eMMC storage and 4 GB of memory are in the Go 14. Perhaps at the least the storage capacity gets a boost this time around.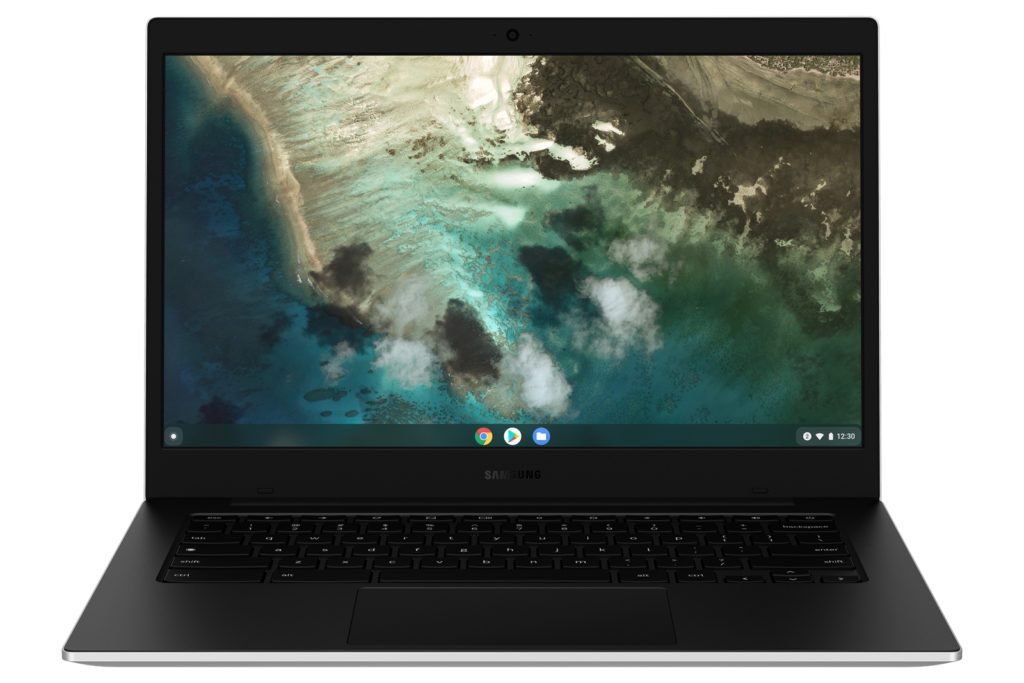 The Go 11 is more of the Same-sung
We can't really glean any other information about this smaller refresh from Samsung other than it doesn't appear to be much of a refresh at all. Just a smaller version of a two-year old entry-level Chromebook. Frankly, I don't get it.
What's even stranger to me is that work on this specific device started in 2021, right alongside the 14-inch model. It's as if Samsung got everything ready to launch the Galaxy Chromebook Go in two sizes back then. And then it didn't. Now all of a sudden, Samsung is ready to launch a bare bones 2021 Chromebook in 2023?
I've privately questioned Samsung's commitment to the ChromeOS ecosystem a few times in recent years.
Between lackluster device launches and then barely a peep with new devices as other brands move forward, I simply don't see it. And that's OK. Most of Samsung's revenues come from its mobile and chip divisions, not to mention televisions and appliances.
If Samsung wants to focus on those more profitable segments and drop out of making ChromeOS devices, I get it. I'd rather see more brands in the Chromebook market than less, but again, I get it. That would be better than the halfhearted effort we currently see from Samsung when it comes to ChromeOS. And even though we have very limited information on the Samsung Galaxy Chromebook Go 11, that's exactly what this device sounds like: A halfhearted effort.
About the author
Kevin C. Tofel has covered technology since 2004. He's used ChromeOS since Google debuted the CR-48 in 2010, reviewing dozens of Chromebooks since then. He worked for Google's Chrome Enterprise team from 2016 to 2017, supporting the launch of Android app support. In his free time, he uses Chromebooks to learn software engineering at
Launch School
. In 2019, Kevin joined the CS Curriculum Committee at his local community college.
Liked this content? Subscribe for the free, weekly newsletter