CTL Chromebook PX14EX review: All a student needs
I've used the $359 CTL Chromebook PX14EX as a full-time device for the past few weeks. As someone who typically buys premium or high-end Chromebooks for daily use, I didn't expect much from the PX14EX. And I tried to approach using this as a student, who is the target user. Not only do I think this is a great Chromebook for students — so do the kids in my community — but it handled my own daily workloads better than I expected. I gained a new appreciation for entry-level Chromebooks and those meant for students. Read on for my CTL Chromebook PX14EX review.
About the CTL Chromebook PX14EX and its intended audience
To be clear, at $359, the CTL Chromebook PX14EX faces competition from other entry-level devices around the same price point. And you can typically find a more powerful device for the same cost, sometimes even less. Last year's excellent Lenovo Chromebook Flex 5i with 11th gen Intel Core i3, for example, can be found for $374. It has a better processor and the same 8 GB of memory as the CTL model. It also has a touchscreen which the PX14EX does not. (CTL offers an upgraded model with a touchscreen for $399.)
But do students really need a touchscreen? Can the Intel Jasper Lake Quad-Core N5100 CPU meet their needs, making a Core i3 a bit of overkill?
I'd say the answers to those questions are no and yes, respectively. And CTL provides something with every Chromebook that you're not going to find from off-the-shelf devices: A full year of 2-way shipping for RMAs in case of a hardware problem. Good luck getting that from the more recognizable Chromebook brands.
Also, those devices are found at traditional retailers, either in-store or on their websites. CTL mostly sells its Chromebooks directly so you're not likely to walk out of a Best Buy with one of these.
The company creates Chromebooks specifically for its customers, which by and large aren't individual consumers or students. Yes, you can purchase a Chromebook directly from CTL. However, I suspect the company sells far more devices in large quantities to school districts.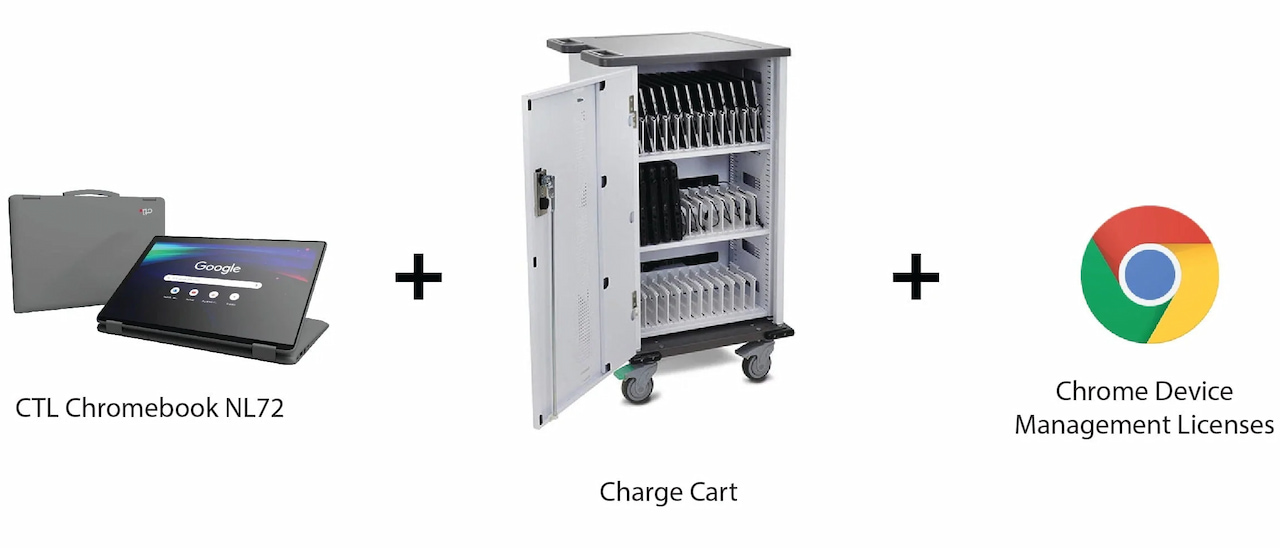 For example, you can purchase a Chromebook charging cart with 36 ChromeOS laptops, complete with the Chrome Education licenses for device management. You won't find that at Best Buy. Of course, it'll set you back a tad under $13,000, so unless you have a very large family or run a community home school, school districts are the potential buyers here.
CTL Chromebook PX14EX hardware: Durable and capable
After running through the quick Chromebook setup process on the PX14EX, I took a close look at the hardware itself. After all, it has to be durable to survive the classroom as well as the commute to and from. At first, I felt a little disappointed: This is a very plastic-y laptop. However, it feels more solid than I expected. And plastic or not, it's designed to be relatively tough, passing the Mil-STD 810H standard testing. There's no spillproof keyboard, nor is it backlit, but for the intended user base, I feel comfortable that this is a fairly durable laptop. I'm not in the habit of dropping or tossing review units, so this is just my feeling based on using the device.
In terms of the overall hardware, the CTL Chromebook PX14EX again hits the sweet spot for its users. You can find the full specs here but I'll elaborate.
There's a 14-inch 1920 x 1080 display that's more than bright enough under classroom lights. The quad-core N5100 Celeron has plenty of power for classroom activities (more on that later) and is paired with a generous 8 GB of memory. The 64 GB of local storage may seem meager but again, this device is likely managed by a school district. And that district surely offers plenty of Google Drive storage.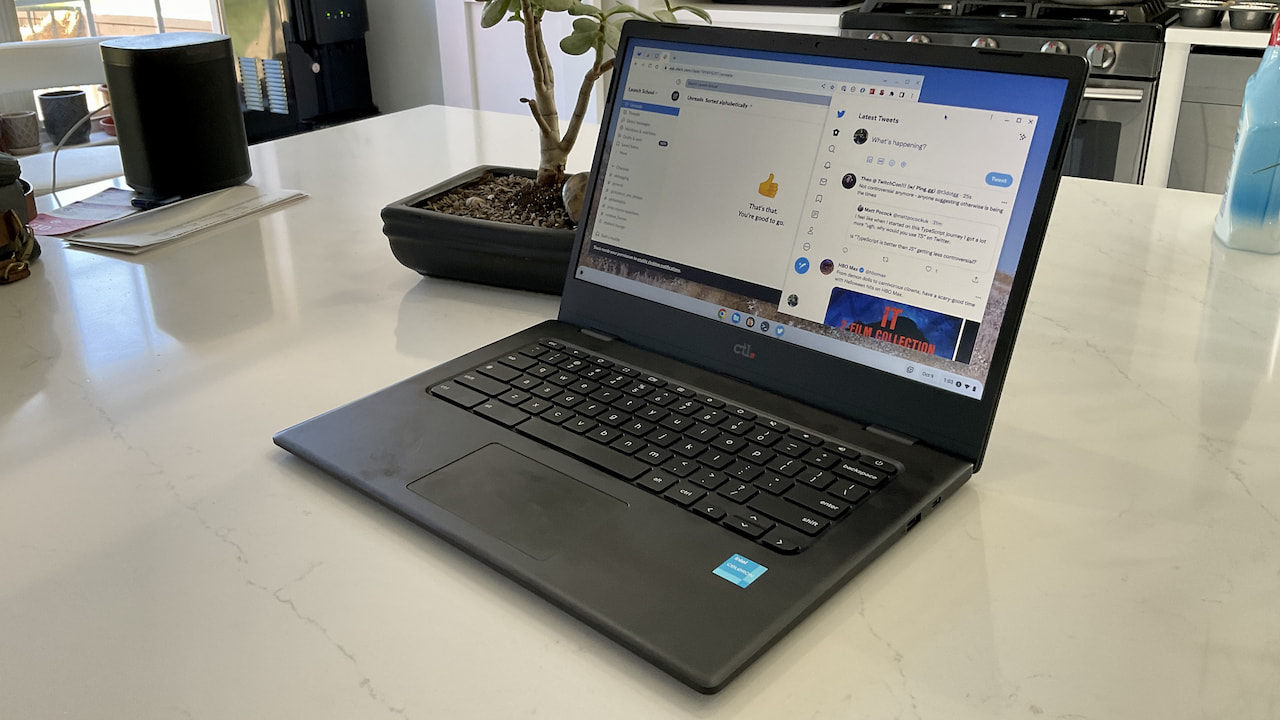 The front-facing camera isn't 1080p which I personally would want for my own device. For students using Meet or some other videoconference software? They don't care, particularly if they've never experienced a 1080p camera. And when I used the CTL for my own video calls, nobody complained about the image or audio quality. Trust me: I asked near the end of every call. I would like to see a privacy shutter on the camera for future revisions if CTL can swing it though.
For students, if not most Chromebook users, there are enough ports. A pair of USB Type-C 3.1 with power delivery and video out, for example. There's also a Type-A 3.1 for older peripheral connections. There isn't an HDMI jack but I doubt most students would connect this to a traditional monitor at home. And if they want to, they can use the USB Type-C out port with the right cable or hub.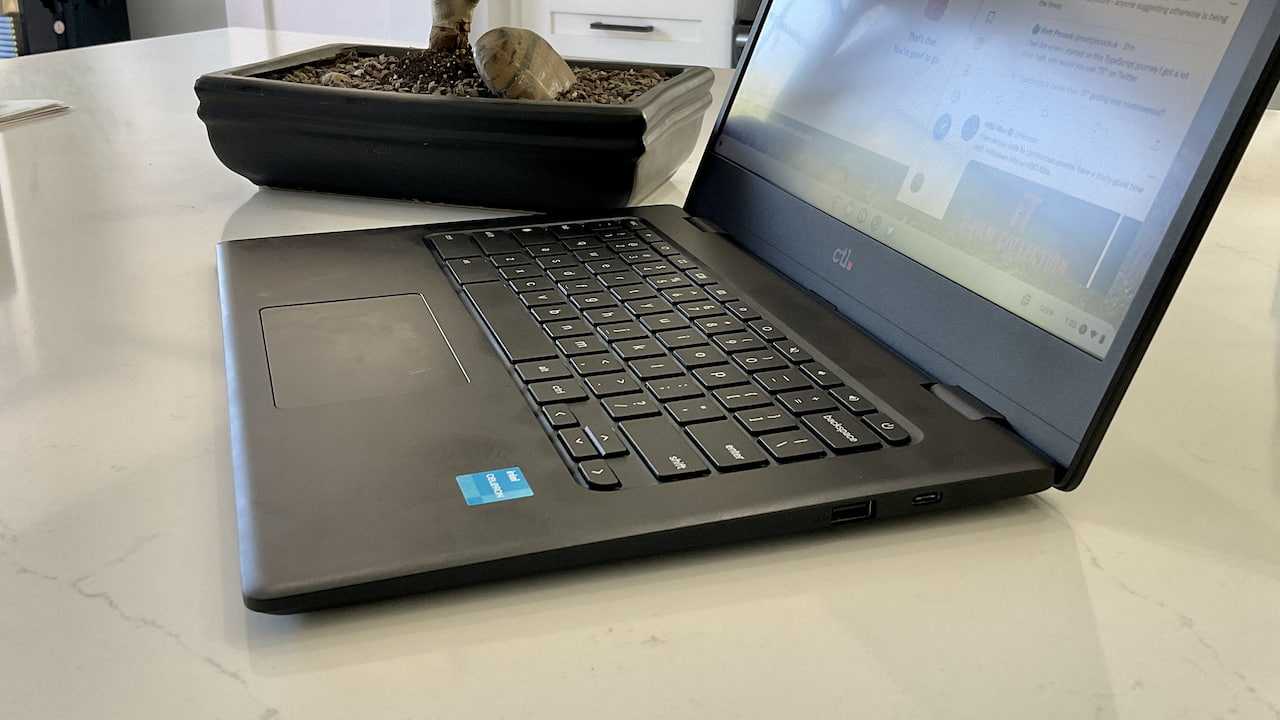 Connectivity options are at least what I expected. You get WiFi 6 (2×2) and Bluetooth 5.0. What more would a student need? OK, LTE would be a nice option in some more rural areas, but then you get into additional material costs plus service plans. I doubt many school districts have the money or the inclination to tread that path.
The pair of 2W speakers surprised me too. No, they're not rich and room-filling. But I've spent far more on Chromebooks that have worse audio quality. I'm looking at you Acer Chromebook Spin 13! For my own needs and, more importantly, for those of a student, these speakers are more than capable enough.
Getting back to the screen for a minute: It's adequate but not excellent. At least not for me. I appreciate the matte finish but the panel doesn't have great viewing angles or color reproduction compared to most consumer Chromebooks. Is that a problem? If this was my personal device, I'd say yes. For kids in the classroom, I doubt it. Put another way: I asked a half-dozen kids in my neighborhood what they thought of the screen and they universally liked it because of the size and clarity. Color gamut and viewing angles? Those phrases aren't in their vocabulary.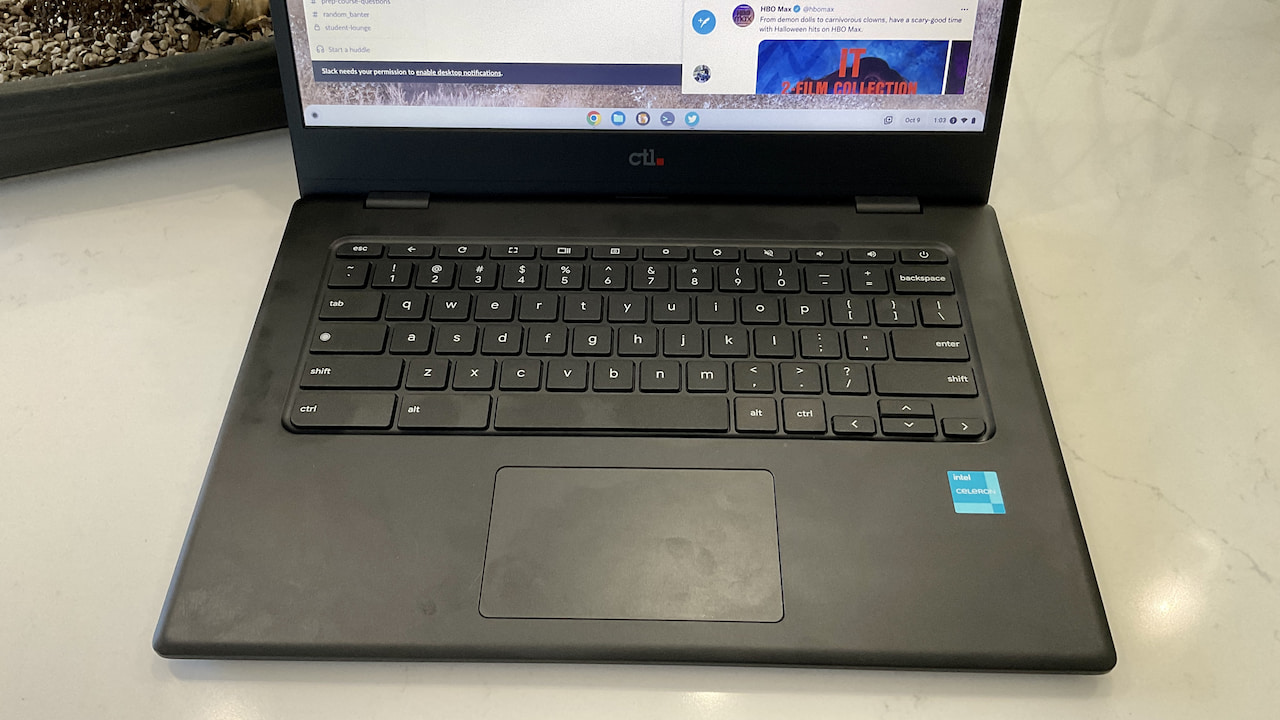 Lastly, I want to mention the keyboard and trackpad. That's mainly because I was seriously underwhelmed at first. The plastic feel of the slightly textured keys kind of turned me off right away. And yet, after just a little use, I realized this didn't bother me in practice at all. Key travel and bounce are good, providing me with a comfortable and fast input method.
The trackpad still doesn't wow me, but I consider it at least average. I haven't experienced any strange issues or discomfort with it; there's just nothing exceptional about it either. It's also not a huge trackpad but I turned to my local experts here: Those students with smaller hands had no complaints.
The performance of the CTL Chromebook PX14EX is quite good!
I've already mentioned several surprises so far with this device. The performance capabilities, however, may be the biggest. Bear in mind that my personal Chromebook has the 12th gen Intel Core i5 with 8 GB of memory. And that device really flies for my use cases.
You know what? The PX14EX boots up just a little slower than my Acer Chromebook Spin 714. I can open roughly the same number of tabs on both devices, which is largely due to them both having 8 GB of memory. Page load speeds, particularly those heavy with JavaScript are noticeably faster on my more expensive Chromebook. That's where the difference in the CPUs comes into play.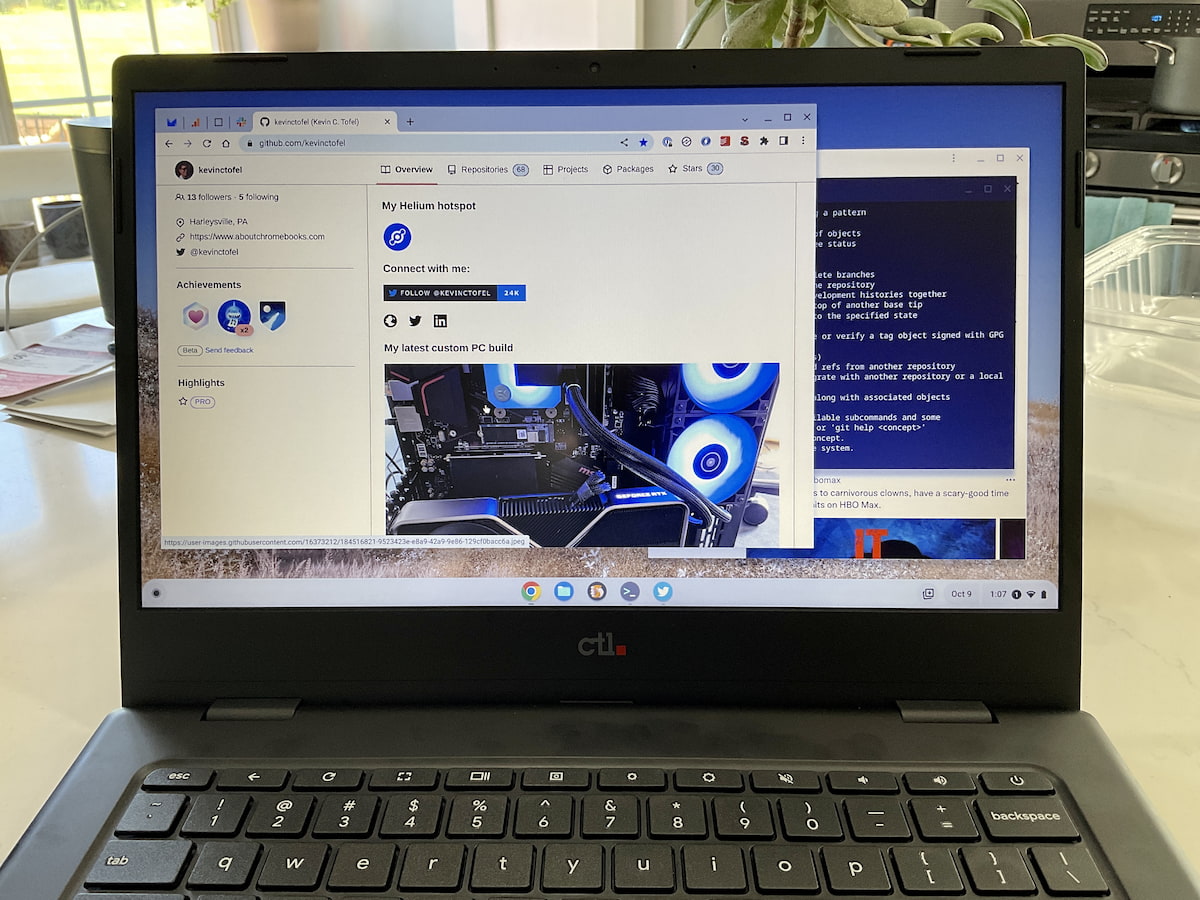 But both devices essentially do the same thing. And the slower page loads or ChromeOS interface animations aren't unbearably slow with the CTL Chromebook PX14EX. They're just a little slower than I'm used to. After noticing this over a week's time, this is when my appreciation for Intel's Jasper Lake chipsets really began to grow. This silicon is relatively inexpensive but can easily handle classroom activities.
Of course, students aren't just in the classroom or learning all the time. So I installed a few Android games on the CTL Chromebook. Most of them ran flawlessly, meaning no different than how the same games run on my Chromebook Spin 714.
The only real challenge I experienced was with Asphalt 9 on the CTL Chromebook. It's not buttery smooth as I experienced dropped frames in-game. So a "heavy" graphical game, or at least heavy by Android standards, is pushing the boundaries.
Still, there are a near-infinite number of web-based or Android experiences for entertainment after school. I even watched a 4K 60fps trailer on YouTube with the CTL Chromebook and it didn't drop a single frame.
Granted, the 1080p display is scaling down for ChromeOS, but either way, I was impressed. And, that's a test that likely isn't even realistic: YouTube will default to a lower resolution to match the display and I doubt most students would change it.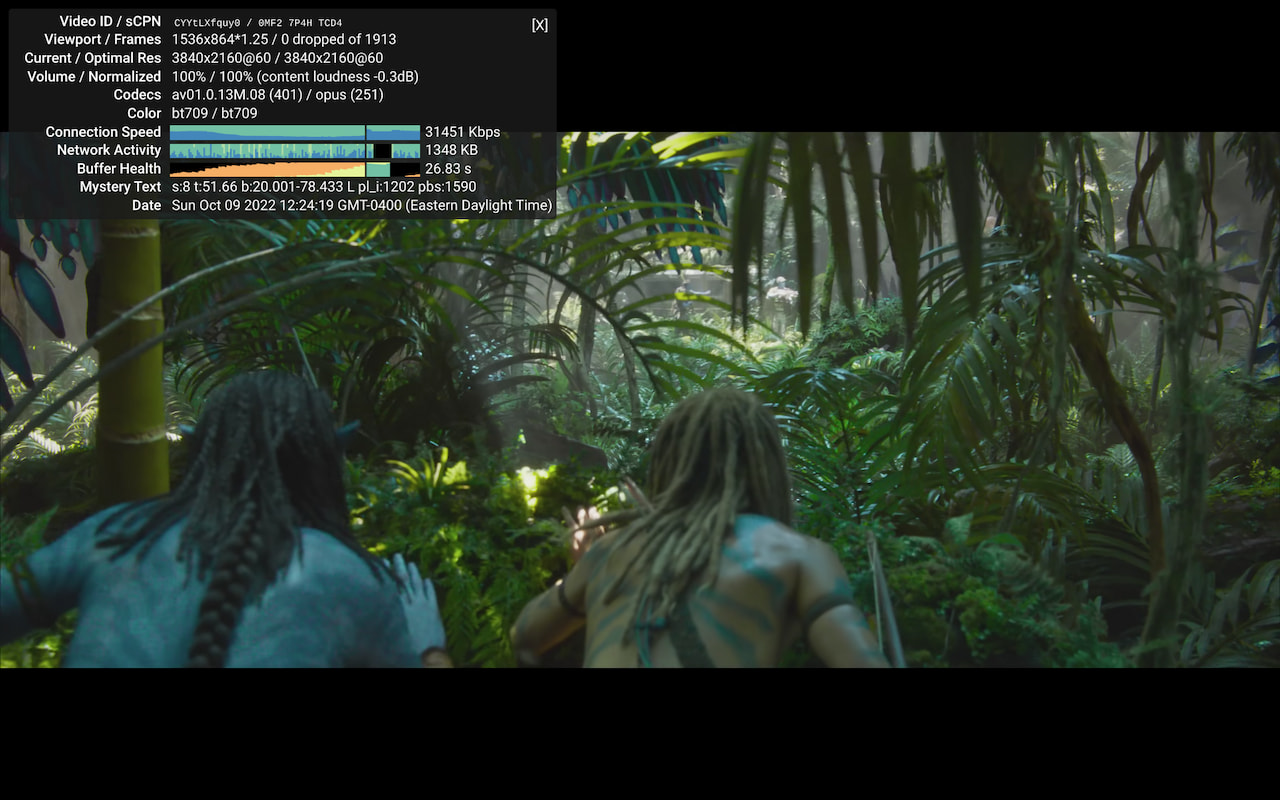 This device worked so well for my own daily activities (yes, even light Linux use), that I didn't benchmark it. There's no point because I don't need numbers to tell me what I experienced. For the intended audience, there's plenty of performance here. Kids won't be faced with the laggy, slow ChromeOS experience found on entry-level or education Chromebooks from just a few years ago. And any additional performance would increase costs while also being unnecessary in most cases.
There's one more additional benefit from that Jasper Lake CPU. It sips power. Like almost as little as an ARM-based processor. Intel says the TDP maxes out at a scant 6 Watts, for example. And that helps provide battery life that can easily get through the school day on a single charge.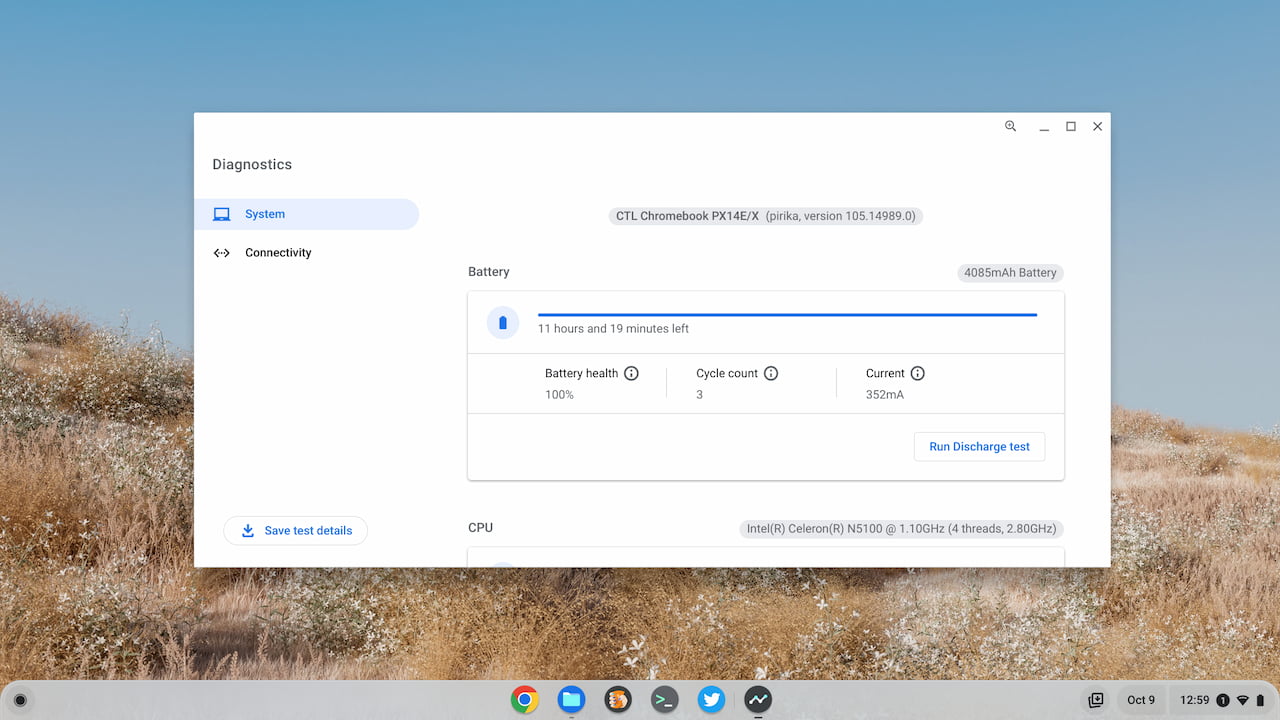 During my own standard daily usage, which is a relatively heavy workload by comparison to that of a student, I was able to routinely get 8 to 9 hours of run time with the CTL Chromebook PX14EX. That's with the 45WHr battery inside. I have Chromebooks with larger batteries that sometimes need an outlet after 6 or 7 hours of my workload.
So again, the choice of silicon here is the right one for the intended use case. In fact, I'd say the display brightness level during usage may have as much of an impact on battery life, if not more than, the CPU. Note that this CTL Chromebook supports quick charging over USB Type-C. If a battery top-off is needed, a short 20 to 30 minutes with an outlet will add enough power to get over the hump in a worst-case situation.
Final thoughts
Using the CTL Chromebook PX14EX and writing this review has been one of the most enlighting ChromeOS experiences I've ever had. No, I'm not selling my premium device for one of these. I like some of the nice, extra features I have with the Spin 714. If I were a student, or a school district decision maker though, I probably would have never even used a Spin 714 or similar higher-end device.
So I'd be looking less about comparing the CTL to consumer-focused, premium devices and more at looking for the answer to this question: Will the CTL Chromebook PX14EX meet the needs of my district's students?
Based on my usage and that of the school-aged children in my neighborhood, the answer is a resounding yes. I'd have no qualms about purchasing a fleet of these and using the included Chrome Education licenses to easily manage them. Heck, maybe I'd buy these by the cartload!