First impressions of the 2022 Acer Chromebook Spin 714
Well, I put my money where my mouth is and picked up the 2022 Acer Chromebook Spin 714 earlier this week. Acer's first 12th gen Intel Chromebook is typically priced at $729 but a current Best Buy sale drops that by $100. So I figured I'd take the plunge, knowing I could return the laptop within 14 days. How is it so far? Read on for my first impressions of the 2022 Acer Chromebook Spin 714.
Since I just reviewed another 12th gen Intel Chromebook, the HP Elite Dragonfly, I have some comparison thoughts sprinkled throughout my first impressions. While these two devices aren't close in price, they are close in terms of what you get. You can see the specs of all the 12th gen Intel Chromebooks here, for reference.
Acer Chromebook Spin 714 design and build
For starters, the HP hardware is certainly nicer. So too is the overall build quality and materials used. That's not to say the Acer Chromebook Spin 714 isn't designed well or is poorly built. It's just not as premium. Put another way, the overall look and feel of this ChromeOS laptop are what you'd expect at this price. The same holds true for the HP Elite Dragonfly, which costs $400 more at full retail price.
In fact, there's little new here in terms of design and materials. Acer made slight modifications from its Spin 713 such as moving the speakers between the keyboard and display. The aspect ratio of the display is different from the 3:2 on the 713 as well; the Spin 714 uses a 16:10 panel. Other than that and a few changes to the device edges, there's not much to say.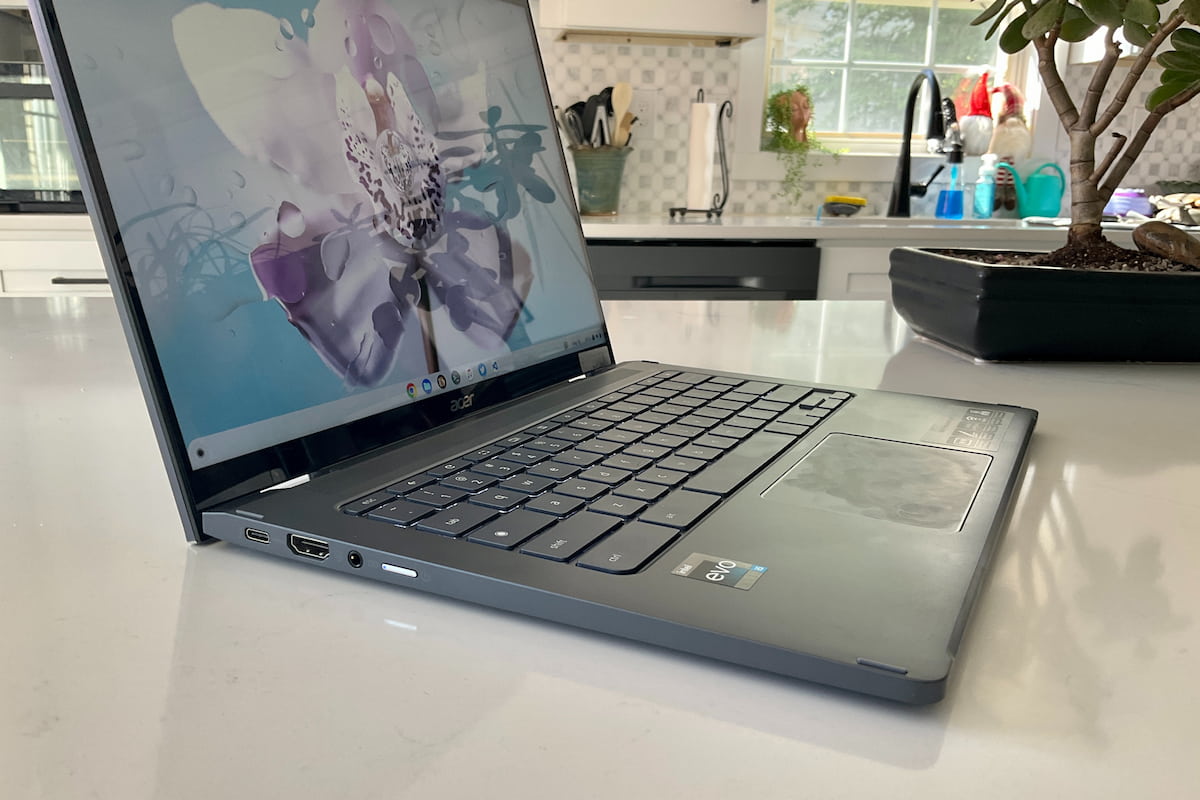 This doesn't really bother me, to be honest. I consider Acer's high-end Chromebooks to be more utilitarian than fashion-forward. And compared to my 2018 Acer Chromebook Spin 13 that the Spin 714 is replacing, it's a step up. This laptop is thinner and nicer looking than my old workhorse. (Sorry, Spin 13, but it's true.)
A good but not great display
Since I mentioned the display, I'll share thoughts on that next. While my preferred screen aspect ratio is 3:2, I am liking the 16:10 display here. It's working well for multiple windows when I browse, use Twitter, code, etc… And it's better for content consumption than a 3:2 screen as wider content fits better.
Color reproduction is quite good as are the viewing angles. Right now the only nitpick I have is the 340 nit brightness of the screen. It actually doesn't even seem that bright to me. I'm not sure why and I'll have to do some side-by-side comparison testing with dimmer and brighter screens. But even indoors, I need the screen brightness level at around 70% for comfortable use.
Keyboard, trackpad, stylus, and speakers
Obviously, you're not getting the haptic trackpad of the HP on the Acer. It's a standard multitouch trackpad that's a bit small but certainly fine. I haven't had any issues with random mouse taps or mouse movement. It works. I'll admit I do like the haptic trackpad on the HP, having used those for years on Macs. Can I live without it? Of course.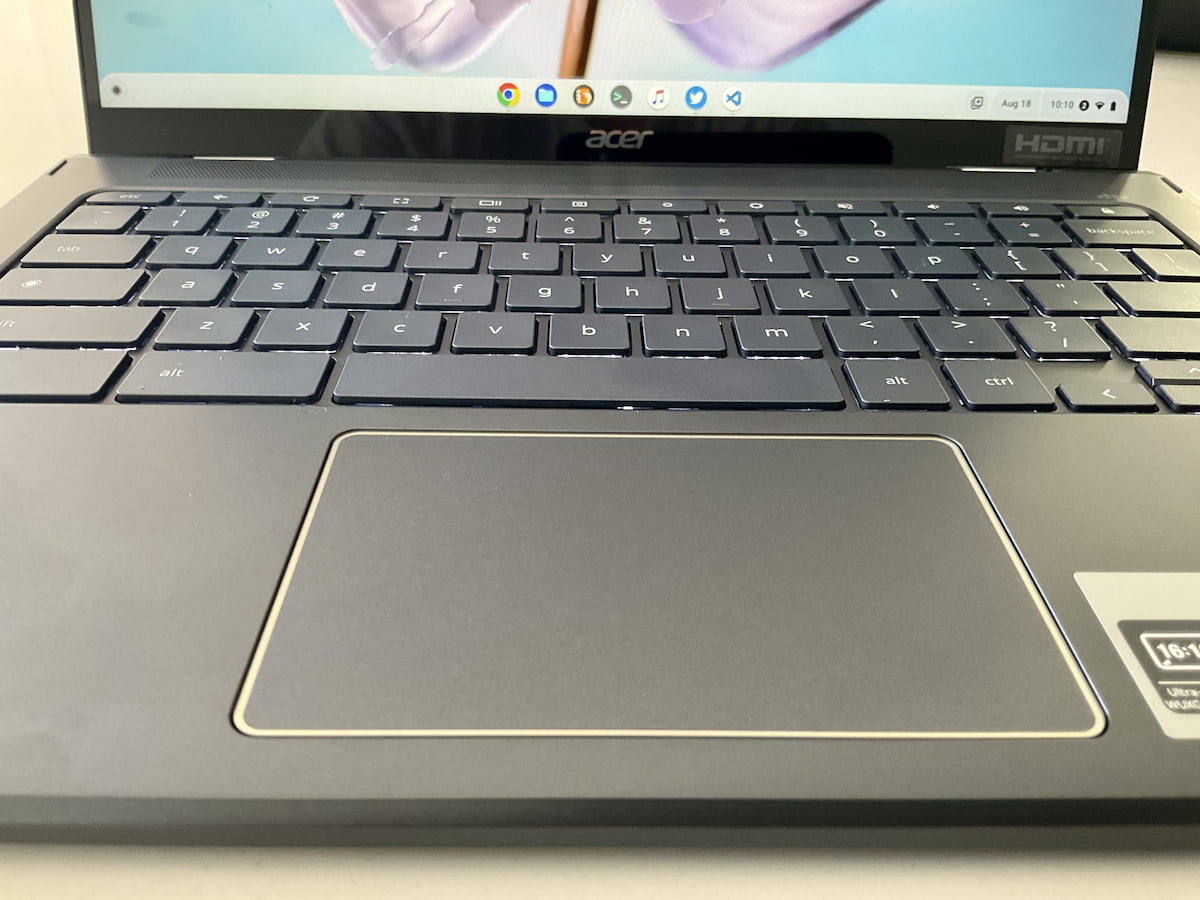 I'd consider the keyboard on the Acer Chromebook Spin 714 to be above average so far. There's a fair amount of light-bleed under the keys, but I can say the same about the HP. The typing experience has been solid as the keys are well spaced and sized, and have a good amount of travel. It's not too loud of a keyboard either.
Although I don't use a digital stylus that often, it's nice to see Acer include it with the Spin 714 at this price. It's a dockable USI pen so there's a place to keep it at all times. It charges while inside the chassis. I haven't yet tested it on the display but I will in my full review.
I had high hopes for the Spin 714's speakers since they're not downward firing. But this is probably the biggest letdown so far. They're just not loud nor rich sounding. Now that may be due to a software fix and if so, it means this could improve. I heard from several early owners of this device and they said the speakers cracked and popped. Mine do not, which suggests a software change to address that problem. It may have fixed that issue but it appears that speaker output went too far the other way.
Overall performance is outstanding
The star of the show here is the 12th gen Intel chipset inside this Chromebook. Unlike the Core i3 used in the HP Elite Dragonfly, Acer popped a Core i5 inside. Paired with 8 GB of memory, this ChromeOS laptop is every bit as fast as the HP, as you'd expect. What I didn't expect is that the Core i5 doesn't "test" much faster than the Core i3.
I've only performed a few Octane benchmark tests on the Spin 714 at this point. The first one cracked 80,000 points, which is the highest I've ever seen on a Chromebook. Subsequent tests were slightly lower but within a few hundred points. As good as that sounds, the Core i3 in the HP returns Octane numbers in the 76 to 77-thousand range. So synthetic benchmarks, so far, are very comparable. And I can't tell any difference in speed when using the HP and Acer side-by-side on the same tasks.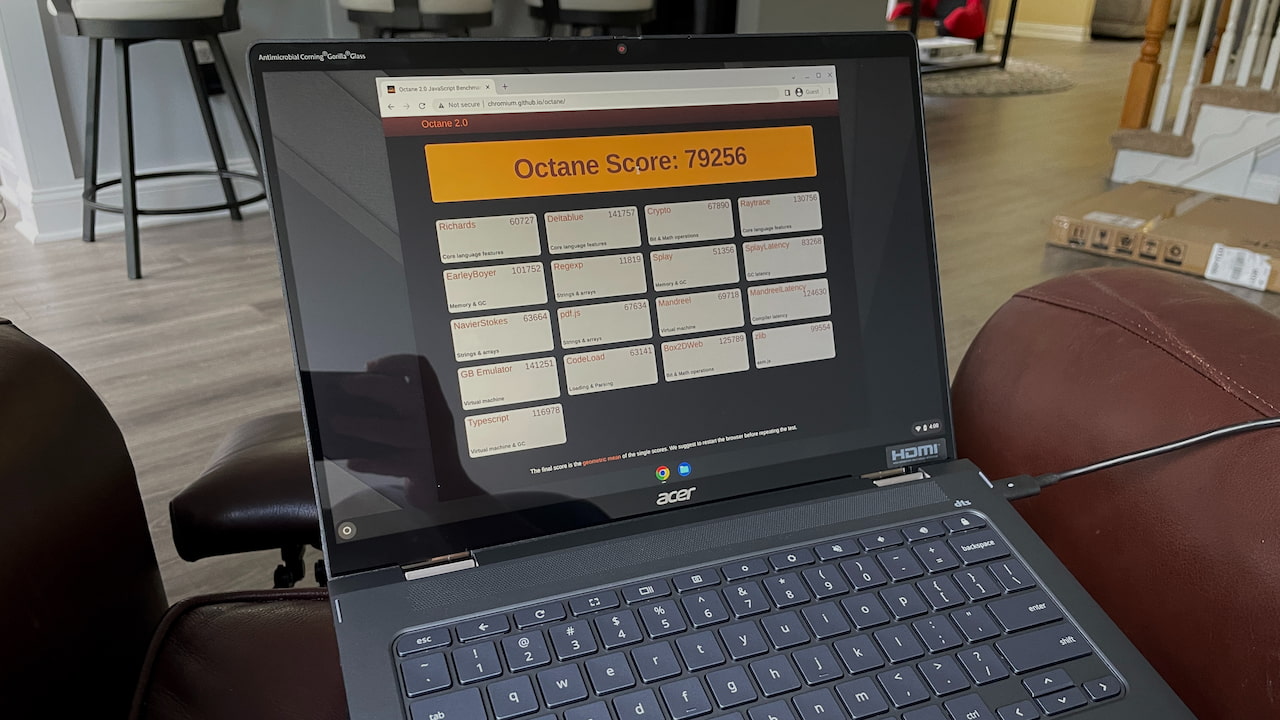 For those that eventually look for a 12th gen Intel Chromebook of their own, a Core i3 might be all that's needed. And this is definitely overkill for someone who just needs to browse the web a few hours a day, run an Android app or two, and doesn't use Linux on Chromebooks. You can easily be happy by spending $200 less for an everyday Chromebook.
Other observations, in no particular order
I don't test battery life on any Chromebook until it's been charged and recharged a few times, so I can't speak to that yet.
I love that Acer split up the power and volume buttons. Power is on the left and volume is on the right. I've lost track of how many times I've hit the wrong one on other Chromebooks because they're next to each other.
I appreciate the sliding camera shutter and fully expect it on every Chromebook I use going forward.
I thought I'd miss the fingerprint sensor found on the HP. Nope, this model of the Spin 714 doesn't have one. Turns out I don't miss it, although I know others might. I only log in to a Chromebook once or twice a day because I use it so much.
The 1080p webcam is a nice upgrade from older models. It doesn't handle backlighting as well as the HP does as you can see. Outside of that, it's impressive.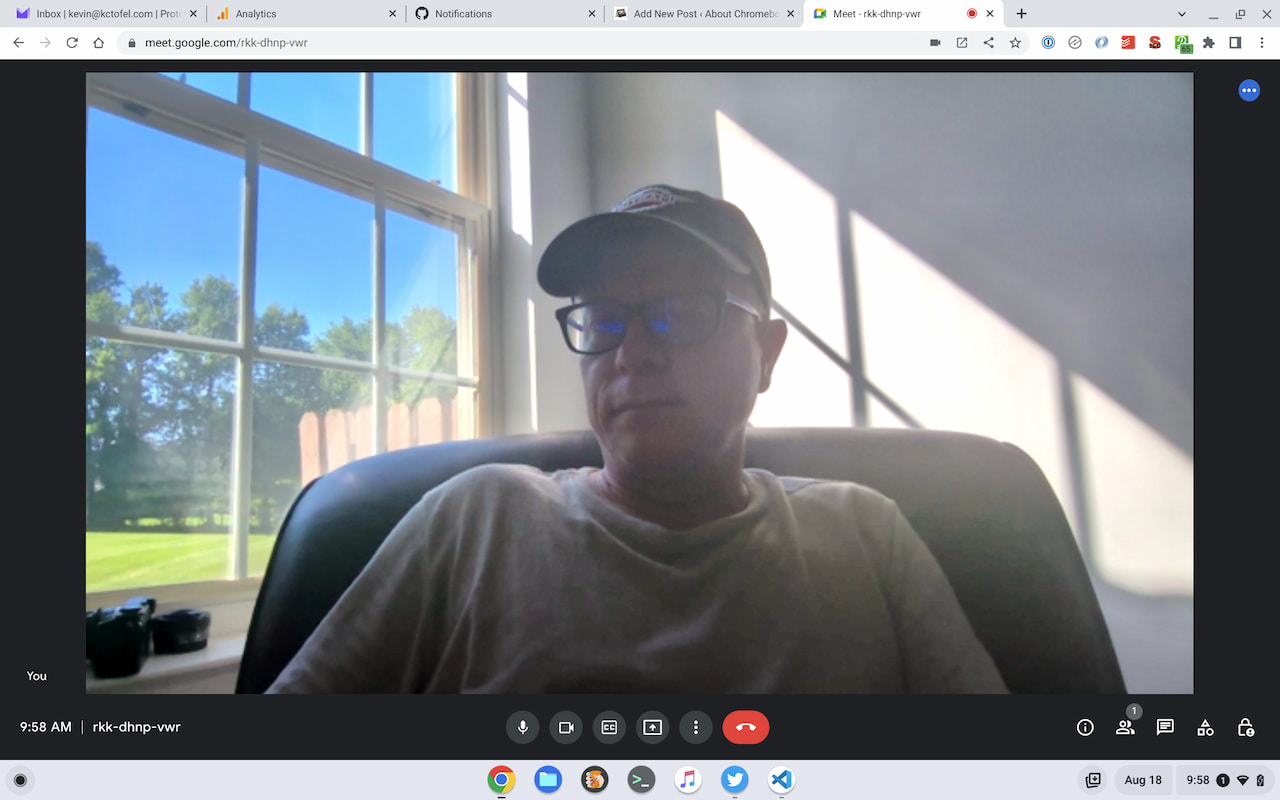 That's about it for now as I've only had a few days with the device.
If there are specific questions you have, drop them in the comments and I'll either answer them here or in the full review.