In 2020, the original Lenovo Chromebook Duet earned my pick as Chromebook of the year. Two years later, there's a successor device in the Lenovo Chromebook Duet 3. The updates are relatively small, which is fitting for Lenovo's portable 11-inch Chrome OS tablet. Do they bring big improvements? Read on for my Lenovo Chromebook Duet 3 review and the answer to that question.
[saswp-review id="review"]
Chromebook Duet 3 hardware and specs
Lenovo sent me the base model of this device, which I believe has an MSRP of $379. At some point during my Chromebook Duet 3 review period, the price was temporarily discounted to $259; however, at the moment, Lenovo's site doesn't show availability at any price.
Regardless of that, here's what you get:
CPU
Eight-core 2nd-gen Qualcomm Snapdragon 7c compute platform up to 2.55 GHz
GPU
Qualcomm Adreno 618 GPU
Display
10.9-inch IPS 2000 x 1200 display, glossy finish, USI 2.0 stylus support,
16:10 aspect ratio, 400 nits brightness, external monitor testing worked at 1440p at 60Hz and 1080p at 75Hz
Memory
4 GB DDR4x-2133 MHz memory
Storage
64 eMMC storage
Connectivity
802.11ac (2×2) WiFi 5, Bluetooth 5.1
Input
Non-backlit, detachable keyboard, multitouch trackpad
5 MP webcam and 8 MP rear camera,
Dual-array microphones
Ports
2 USB Type-C 3.2 ports,
supporting PD 3.0, data, and DisplayPort 1.4
Battery
29 WHr battery, expected run-time up to 12 hours
Weight
Around 2 pounds with keyboard, 1.14 pounds tablet only
Software
Chrome OS automatic updates through June 2029
Changes from the prior model include the chipset, changing the display aspect ratio from 16:9 to 16:10 and a slightly higher screen resolution. The Duet 3 also gains a USB Type-C port, so there's now one on each side. And the keyboard uses Lenovo's scalloped keycaps, which improves the typing experience.
All in all, this is a well-built, lightweight Chrome OS tablet that looks and feels better than you'd expect at this price. The non-backlit keyboard attachment is included as is the removable kickstand.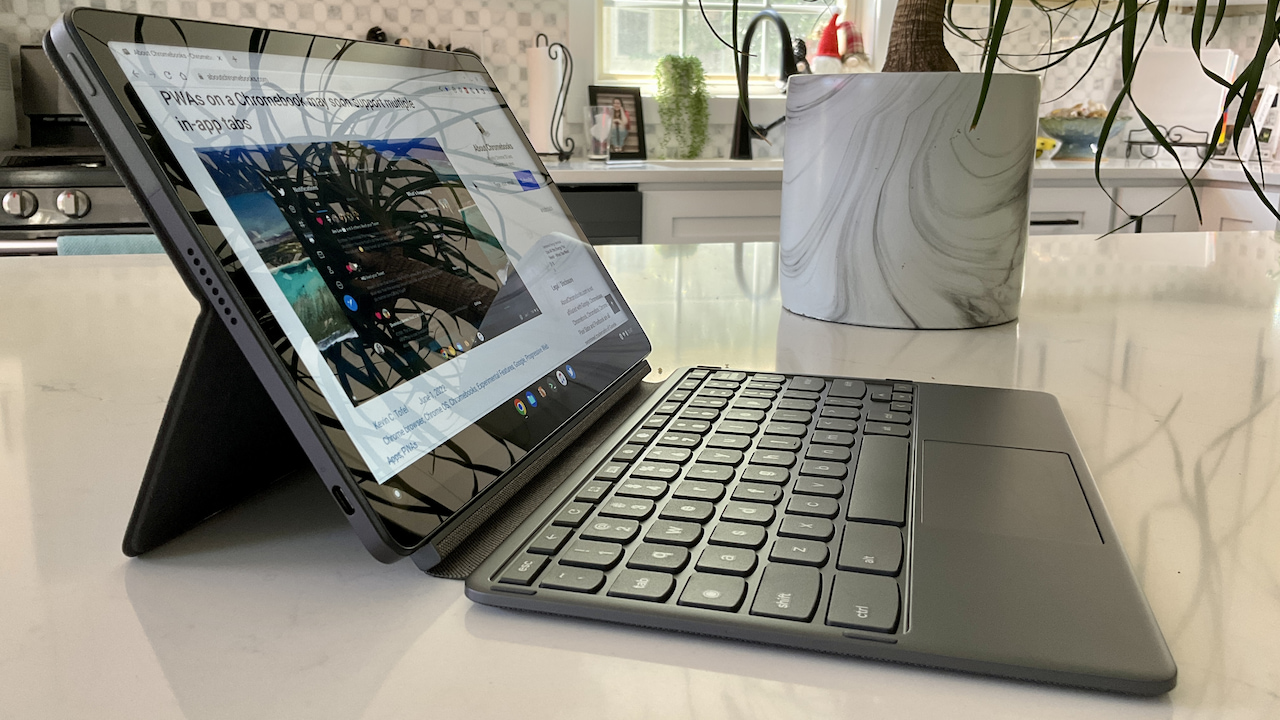 You don't get a USI stylus in the box and unfortunately, you're not going to be using one if you already have a USI stylus. That's because the Duet 3 supports USI 2.0 and those pens aren't available yet. Lenovo has one in the works but no date for availability.
You'd think any USI stylus would work because the "U" stands for universal. However, due to the higher resolution of the Duet 3, that's not the case. That could be a downer for those planning to take notes on this tablet. At least for now.
And another thing to watch out for: Local storage capacity. Lenovo will offer this device with either 64 or 128 GB of eMMC 5.1 storage but not with a microSD card. You get what you get when it comes to storage and that's it.
Lenovo Chromebook Duet 3 performance
If you read my review of the Lenovo Chromebook Duet 5, a similar but larger Chrome OS tablet, you'll know what to expect when it comes to performance. That's because internally, the Duet 3 and 5 are practically identical. Both use the same second-generation Qualcomm Snapdragon 7c chipset, for example.
So my usage experience between the two is also practically identical. Here's what I said about the Duet 5 and the same holds true with it's smaller sibling:
It's fine for browsing with a dozen or so tabs, using web services, and running a few Android apps. Put another way: I could get my work done on the Duet 5 with no problem; it just takes a little longer than I'm used to from time to time.
For an ARM-based Chrome OS tablet, I find the performance more than acceptable. Especially for the cost. Yes, you could spend a little more for a recent Intel-based Chromebook and you'd have a slightly faster experience. I wouldn't call the speed difference between the Duet 3 and a Pentium-powered device to be massive though.
However this chipset upgrade from the original Chromebook Duet does
Here's a set of benchmarks for perspective; note the figures for the original Duet in the first column compared with those for the Duet 3:
Test
Lenovo Chromebook Duet
MediaTek P60T
HP Chromebook X2 11
Snapdragon 7c
Lenovo Duet 3
2nd-gen Snapdragon 7c
Lenovo IdeaPad 5i
11th-gen Pentium
Speedometer 1.0
48.59
90.93
93.5
249.8
Speedometer 2.0
29.52
51.4
51.3
144.0
JetStream 2
37.65
58.25
66.495
130.35
Basemark 3.0
210.02
276.69
283.24
1,032.8
Octane 2.0
10,518
22,314
25,096
47,152
Higher numbers are better
The best way I can summarize overall performance is not glacially slow and not wickedly fast. Instead, it's "just right" for casual browsing, some Android apps (even light gaming apps) and daily online productivity.
What's the Chrome OS experience like?
The Duet 3 can do everything any other Chromebook can do, of course. You just need to keep in mind that a $300 Chromebook won't quite compete on performance with a $500 Chromebook. Having said that, I didn't experience any show-stopping hiccups in Chrome OS. And that includes using virtual desks, overview and split screen mode and the new productivity launcher.
I used this tablet full time for all of my work and while I'm used to a quicker overall experience on my personal Chromebook with Core i5 and 16 GB of RAM, I didn't get frustrated. I wrote blog posts, managed email, streamed online video content and ran the occasional Android app. I even enabled Linux and got some coding done in Visual Studio Code (an ARM version debuted last year), although my programming tasks don't include writing or building massive applications.
The only real challenge I ran into was the limited amount of memory: As I opened and closed tabs throughout my day, I'd see some background tabs eventually start reloading. So I'd opt for the upcoming Duet 3 model with 8 GB of memory to resolve this.
If you're going to use the Lenovo Chromebook Duet 3 as a primary device, I would recommend pairing it with an external monitor. I tested this with my 27-inch 1440p gaming monitor and had no issues using it as a second display.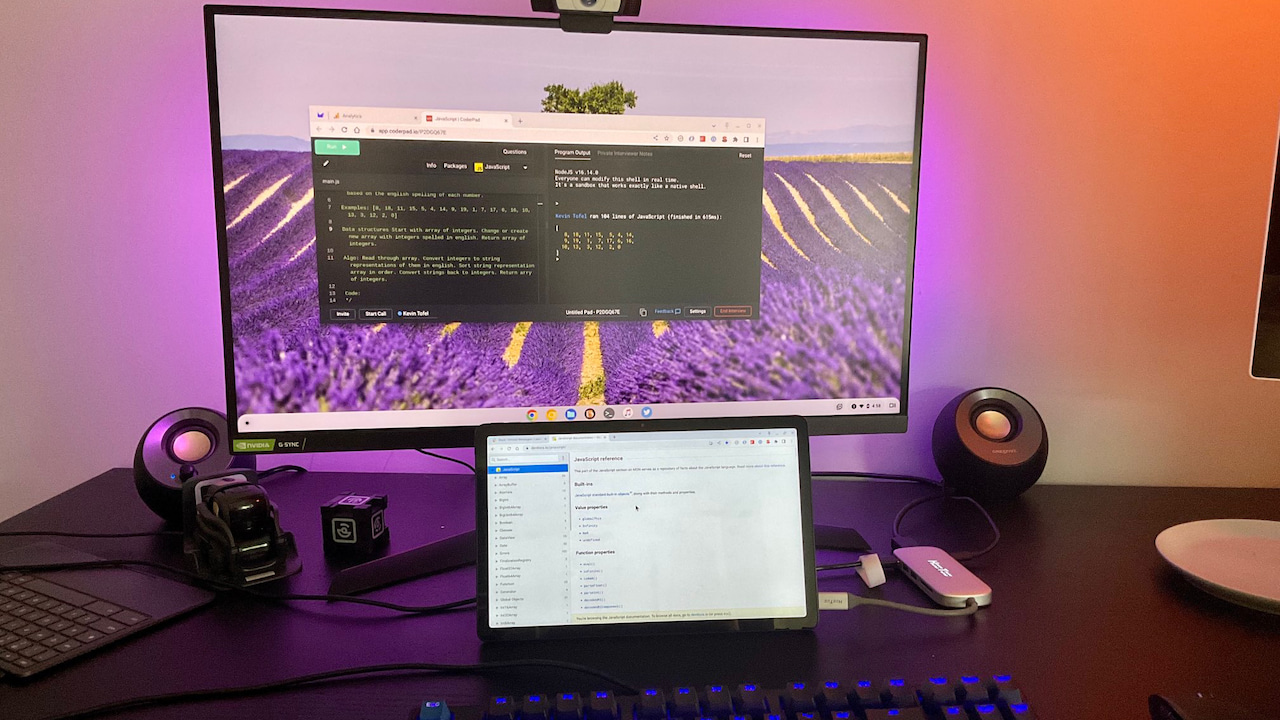 Unlike the original Chromebook Duet, this new model can easily push a 1080p signal at 75fps on my monitor. I added a mechanical USB keyboard and wireless mouse for this setup and enjoyed the experience.
While I wasn't impressed by the audio and video capabilities of the Duet 3, they're passable. Images from the webcam on Google Meet calls weren't the sharpest for example. And the pair of one watt speakers are average at best. However, when you're looking at a device that's $300 or less, this is to be expected. Boosting these components adds costs and I'm sure Lenovo had a price point in mind for this tablet.
And although the trackpad is small, it works quite well. So too does the keyboard, which is slightly larger than what the original Duet offered. Yes, it can take time to get used to the size of certain modifier keys. That's a compromise that has to be made when there's only so much space to work with. I found the typing experience to be quite good.
Lenovo's claim of 12 hour battery life is a bit optimistic. Then again, most battery life claims are. However, I routinely ran the device for no less than 9 hours on most days and sometimes even got a full 10 hours of use. With quick charging capabilities, I don't think battery life will be an issue for most buyers.
Should you buy the Lenovo Chromebook Duet 3?
At this price, the Duet 3 is a solid value. However, the purchase decision all depends on how you plan to use your Chromebook. If you're looking for above average performance or a powerful primary device, you might want to look elsewhere.
While I said I could (and did) use the Duet 3 as a full-time Chromebook, I wouldn't purchase it for that purpose. I prefer a faster experience, particularly when using Linux on Chromebooks, and I'm willing to pay more for that.
Would I drop $300 or so for this as a secondary, around the house Chromebook though? Absolutely! The bright, high resolution display is nice to look at while the footprint and weight of the Duet 3 is small and low. I think I used this tablet in every room of my house (except the bathrooms!) with ease.
I'd say if you're in the market for an entry level Chromebook and your tasks or workflow complements that type of device, the Lenovo Chromebook Duet 3 is a good choice. It's not nearly as limiting as the original model, which many people raved about; for good reason. This is great Chrome OS on the go device that can also work reasonably well in a stationary or docked environment as needed.
Just like the original, I think Lenovo has created a compelling, highly portable Chrome OS tablet at a reasonably low cost. If that's what you're looking for, you'll find it here. Keep in mind if you want a larger display and keyboard, along with better color reproduction, the Lenovo Duet Chromebook 5 is a good option. Heck, you can get this larger device with 8 GB of memory and 128 GB of storage for $379 today at a Best Buy.
I still think that device is a better laptop than tablet, but either way, the visual experience is outstanding.
Frankly, Lenovo owns the Chrome OS tablet market in either the 11-inch or 13.3-inch size at this point. You really can't go wrong with either choice, depending on which screen size you prefer.
About the author
Kevin C. Tofel has covered technology since 2004. He's used ChromeOS since Google debuted the CR-48 in 2010, reviewing dozens of Chromebooks since then. He worked for Google's Chrome Enterprise team from 2016 to 2017, supporting the launch of Android app support. In his free time, he uses Chromebooks to learn software engineering at
Launch School
. In 2019, Kevin joined the CS Curriculum Committee at his local community college.
Liked this content? Subscribe for the free, weekly newsletter