Over the past two years, a surprising number of people have happily bought the Lenovo Duet Chromebook. The 10.1-inch Chrome OS tablet debuted at $299 with included keyboard attachment and stand. Sure it wasn't the fastest device by far. But it was highly capable and for not much money. That's why I dubbed it my 2020 Chromebook of the year. Now there's a $399 successor: The Lenovo Duet 3 Chromebook.
Lenovo announced the new Chrome OS tablet on Monday in tandem with this year's Mobile World Congress event.
A good mix of old and new for the Lenovo Duet 3 Chromebook
There's a price bump of $100 over the original, which I'll get into shortly. And there's an appealing mix between similar features to the 2020 version and more modern updates.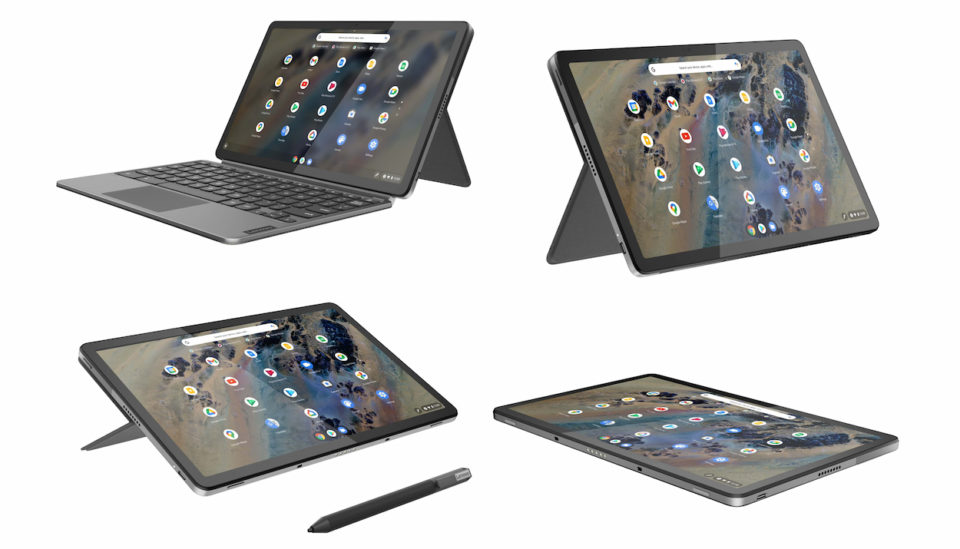 For starters, the Lenovo Duet 3 Chromebook gets a subtle screen boost. The original has a 10.1-inch 1920 x 1200 LCD with a 16:9 aspect ratio. This time around? It has an 11-inch 2K display with a slightly taller 5:3 ratio. You still get touch and stylus support.
Oh and when you fold that keyboard under the Lenovo Duet 3 Chromebook, it disables the keys and switches into Chrome OS tablet mode.
Inside, the capable but aging MediaTek processor is replaced with a second-generation fanless Qualcomm Snapdragon 7c.
Yes, that's aging too, but it's the same setup as the bigger Lenovo Duet Chromebook 5 I recently reviewed. And for most people, it has enough day-to-day performance. And unlike the original Duet Chromebook tablet, you're not limited to just 4 GB of memory. There will be options with double that.
With the Snapdragon 7c, you're still limited to WiFi 5 and Bluetooth 5.1, but that shouldn't be a dealbreaker. You still get both a 5- and 8-megapixel camera.
Storage is still the slower eMMC type, but I'd expect that for a device in this price range. You'll get a choice between 64, 128, and 256 GB capacity options. Sorry, there's still no microSD card slot for expansion. But there is an additional USB Type-C port. This year's model has one on each side, which I'd take over a microSD slot any day personally.
The Lenovo Duet 3 Chromebook is expected to last up to 12 hours on a charge so I'd expect a full work-day out of it.
Well, if you plan to use it full-time for work, that is. It's definitely possible as I know some readers use their old Duet tablet with an external display and keyboard for this purpose.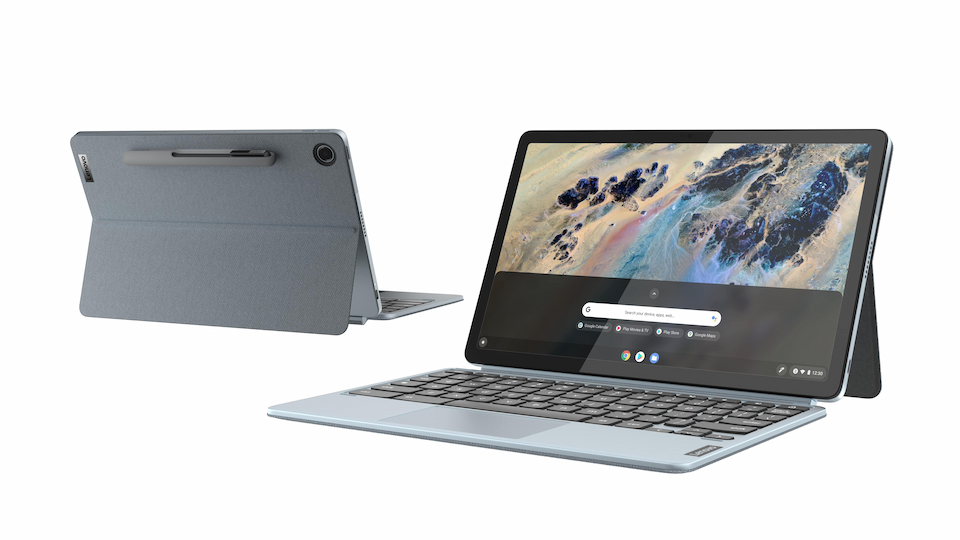 All in all, this is a relatively solid upgrade. It offers a performance boost and a slightly larger but still portable package. The tablet itself weighs 1.14 pounds, while the keyboard folio adds another 0.95 pounds. This year, a Storm Grey color is added alongside Misty Blue.
What about that price point?
Now let's get back to that price. The Lenovo Duet 3 Chromebook starts at $399 and will be available in May. The real question is: Is that the base model price?
If so, I think the price is a smidge high. I'd rather see it at $349 with 4 GB of memory and see an 8 GB model at that $399.99 price point in the U.S.
The main reason? If the 8 GB model is priced at $449 or so (that's just my expectation), it's awfully close to the $499 Lenovo Duet 5 Chromebook price point. And that has a much better OLED display, albeit bigger, and likely typing experience due to the keyboard size.
I'm curious what you all think of this pricing, not to mention the follow-up to one of the most recent popular Chromebook models.
About the author
Kevin C. Tofel has covered technology since 2004. He's used ChromeOS since Google debuted the CR-48 in 2010, reviewing dozens of Chromebooks since then. He worked for Google's Chrome Enterprise team from 2016 to 2017, supporting the launch of Android app support. In his free time, he uses Chromebooks to learn software engineering at
Launch School
. In 2019, Kevin joined the CS Curriculum Committee at his local community college.
Liked this content? Subscribe for the free, weekly newsletter