Acer Chromebook Vero 514 review: A unique top performer
For the first time in a long while, I got to use a uniquely different Chromebook. During my Acer Chromebook Vero 514 review period, the device kept drawing me to its recycled plastic that reminds me of concrete. This is a ChromeOS laptop that you probably either love or hate the look of because of that. I'm in the former camp. But this isn't just a case of beauty being only skin deep. The $599 Acer Chromebook Vero 514 is a top-notch performer, capable of keeping up with any of the other 12th gen Intel Chromebooks available today.
The Acer Chromebook Vero 514 isn't flashy looking
Since the main differentiator between the Acer Chromebook Vero 514 and other laptops is the look and feel, let me start with that. I've long been a fan of flashy-looking, all-metal laptops for a while. I've given them bonus points for a thin design too. The Acer Chromebook Vero 514 is neither of these.
I don't think that's a drawback though. You might and I can understand why. However, I appreciate the bland-colored recycled materials used here. And the squared design with slightly rounded corners has a Google Pixebook vibe going on. Maybe I like this because I've adopted a minimalistic lifestyle over the past few years. Whatever the reason and whatever you think, the Acer Chromebook Vero 514 looks unique in an understated way.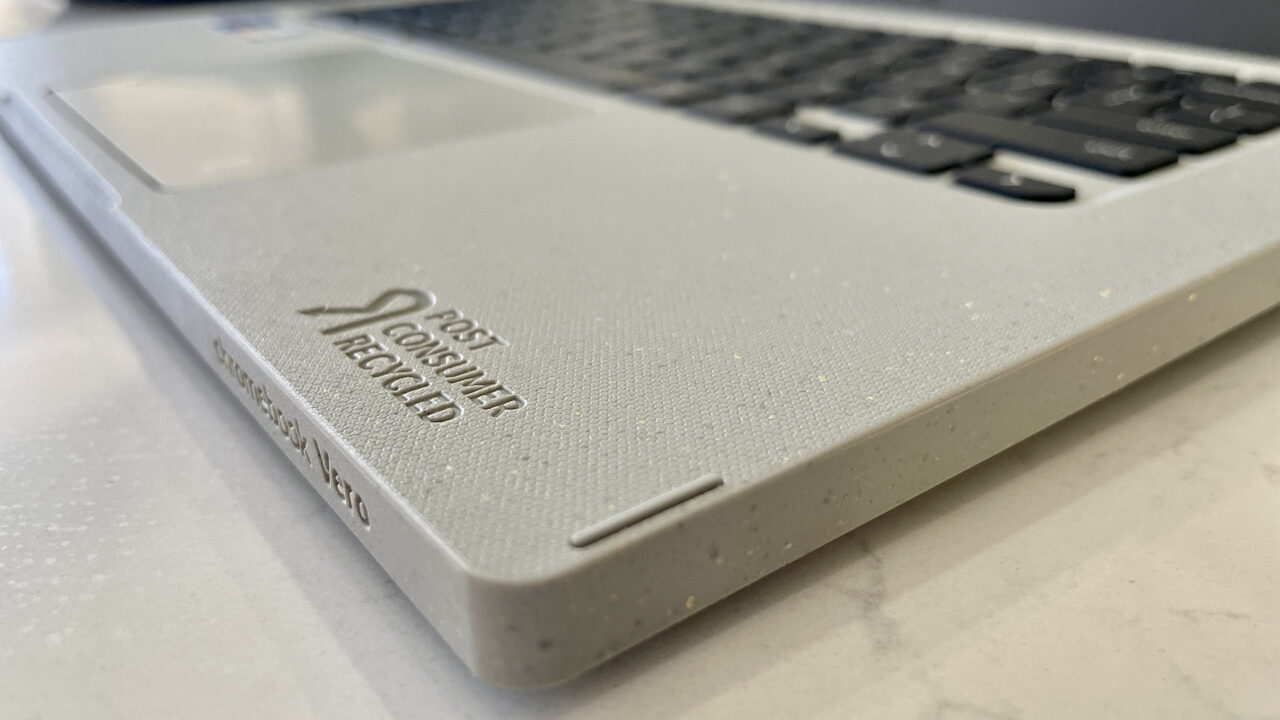 Some may not like the embossed reminders of recycled materials used one the chassis, but I don't mind them. The yellow footrests and yellow "E' and "R" keys aren't bothersome either. The latter color shade is so slight, you might even miss seeing it.
The chassis uses 30% post-consumer recycled plastic while the keycaps use 50% of the same materials. The trackpad is made from recycled ocean-bound plastic.
This is good from an eco-friendly standpoint and it's even better than the Vero 514 is extremely well-built. I don't feel like I'm sacrificing build quality or any user experience with this Chromebook.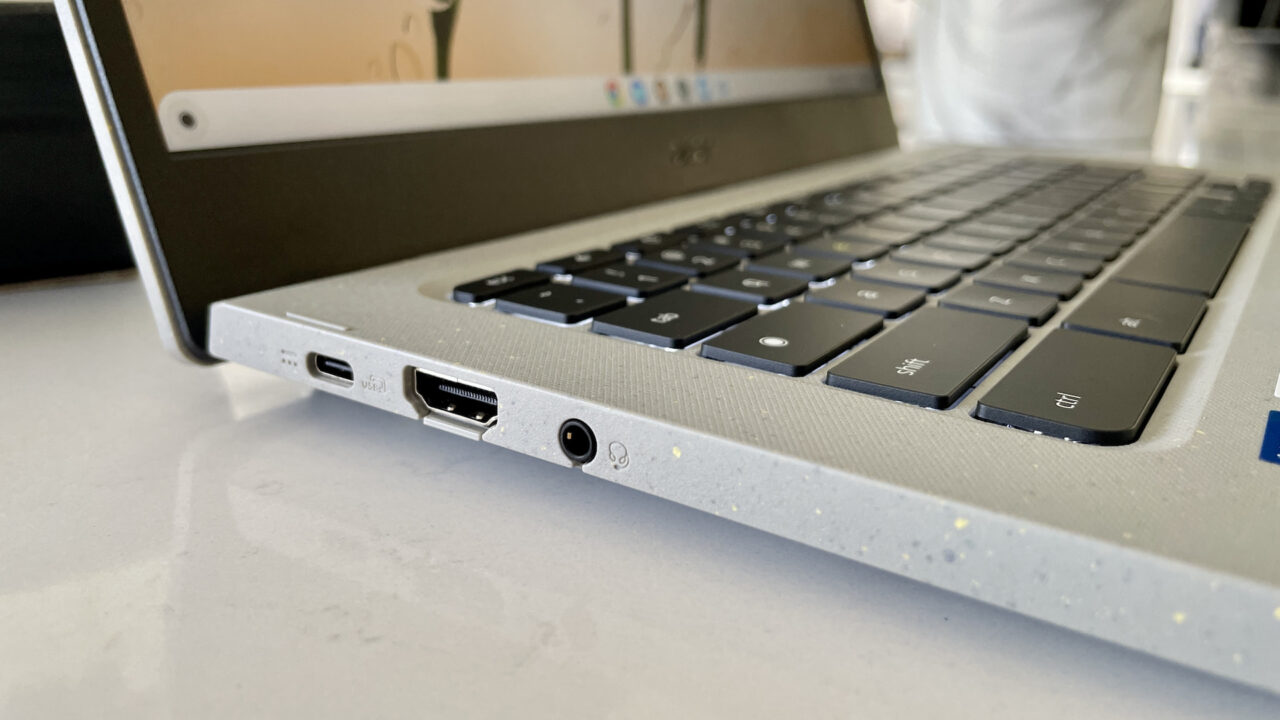 In fact, the chassis is more rigid than most other metal chassis Chromebooks I've used. And if you didn't tell me the trackpad was made from recycled ocean-bound plastic, I'd never know. It has a smooth feel, great responsiveness, and a very positive click mechanism.
All in all, don't let recycled materials worry you here. This is one solid Chromebook. Yes, the texture of the entire chassis feels a little roughed up. Just barely though. Best of all, there's no chance of any fingerprints mucking up the Acer Chromebook Vero 514 with these materials. It's all matte. Even the display is matte although you shouldn't have any fingerprints on it anyway. This configuration doesn't have a touchscreen, which might be a dealbreaker for some.
Other elements you might be looking for and not find here are a fingerprint sensor, a microSD slot, and a small bottom bezel on the display. I can't say I like the bottom chin but I can live with it. The speakers are bottom firing as well, which is common on many Acer Chromebooks.
Aside from those aspects, there's much to like here. Especially when you get past the cover of this Chromebook and dive inside.
Premium components inside the Acer Chromebook Vero 514
I'm a bit surprised this Chromebook is in the 500 series of devices from Acer. Based on the specs, it seems like it should be a 700-series device. In fact, it shares many of the same internal components as the $729 Acer Chromebook 714 I reviewed and then purchased. So much so that it's identical in terms of hardware components to the 714, save for the slightly dimmer screen. The Chromebook Vero 514 tops out at 300 nits, while the Chromebook 714 peaks at 340.
Here's a rundown of the internals of the $599 configuration Acer loaned me:
CPU
10 core (12 threads Intel Core i5-1235U (3.3 GHz E-cores x 8 / 4.4 GHz P-Cores x 8
GPU
Intel Iris Xe MAX graphics
Display
14-inch, 1920 x 1080 resolution, IPS non-touch display, 16:9 aspect ratio,
sRGB 100% support, 300 nits brightness, 60 Hz
Memory
8 GB LPDDR4 memory
Storage
256 GB SSD M.2 PCIe NVMe
Connectivity
802.11ax (2×2) WiFi 6E, Bluetooth
Input
Backlit keyboard, multi-touch trackpad,
1080p flare-reducing webcam, dual-array microphone
Ports
2 USB Type-C 3.2 (left and right), 1 USB Type-A SuperSpeed port (right),
1 HDMI (left), headphone/microphone combo jack (left)
Battery
56 WHr battery with10-hour expected runtime,
50% recharge in 30 minutes
Weight
3.09 pounds
Software
ChromeOS automatic updates through June 2030
Given the similar internals as the Chromebook 714, you'd expect the 514 to perform similarly to that device. And it does.
Chromebook Vero 514 benchmarks
Test
Acer Chromebook Vero 514
12th gen Core i5
HP Elite Dragonfly Chromebook
12th gen Core i5
Acer Chromebook Spin 714
12th gen Core i5
Lenovo Flex 5i
11th gen Core i3
Speedometer 1.0
424
412
430
311
Speedometer 2.0
242
240
251
176
JetStream 2
227.353
222.375
227.924
151.88
Basemark 3.0
1387.25
1,387.51
1,392.81
1,179.9
Octane 2.0
83,553
77,747
78,533
55,360
Higher numbers are better
The Acer Chromebook Vero 514 returns very competitive benchmarks against the 714 as well as similar devices. The JetStream 2 test is a virtual tie between the two Acers. The Octane score from the Vero 514 is the highest I've ever seen.
Yet, the Vero's comparable performance comes at a much lower price point. Both the HP and Lenovo options have MSRPs topping the $1,000 mark, while the Acer Chromebook Spin 714 carries a suggested retail price of $729. Obviously, discounts and sales do happen but even so: The Chromebook Vero 514 is normally priced at $599.
Day-to-day experiences with the "concrete Chromebook"
Benchmarks aside, my own experience tells me that I could easily use this Chromebook as my full-time device. That shouldn't be a surprise since I own the Acer Chromebook 714. Using the Chromebook Vero 514 feels the exact same to me. And I use ChromeOS all day, every day.
Half of my time is with typical web apps and numerous open tabs. The other half is using Linux and VS Code for programming. I also tested a few Android apps, 4K content streaming, and other activities to stress the machine.
The Acer Chromebook Vero 514 doesn't break a sweat doing any of this. Yes, the fan will kick on from time to time. It's not the quietest I've heard. It's also not the loudest, so I feel it's a reasonable expectation and compromise.
All of this performance doesn't hit the battery as hard as I thought either. I should have known that from using the similar Acer Chromebook 714 though. In fact, I routinely get a smidge more run-time on a charge with the "concrete Chromebook", likely due to the lower maximum screen brightness. I averaged between 7 and 8 hours on a charge during my typical usage. Fast charging can bring the battery from dead to 50% in just 30 minutes, which is appreciated.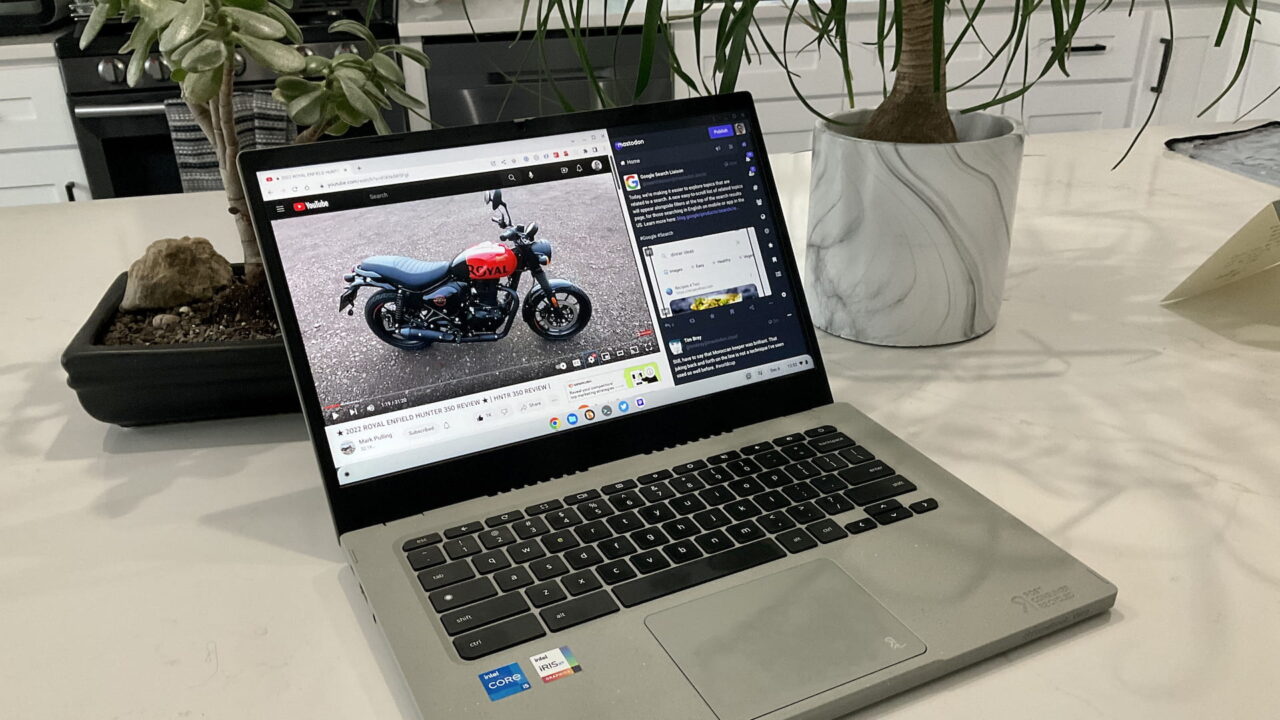 Speaking of my typical usage, display and input are key considerations to me. I can say with confidence that the Acer Chromebook Vero 514 meets or exceeds them here. The 1920 x 1080 display may lack touch capabilities, but the color reproduction and viewing angles are top-notch. The keyboard and key travel, plus the trackpad are definitely above average too. I wouldn't mind if the trackpad were a little wider, but that's just a personal preference.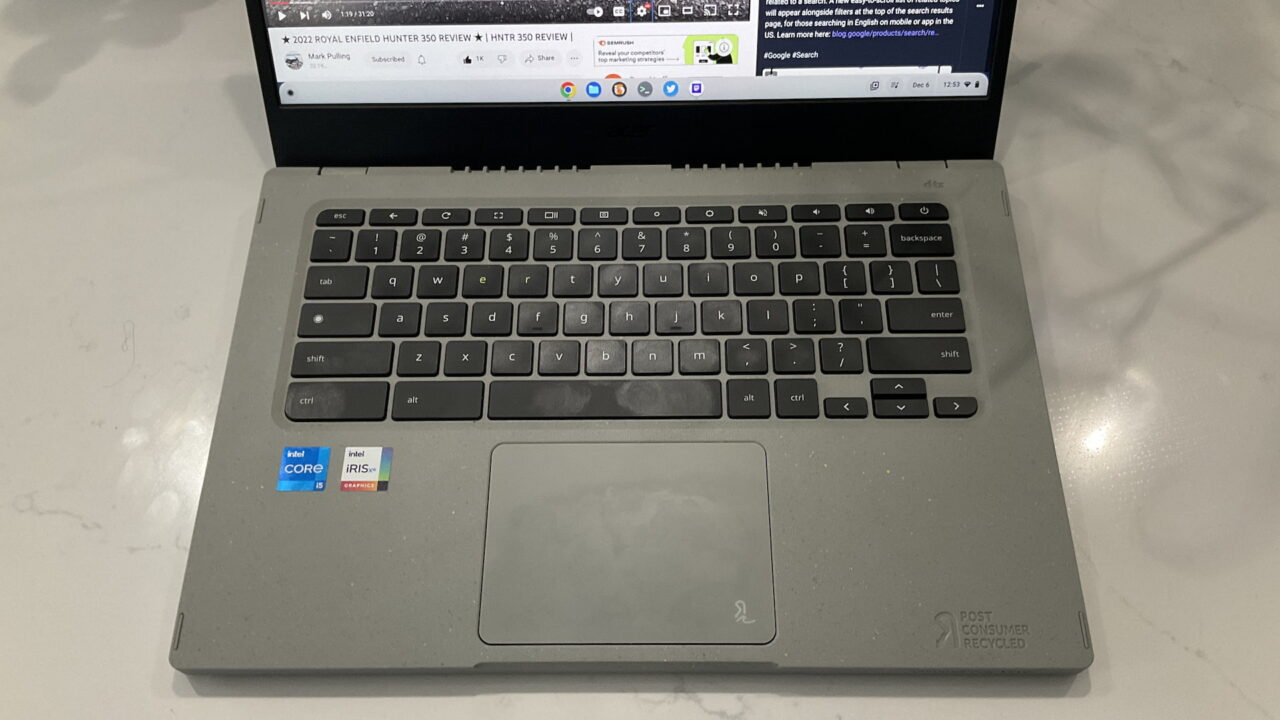 The speakers are… just OK. This is an area where I'd like to see Acer step things up in the future. They're reasonably loud but sound a bit thin.
The camera, however, really shines. Aside from the inclusion of a privacy shutter, the 1080p webcam does an admirable job handling any backlighting. I took Google Meet calls using this camera and the output was better than on the Framework Chromebook, for example, not to mention compared to my Chromebook 714. Of course, the Framework Chromebook is unique in its own right. You can easily repair, replace or upgrade just about any component. That's not the case here.
Should you buy the Acer Chromebook Vero 514?
For the money, I'm impressed with this package. If I hadn't already bought the Acer Chromebook 714, I'd probably own a Vero 514 right now. It meets my higher tier of ChromeOS needs and I like the look and feel of the recycled plastic design. If you're looking for one of the fastest ChromeOS experiences, the Acer Chromebook Vero 514 has to be a contender. More so if you value the eco-conscious approach Acer took here.
The only "gotcha"s are if you want or need a touchscreen, microSD card slot, or a fingerprint sensor. Acer has told me that other configurations may be available. This depends on Acer's own sales plan and the retailer's desires.
Even if you don't need a super-fast Chromebook, this one should still be in the mix. However, I'd consider the $499 model with 12th gen Intel Core i3 inside. It's $100 less expensive and the only sacrifices you make are the CPU, half the local storage as the higher configuration, and a 30 Hz display. When many mid-tier Chromebooks already cost $400 to $450, the Acer Chromebook Vero 514 competes well.