Now that the Chrome OS 96 Stable Channel has been fixed and pushed out, it's time for the next version. The Chrome OS 97 Stable Channel arrives on Chromebooks this week and there's quite a bit that's new here. Google doesn't yet have an official blog post on The Keyword about what's new. But the release news is live, so let's dig in.
An improved Gallery app in Chrome OS 97
Right off the bat, the Chrome OS 97 update makes the Gallery app more useful. As 9to5 Google notes, you can now open multiple windows of the Gallery app. This is handy for viewing more than one image on your Chromebook at a time. And the audio player, which is part of the Gallery app, got a facelift too.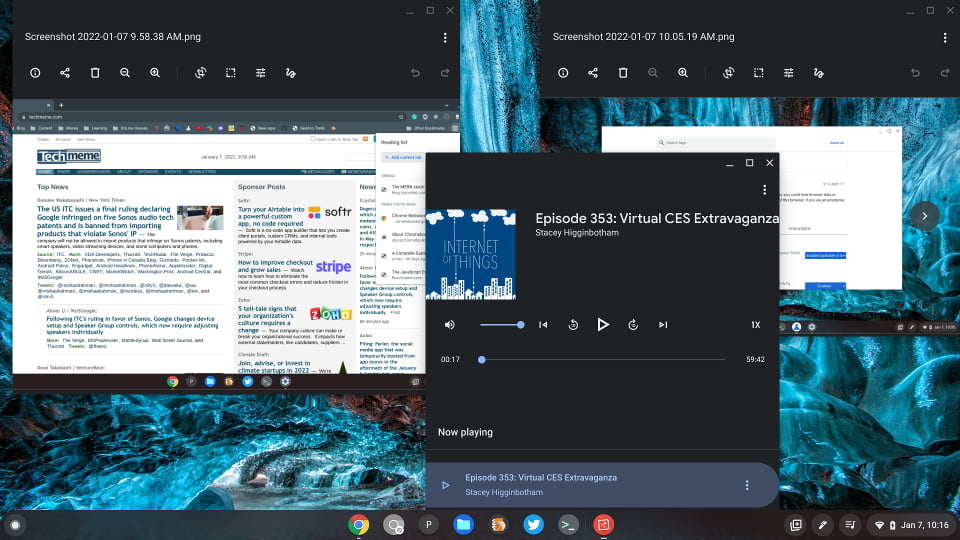 When opening an audio file, the media player starts in a full-screen mode. You can resize it as you like, as shown above, although you may not see all of the items in the Now Playing section. Additional scrubbing options to move through media and 10-second skip controls are also available.
See a calendar
If you've enabled the Chrome OS experimental productivity launcher that I reported last month, there's a new calendar trick available. Head over to chrome://flags#calendar-view to enable a full calendar view option. Hit the Restart button and then click specifically on the date in your System Tray. You'll get a nice calendar when you need to check a date.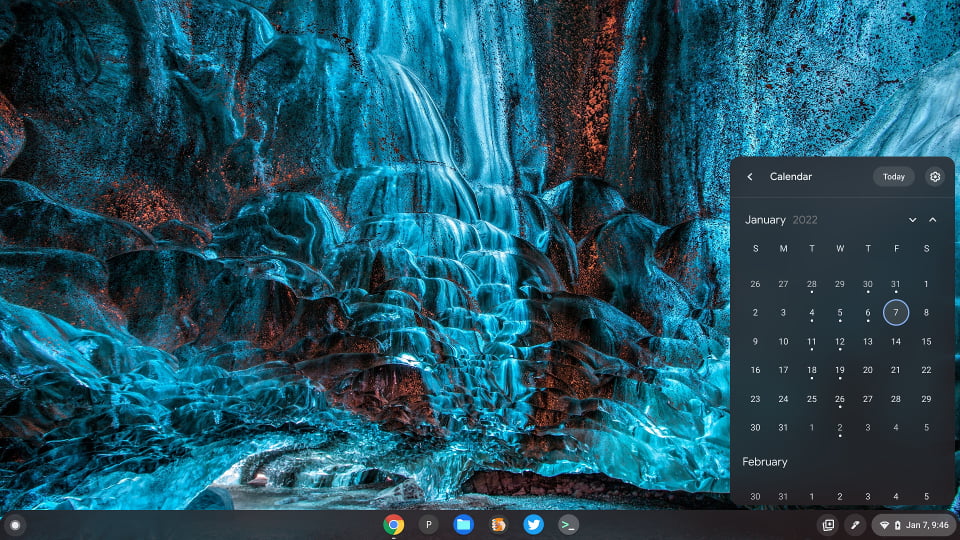 At the moment, you can only view dates, not click on them for any additional functionality. I suspect that will change in the coming months though.
Chrome OS Launcher tweak for recent files
Speaking of the new Launcher, I see that Google added recent files atop the app icons.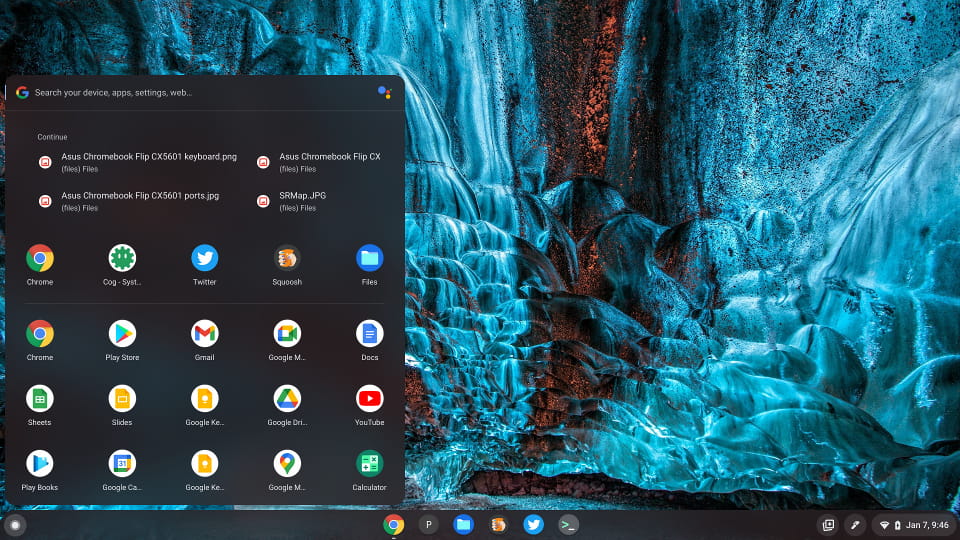 That wasn't present in Chrome OS 96, or if it was, I didn't see it. I didn't modify any flags for this new functionality.
An easier way to add to the Reading List in Chrome OS 97
Also in the Chrome OS 97 Stable Channel update is another way to add a browser tab to your Reading List. You'll need the Reading List enabled, of course, which I believe is still hidden behind a flag. If you do, when you open the Reading List pane on your Chromebook, you'll see a new "Add current tab" option right there. Tap it and the web page is saved for later reading.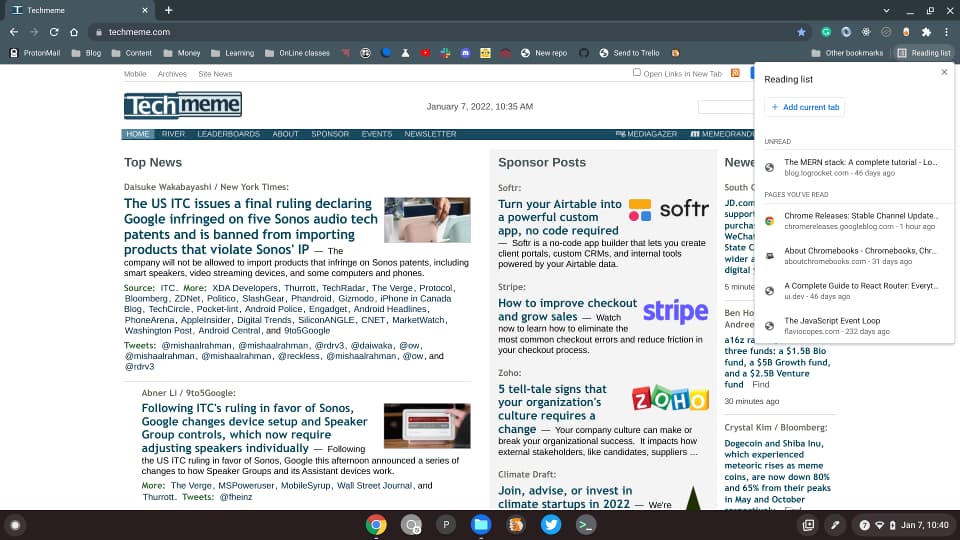 Custom virtual desks on your Chromebook
I covered this a few weeks ago and while the feature is still experimental (here's how to enable it), it's available in the Chrome OS 97 Stable Channel. This lets you customize the names of any virtual desks on your Chromebook. No need to choose between "Desk 1" and "Desk 2" anymore. You can name them whatever you want such as "Home" and "Work" if you like.
An on-device grammar check
As noted in December, Google was working to bring an on-device grammar check to Chromebooks. It's tucked away in the experimental flags within Chrome OS 97. Here's what it looks like and how to use it.
Chrome OS features that didn't make the cut

I really like the new option to enable and manage multiple Linux containers that I saw in Chrome OS 98. Unfortunately, even with the proper flag turned on, this experimental feature doesn't seem to be available in Chrome OS 97.
The full changes to app notifications in Chrome OS haven't yet been implemented. If you missed what they are, I explained last month that Google is removing app-specific notification settings from the Quick Settings option. Instead, there's a page in Settings to manage these, which I think offers a better user experience. Once you have a certain number of apps, you can't see them all from the Quick Settings, as shown below.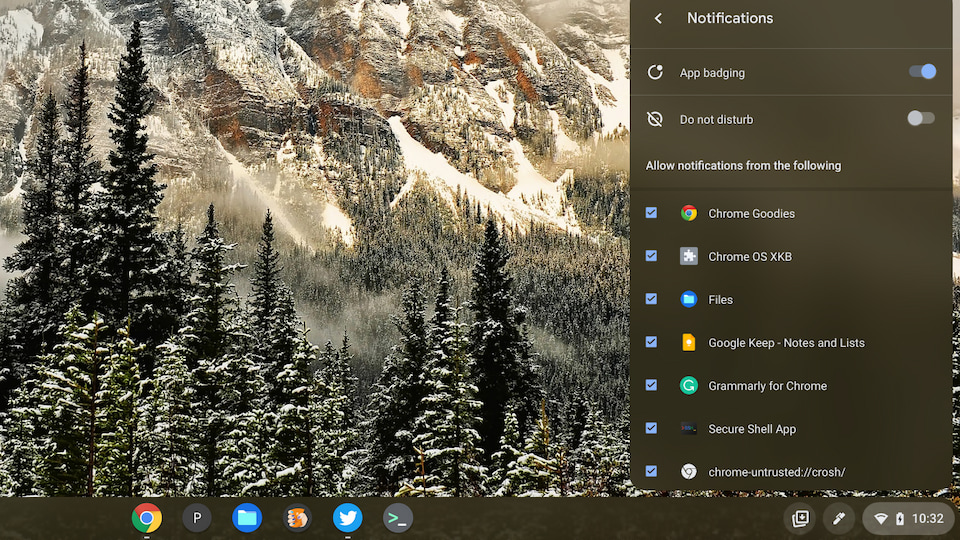 At some point, this interface will disappear from the Quick Settings, but it lives another day in the Chrome OS 97 update.
About the author
Kevin C. Tofel has covered technology since 2004. He's used ChromeOS since Google debuted the CR-48 in 2010, reviewing dozens of Chromebooks since then. He worked for Google's Chrome Enterprise team from 2016 to 2017, supporting the launch of Android app support. In his free time, he uses Chromebooks to learn software engineering at
Launch School
. In 2019, Kevin joined the CS Curriculum Committee at his local community college.
Liked this content? Subscribe for the free, weekly newsletter