How to enable the on-device Chromebook grammar check in Chrome OS 97
I've long used Grammarly in the browser for both spelling and grammar checks. It really is fantastic; even the free version. But I may be switching. As reported last month, Google was working on an on-device Chromebook grammar checker. I didn't notice it after our most recent software update, but there in Chrome OS 97. Here's how to enable and use it.
Since this is a brand new feature, it's hidden behind an experimental flag. So you'll have to head over to chrome://flags#enable-cros-on-device-grammar-check and change the "Default" option to "Enabled". Then click the "Restart" button to restart your Chromebook's browser and turn the feature on.
This should do the trick, but to make sure, you can verify the new feature in your Chrome OS Settings app. You'll want to look for Languages & Inputs in the Settings menu, then choose Inputs.
What used to be a "Spell Check" option will change to a "Spelling and grammar check" feature, as shown: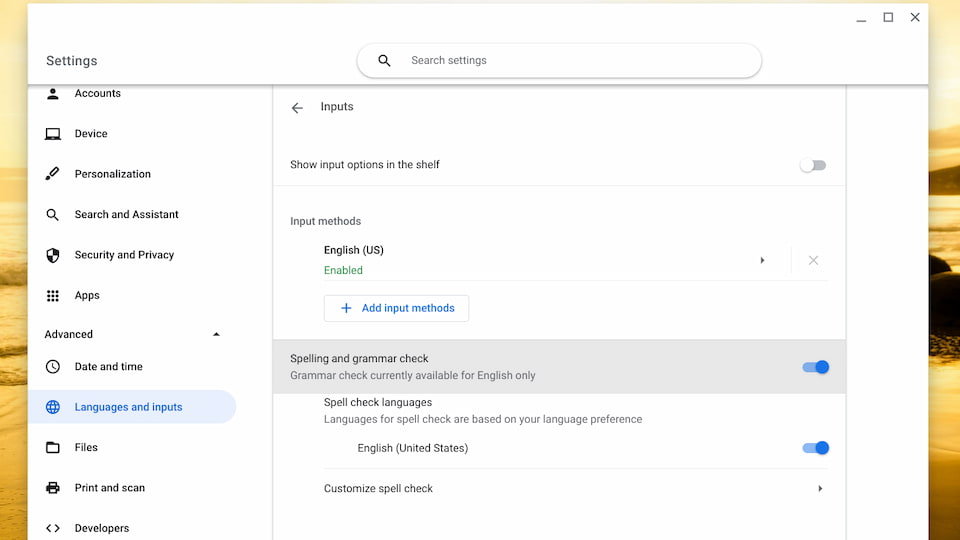 Note that the feature is currently available for English only. I'd expect it to support additional languages in the future, although I don't know when.
With the feature enabled in Chrome OS 97, you can now type any text in your browser and your Chromebook will underline any grammar issues with a blue line. This doesn't quite happen in real-time, at least not in my testing.
I noticed that I had to type a complete sentence before any mistakes were caught. To be honest, Grammarly may work the same way. I often type so fast that I'm not looking for the grammar error notifications until later!
When you see the blue underline, just click on it to see an auto-suggested grammar fix. You can then click the suggestion to make the change.
Here's an example of a comment I was leaving here on the site. (For testing purposes, I intentionally made grammar mistakes.)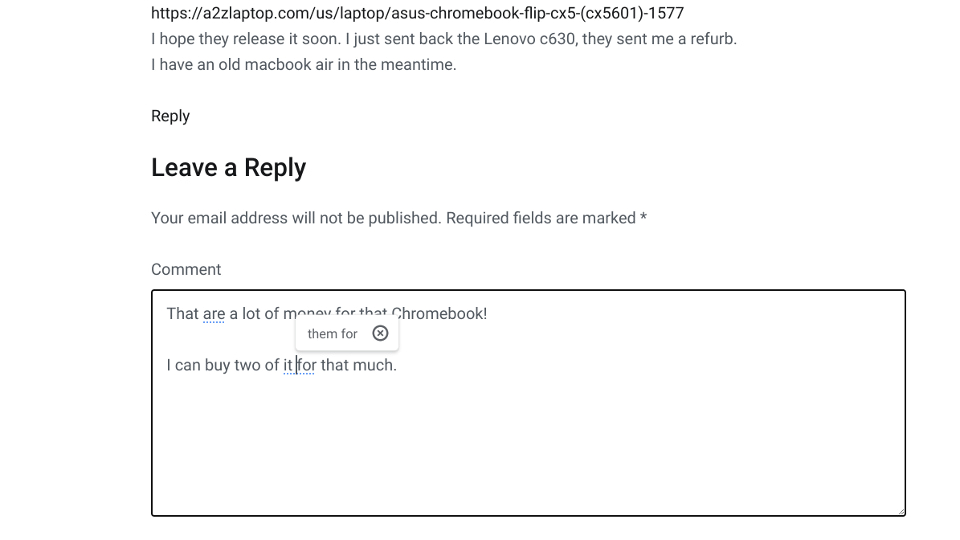 So far, so good, although this is pretty limited testing. I'll have to use the feature for a few days in lieu of Grammarly to see how it compares.
However, there's one important reason I'm already considering the switch. Google's grammar checker is designed as an on-device function. That means it should work offline as well. Grammarly doesn't work without an connection to the web.
While in the same comment form, I disabled the Wi-Fi on my Chromebook and added more text, along with some more intentional errors. Sure enough, the grammar check caught my errors and made the correct suggestions.
Again, more long-term testing is required to see if I'll make the switch.
But I'm already impressed with the Chromebook on-device grammar check. Offline functionality is always a plus and it comes with the added benefit of data privacy.