Some Chromebook cameras still broken since Chrome OS 97
I've been tracking a user-reported ChromeOS bug for the last six months relating to Chromebook cameras still broken. They're not physically broken; they're just not working. This issue first appeared in ChromeOS 97 and here we are now with ChromeOS 105 available. And yet, certain Chromebook cameras aren't functional.
As background, a specific subset of Chromebooks reported the camera issue back in April.
It started with ChromeOS 97 and appeared to only affect ARM-based devices. Then Pixelbook Go owners also reported the problem. Essentially, opening up the Camera app showed an all-black image as if the camera shutter was covered. These Chromebook cameras were rendered useless, as a result.
After I reported on the situation, Google responded with an official statement on Reddit:
Hello Chromebook Community, Thank you again for taking time to bring this to our attention and apologize for any inconvenience this may be causing. Our team anticipates that the fix will be available later this week with a software update and is not related to your device. We will share an update on this thread once the fix has rolled out. We appreciate your patience as we work on resolving this. Best, Alisha – On behalf of Chrome OSc
Then, with the release of ChromeOS 100, some of the affected Chromebook cameras started to work. In particular, the camera on some Lenovo Duet 5 devices appeared to be fixed.
However, others who own the same Chromebook still don't have a working camera based on recent comments in the bug report. And the same goes for Pixelbook Go owners as well, not to mention a few other devices.
Note that my Lenovo Chromebook Duet 5 review unit never experience the problem for some reason.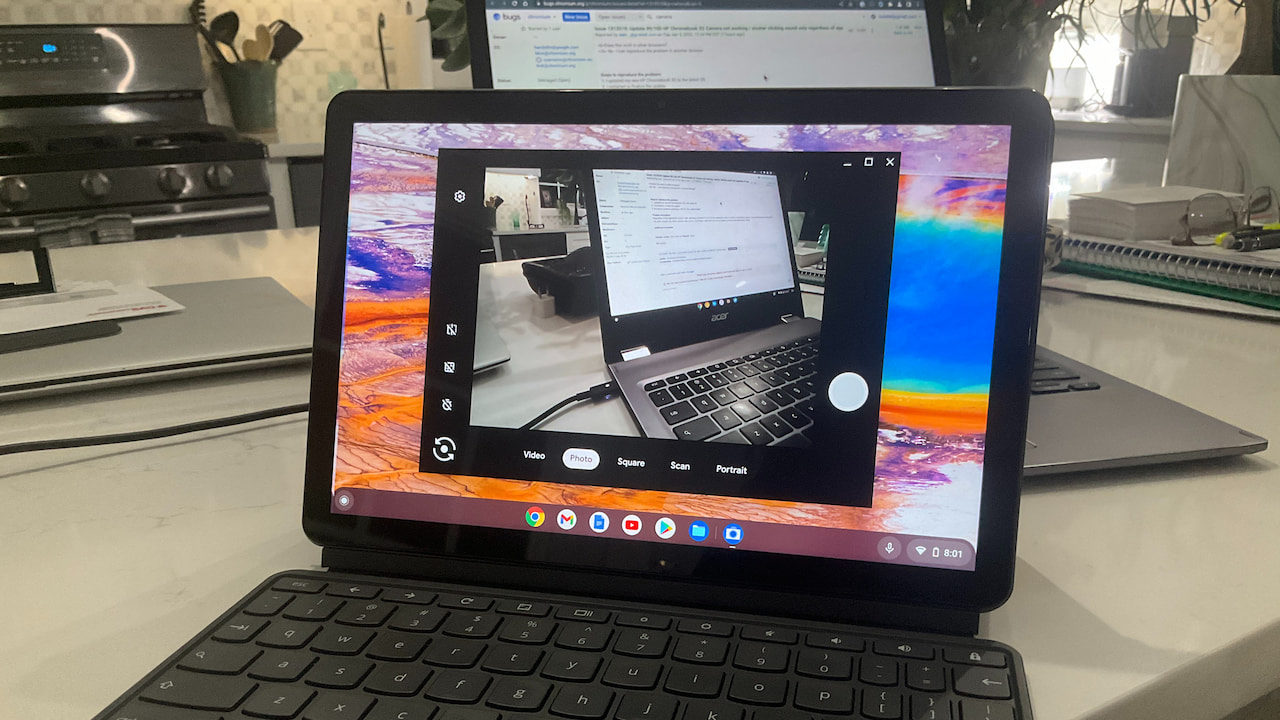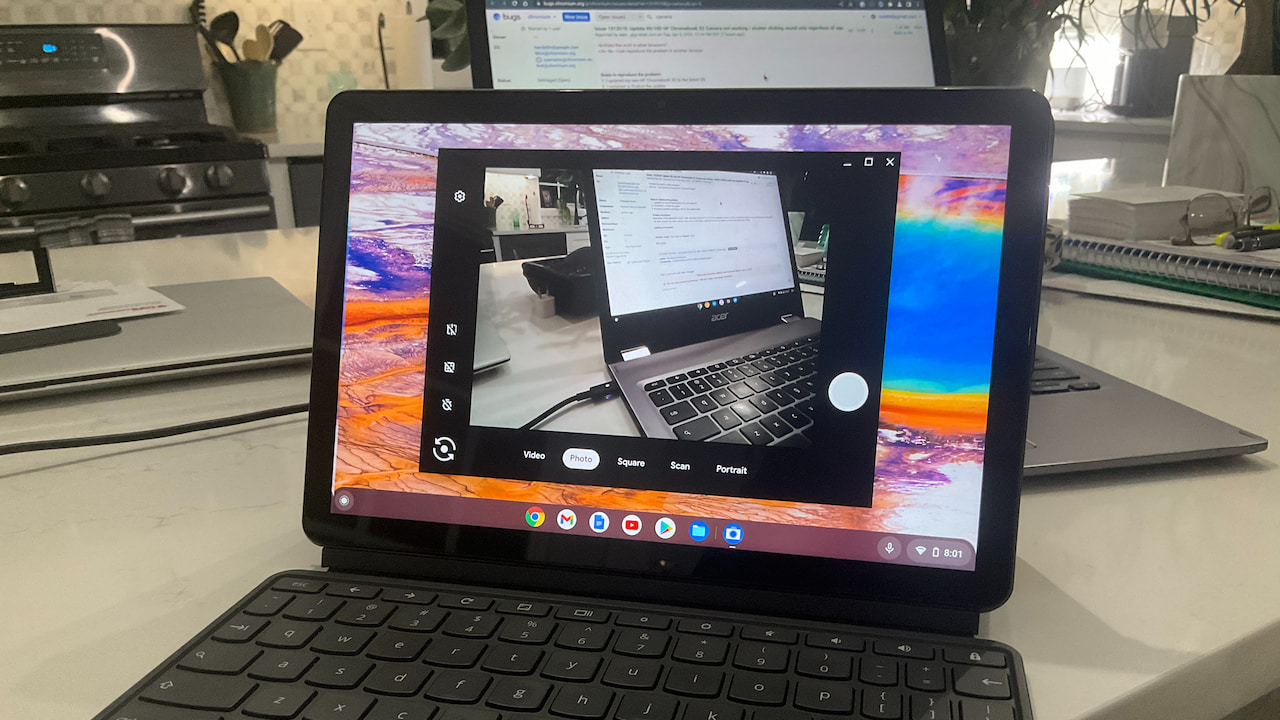 At this point, I'm not sure if the ChromeOS 100 update is directly responsible for fixing some of these devices or if it was some side effect of other code. I say that because the bug itself is still open and because some Chromebook cameras are still broken.
The bug itself is a Priority 3, which I'd consider relatively low. And I can understand why: This issue isn't something that affects the majority of Chromebook cameras. Of course, if my camera wasn't working in ChromeOS, I'd feel this is a top priority. It's all about perspective.
What's confounding to me is that nobody from Google has commented on the bug. And even stranger: It's listed as "Unconfirmed (Open)". That may explain why there aren't any developer comments on the bug report. It may not have been looked at yet, which would be disappointing if true.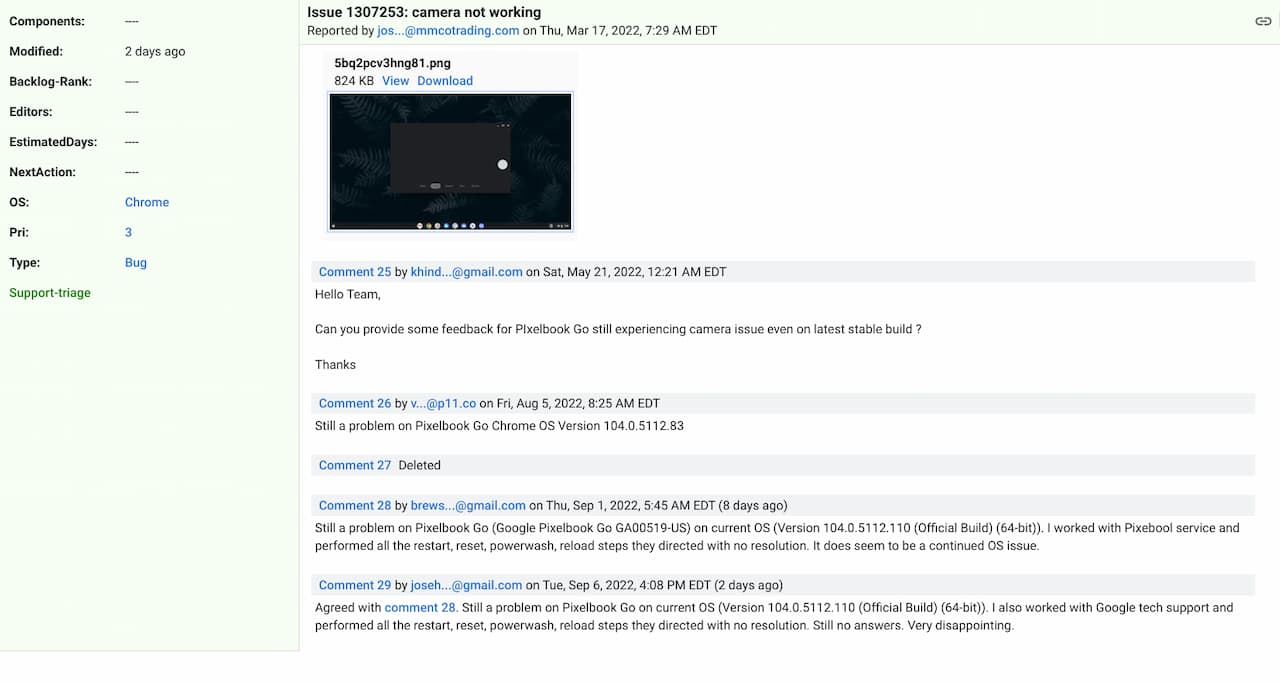 If you're the "Chromebook cameras still not working group", my suggestion would be to hop over to the bug report, star it and leave a comment with details on the issue.
I wouldn't create multiple bug reports on the same issue as that's only going to diminish the value of the current report. Maybe collectively, affected users can raise awareness of this problem and get those Chromebook cameras working again.