Just seven days away from the #MadeByGoogle event, there's a little more news available for the Pixel Slate, also known as Nocturne. Similar to the current Pixelbook, at least one configuration option for the Chrome OS tablet is likely to be an 8th-generation Intel Core i7 paired with 16 GB of memory. That information comes from Geekbench testing results spotted by Phone Arena on Tuesday.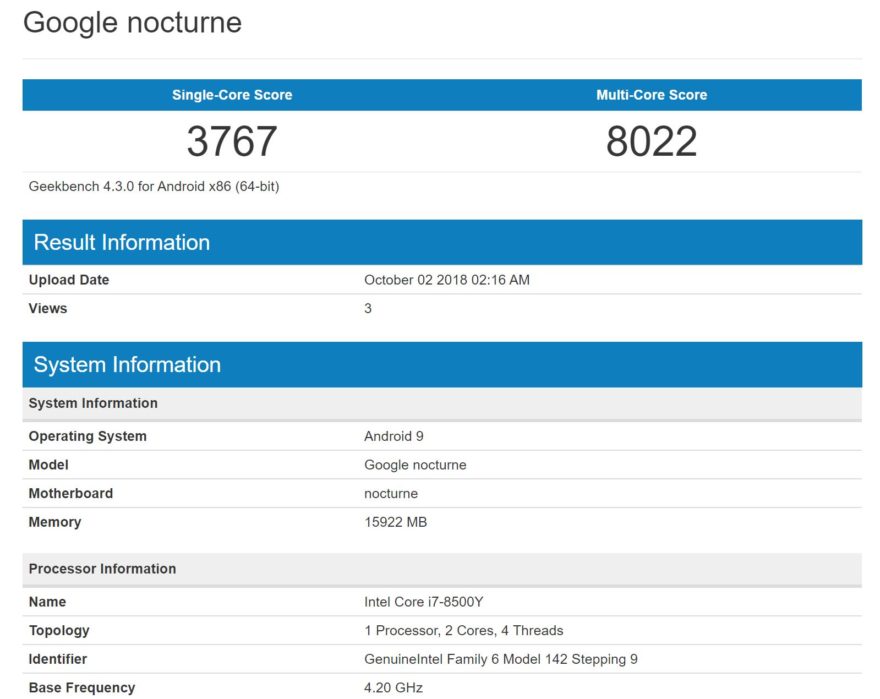 A few things stand out here. First, the obvious and/or expected: The Core i7-8500Y processor isn't really a surprise and it indicates that Google's first Chrome OS tablet should have comparable performance to the Pixelbook 2, if indeed that gets a refresh. It's also in line with the top configuration of the current Pixelbook, although that device uses a similar 7th-gen processor.
The 16 GB of memory is also what Google offers in its top-of-the-line Pixelbook, so it appears that the tablet will have a high-end configuration akin to last year's Pixelbook. That model also included a 512 NVMe SSD, so perhaps Google will complete the match and offer that same option for the most expensive Pixel Slate.
Also interesting is that Geekbench reports Android 9 as the operating system. That suggests the Android environment on the Pixel Slate — and likely any new Pixelbook — is running Android Pie, not Android Oreo. The upgrade is to be expected of course; it appears that the newest devices will come with Android 9 support out of the box. Older devices are likely to see the Pie upgrade at some future point although I think that will happen in Chrome OS 71 by the end of the year.
So does this mean we'll be shelling out around $1,500 for the Pixel Slate starting next week? Perhaps for this configuration, but don't panic just yet: There are surely lower-priced configuration options with 8th-gen processors. Surely there will be a few Core i5-8200Y options and I wouldn't rule out an m3-8100Y or even a Pentium or Celeron choice to be had, along with a few different detachable keyboard options.
One last note: I wouldn't read into the Geekbench scores too much. Remember that the test uses Android, which is essentially run in a container within Chrome OS. As a result, there could be some overhead that negatively impacts performance.
About the author
Kevin C. Tofel has covered technology since 2004. He's used ChromeOS since Google debuted the CR-48 in 2010, reviewing dozens of Chromebooks since then. He worked for Google's Chrome Enterprise team from 2016 to 2017, supporting the launch of Android app support. In his free time, he uses Chromebooks to learn software engineering at
Launch School
. In 2019, Kevin joined the CS Curriculum Committee at his local community college.
Liked this content? Subscribe for the free, weekly newsletter