HP Elite Dragonfly Chromebook price slashed by $911
Without any official news of the HP Elite Dragonfly Chromebook consumer model, I continue to watch HP's product page. It was just a few weeks ago when I saw the base enterprise model with a $2,165 cost. Today, that same device is nearly half off. The HP Elite Dragonfly Chromebook price is now slashed by $911.
That discount is more than most Chromebooks actually cost, which is crazy. The HP Elite Dragonfly Chromebook base model with a 12th-gen Intel processor is down to $1,254.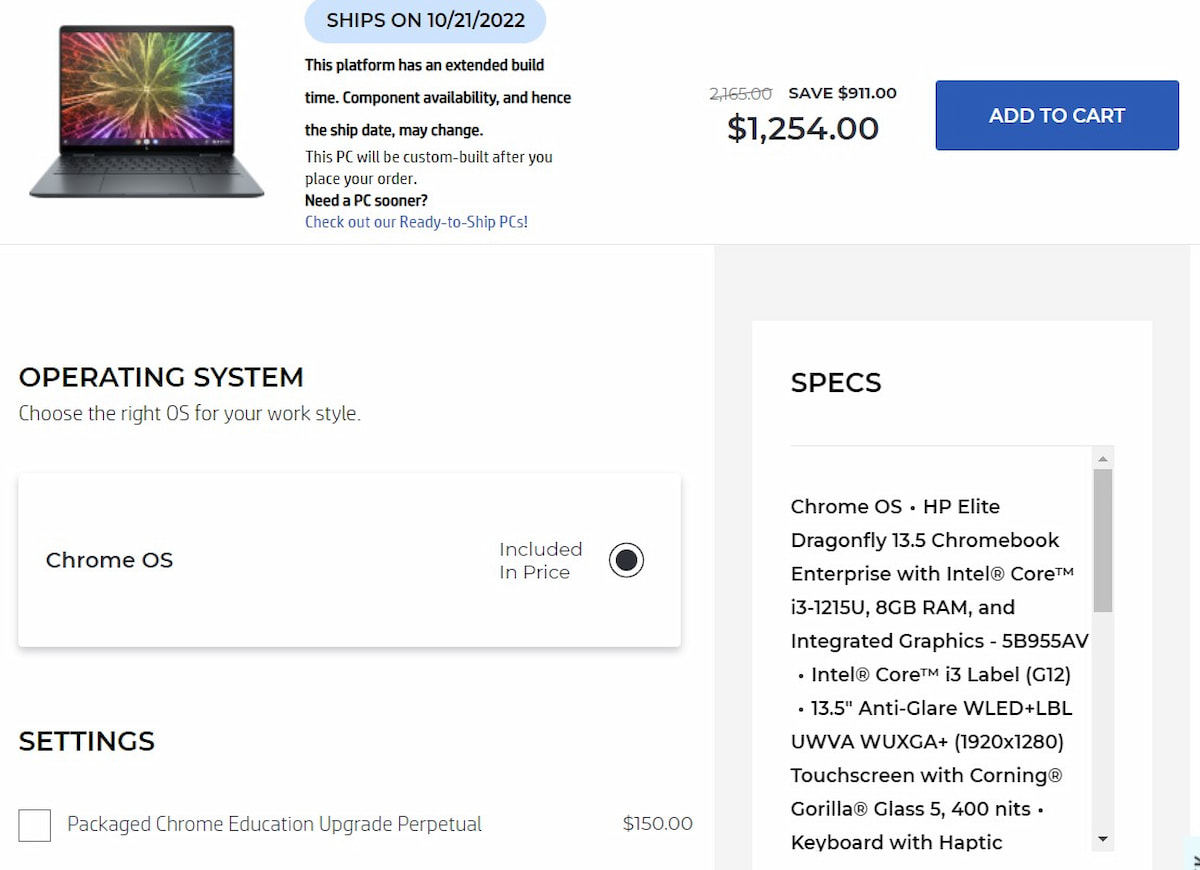 You get the 1080p, 13.5-inch display with 400 nits of brightness, 8 GB of memory, and a 256 GB M.2 SSD. You also get an HP Digital Pen and the haptic trackpad, a first for Chromebooks.
Keep in mind that this processor uses Intel UHD graphics, not the higher-end Irix Xe GPU. So if you're thinking about this for Steam on Chromebooks, I'd be wary.
Of course, you can customize the HP Elite Dragonfly Chromebook with a higher-end processor and GPU, not to mention other internals. And you still get $911 off from the original sale price.
I configured one with an Intel Core i5 and Iris Xe graphics, 16 GB of memory, and the 256 GB SDD. Instead of costing an insane $2,627, it's a more reasonable $1,716. Still too rich for my blood though, even if this could be the 2022 king of Chromebooks.
And nothing has changed on the delivery estimates. No matter how I configure one of these Chromebooks, it's not expected to arrive until October. With the chip shortage and most new CPUs saved for better selling Windows devices, I'm not surprised.
I wish HP could come clean on actual consumer model pricing because no consumer should really be paying extra for the enterprise features. (Update: HP says the consumer base model will cost $1,149)
In the meantime, however, if you don't mind waiting until October, you can order a much less expensive HP Elite Dragonfly Chromebook Enterprise model than you could last month.
Updated at 10:30am on May 5 with consumer pricing information.