You can now order an HP Elite Dragonfly Chromebook but…
Earlier this week, I reported on the first price seen for the HP Elite Dragonfly Chromebook. I thought the $2,165 price tag represented something akin to the highest-end configuration. Boy was I wrong. Like really wrong. You can now configure and order this 13.5-inch convertible Chromebook, and when I did, I saw that the $2,165 cost was almost the lowest configuration. So you can now order an HP Elite Dragonfly Chromebook but be prepared for major sticker shock and a long wait.
Just to illustrate this situation, here's what you get for just over two grand:
An Intel Core i3-1215U CPU with Intel UHD graphics
8 GB of memory
256 GB of NVME M.2 storage
A 1080p touch display with 400 nits of brightness
Backlit keyboard and haptic trackpad
HP digital pen
WiFi 6E and Bluetooth 5.2
Integrated fingerprint sensor
50 Whr battery and 45W power adapter
Overall, this is a really nice package. It's not, however, even close to what a mid-spec or top-tier configuration will cost you.
Want to jump up to an Intel Core i5-1235U and get the Intel Iris Xe GPU for Steam support? That's $153. But if you want 16 GB of memory with that Core i5, it will cost you $452 more. That's partially because the CPU jumps up to a 1245U and includes Intel vPro support. And at that point, you're looking at paying $2,627.
I was hesitant to see what a Core i7 upgrade costs but curiosity got the better of me.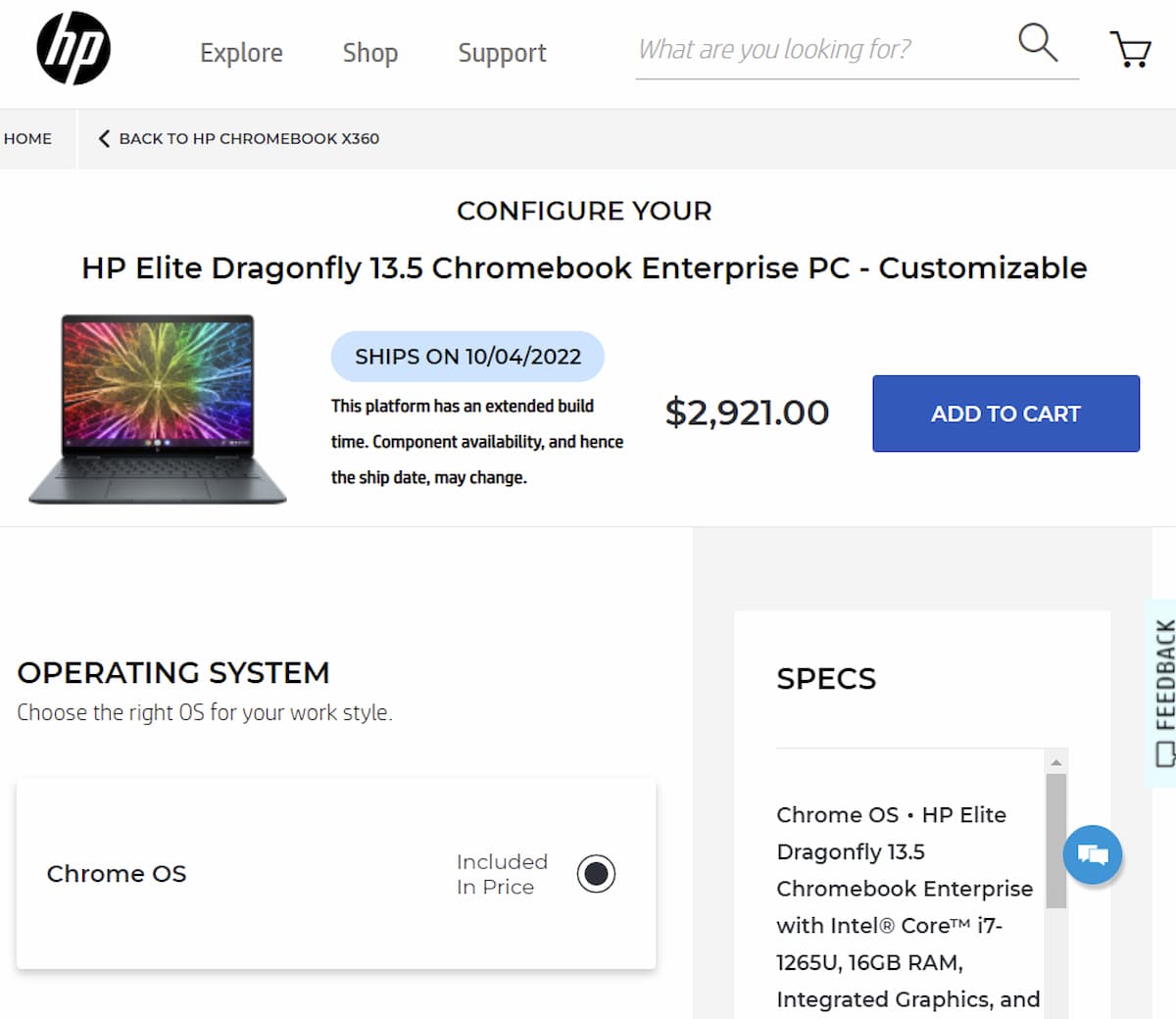 It's a $746 upgrade over the base model to get a Core i7-1265U processor which also includes a memory upgrade to 16 GB. That's a $2,971 Chromebook for those without a calculator. And that's not even the top end. You can jump to 32 GB of memory for an additional cost although I doubt many will do so.
As I noted earlier this week, this is still an "enterprise" branded Chromebook.
There are supposed to be consumer models as well with similar configurations, although they probably won't include any vPro support. It's not something a consumer likely needs. That and the fact that a Chrome Enterprise license isn't needed for a consumer device should bring lower price points.
But how much lower if they're going to have 12th-gen Intel CPUs and a minimum of 8 GB of memory? They'd have to be at least a thousand dollars lower on a relatively like-for-like basis to make any dent in the consumer market beyond Chrome OS power users.
So you can order an HP Elite Dragonfly Chromebook now but… I wouldn't.
Even if you do, all of the delivery dates are currently out to October of this year. Those are subject to change but that's what HP is showing right now. Let's hope those change and we see some much lower prices for consumer models. I'm still dubious about that.