After two weeks of full time usage, I can say that the Lenovo 5i Chromebook is a decent option if you want a large-screened ChromeOS laptop. Yes, it's heavy and yes it's missing some features you'll find on smaller Chromebooks at the $549.99 retail price. You'll need to figure out what you're willing to compromise on to get a big screen and excellent battery life. I'll explain why in my full Lenovo 5i Chromebook review.
The Lenovo 5i Chromebook is a big boy
Let's address the elephant in the Chromebook first. If you want the most portable device on the market the Lenovo 5i isn't it. The 16-inch display felt a little overwhelming to me at first, for example. And at 4.1 pounds, I'd much rather carry a Chromebook that weighs 25 percent less.
So right off the bat, you have to really want that larger display and all of the attributes that come with it. Some are good, such as more room for a larger battery and four USB ports. Others, like the weight, might turn you off. Personally, I appreciate the generously sized 1920 x 1200 IPS screen, which runs ChromeOS in the native panel resolution.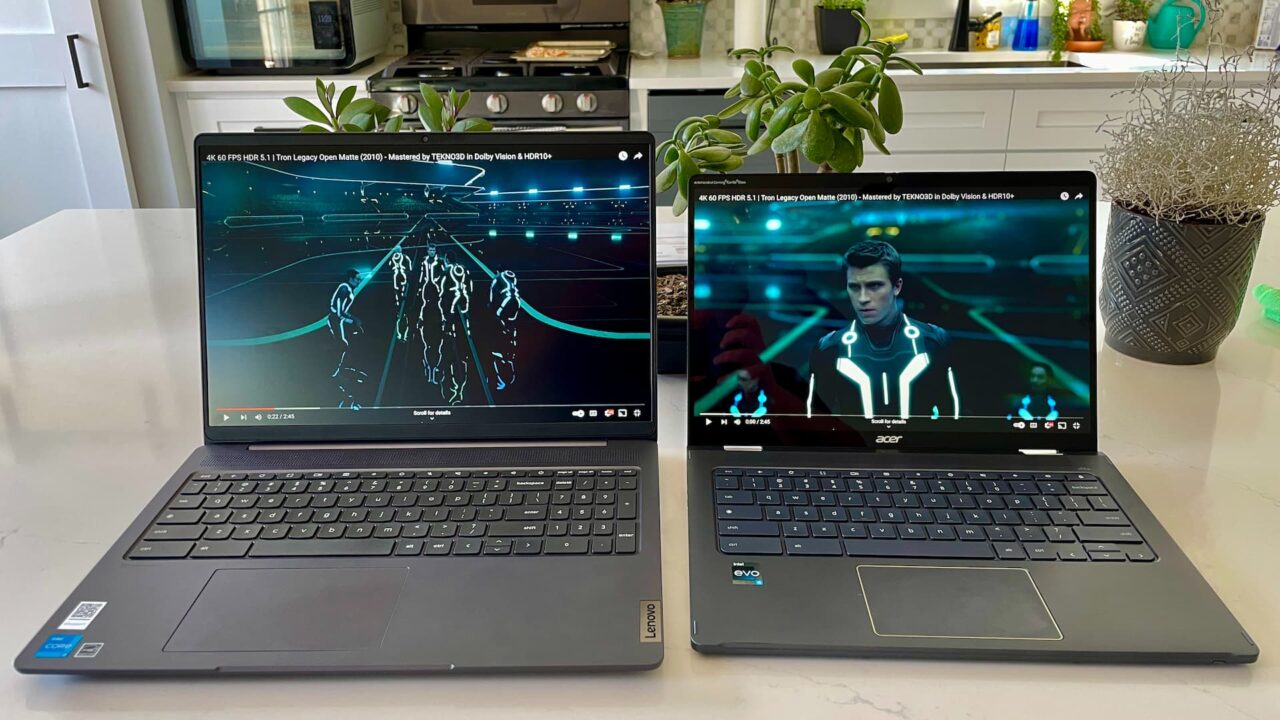 I actually had to scale things up a few bumps but that's a "me" problem. I wear progressive bifocals so tiny text isn't ideal. Your eyes are likely better than mine, so the full resolution experience will give you plenty of room to work on.
Simply put, the Lenovo 5i Chromebook is ideal for stationary use on a desk or your lap. Hauling it around? That's up to you and your portability preferences. As I said, this Chromebook is good for "the right type of consumer."
What's inside the Lenovo 5i Chromebook
I've listed the specs below and you might feel this is a decidedly "mid-range" device. In ways, I agree and other ways, I don't.
The 1920 x 1200 display with excellent color accuracy and a reasonable 300 nits of brightness is a mix between mid-range and premium, for example. A surprisingly well-performing 12th gen Intel Core i3 straddles the line as well. You get 8 GB of 4266 MHz RAM, which is speedy. And a pair of both USB Type A and Type C ports is nice. Both are Gen 2 as well.
Here's the full rundown, followed by some things you don't get with the Lenovo 5i Chromebook:
CPU
6 cores (8 threads Intel Core i3-1215U (3.3 GHz E-cores x 4 / 4.4 GHz P-Cores x 2)
GPU
Intel UHD graphics
Display
16-inch, 1920 x 1200 resolution, IPS non-touch, anti-glare display, 16:10 aspect ratio,
NTSC 45% support, 300 nits brightness, 60 Hz
Memory
8 GB LPDDR4 – 4266 MHz memory
Storage
128 GB eMMC 5.1
Connectivity
802.11ax (2×2) WiFi 6E, Bluetooth 5.1
Input
Non-backlit keyboard with dedicated number pad, multi-touch trackpad,
1080p webcam with privacy shutter, dual-array microphone
Ports
2 USB Type-C 3.2 (left and right), 2 USB Type-A 3.2 (left and right),
headphone/microphone combo jack, microSD card slot
Battery
71 WHr battery with 12-hour expected runtime
Weight
4.1 pounds
Software
ChromeOS automatic updates through June 2030
You might notice that the excellent display doesn't support touch. My own daily driver, the Acer Chromebook Spin 714 does but the Framework Chromebook I also use does not. That's a choice I can live with but it's worth mentioning that you won't be tapping the screen on the Lenovo 5i. Well, you can if you want to. It just won't do anything other than leave fingerprints.
Nor do you get the faster NVMe M.2 SSD for local storage. To keep costs down, Lenovo chose to use eMMC 5.1 storage. I can notice the difference when I'm applying updates to my Linux container here; the process is slower on the Lenovo 5i. However, unless you're using Linux as much as I do, or you're constantly transferring large files, you probably won't notice the slower storage.
The Chromebook 5i does have a solid 1080p webcam that's far better than older 720p sensors. It doesn't have any fancy features or adjustments but it's reasonably good for photos and video conferences.
There is a privacy shutter, but oddly, ChromeOS doesn't tell you when the camera is on or off. On my Spin 714, for example, a little toast message appears when flipping that privacy shutter. Perhaps Lenovo chose a simple slider that has no electronics. And there's no switch to disable the microphone here either.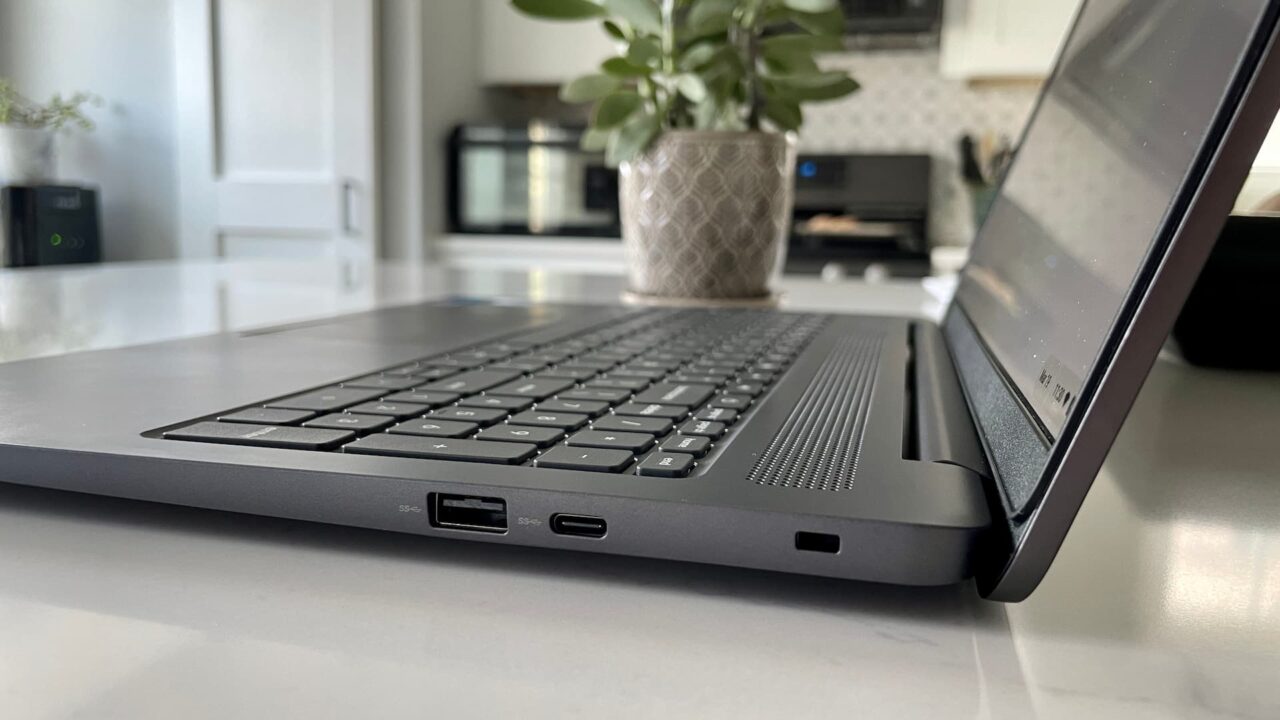 Also missing are an HDMI port and backlighting for the keyboard. The former can be mitigated with a USB Type-C cable but the latter? There's no fixing that, which is a shame.
All in all, there's a few really nice features and some that are just adequate, or are simply missing.
Excellent all round performance
Short of the slower memory that I mentioned, the Lenovo Chromebook 5i holds its own from a performance standpoint. Below I have some benchmark scores comparing the 5i to my Spin 714 and last year's Flex 5i.
The numbers suggest a big step up from the prior model, which my usage experience verifies. And the Lenovo Chromebook 5i runs neck and neck with my Spin 714. That has both the faster NVMe SSD and a 12th gen Core i5 inside.
Test
Lenovo 5i Chromebook
12th gen Core i3
Acer Chromebook Spin 714
12th gen Core i5
Lenovo Flex 5i
11th gen Core i3
Speedometer 1.0
449
475
311
Speedometer 2.0
268
280
176
JetStream 2
238.884
243.276
151.88
Basemark 3.0
1,435.71
1,406.87
1,179.9
Octane 2.0
83,799
82,946
55,360
Higher numbers are better
Other than the slower file transfers or unpacking of Linux apps, the 5i Chromebook performance nearly mirrored that of my Spin 714 in daily use. I couldn't see a noticeable difference between the two when browsing the web or running Android apps. With 8 GB of memory, opening up and using 20 tabs on the 5i wasn't a problem in my testing.
Frankly, I'm very impressed with the Core i3. This year's Chromebook 5i is leaps and bounds quicker than the 2022 model, although Lenovo offered that in a "flex" version. With the large display, this is a clamshell laptop, not one with a convertible screen. I also didn't hear much fan noise as even my workload didn't push the Core i3 near it's maximum tempatures.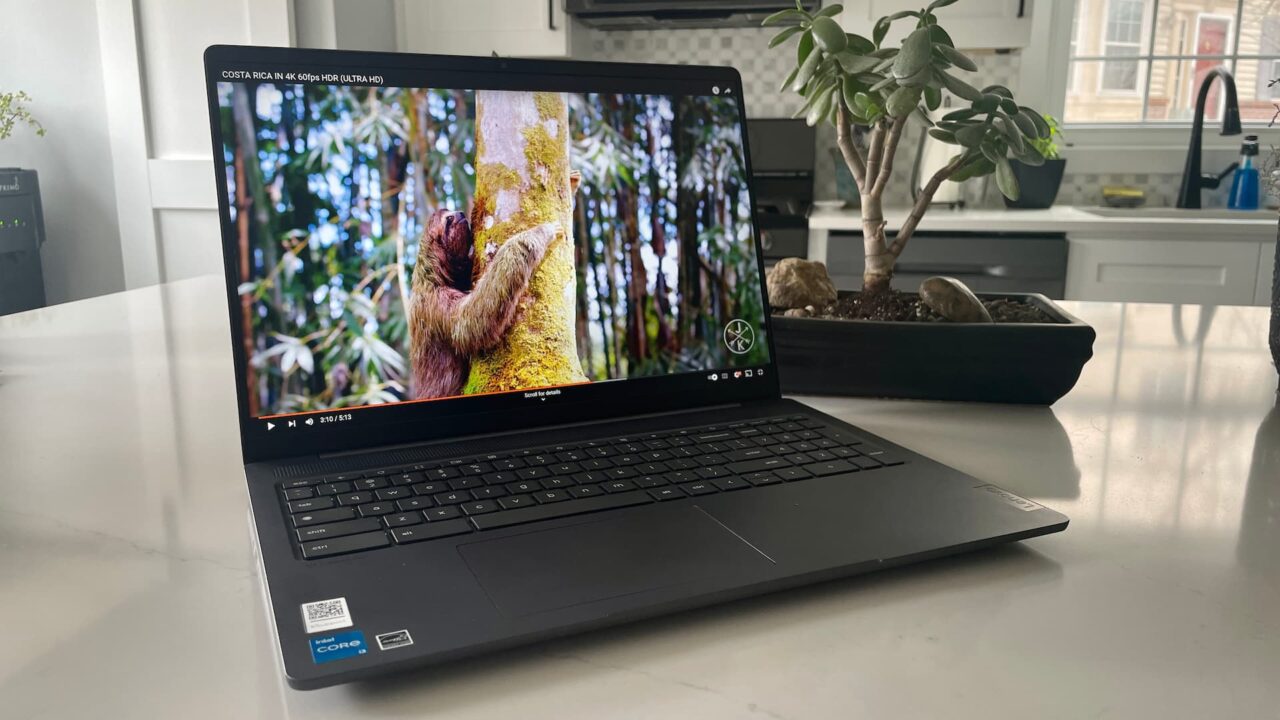 As I mentioned in my first impressions, the display is quite good. Colors are rich and the brightness is more than enough for all but outside environments. Viewing angles do drop off a little quicker than I expected though. I attribute that to the matte, anti-glare finish. Personally, I'd take a slight hit to viewing angles and a matte display over better angles on a glossy screen.
Consuming content has been mostly enjoyable on this "mini theater". The video output however is far better than the audio. The pair of 2W, top-firing speakers simply aren't loud enough when watching a movie.
I verified this opinion with my wife because I have moderate hearing loss. She agreed with me and wasn't impressed. It's not that the speakers sound bad. They actually sound OK, just too soft, even at full volume.
About that keyboard and number pad
In my first impressions write up, I said:
"I'm already impressed by this keyboard. While it isn't backlit, the scalloped key caps feel very comfortable. There's just enough travel for my liking and the keys are super quiet. Because of the number pad, there are a few keys that are smaller than you'd typically expect. I'll have to see how that impacts my work."
Well, I now see how this keyboard impacts my work. I struggled with the layout, often hitting the left row of number keys by accident.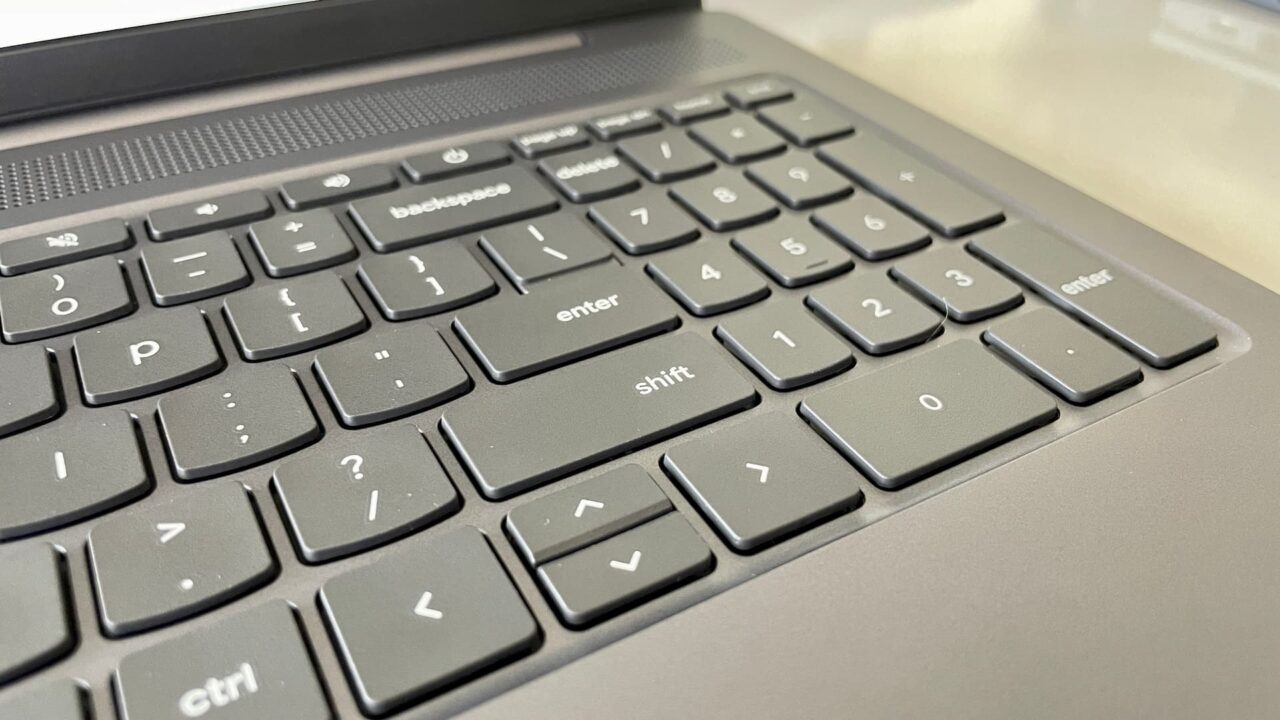 A few keys are smaller than standard as well, just to fit the dedicated number pad.And the more I used the keyboard, the more I felt it was a little mushy for my tastes.
Put another way: The keyboard felt comfortable when first tapping random keys, but less so in actual usage.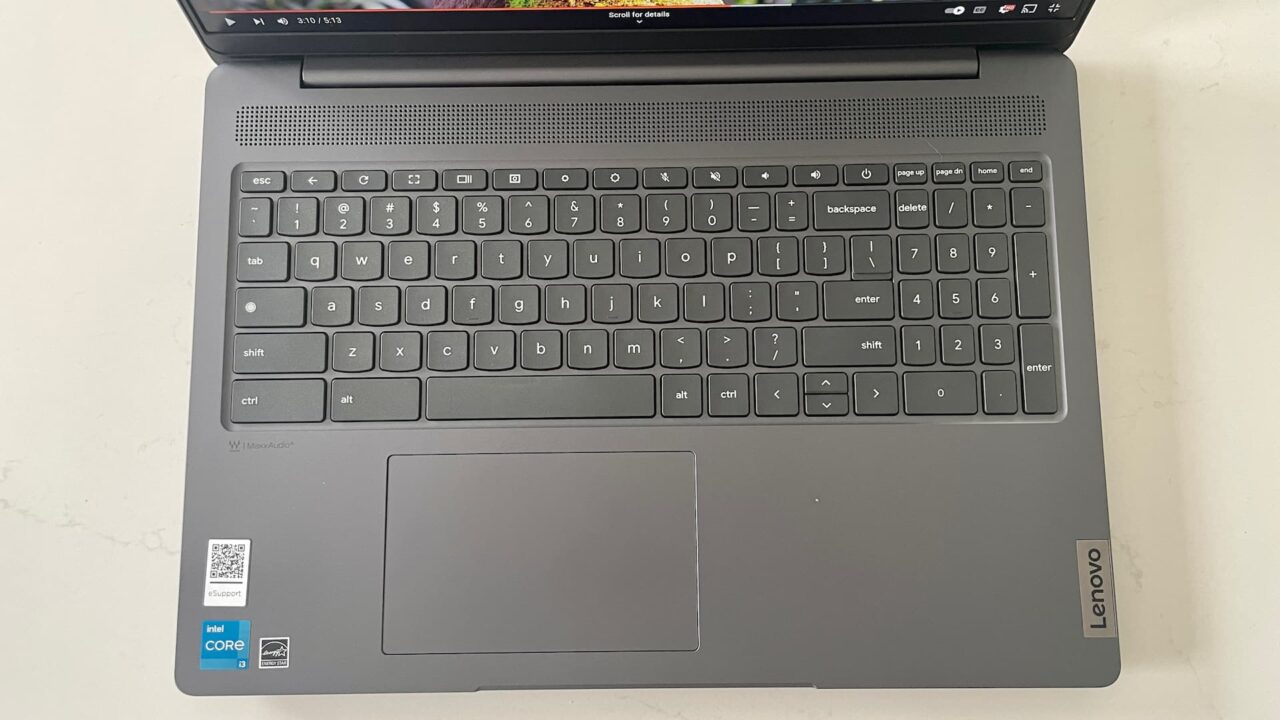 I'm also really put off by the offset trackpad. Frankly, this is common for any laptop with a large display and dedicated number pad. So I can't specifically fault the Lenovo 5i Chromebook for my discomfort. Just know that if you've never used a laptop with a dedicated number pad and off-center trackpad, there may be a learning curve.
The trackpad itself is certainly large enough and worked well. I have no complaints about it… well, other than where it is on the chassis. Another "me" problem!
Big laptops get big batteries
I should apologize for saving one of the best features of the Lenovo 5i Chromebook for last. But I'm not going to because the battery on this laptop can really last. (Yes, I held this section up just to try a clever segue.)
Most Chromebooks have around a 45 to 50 WHr battery. So the 71 WHr power pack in the 5i Chromebook gets you around 50 percent more capacity. Yes, backlighting a 16-inch display will use more power than doing the same for a smaller display. Even so, the Lenovo 5i Chromebook is easily an "all day" Chromebook on a single charge.
Lenovo says to expect "up to 12 hours" of run time. No, I didn't get 12 hours, nor did I expect to. Those battery tests typically aren't in a mixed or real-world usage scenario.
However, 10 hours of my own workload can be had on this device. And my workload is around a 50-50 mix between many web apps and some Linux desktop apps. Occasionally, I'll sprinkle in an Android app there too.
The only time I was able to exhaust the battery before 8.5 hours of use was when I did it on purpose. I didn't change my workload. Instead I boosted the screen to full brightness, and that was overkill for eyes. This is simply one of those potential benefits you get with such a large Chromebook: A large battery.
Should you buy the Lenovo 5i Chromebook?
Right off the bat, I see on the Lenovo site that this device isn't available as of now. That irks me since I hours reviewing a Chromebook only to find that people can't currently get it. I don't understand why manufacturers release and then "un-release" a device. But lets assume that situation changes soon.
You really have to want the large display for the Lenovo 5i to be a compelling device. As I noted prior, there are many more portable Chromebooks out there. And most of them have some or all of the features not found on this Chromebook. Can you live without a backlit keyboard, touchscreen, and/or an HDMI output, for example?
Even though the performance and battery life are excellent, as is the display, you'd be giving up some possibly important (to you) features with the Lenovo 5i Chromebook. It's very much a compromised device as a result. Yes, every device has compromises. The question is are you willing to accept the ones Lenovo made here?
I suspect that for most people, the answer is a "no". Sure, there will always be someone who says "yes", but I'm not one of them. And I've been gravitating towards larger screens as I get older. The keyboard just doesn't fit me, or rather, I don't fit the keyboard. Obviously, I can skip on the touchscreen as my current device doesn't have one some of the Chromebooks I use don't have one. My Spin 714 does but the Framework Chromebook doesn't. Either way, I just feel I'd be giving up too many features to gain the large screen and the great battery life.
So put me in the "no" camp too, which is a shame. Just a tweak here or there would open up the Lenovo 5i Chromebook to a larger contingent of potential buyers.
About the author
Kevin C. Tofel has covered technology since 2004. He's used ChromeOS since Google debuted the CR-48 in 2010, reviewing dozens of Chromebooks since then. He worked for Google's Chrome Enterprise team from 2016 to 2017, supporting the launch of Android app support. In his free time, he uses Chromebooks to learn software engineering at
Launch School
. In 2019, Kevin joined the CS Curriculum Committee at his local community college.
Liked this content? Subscribe for the free, weekly newsletter